Peach Jam is a great way to preserve those summer stone fruits! This easy homemade jam recipe is made with 3 ingredients and perfect for breakfast, brunch, dessert, and a charcuterie board.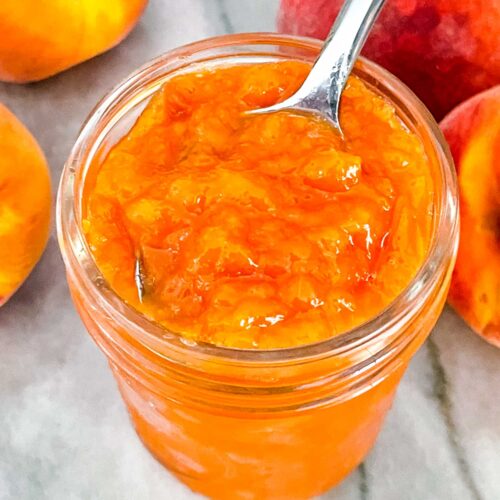 Homemade Peach Jam recipe is a perfect way to preserve those summer peaches! Perfect to use for breakfast, baked goods, and as a condiment for a charcuterie board.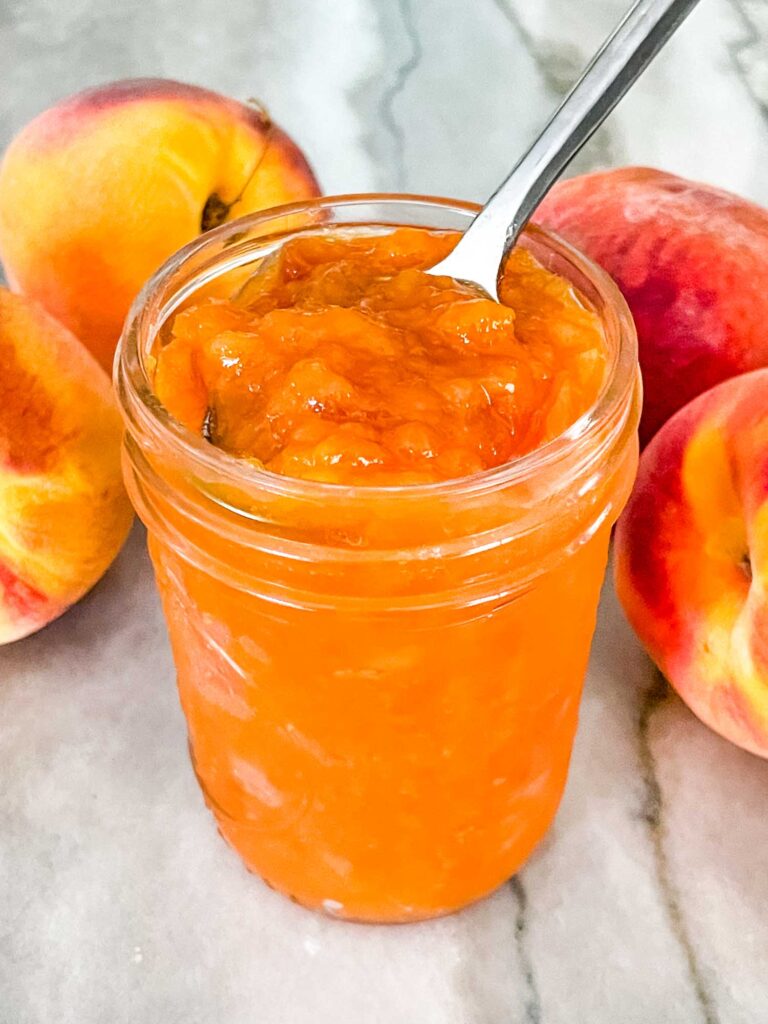 Why You Will Love This Recipe
Just three simple ingredients is all you need to make your own delicious homemade jam!
This recipe is perfect to can or freeze and gives you that fresh peach flavor all year long.
It works great for breakfast and brunch foods such as biscuits, waffles, toast, and English muffins. Or use in a dessert or a charcuterie board condiment.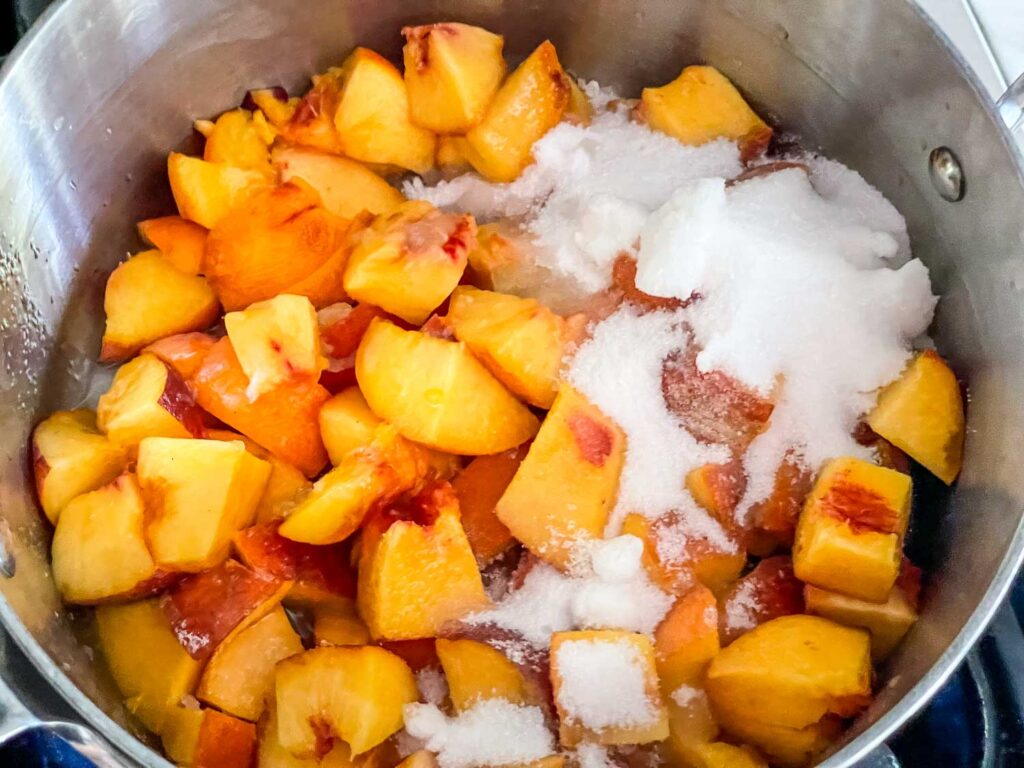 Ingredients
Here is what you need to make the recipe:
Equipment
This is the equipment you need for the recipe:
Small Pot
Knife and Cutting Board
Masher
Measuring Cups
Measuring Spoons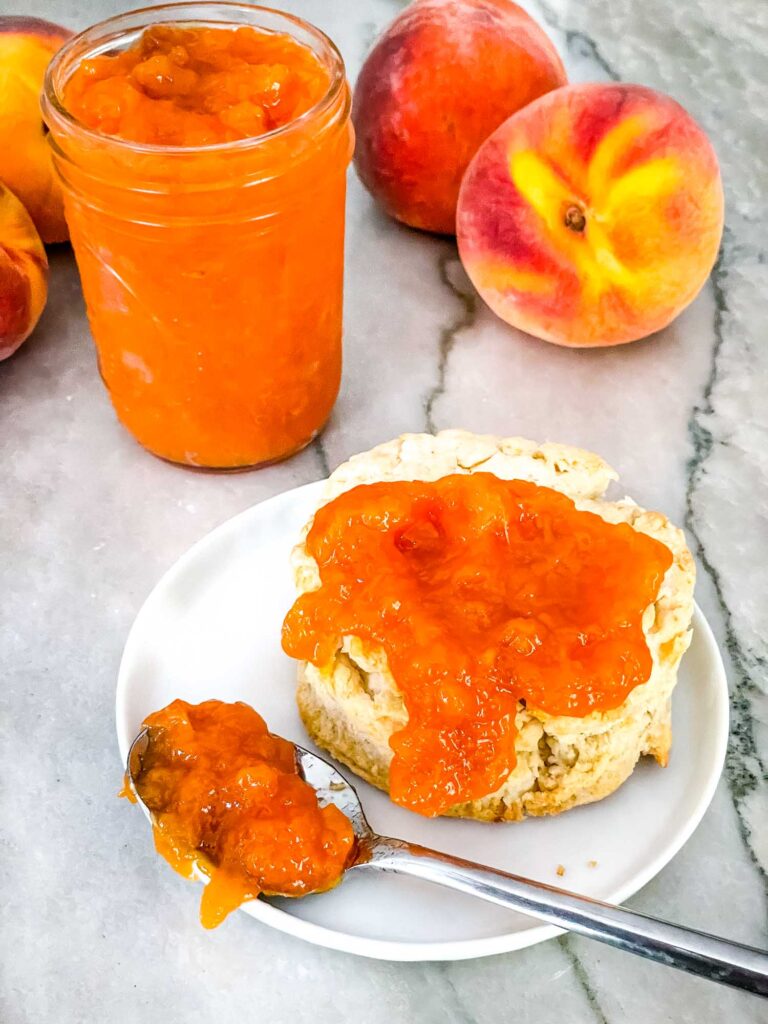 Instruction Overview
First cut up your peaches into large chunks.
Add the peaches, sugar, and lemon juice to a small pot and heat over medium high heat.
As it cooks, moisture releases. Once boiling, reduce heat to medium and continue to simmer.
Mash the mixture up to your desired texture.
Once thick enough, remove from the heat and store in the refrigerator, freezer, or even can it.
Modifications and Substitutions
Nectarines can easily be used in place of peaches. Learn more about The Difference Between Peach and Nectarine
Both fresh and frozen peaches will work great. Frozen tend to have extra moisture so it might take a little longer for it to cook to the correct consistency.
Kim's Tips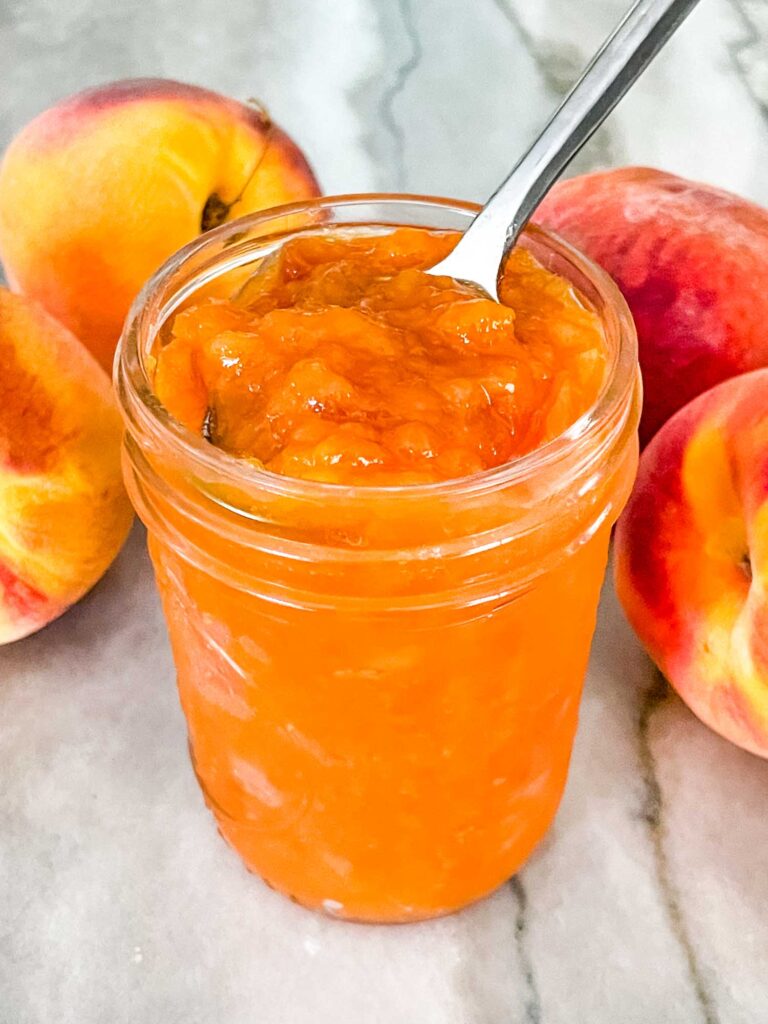 FAQs
What is the difference between peach jam and peach preserves?
Do you need to peel peaches for jam?
No, but it is recommended to leave them on as it adds deeper color and deeper peach flavor to the finished product.
Why does peach jam need lemon juice?
The lemon helps the jam set and also brightens up the flavor.
Can jam be made from canned peaches?
Yes, however it will have a slightly different flavor as the peaches have absorbed flavors from the juice they were sitting in. You might want to start with less added sugar and adjust everything as you need to in order to get the flavors you want.
How do you thicken homemade peach jam?
The easiest way is to cook it longer for it to further reduce.
You can also add a small amount of cornstarch which thickens quickly without losing volume.
How long does homemade jam last?
It can last in the refrigerator up to 3 weeks.
I like to freeze or can the jam for use when I need it.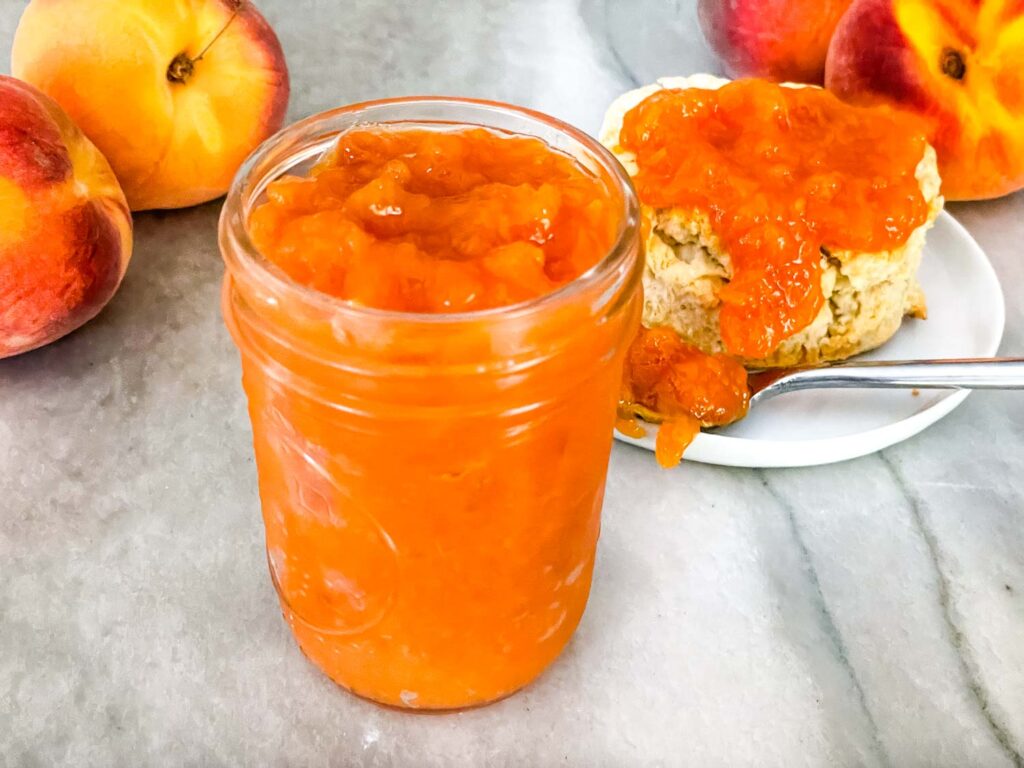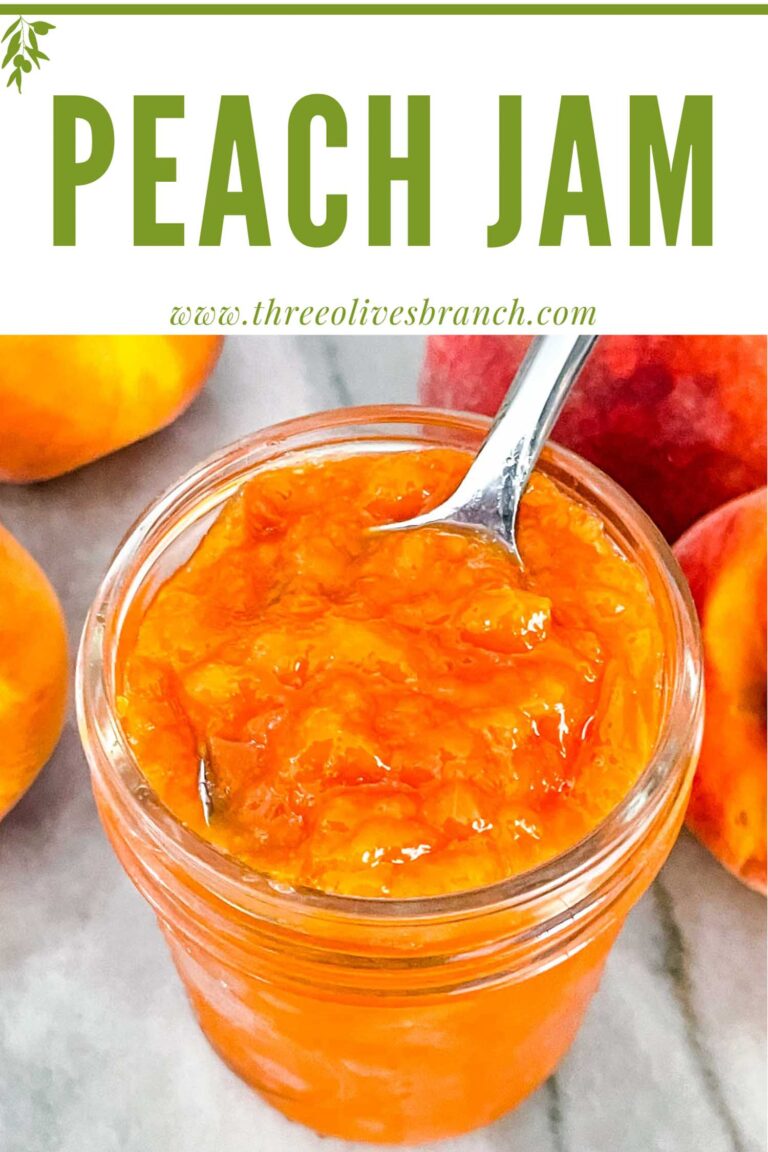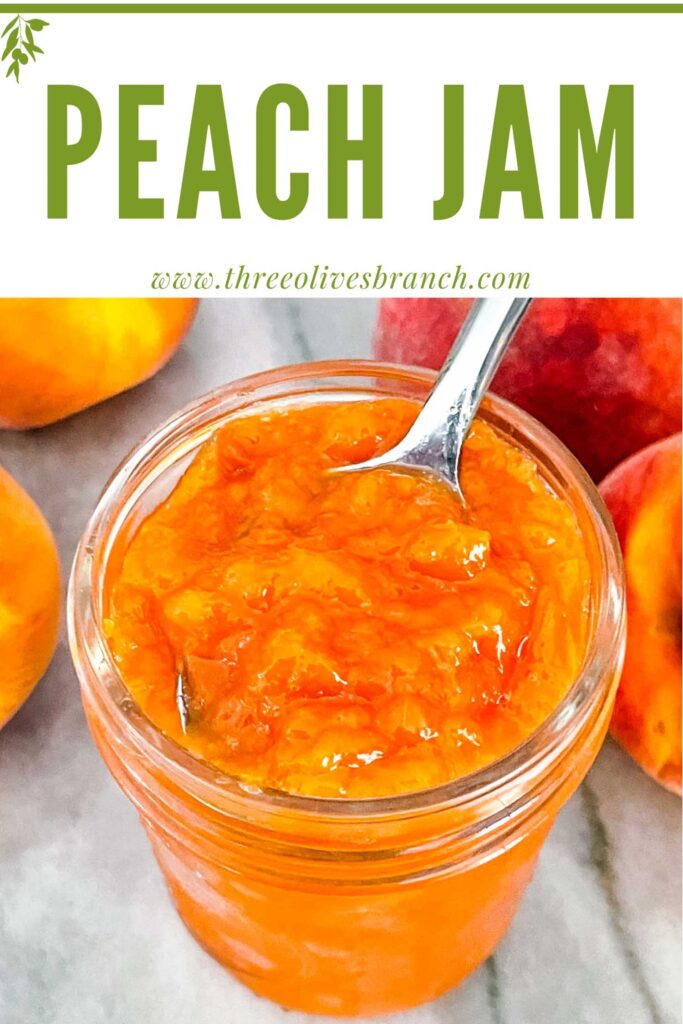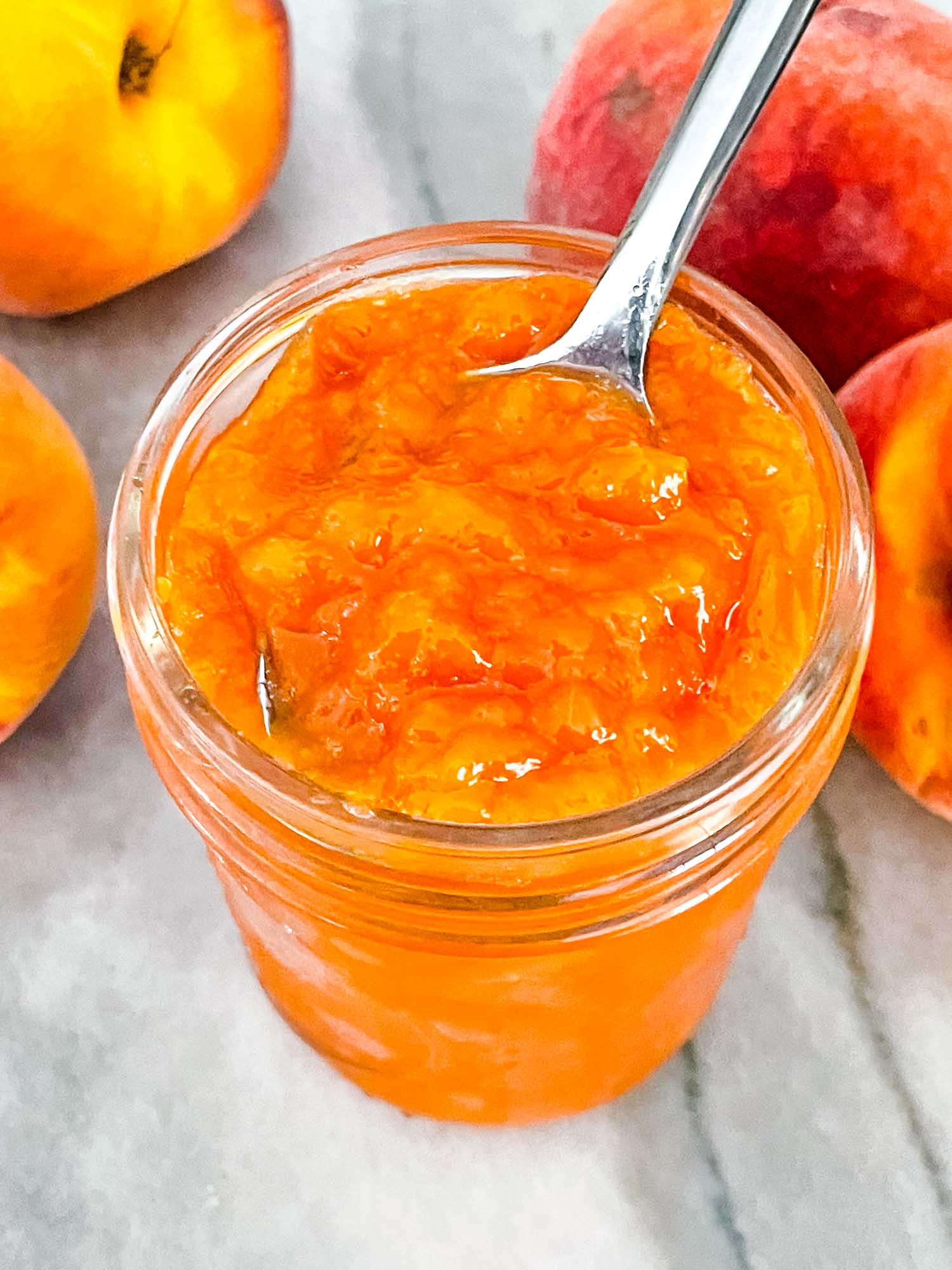 Instructions
Chop the peaches into large chunks, discarding the pits.

Place the peaches, sugar, and lemon juice in a small or medium saucepan.

Bring the fruit to a boil over medium high heat. Reduce heat to medium and simmer to thicken, approximately 15 minutes.

Use a potato masher or fork to mash the fruit as much or little as desired.

The jam is done when it is thick and more of a clump when put on a cold spoon or cold plate and tilted.

If it runs like honey, it is not thick enough yet and you need to heat it longer. You want the jam to move slowly when tilted.

Store in a jar in the refrigerator for up to three weeks. Or freeze.
Notes
Follow proper canning procedures to store at room temperature. You can also freeze this jam.
The volume you get will vary with how long you cook it (how thick it is) and how much you mash it.
This will roughly fill one pint sized mason jar, which is perfect for storing in the refrigerator.
Nutrition
Serving:
1
cup
|
Calories:
355
kcal
|
Carbohydrates:
90
g
|
Protein:
2
g
|
Fat:
1
g
|
Saturated Fat:
0.05
g
|
Polyunsaturated Fat:
0.2
g
|
Monounsaturated Fat:
0.1
g
|
Sodium:
30
mg
|
Potassium:
293
mg
|
Fiber:
3
g
|
Sugar:
86
g
|
Vitamin A:
740
IU
|
Vitamin C:
15
mg
|
Calcium:
11
mg
|
Iron:
1
mg
More Peach Recipes
Peach Recipes
Recipes highlighting delicious peaches!

By