Homemade Peach Crumble is a perfect summer stone fruit dessert recipe! Made with a cookie like topping similar to a crisp. Use fresh or frozen peaches or nectarines.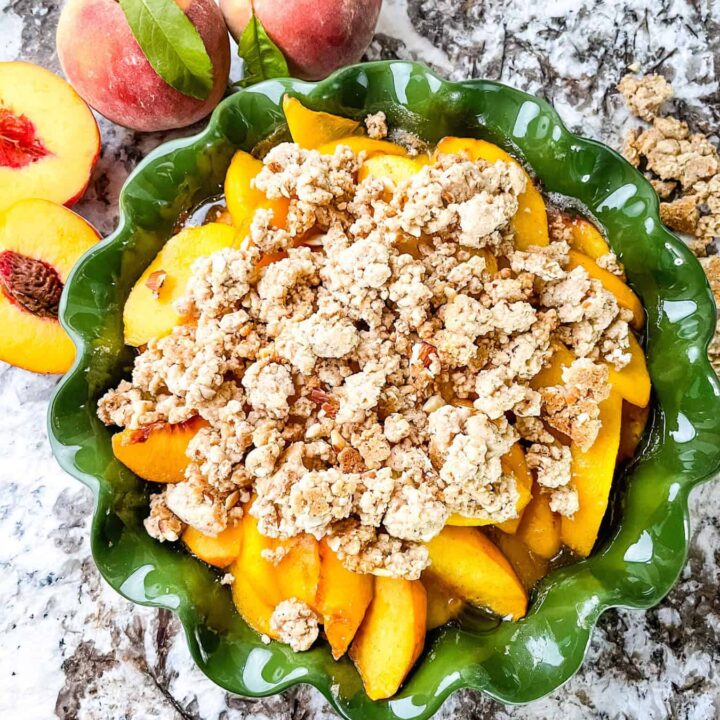 Peach Crumble is a perfect way to enjoy peaches in a simple hearty dessert! Spiced peaches are baked and topped with a cookie-like crumble topping. Serve it up with some ice cream!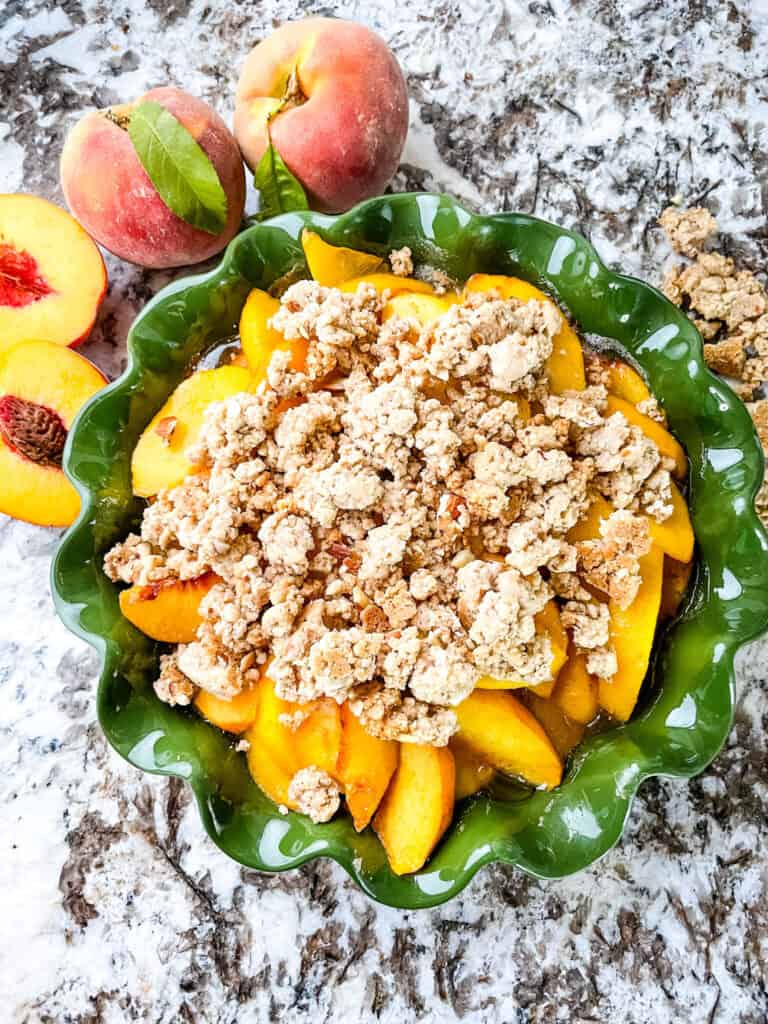 Peach Crumble
Fruit crumble recipes are an amazing way to enjoy your favorite fruits in a warm and comforting dessert.
This peach dessert highlights the popular stone fruit and is topped with a cookie-like crumble topping that is cooked separately to avoid it getting soggy.
The topping has almonds in it for extra texture and flavor. You could substitute for pecans or walnuts as well!
You will just love how delicious this dessert is!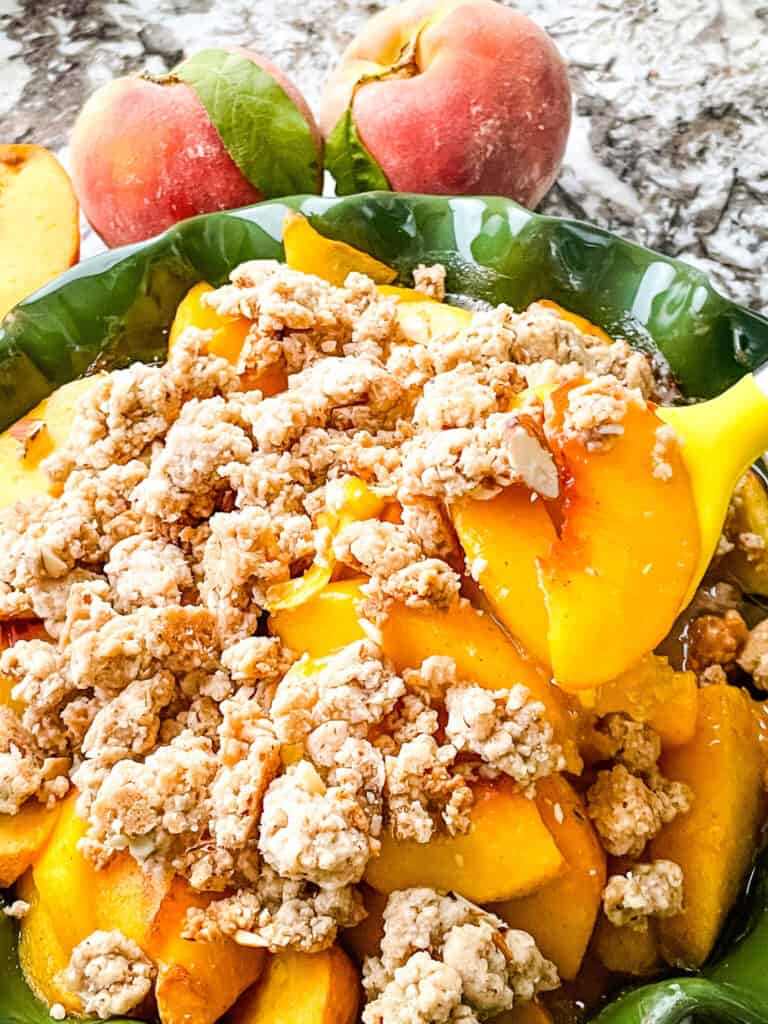 What is crumble topping made of?
A crumble topping is made of traditional baking ingredients like sugar, flour, and butter.
It tastes almost like a cookie spread out across the top of the fruit!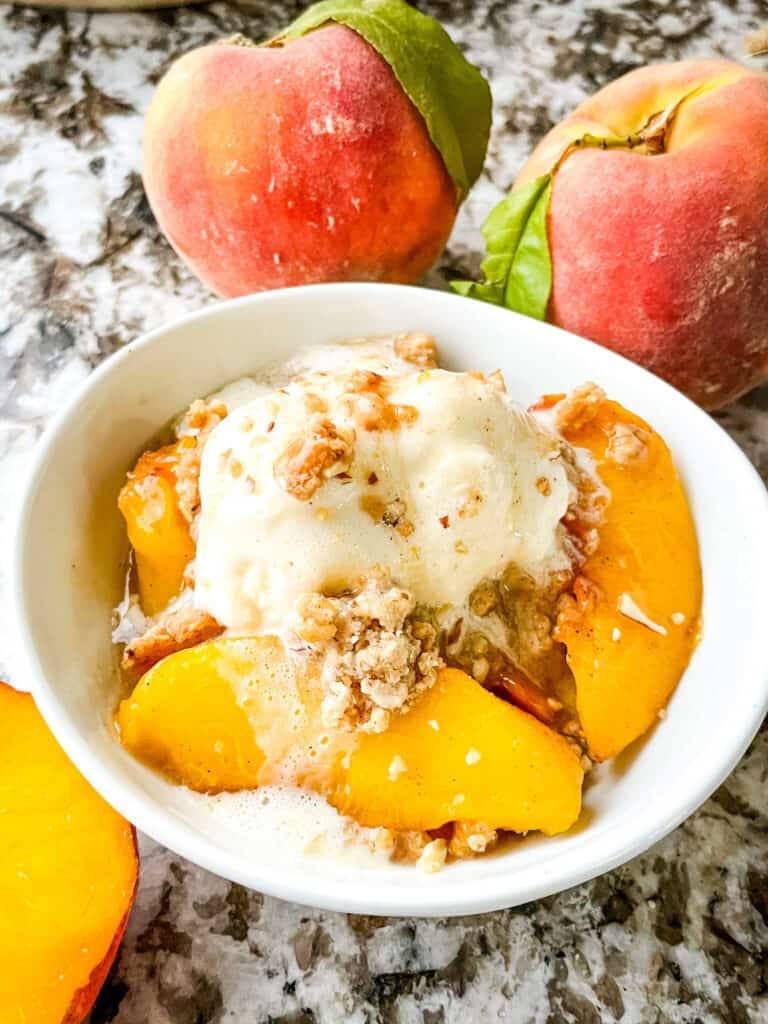 Should I peel peaches for peach crumble?
You do not have to, but it is recommended.
The peach peel will be a little tougher than the peach flesh when you bite into it. Some people find this to be irritating and unpleasant.
If cooking for a crowd or if unsure of what you prefer, I recommend peeling the peaches for a consistent filling and texture.
I have a quick way for how to peel peaches with a few options based on what works best for you!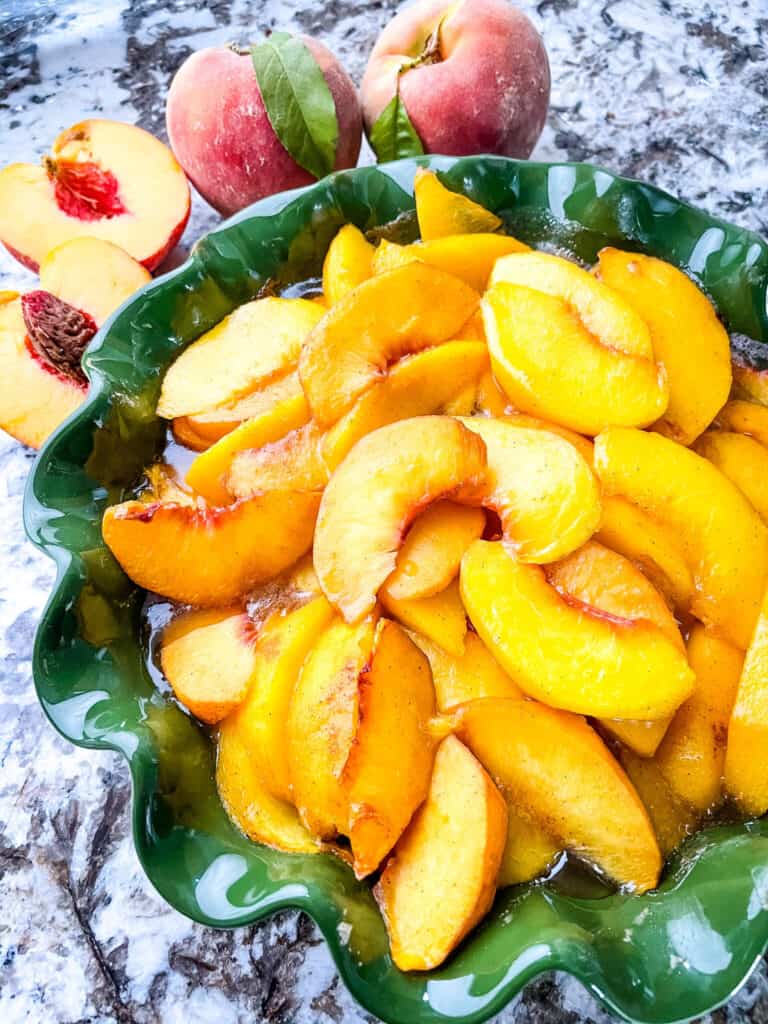 Can I use canned peaches?
Yes. Keep in mind that canned peaches have flavorings and juices that may alter the final flavor of the dessert as well.
Can I use frozen peaches in peach crumble?
Yes! Frozen peaches are the best alternative to fresh as they are not sitting in a sugar liquid, so the flavor will not be as altered as a canned peach.
But do make sure that you fully thaw the peaches and drain them well to remove excess moisture before starting the recipe.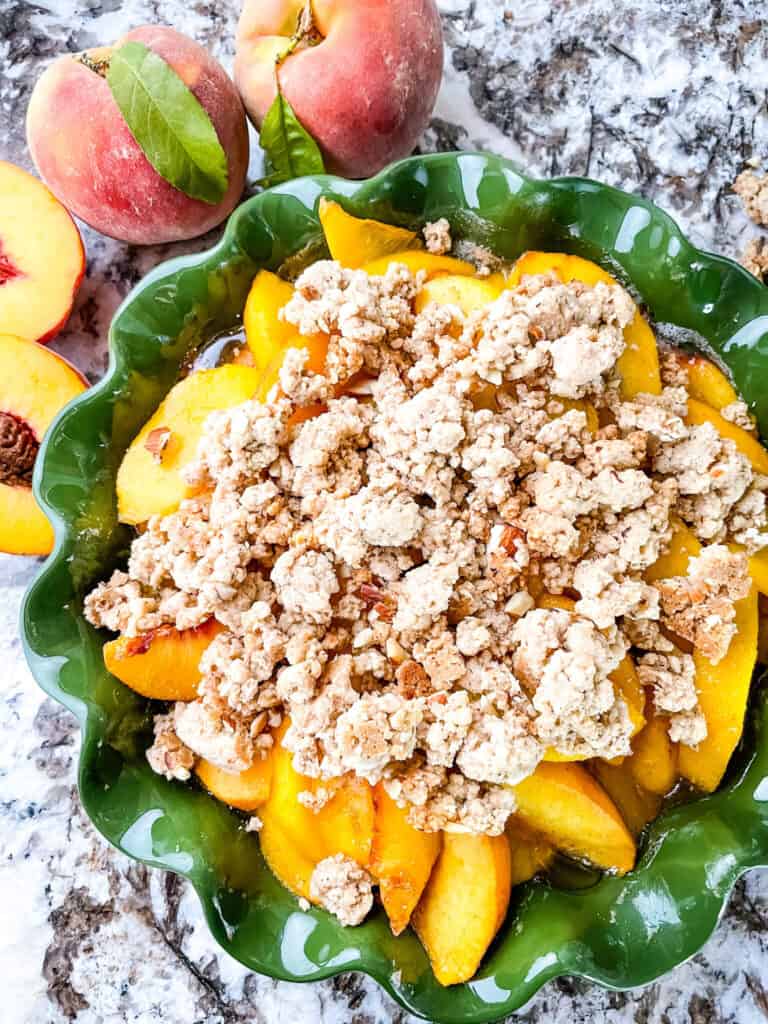 What is the difference between peach cobbler and peach crumble?
The base of all of these desserts is the same. The differences come in with the toppings.
The topping of a crumble and crisp are very similar, but a crisp includes oats.
The oats "crisp" up when cooked, giving it the name. A crumble ends up being more cakey or like a cookie.
A cobbler topping is more like a biscuit, or biscuit/cookie crossover. The dollops of dough merge together making it look like a cobblestone street.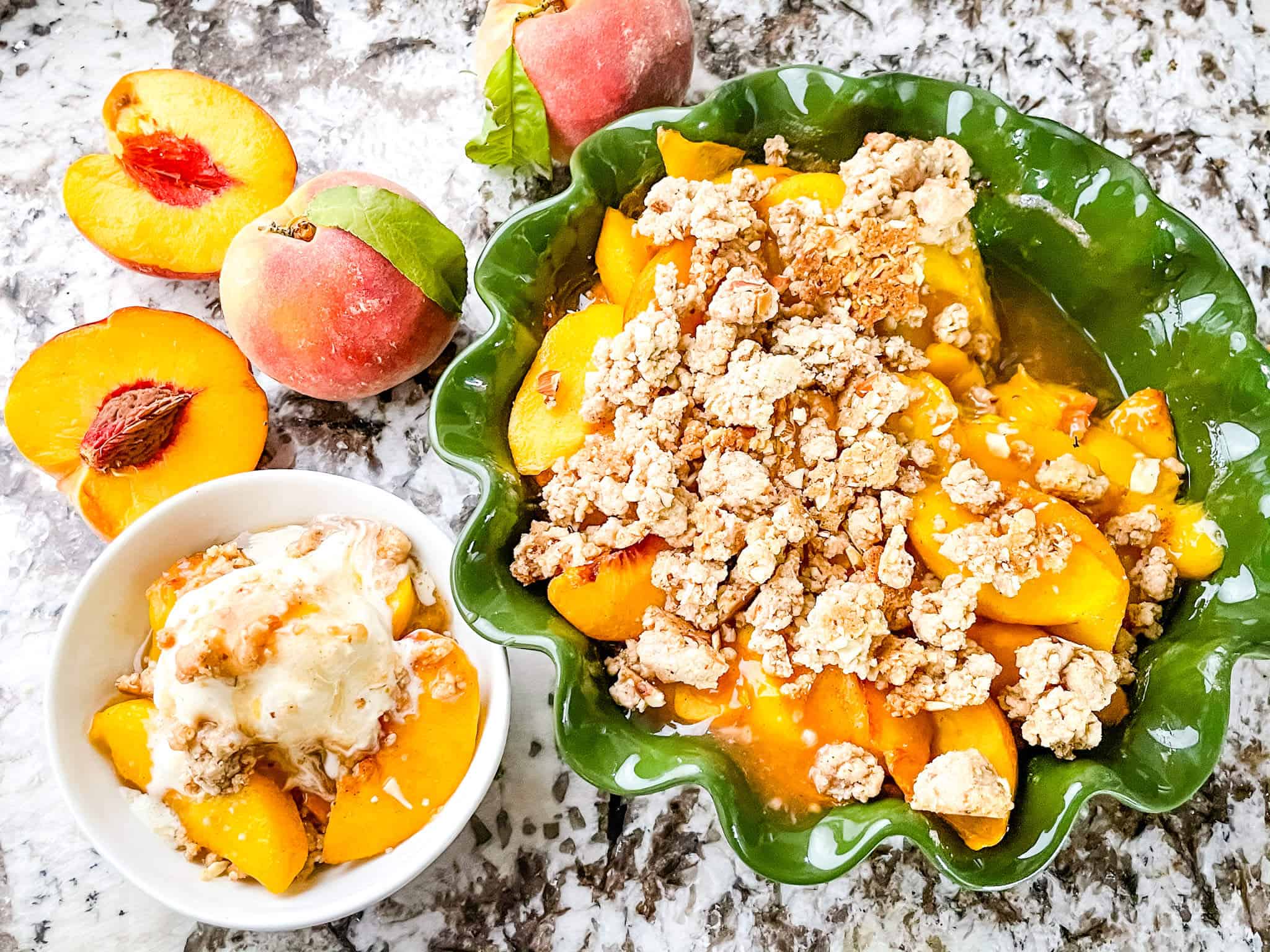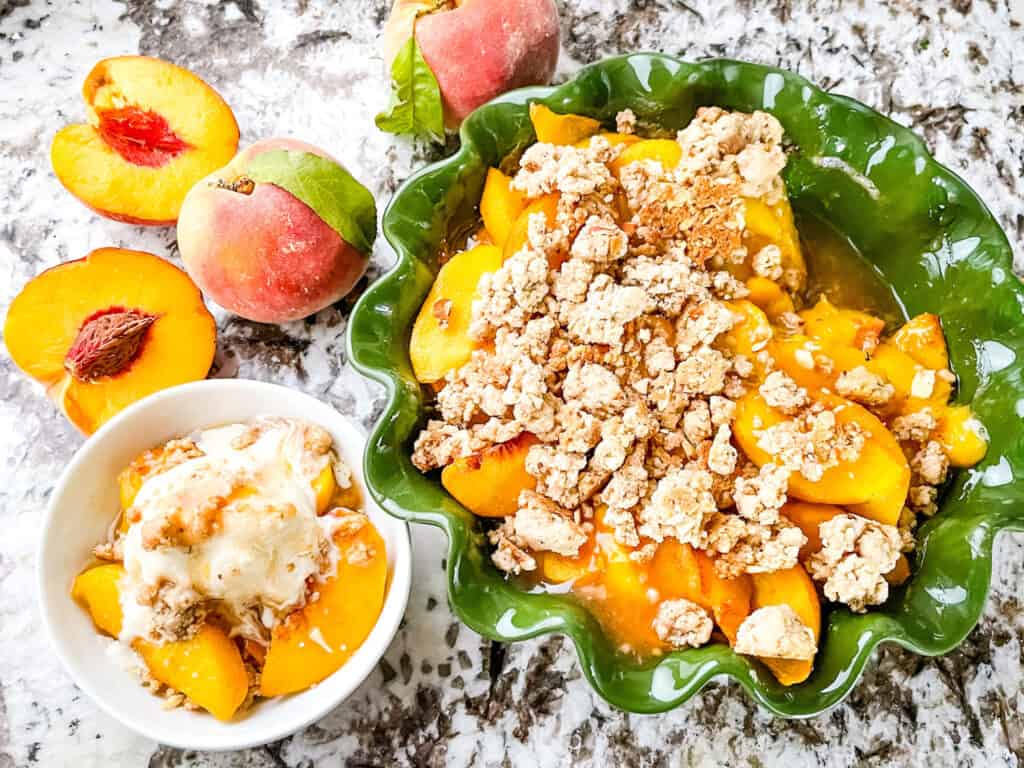 Can I cook the crumble with the crumble directly on the fruit?
Yes, you can put the crumble pieces directly on the fruit before baking.
I recommend baking them separately, however.
If separate, you can cook the fruit longer to make it softer and draw more juices out of the fruit without burning the crumble.
It also helps keep the crumble from getting soggy.
But if you do not have a preference, you can throw it right on top and cook as directed.
Does fruit crumble need to be refrigerated?
Yes, you should keep it chilled in a container in the refrigerator.
To prevent the topping from getting soggy, you can store it separately if desired.
Peach Recipes
Recipes highlighting delicious peaches!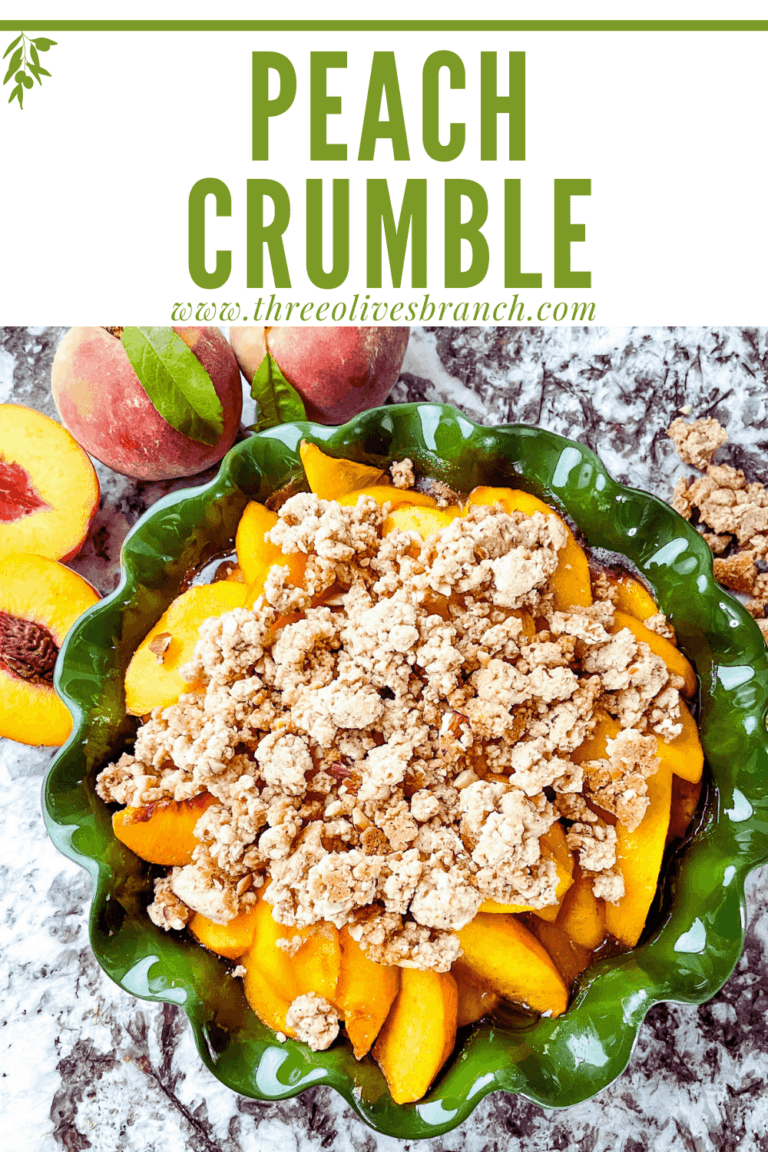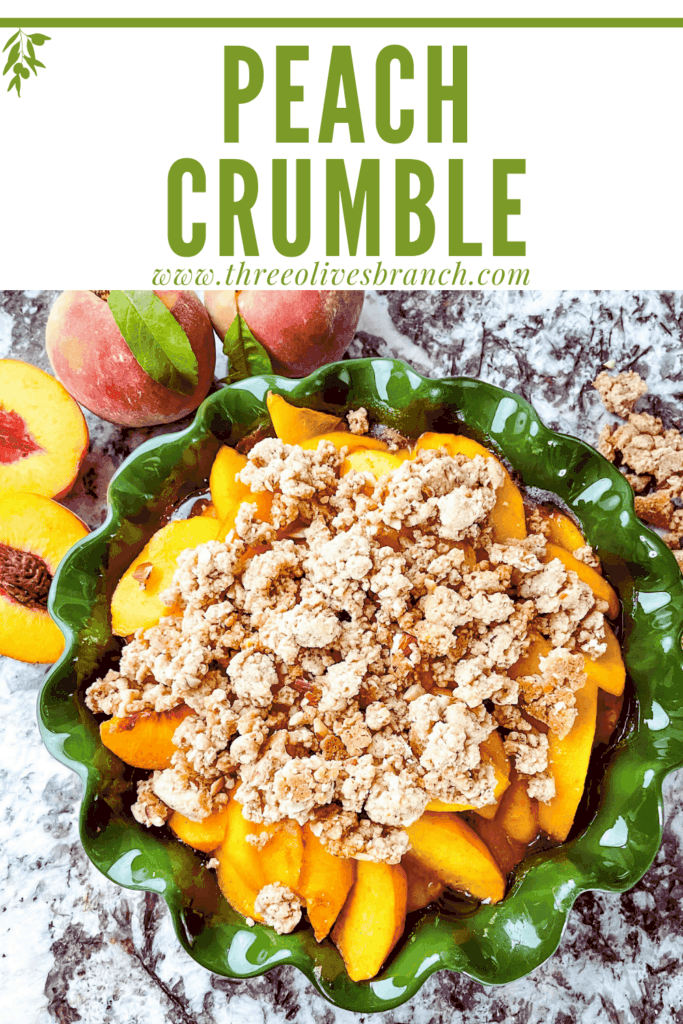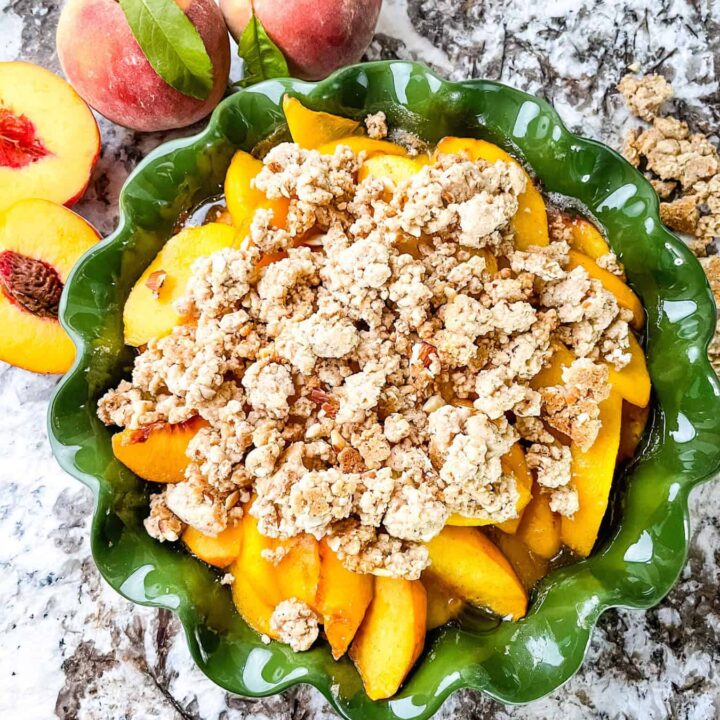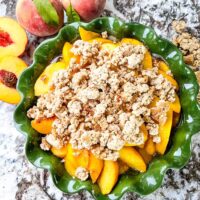 Peach Crumble
Homemade Peach Crumble is a perfect summer stone fruit dessert recipe! Made with a cookie like topping similar to a crisp. Use fresh or frozen peaches or nectarines.
Print
Pin
Rate
Instructions
Preheat oven to 350°F. Place the two racks in the middle upper and middle lower positions.

Peel and remove pits from peaches. Slice into ¼ to ½ inch thick slices.

In a medium bowl, combine the filling ingredients.

Toss to combine and pour into a pie dish or 8×8 inch baking dish. Cover with foil and place on a baking sheet.

In a food processor, add the flour, brown sugar, sugar, vanilla extract, and salt from the topping ingredients list. Pulse a couple times to mix.

Add the butter chunks into the food processor and process until the mixture comes together in large balls, approximately 30 seconds.

Add the almonds to the food processor and process to incorporate and slightly chop them up as desired.

Pour the mixture out onto a second baking sheet that is lined with parchment or a silicone baking mat.

Spread out the mixture and break up as needed so the chunks are no larger than ½ inch.

Put the fruit dish on the baking sheet on the upper middle rack and the crumble sheet on the lower middle rack.

Bake for approximately 15 minutes and when the crumble is turning a light brown, remove the crumble from the oven. Set aside.

Continue cooking the fruit for an additional 15 minutes (30 minutes total) until starting to release juices. Remove from oven.

Uncover the fruit and pour the crumble pieces on top of the fruit mixture. Serve warm with ice cream.
Notes
This can be fully made in advance, however wait to add the crumble on top until serving so it does not get soggy. Reheat gently at 250F for 15 minutes before serving.
Nutrition
Serving:

1

serving

|

Calories:

455

kcal

|

Carbohydrates:

70

g

|

Protein:

7

g

|

Fat:

18

g

|

Saturated Fat:

8

g

|

Polyunsaturated Fat:

2

g

|

Monounsaturated Fat:

7

g

|

Trans Fat:

1

g

|

Cholesterol:

30

mg

|

Sodium:

152

mg

|

Potassium:

559

mg

|

Fiber:

5

g

|

Sugar:

48

g

|

Vitamin A:

1090

IU

|

Vitamin C:

16

mg

|

Calcium:

61

mg

|

Iron:

2

mg

By