Hatch Pork Green Chili is a savory pork stew featuring Hatch green chile peppers. A spicy soup from the southwest. Gluten free and keto low carb. Great for fall cold weather and game day food. Serve in a bowl or smothered on Mexican food.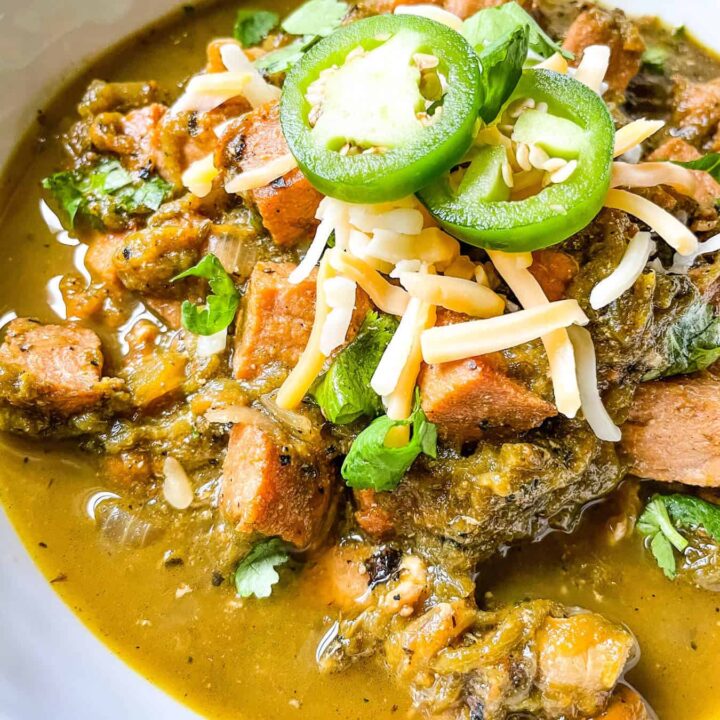 This award winning Hatch Pork Green Chili is one of my favorite soups to make!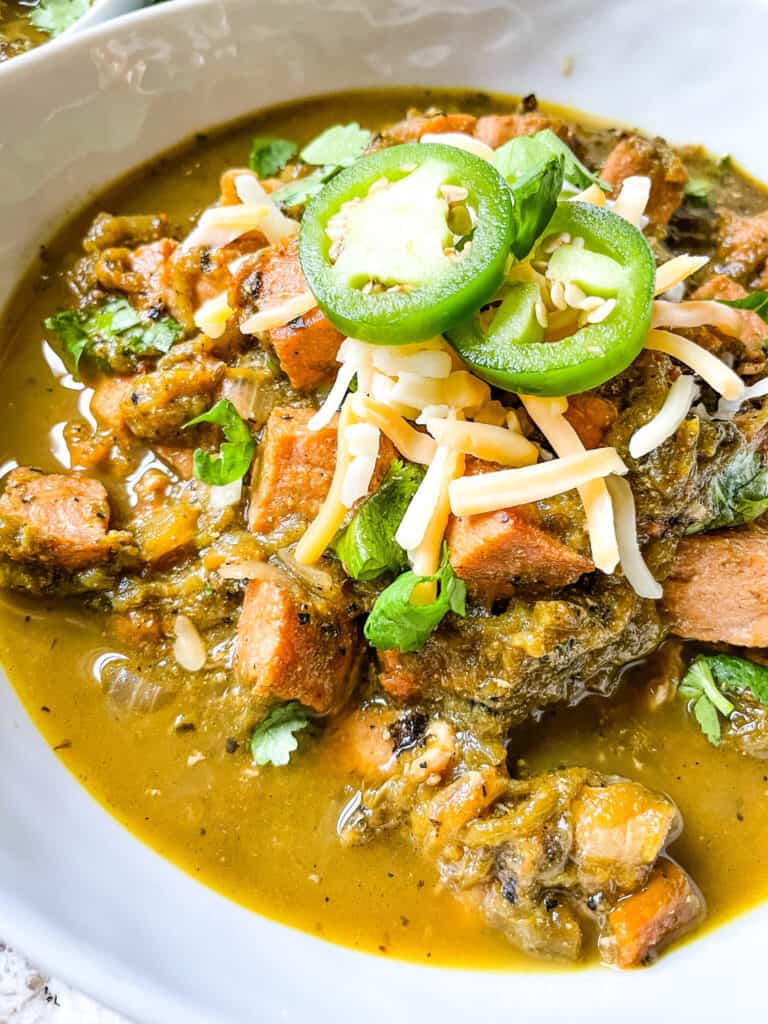 Why You Will Love This Recipe
Something about the fall and football season makes me want to cook this Pork Hatch Green Chili every Sunday.
But honestly, I also crave this chili on a regular basis, even in the summer. The flavors are so fresh and bright that it works all year round.
This chili is hearty and comforting without being too heavy.
And the flavor of roasted Hatch Green Chiles is the star!
This pork green chile recipe is one of the most popular recipes on this site, along with my Escabeche Mexican Pickled Vegetables.
Looking for a vegetarian version? Check out our Vegetarian Hatch Green Chili!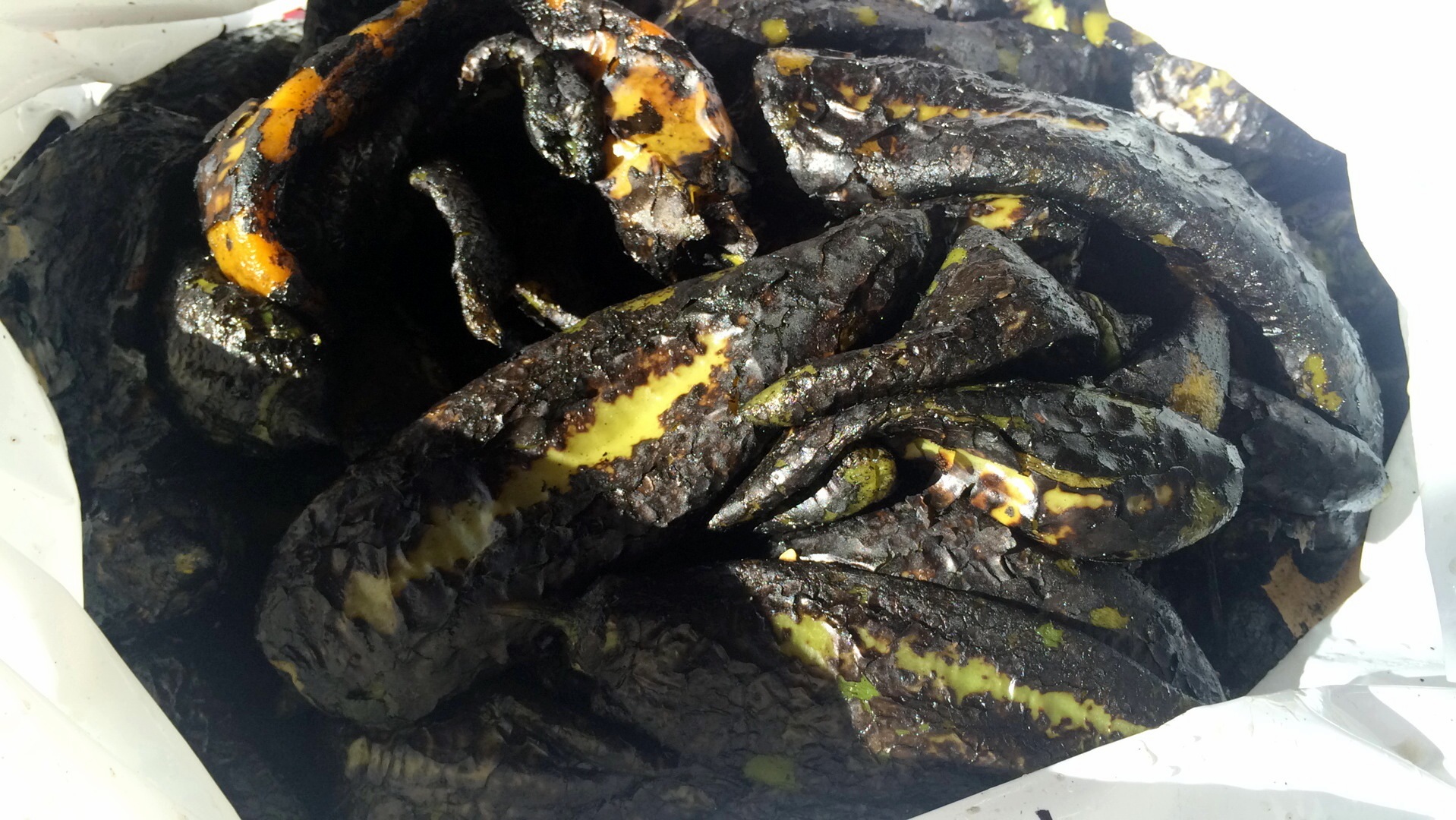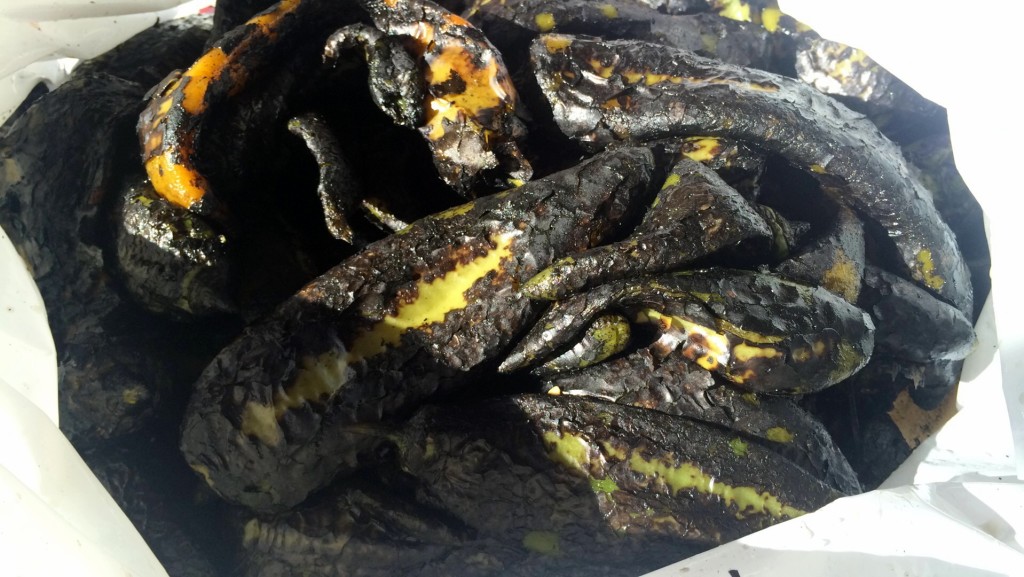 What is the difference between Hatch green chili and green chili?
Hatch peppers are grown in Hatch, New Mexico and named specifically for their flavor and heat that comes from their location.
Non-Hatch chiles are called Anaheim peppers, which are a variety of Hatch that was taken from Hatch and grown in Anaheim, California. But the main difference is not just that they were grown in different places – Hatch peppers are much hotter.
We are lucky enough to have fresh pepper stands throughout the state in the fall and the smell of the peppers roasting is intoxicating.
I stock up on two or three bushels to make sure that I have enough for my Hatch Green Chili cravings plus some extra for various Mexican dishes throughout the rest of the year.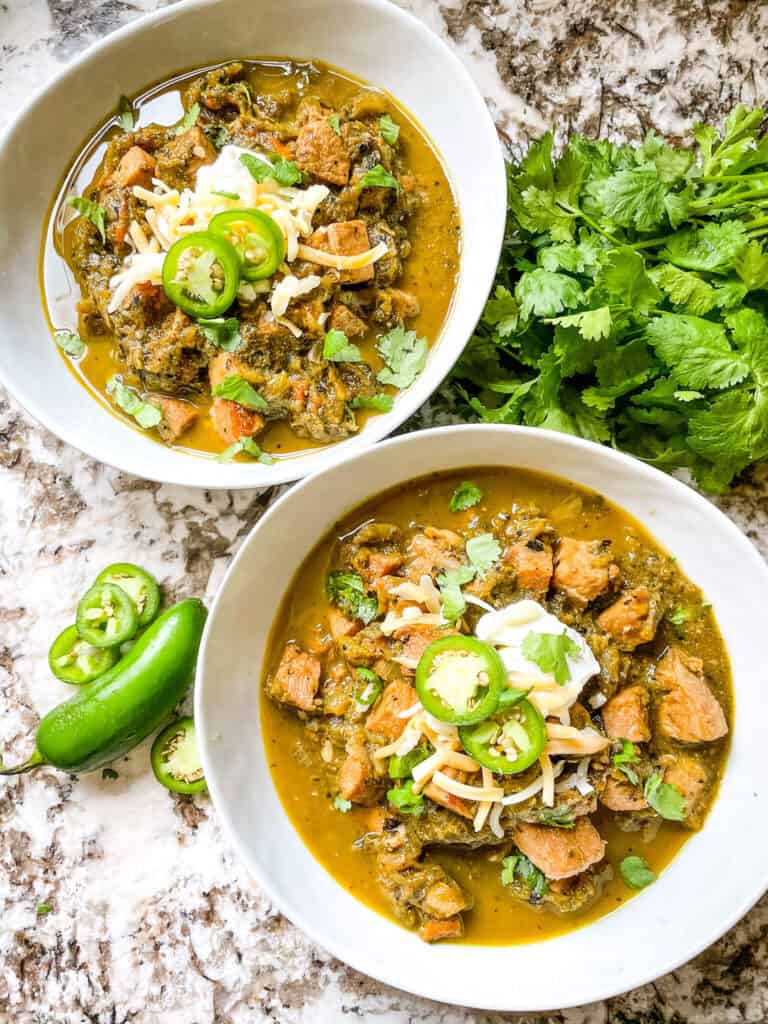 Ingredients
Here is what you need to make Pork Hatch Green Chili:
Pork Shoulder
Yellow Onion
Garlic Powder
Celery Salt
Oregano
Cumin
Chicken Stock (or broth)
Green Enchilada Sauce
Light Beer
Fresh Cilantro
Jalapeno
Diced Green Chiles (heat level of choice)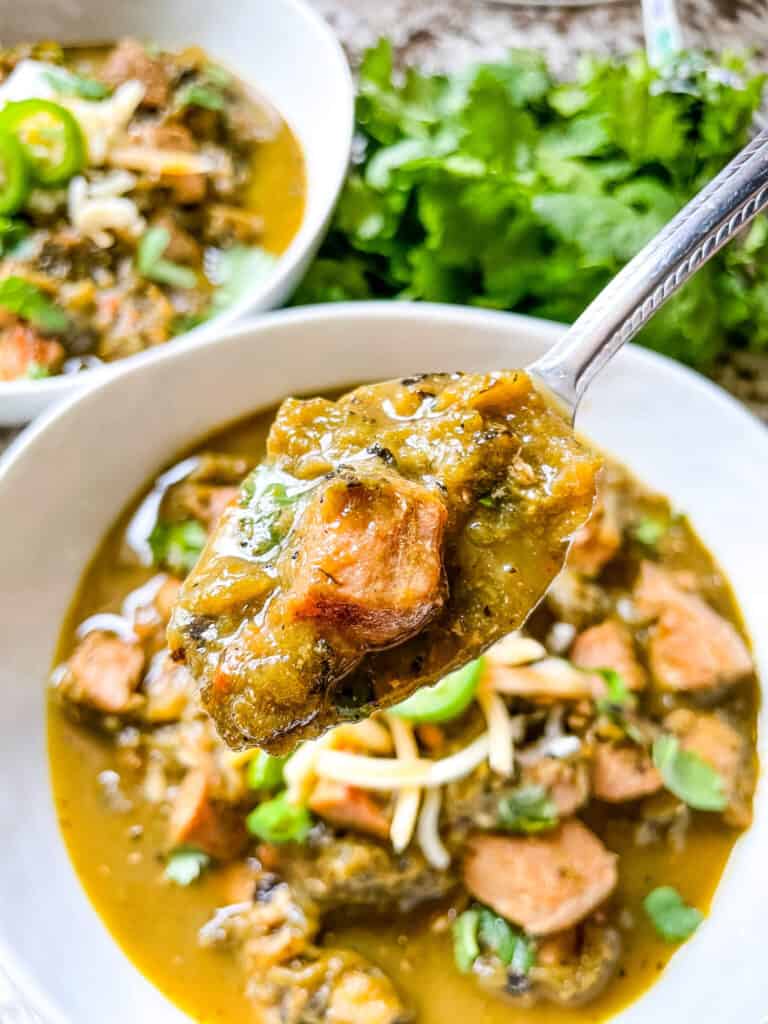 Instructions
Cut up the pork and brown it in your cast iron pot.
Remove the pork, add the onion and spices and cook.
Add everything else, including the pork, back in the pot and let it simmer at least one hour.
Longer simmering is best! I am for at least 3 hours.
If needed, use more stock to get the consistency you want as it continues to simmer.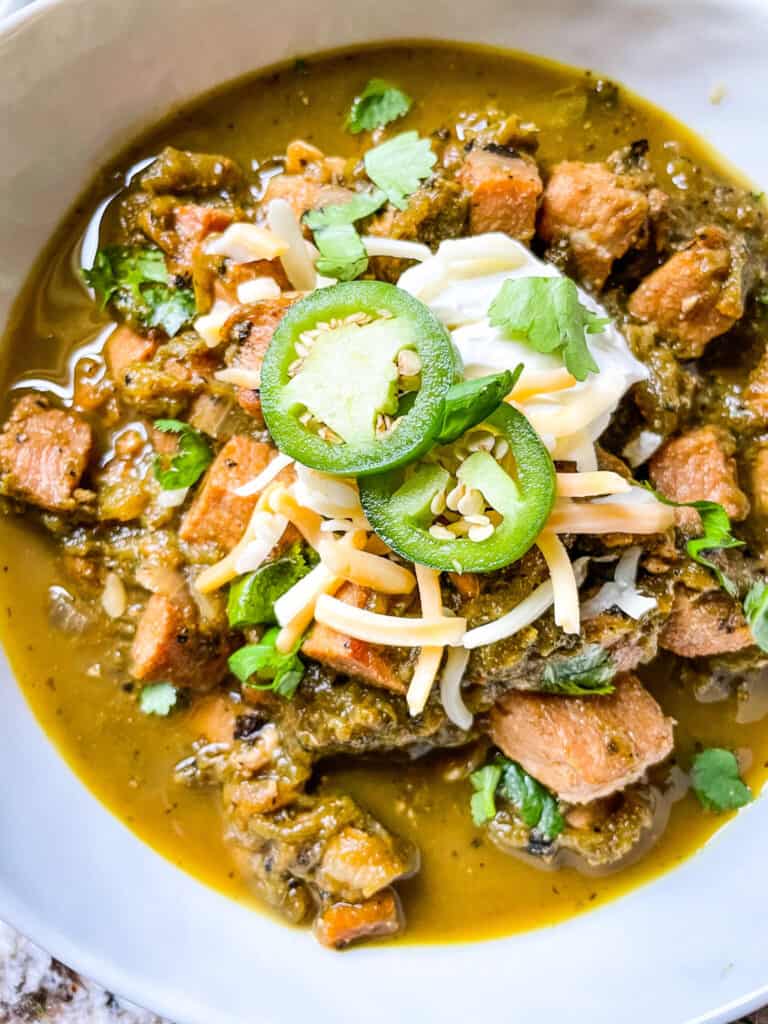 Are Hatch green chile peppers hot?
They can be, yes! You can typically find various heat levels of the pepper, with the hottest available earliest in the season.
I love to use the fresh peppers, since I am lucky to have them in this area. If you do not see them in the produce section, I have found that frozen packs of roasted and diced green chiles are the closest substitution. Canned green chiles also work!
Be careful if you are purchasing any jarred chiles, as many of them are actually a sauce.
Easily control the heat level in this green chile recipe through the green chili powder, enchilada sauce, quantity of jalapenos, and the chile peppers themselves. This recipe is set for a mild to mild-medium heat level.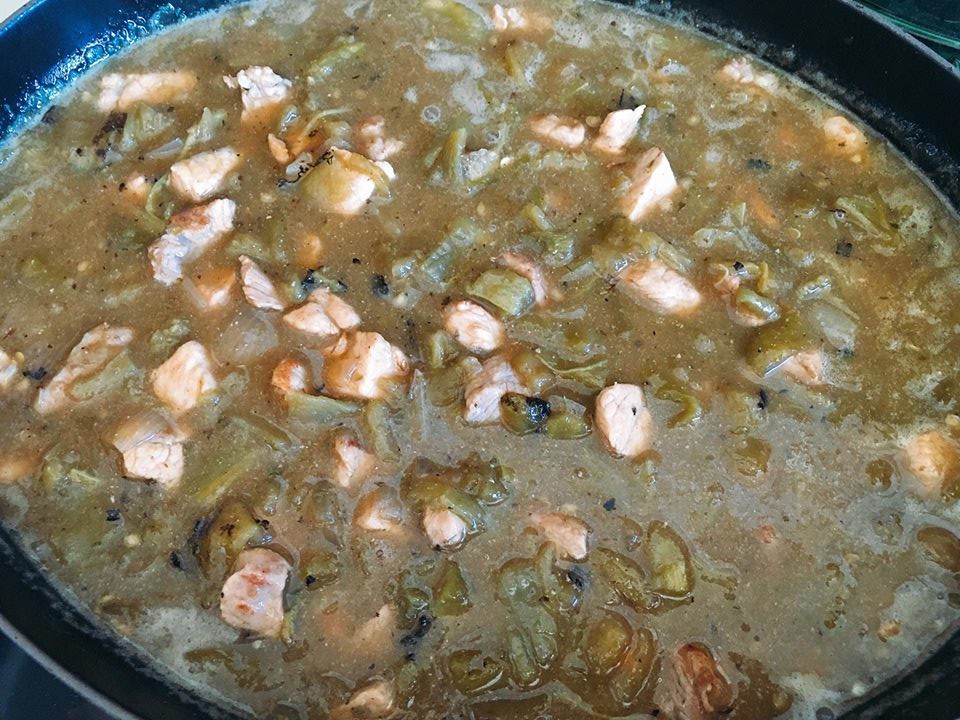 Modifications and Substitutions
Want a version that focuses specifically on the peppers and nothing else? Try our Vegetarian Hatch Green Chili!
Use any cut of pork if needed. Pork shoulder is budget friendly with great flavor.
Skip the beer completely if desired.
Make it spicy by using hotter peppers and/or more jalapeno.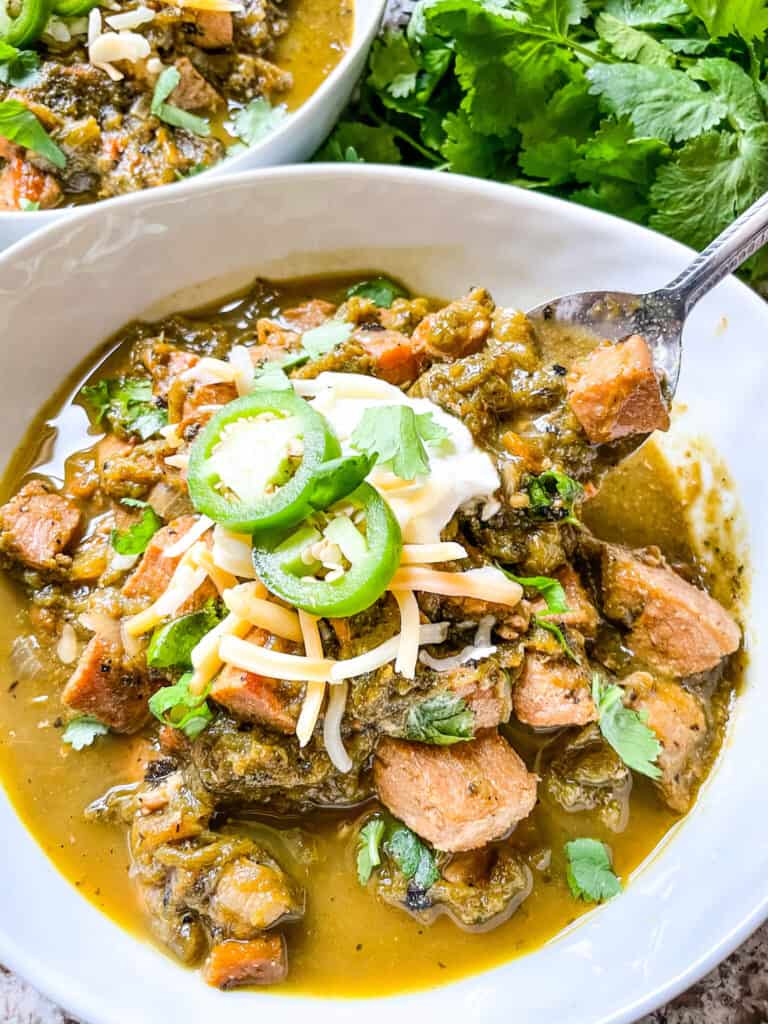 Serving and Storing
After just a few minutes of preparation, you can leave this Pork Hatch Green Chili on the stove for several hours to do its thing.
The longer you let the chili cook, the better it will taste…if you are able to restrain yourself. The smell is intoxicating!
It also freezes really well! Just pack into mason jars and throw in the freezer for perfectly sized portions.
There are so many options for toppings and add-ins, you can please everyone with this recipe. Plus it is gluten free and keto low carb!
Some of my favorite toppings or items to serve with the chili includes sour cream, shredded cheese, fresh cilantro, radish slices, tortillas, and baked potatoes.
Kim's Tips
Fresh roasted peppers are best if you can get them.
There are also some great roasted varieties in the freezer section of the grocery store.
But canned and jarred will work just fine if that is what you have. The 505 Hatch chiles is my favorite brand to date.
I know it seems weird to include a canned enchilada sauce, and I have gotten some grief for it. But the roasted peppers still shine and the enchilada sauce helps the overall consistency and base flavor. If you want to skip it, go ahead. Or use more roasted peppers and blend some up to make a sauce like addition.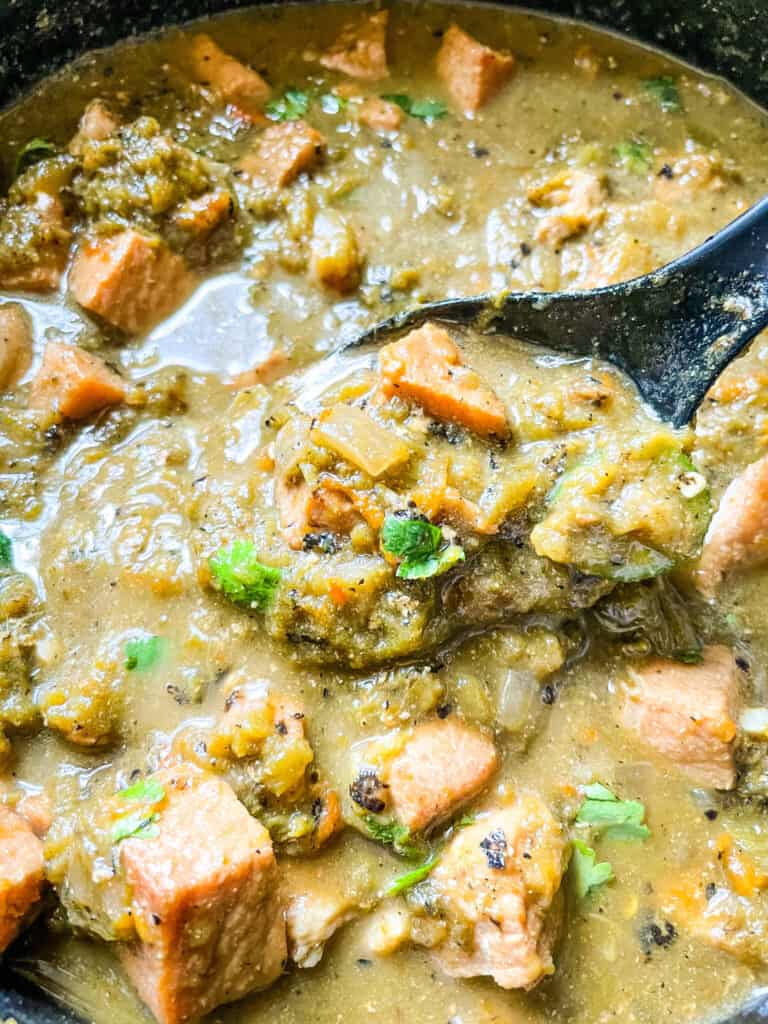 FAQs
Is it chili or chile?
Well, my stance is that chili is for the soup type dish regardless of what type of chili it is (such as red, Texas, or green in this case) and chile is reserved for the peppers themselves. 
Where did pork green chili originated?
Pork green chili is said to have originated in Mexico.
It is very popular in the southwest part of the United States, which leads us to our next question…
Is green chili a Colorado thing?
Yes! I live in Colorado and it is very common to find a from-scratch green chili at many restaurants, especially Mexican restaurants.
We have great access to Hatch chile peppers, and there is even a local "debate" between Pueblo chiles (from southern Colorado) and Hatch – which is a whole other article.
Even if we are using Hatch peppers, green chili is a staple in Colorado.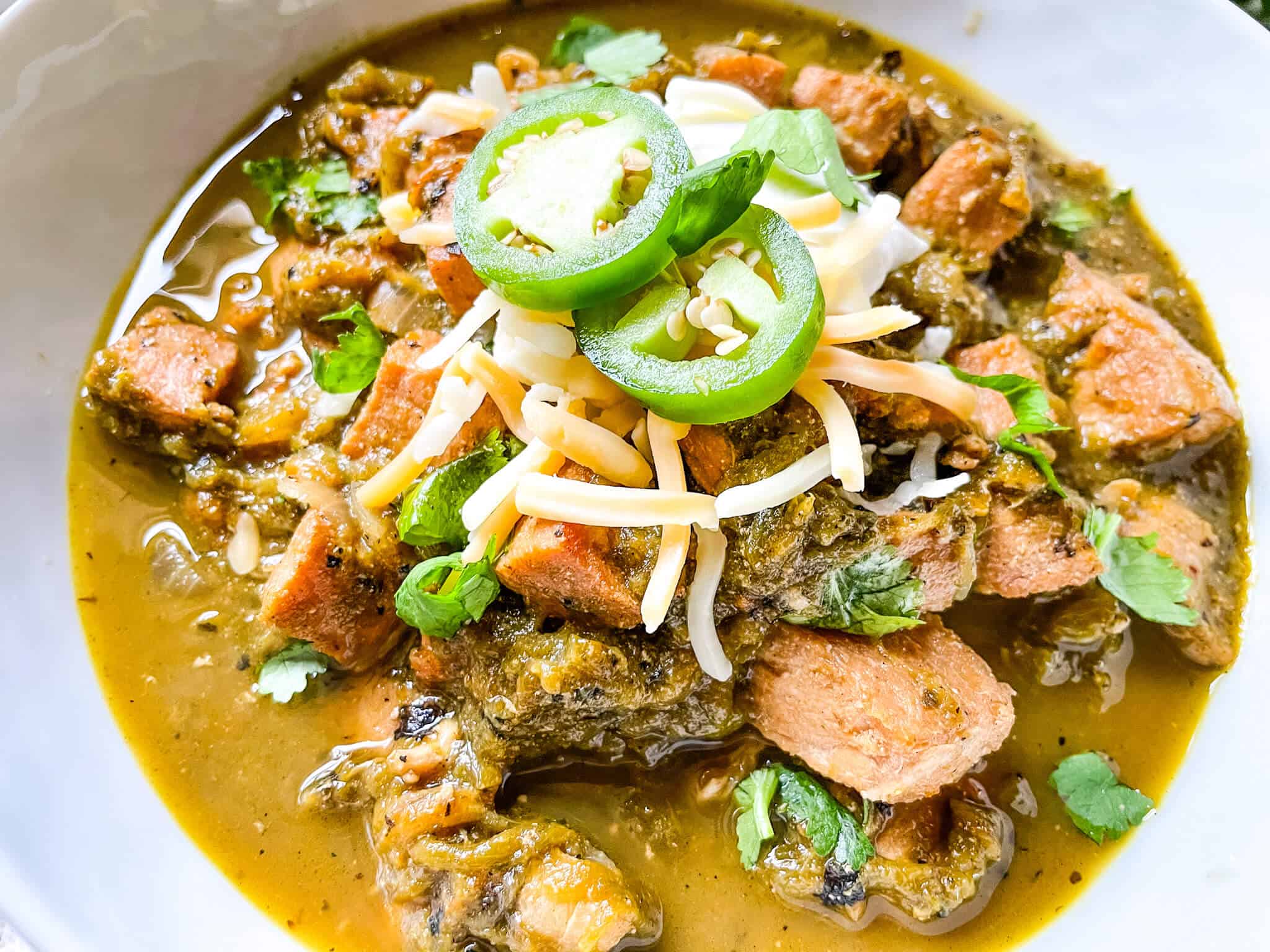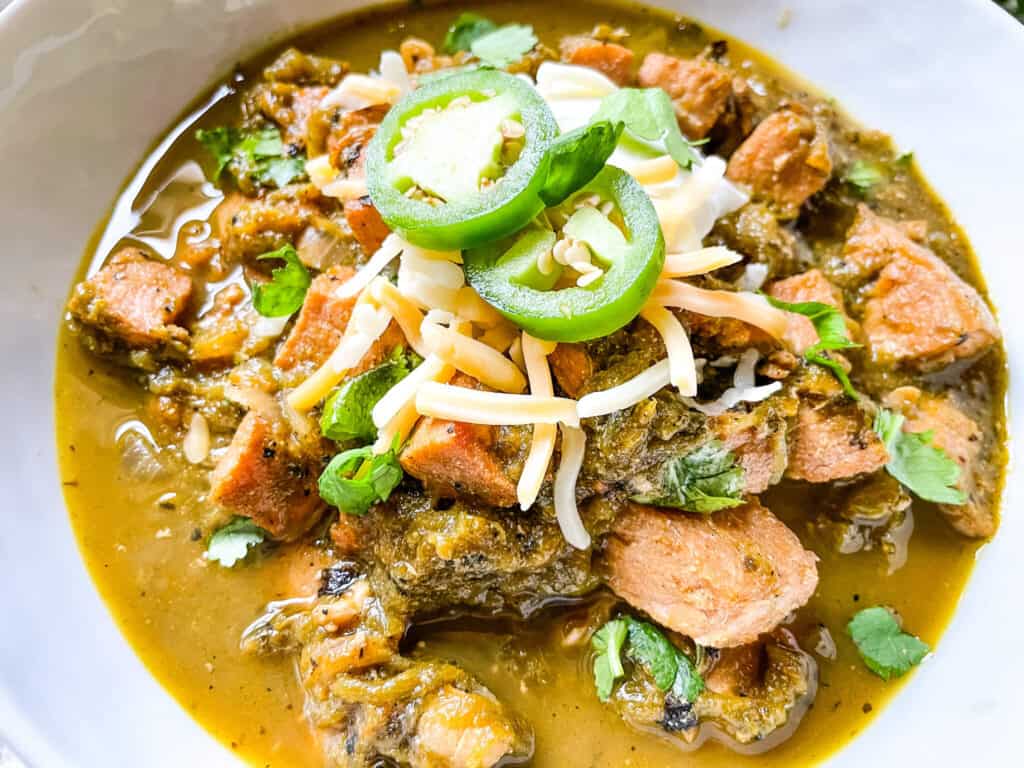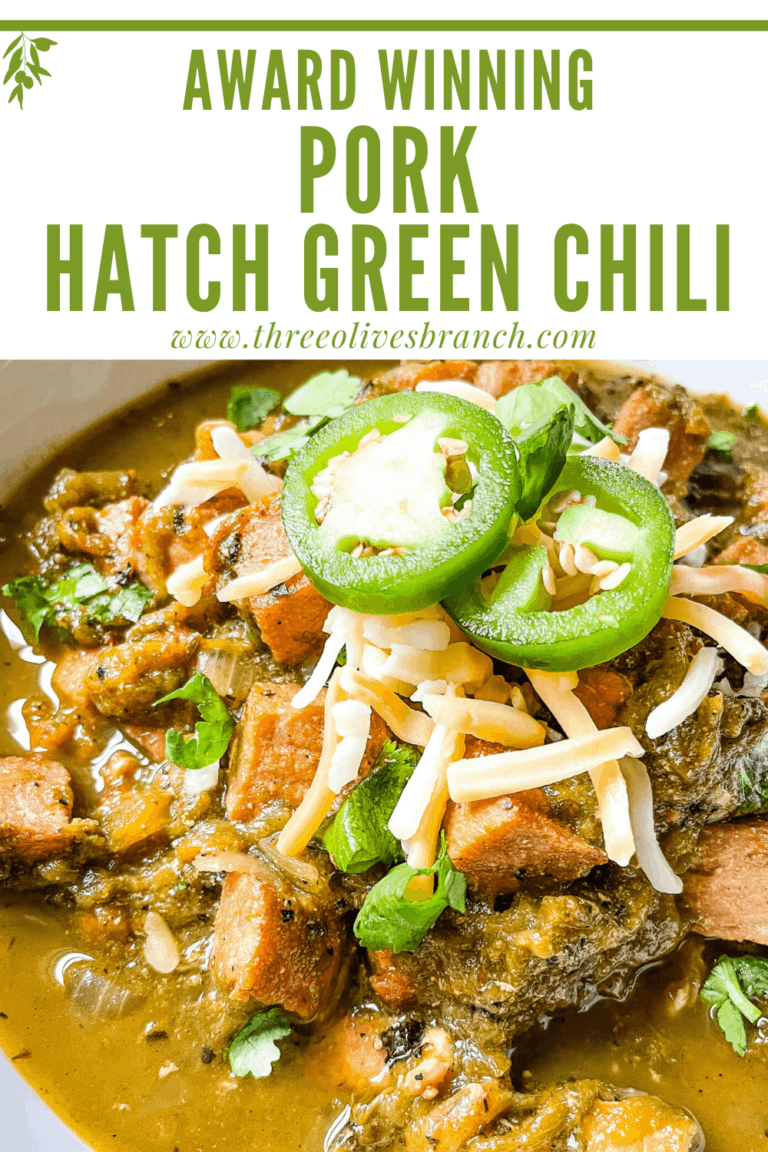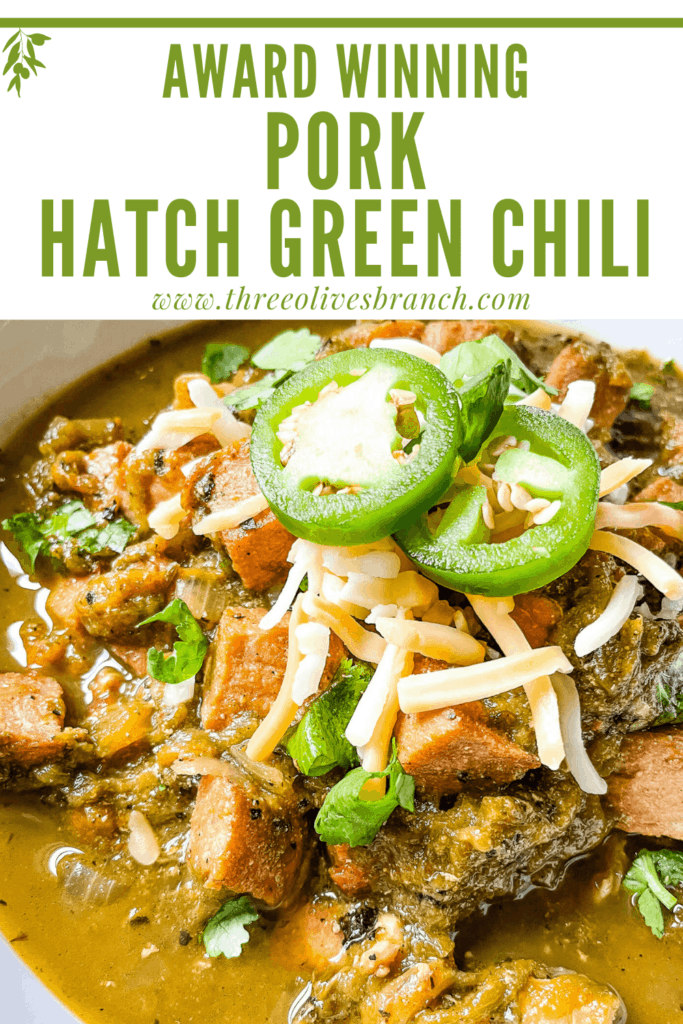 Shop
More Hatch Green Chile Recipes
More Hatch Green Chile Recipes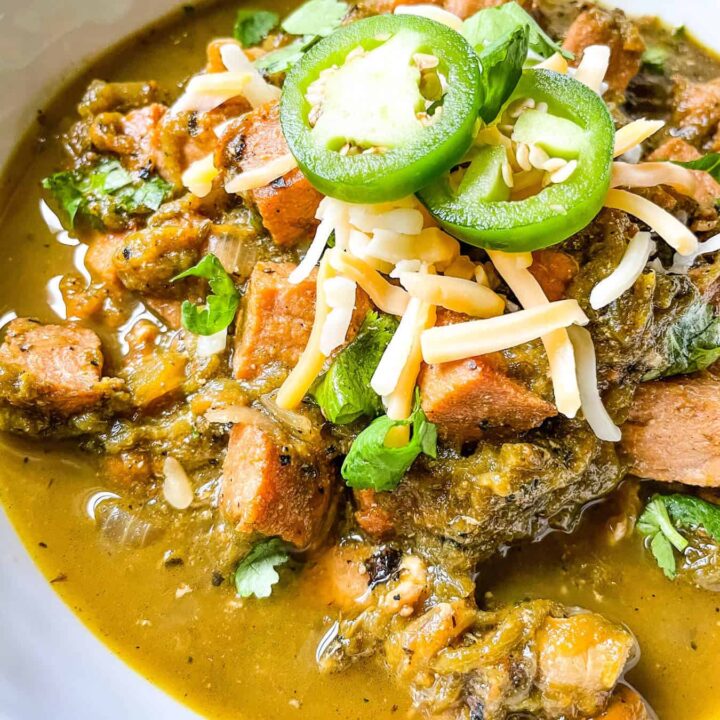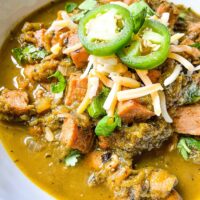 Hatch Pork Green Chili
Hatch Pork Green Chili is a savory pork stew featuring Hatch green chile peppers. A spicy soup from the southwest. Gluten free and keto low carb. Great for fall cold weather and game day food. Serve in a bowl or smothered on Mexican food.
Print
Pin
Rate
Instructions
In a large pot (cast iron preferably), cook pork over medium heat until browned. Reserve two tablespoons of the fat. Drain the remaining fat and remove pork. Set aside.

2 pounds pork shoulder, diced and trimmed of fat

Return the two tablespoons of pork drippings to the pot. Over medium heat, cook onion until translucent, approximately 5 minutes.

Add all of the dried spices: garlic powder, green chili powder, celery salt, dried oregano, and cumin. Stir. Saute to toast herbs for approximately 3 minutes.

2 teaspoons garlic powder,

½ Tablespoon green chili powder,

1 ½ teaspoons celery salt,

1 teaspoon dried oregano,

1 Tablespoon cumin

Add the chicken stock, green enchilada sauce, beer, cilantro, jalapenos, and green chiles. Add the pork back in.

32 ounces chicken stock,

28 ounces green enchilada sauce,

1 bottle beer,

½ cup fresh cilantro,

1-3 jalapeno peppers,

32 ounces diced Hatch green chiles

Cook, over medium low heat, for at least one hour, preferably three hours. Stir occasionally. If the chili becomes too thick, add some more stock a cup at a time. *You want the chili to thicken in this step. Continue cooking until the thickness is to your liking. You can turn up the heat a little if it is taking too long.

Finish off the chili with hot sauce for more of a kick as needed, or use as a mix-in. Serve with your favorite toppings or sides.
Notes
You can order green chile powder here.
My favorite beer to use is Corona. Dos Equis almost made it taste sweet to me.
Nothing beats fresh roasted Hatch peppers, but you can use the canned kind as well.
Use homemade vegetable stock for added flavor.  Learn how to make your own here!
Toppings and sides:
Rice
Baked potatoes
Cheese
Sour cream
Lime
Tortillas
Radishes
Hot sauce
Nutrition
Serving:

1

serving

|

Calories:

321

kcal

|

Carbohydrates:

30

g

|

Protein:

26

g

|

Fat:

9

g

|

Saturated Fat:

3

g

|

Cholesterol:

66

mg

|

Sodium:

2632

mg

|

Potassium:

748

mg

|

Fiber:

6

g

|

Sugar:

13

g

|

Vitamin A:

1398

IU

|

Vitamin C:

60

mg

|

Calcium:

97

mg

|

Iron:

5

mg

By