Pumpkin Pasta Sauce is a delicious creamy and savory pumpkin recipe! Perfect dinner idea for fall. Warm autumn flavors in an easy pasta sauce. Flavored with cheese, sage, and warm spices.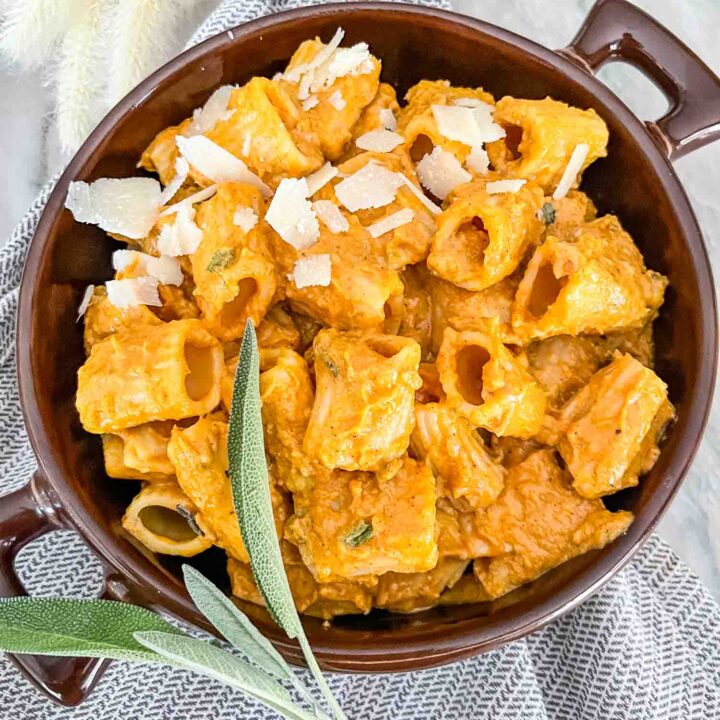 Enjoy the savory side of pumpkin with this Pumpkin Pasta Sauce! Full of warm spices and herbs, this creamy sauce is balanced with salty cheese.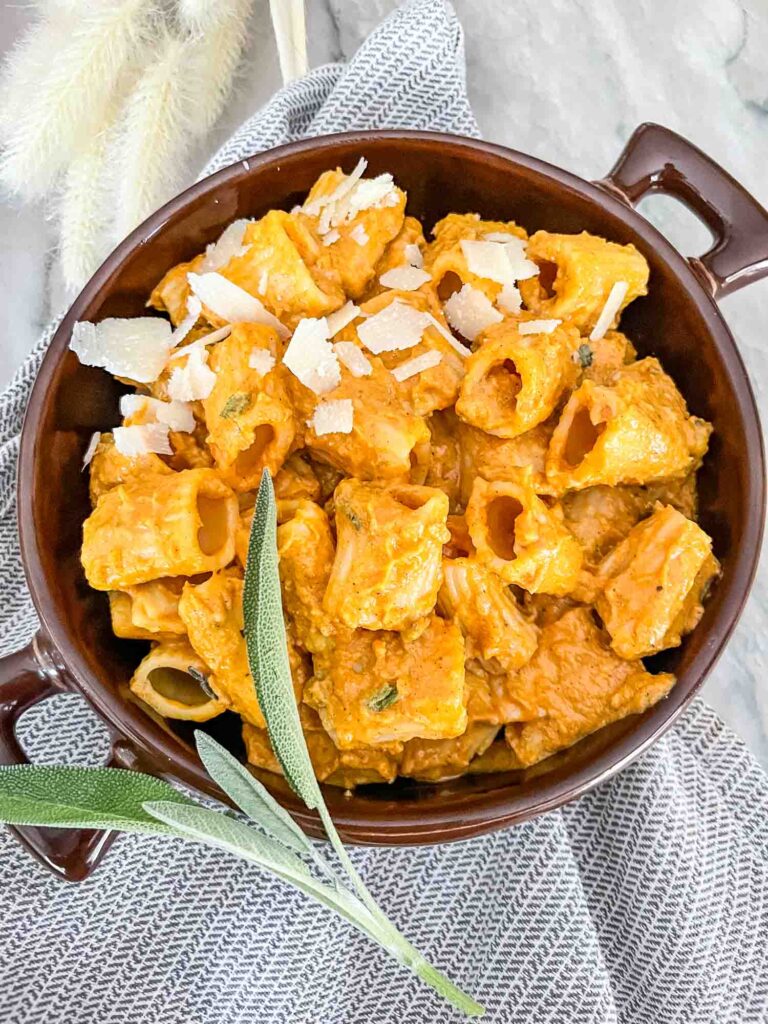 Why This Recipe is Great
I just love everything about fall and the flavors that come with it!
This Pumpkin Pasta Sauce is a perfect warm and hearty recipe that is versatile and a great recipe for autumn cooking.
The sauce focuses on savory flavors, not sweet, for a different way to enjoy the popular squash. Bold pumpkin flavor is balanced with warm spices and herbs, creamy elements, and salty Parmesan cheese.
Use it with any pasta shape you like and see the Modifications section for ideas on other ingredients that can be added to it!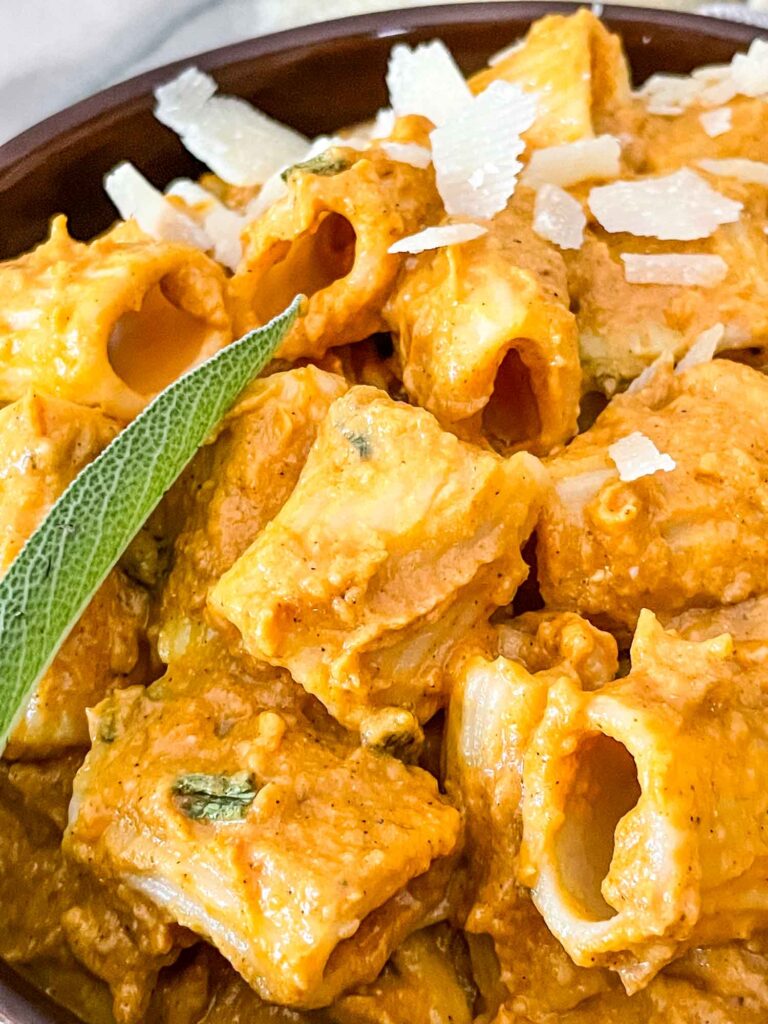 Ingredients
Here are the ingredients you need for this recipe:
Pumpkin Puree
Milk
Cream Cheese
Sage
Paprika
Ground Cinnamon
Ground Nutmeg
Parmesan Cheese
Garlic
Salt
Black Pepper
Vegetable Oil
This pumpkin pasta sauce has no cream and instead uses milk and cream cheese for a silky and creamy taste.
The ingredients make this a vegetarian pasta sauce. Just be sure to use a vegetarian cheese if needed.
Pumpkin Puree – Find this in your baking section near pie fillings. But use puree and not pumpkin pie filling!
Milk – I always use whole milk as it has more richness and is less watery, but any type can work.
Parmesan Cheese – Romano is a great budget friendly substitute! Use freshly grated cheese for the best result.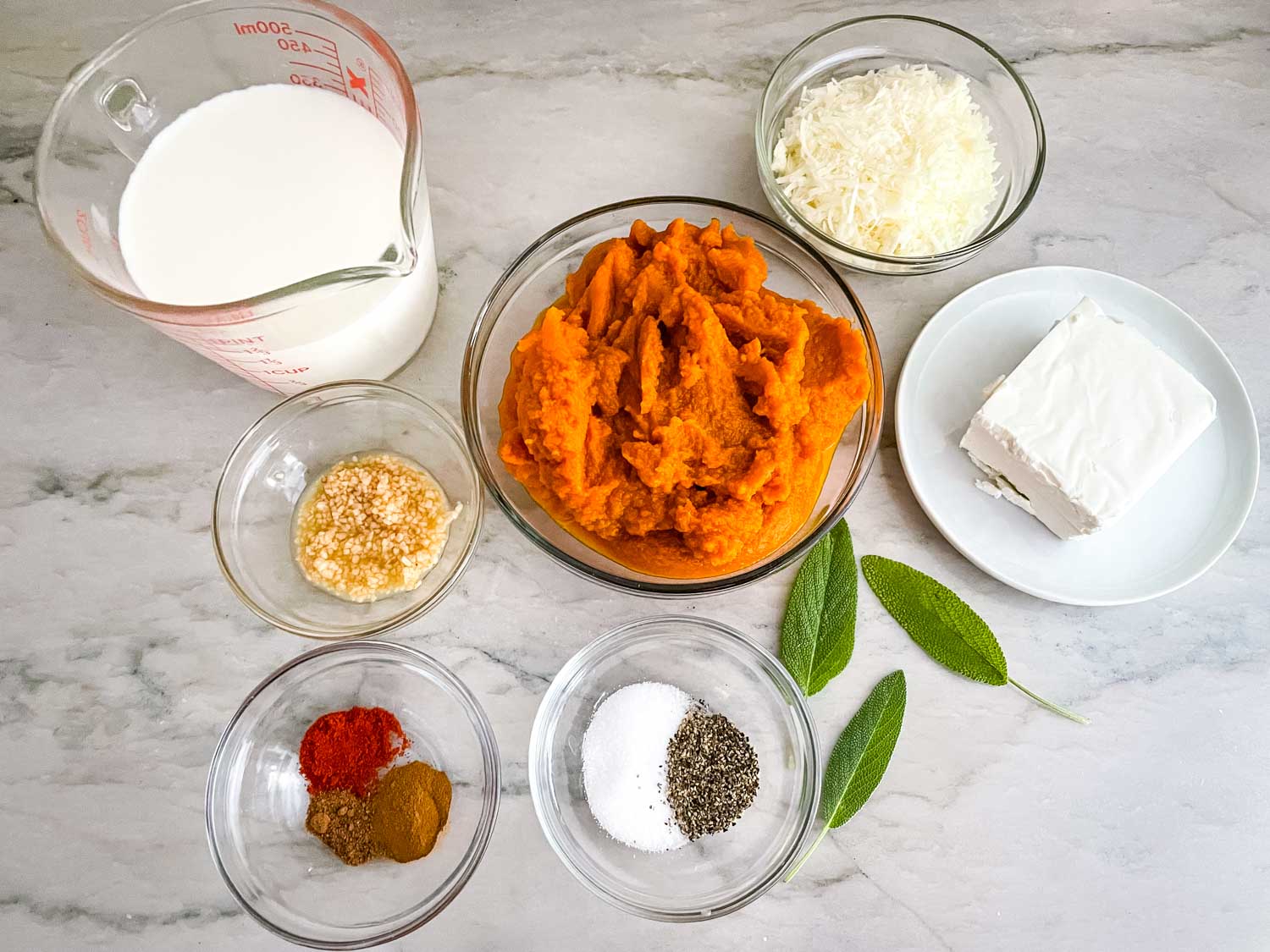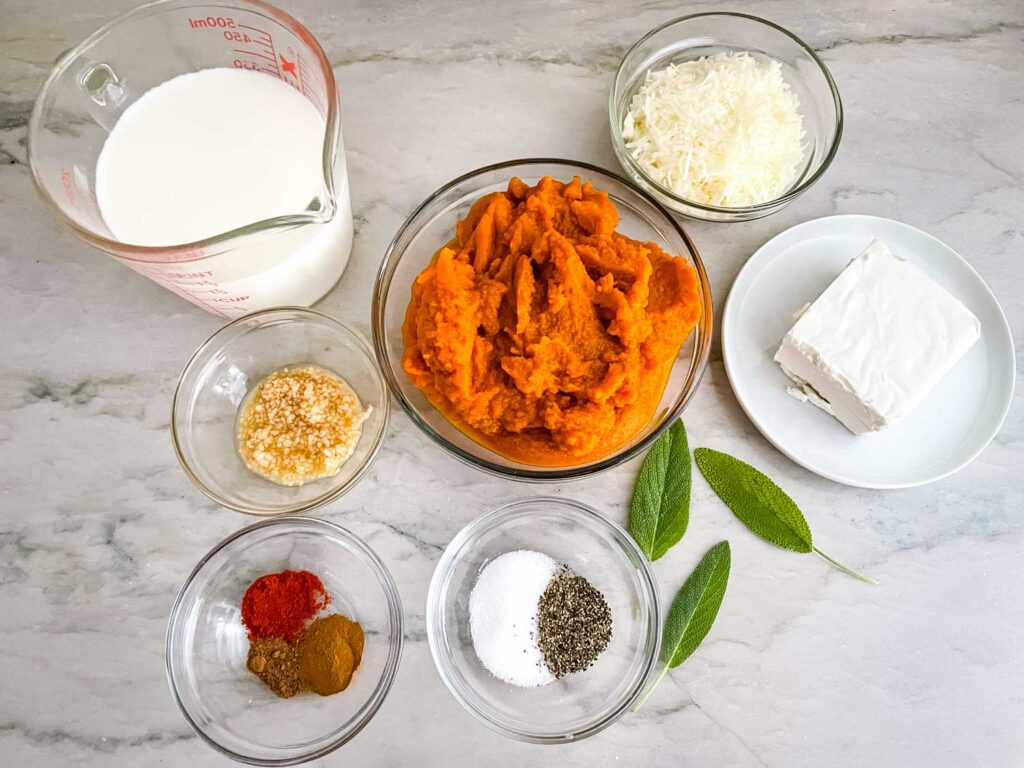 Instruction Overview
To make this sauce, first heat some oil in a pot and add the garlic to briefly sauté.
Add the spices and cook until you can smell them.
Then add the sage and briefly cook, being careful not to burn it.
Add in the pumpkin puree, cream cheese, and milk.
Let it simmer for the flavors to develop, about 15-30 minutes.
Add the cheese and stir to melt it. Adjust your consistency if desired by adding water or milk to thin it out, and adjust seasonings as desired with salt, black pepper, and/or paprika.
Toss with a pound of pasta, if using it that way! Or spoon on top.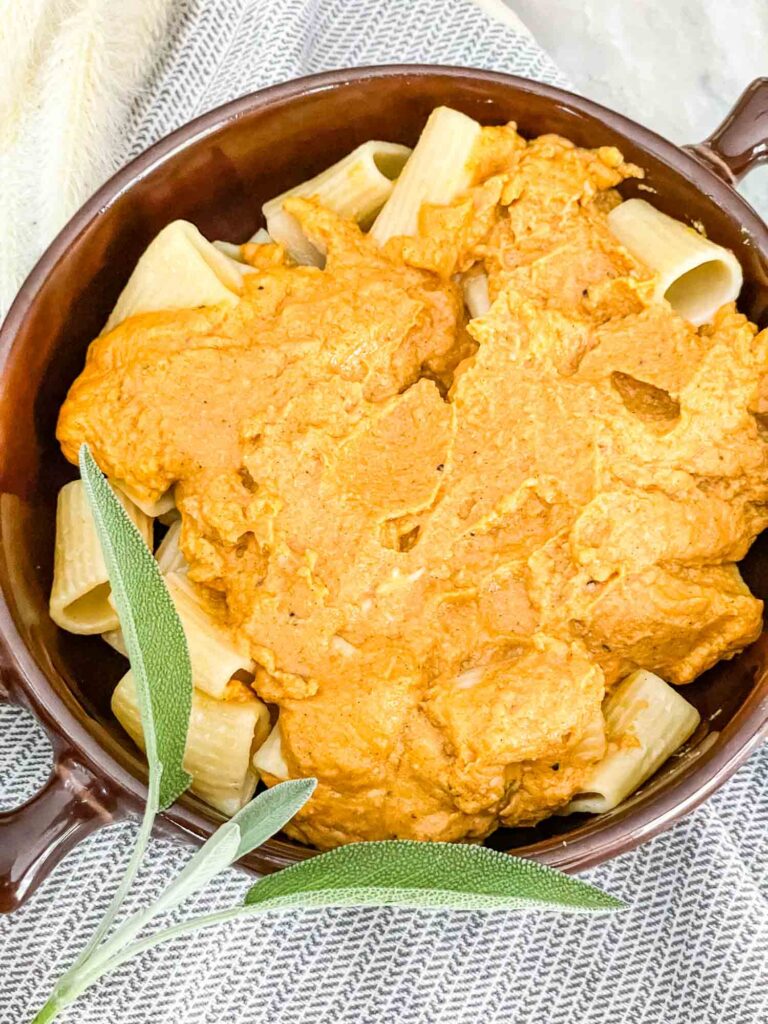 FAQs
What Does Pumpkin Pasta Sauce Taste Like?
This sauce tastes like a classic pumpkin flavor but with warm and savory hints of herbs and spices. There is also a creamy element from the dairy products and a little salty bite from the cheese.
What is the Difference Between Pumpkin Puree and Pumpkin Pie Filling?
You want to be sure to use a plain pumpkin puree for this recipe.
Pumpkin pie filling is meant to go straight in a pie and has added sweet ingredients and spices which will alter the taste of this sauce.
Can I Use Pumpkin Pie Filling Instead of Pumpkin Puree?
No, because it will be full of sweet flavors which will compete with the savory flavors we are using here.
Can I Use Dried Sage?
I do prefer the fresh sage but yes, dried sage works too!
Use 2 teaspoons of dried ground sage instead of the fresh and add along with the cinnamon and nutmeg.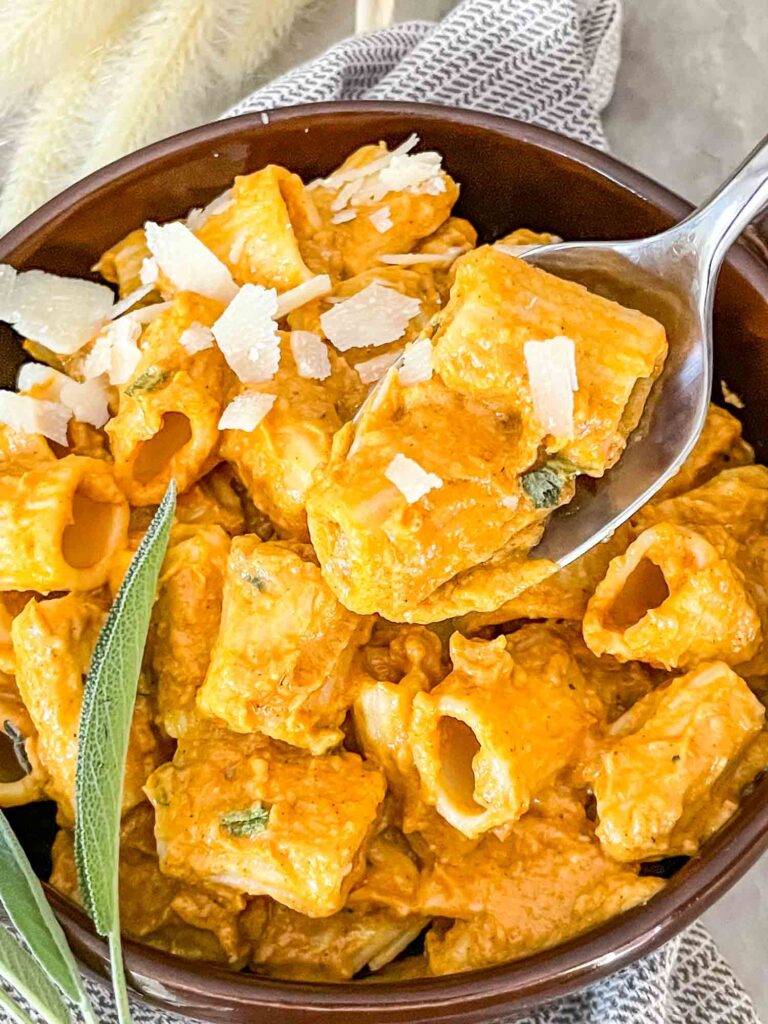 Kim's Tips
Here are my tips for making this recipe!
Use freshly grated cheese – it makes a HUGE difference!
Whole milk is best for more flavor and less watery-feeling
Romano cheese is a great budget friendly substitute for Parmesan
Get the consistency you prefer. Make it thicker by cooking it longer, or thinner by adding some pasta water (ideal!), milk, or plain water.
Always cook pasta al dente! This means it has just a little "bite" or firmness to it and is not mushy.
If making in advance, do not mix with the pasta until serving if you can avoid it. Mixing a sauce and pasta early means that moisture is absorbed out of the sauce and into the pasta, changing the sauce consistency and making the pasta mushy.
Additions and Modifications
In addition to serving the sauce on any classic pasta, you can add more ingredients or sides to round out the meal.
Here are some suggestions and ideas:
Meats: Turkey, Chicken, Sausage

Vegetables: Sauteed or Roasted Squash, Onions, Cauliflower, Mushrooms

For Texture: Walnuts, Pecans, Pepitas (Pumpkin Seeds without the white shell)
I also use this pasta sauce recipe in my Spider Spooky Pasta for Halloween!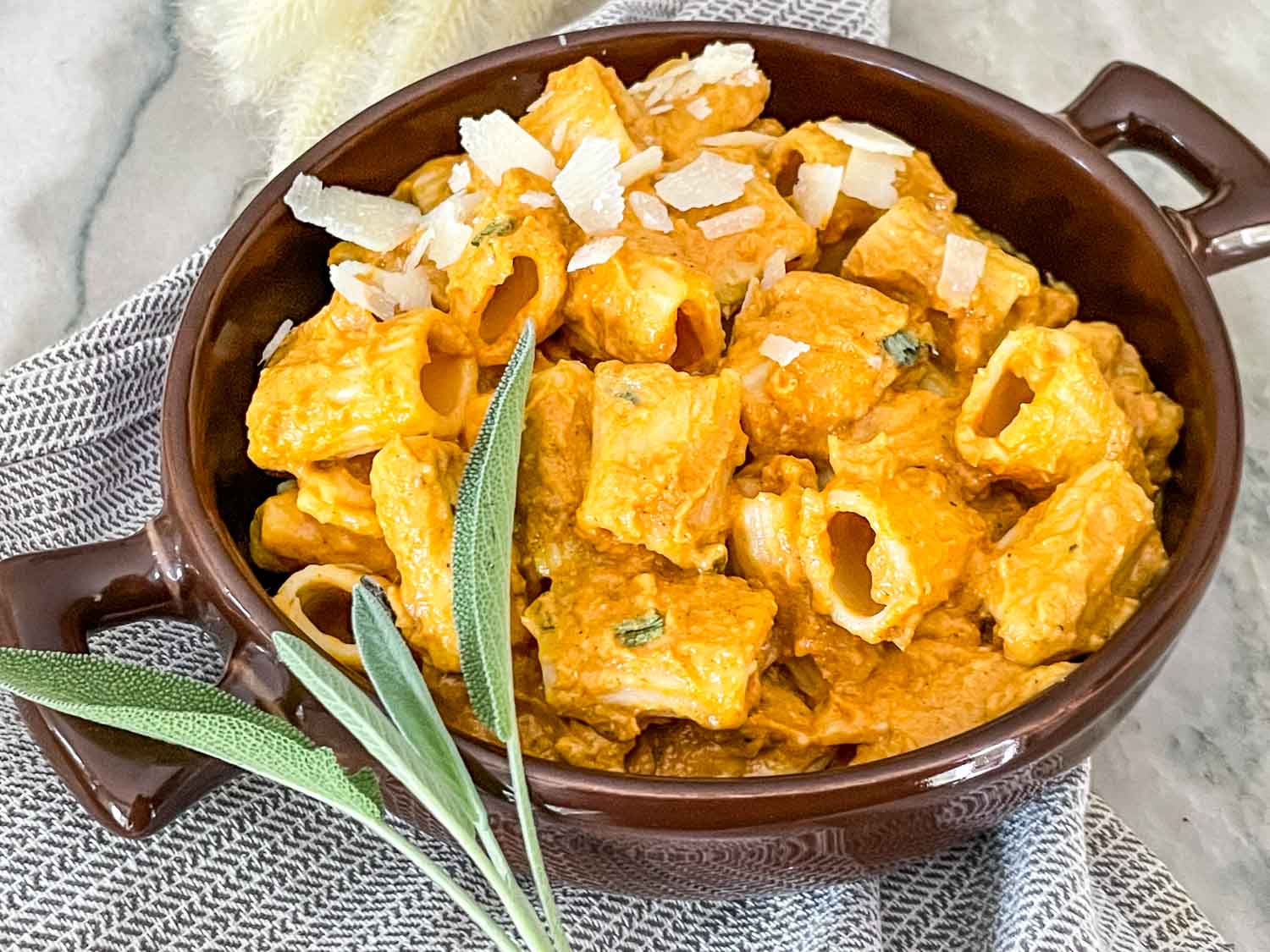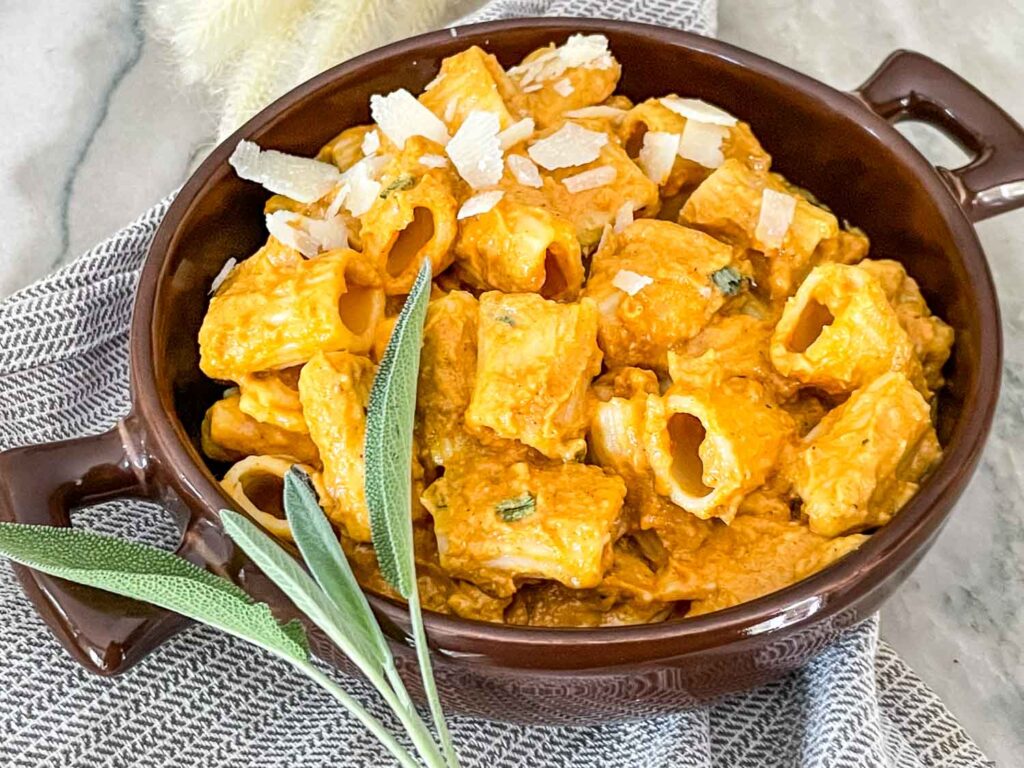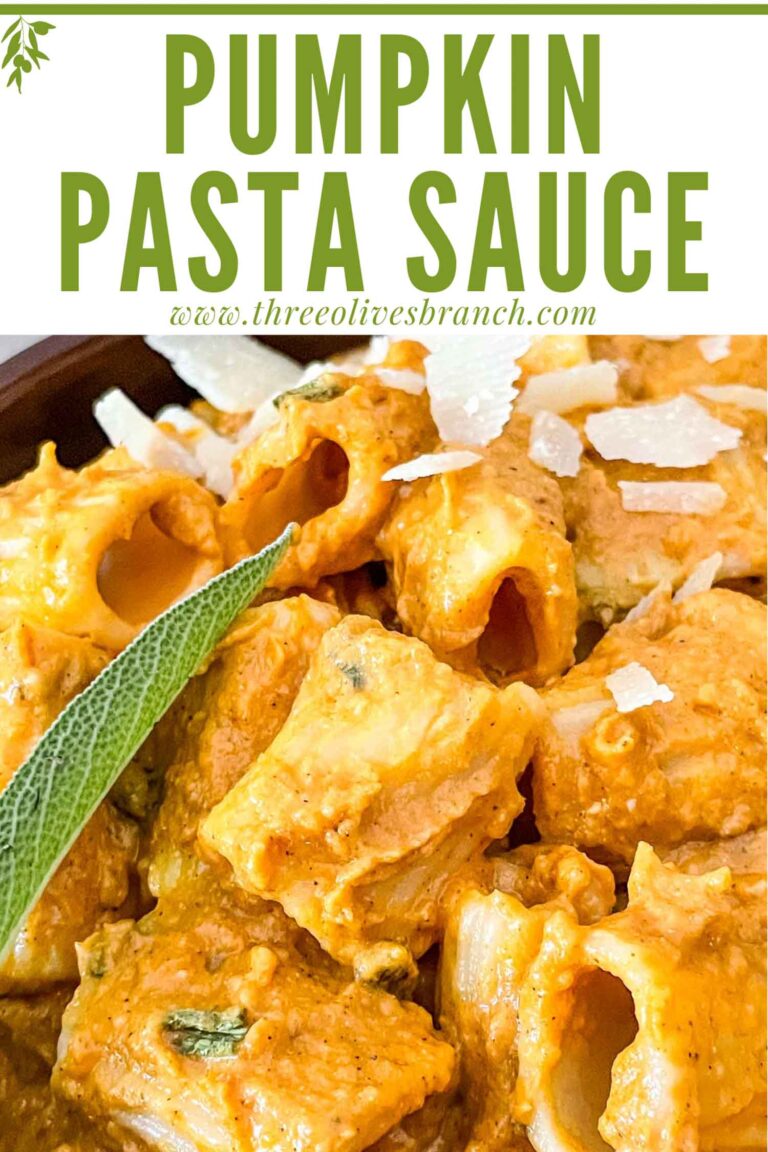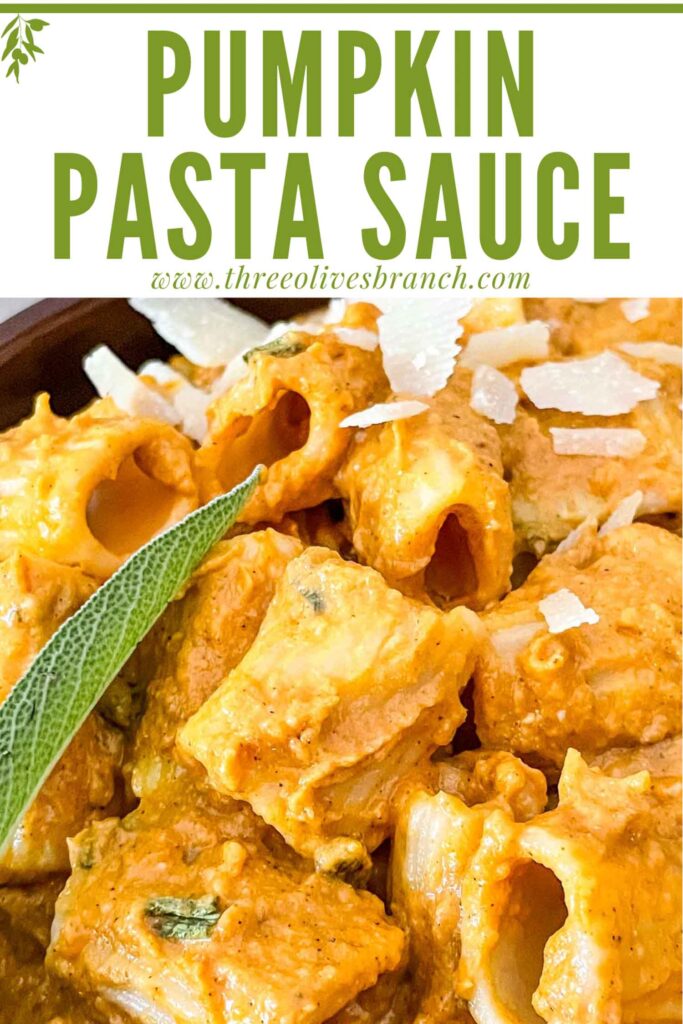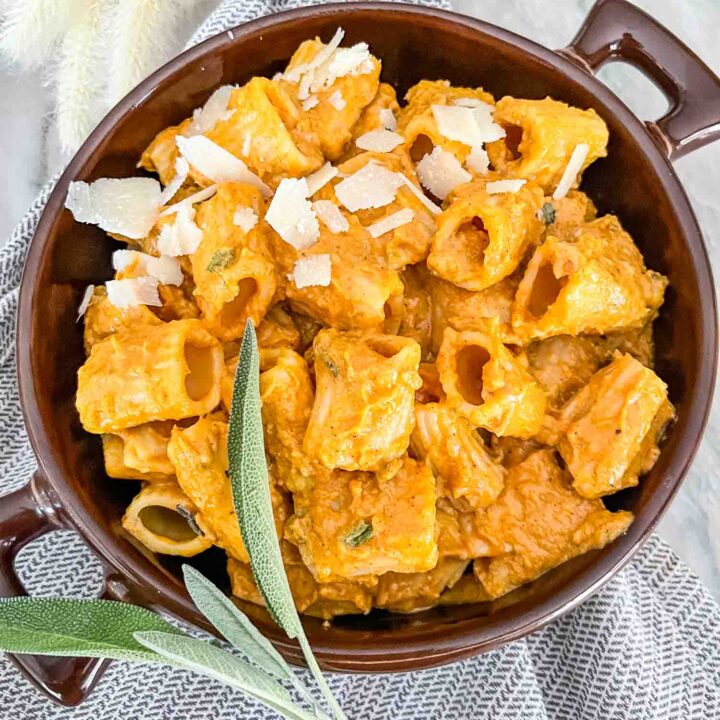 Pumpkin Pasta Sauce Recipe
Pumpkin Pasta Sauce is a delicious creamy and savory pumpkin recipe! Perfect dinner idea for fall. Warm autumn flavors in an easy pasta sauce. Flavored with cheese, sage, and warm spices.
Print
Pin
Rate
Servings:
4
servings (enough for 1 pound of pasta)
Instructions
Heat a medium pot over medium heat and add the oil.

1 Tablespoon vegetable oil

When hot, add the minced garlic and cook until fragrant, about 30 seconds.

Add the paprika, cinnamon, nutmeg, salt, and pepper. Stir and cook until fragrant, about 30-60 seconds.

¼ teaspoon paprika,

¼ teaspoon ground cinnamon,

⅛ teaspoon ground nutmeg,

1 teaspoon salt,

½ teaspoon black pepper

Add the sage and just cook a few seconds (15-30) until fragrant. Be careful not to overcook so it does not burn.

Add the pumpkin puree, milk, and cream cheese. Stir and bring back to a simmer.

4 ounces cream cheese,

2 cups milk,

15 ounces pumpkin puree

Cook on a low simmer for 15-30 minutes to develop the flavors and melt the cream cheese.

Reduce heat to low and add the cheese. Stir until melted.

½ cup freshly grated Parmesan cheese

Adjust consistency as needed with more milk or water. Season to taste with salt, pepper, and/or paprika.
Notes
This sauce is enough for a pound of pasta. It can also be used as a versatile sauce for meats like chicken or turkey.
Use pumpkin puree, not pumpkin pie filling which has added sweet ingredients.
Nutritional information is for the sauce only and can be used however you wish, whether on pasta, chicken, or sausage.
Nutrition
Serving:
1
serving (1/4 batch)
|
Calories:
272
kcal
|
Carbohydrates:
19
g
|
Protein:
11
g
|
Fat:
18
g
|
Saturated Fat:
10
g
|
Polyunsaturated Fat:
1
g
|
Monounsaturated Fat:
4
g
|
Cholesterol:
54
mg
|
Sodium:
942
mg
|
Potassium:
494
mg
|
Fiber:
4
g
|
Sugar:
11
g
|
Vitamin A:
17295
IU
|
Vitamin C:
5
mg
|
Calcium:
344
mg
|
Iron:
2
mg
More Pumpkin Recipes
By