Chicken Parm Pizza is a fun dinner twist! Homemade pizza recipe inspired by the Italian favorite Chicken Parmesan with breaded chicken and cheeses.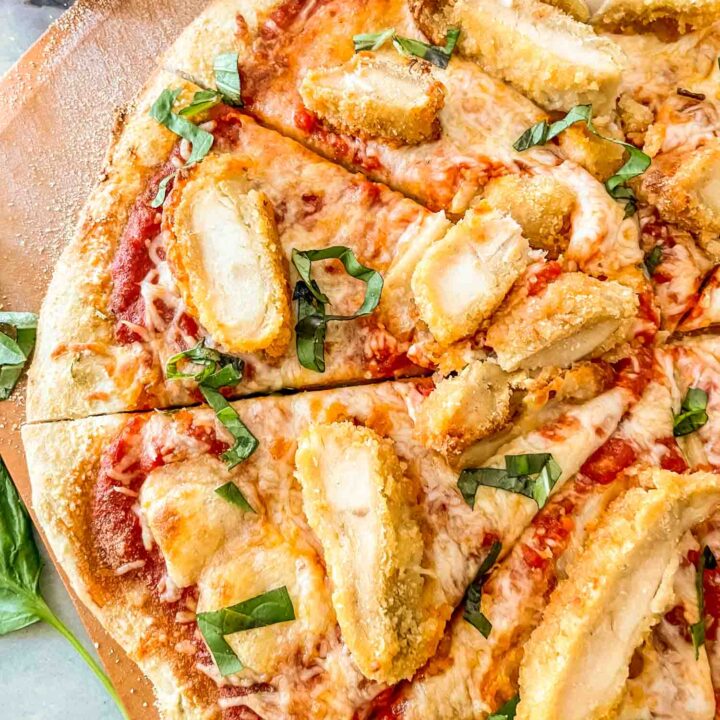 Alright, we seriously need to talk about this Chicken Parmesan Pizza. It is MAGIC, you guys. Literal MAGIC.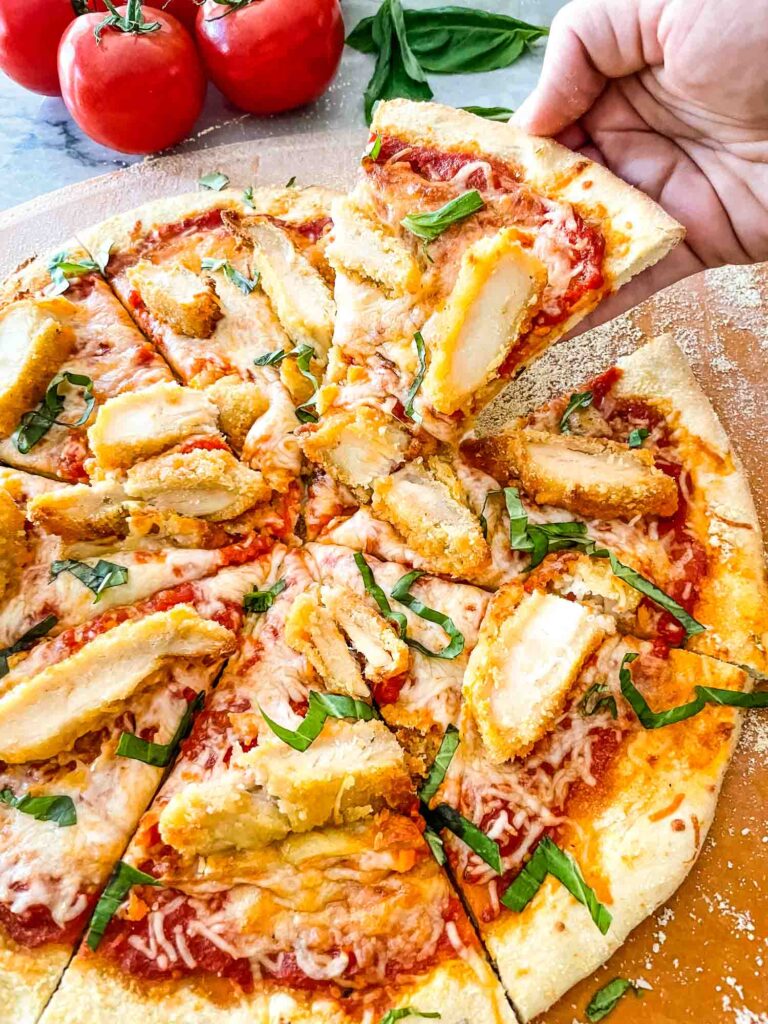 Chicken Pizza
This post contains affiliate links.
We regularly host dinner parties with a group of friends that love good food as much as we do.
And one night we had a pizza party where I made up a bunch of new pizza flavors and dough. This Chicken Parmesan Pizza was the STAR.
Making fun and unique pizzas has been a blast, especially at these parties! We love to experiment with new flavors. What is your favorite pizza or topping?
You can use any leftover chicken, but I prefer to make some breaded chicken to keep with the chicken Parmesan theme. And I am ALL ABOUT making as much as I can in advance, so whip up the breaded chicken, sauce, and even the pizza crust the day before.
Then when it is go-time, just get everything on the pizza and you will have it ready in minutes.
This is especially helpful during these dinner parties so that I am not in the kitchen all night.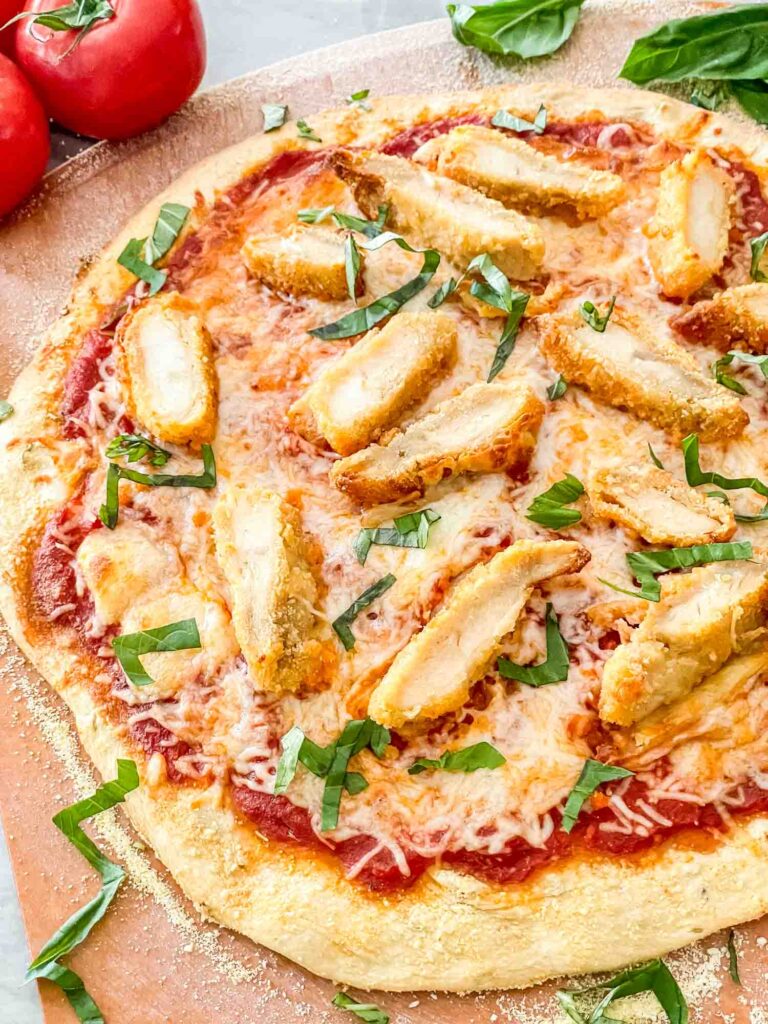 What is the Difference between Chicken Parmigiana and Parmesan?
They are the same thing! Just spelled in different ways.
What is on a Chicken Parmesan Pizza?
Here is what you need to make this recipe:
For the chicken-
Chicken Breasts
Egg
Flour
Panko Breadcrumbs
Parsley
Parmesan Cheese
For the pizza –
Pizza Sauce
Shredded Mozzarella
Provolone
Parmesan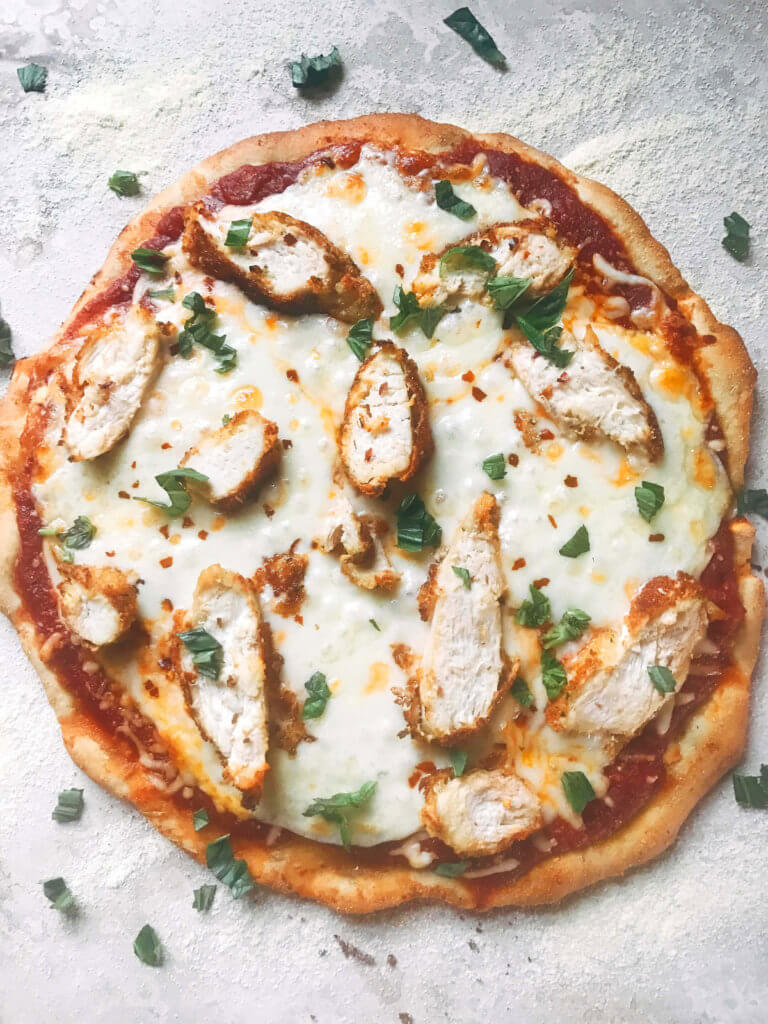 Homemade Pizza Crust
I love this pizza with our Rosemary Red Pepper Pizza Dough, but any dough works great! And this dough has been completely blowing up in popularity, so you should definitely try it out.
Also check our our classic and extremely popular Oregano Garlic Pizza Dough or Parmesan Black Pepper Pizza Dough. Dough with flavors are the best because it prevents boring crust, but feel free to use any dough you love.
Homemade Pizza Sauce
I also believe in a good sauce, and my favorite to make is this Red Wine Oregano Pizza Sauce. But again, use whatever works for you.
Making your own pizza sauce is incredibly easy, plus you can control exactly what it tastes like, so give it a shot! Check our all of our various pizza recipes here for more inspiration!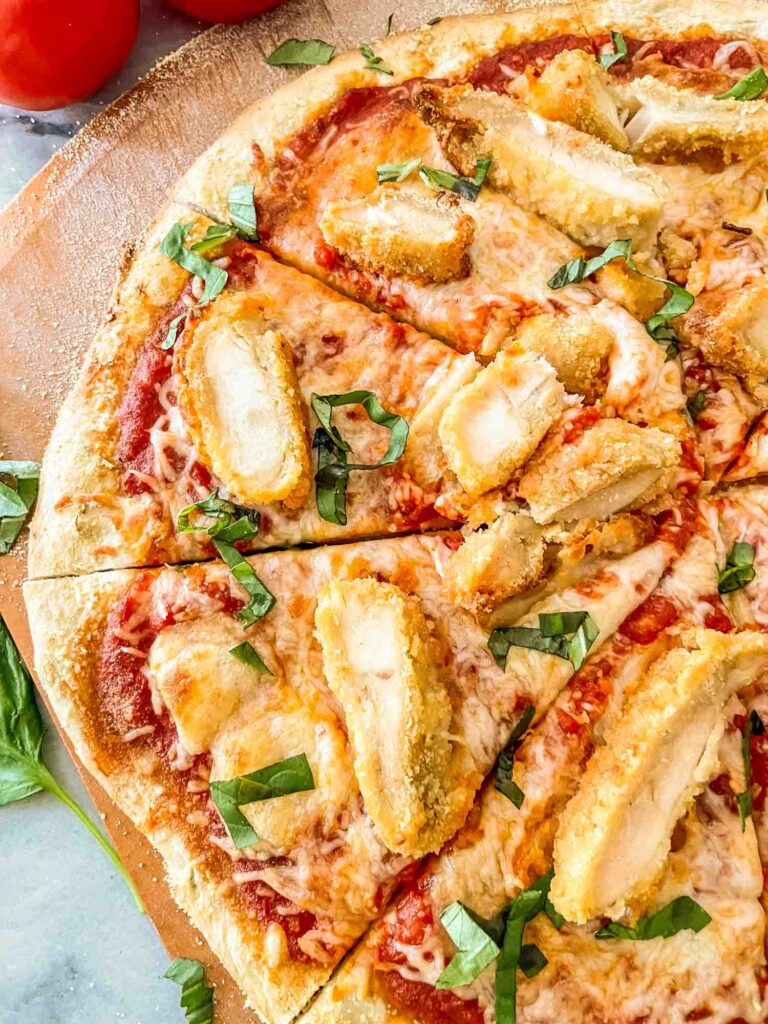 How to Make Chicken Parmesan Pizza
First make your pizza dough, if making homemade, and follow the instructions for the recipe you are using.
I highly recommend my Rosemary Red Pepper Pizza Dough as the flavors are just perfect for this pizza.
This dough recipe does take time to make and rest, so be sure to incorporate that into your timeline. You can make the dough and par-bake (slightly pre-bake) the dough in advance up to 3 days before making the pizza. (Need to keep it from drying out? A clean trash bag sealed around it works wonders!)
If you want a super fast homemade crust, follow the instructions for crust from my Chicken Pesto Pizza and top it as listed below. This fast dough's texture and flavors are not quite as delicious, but it is much faster!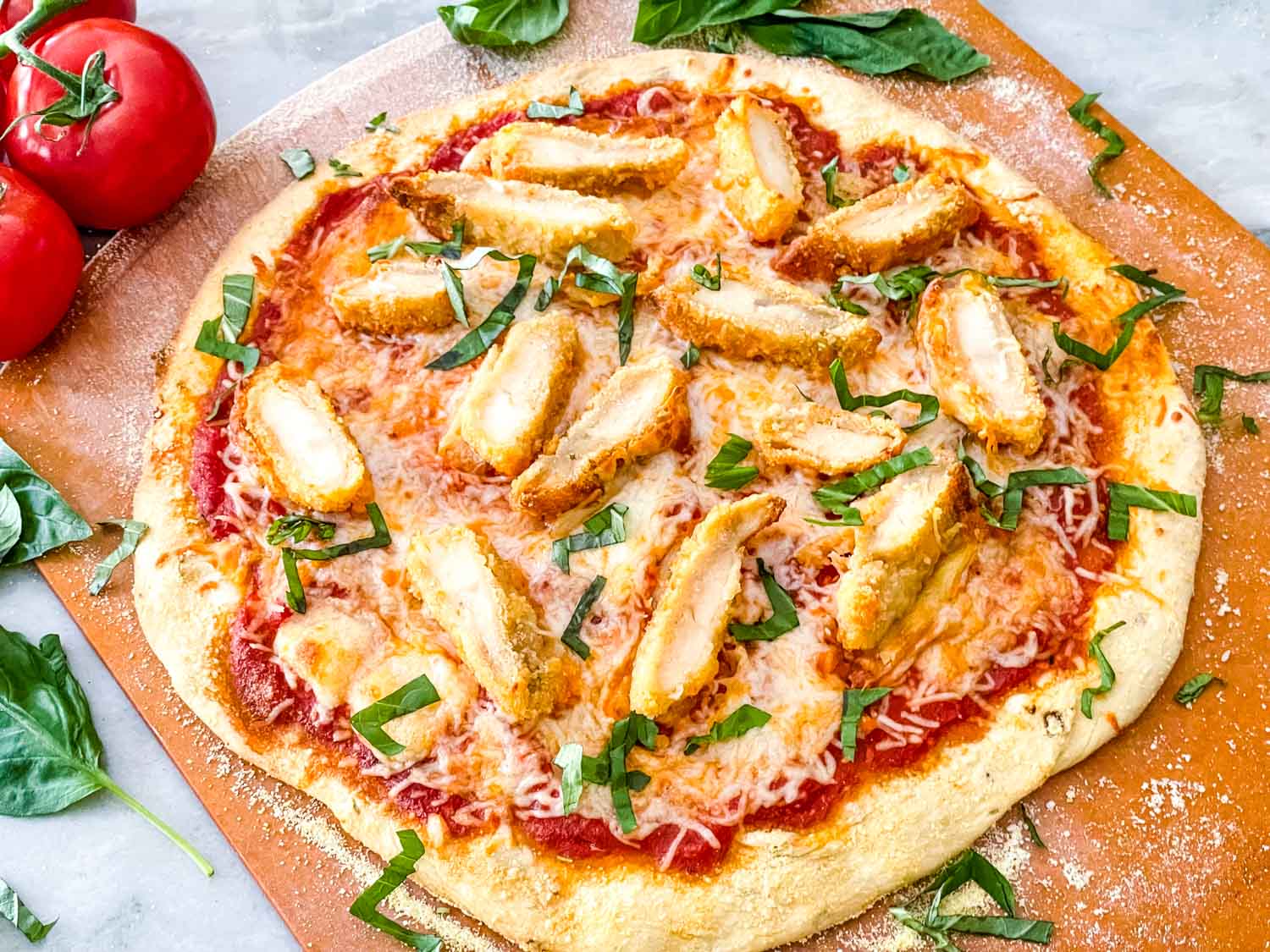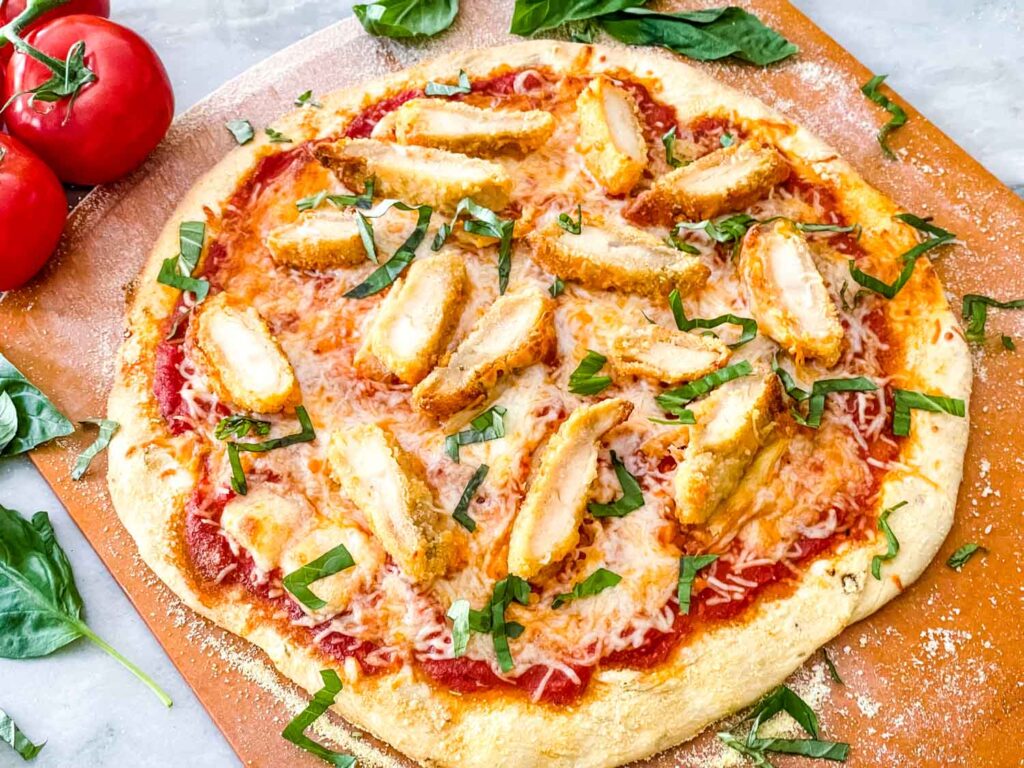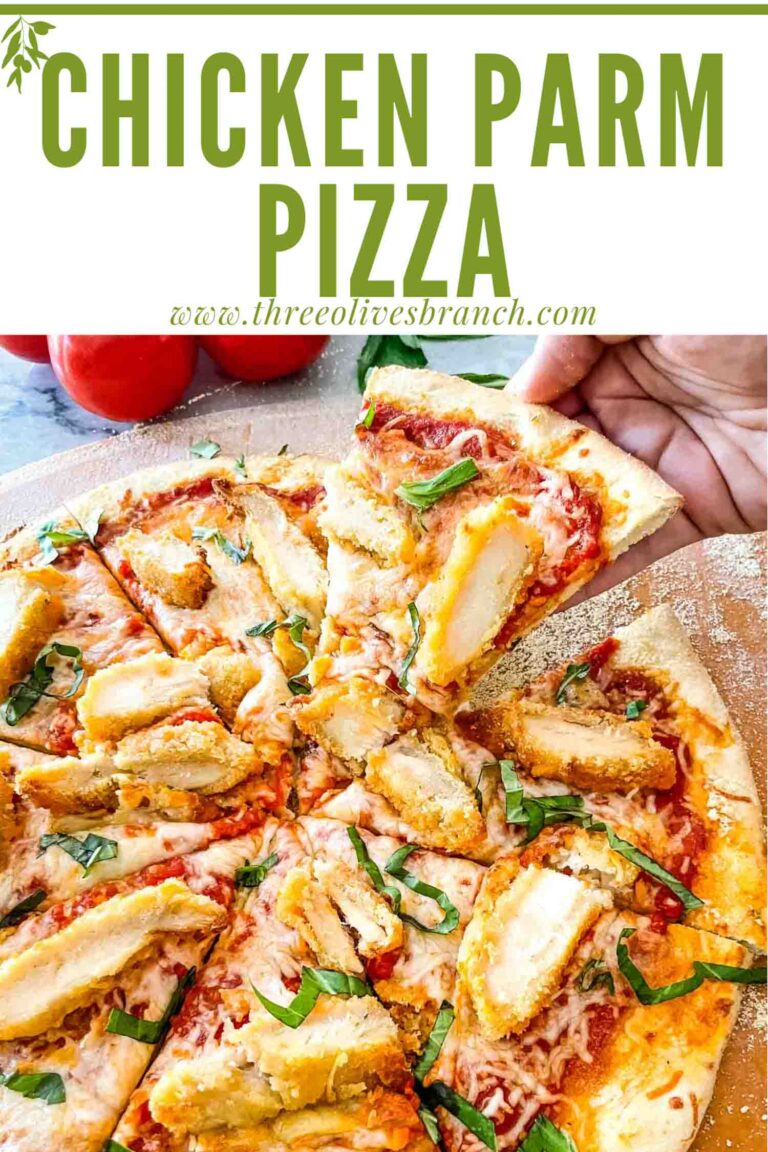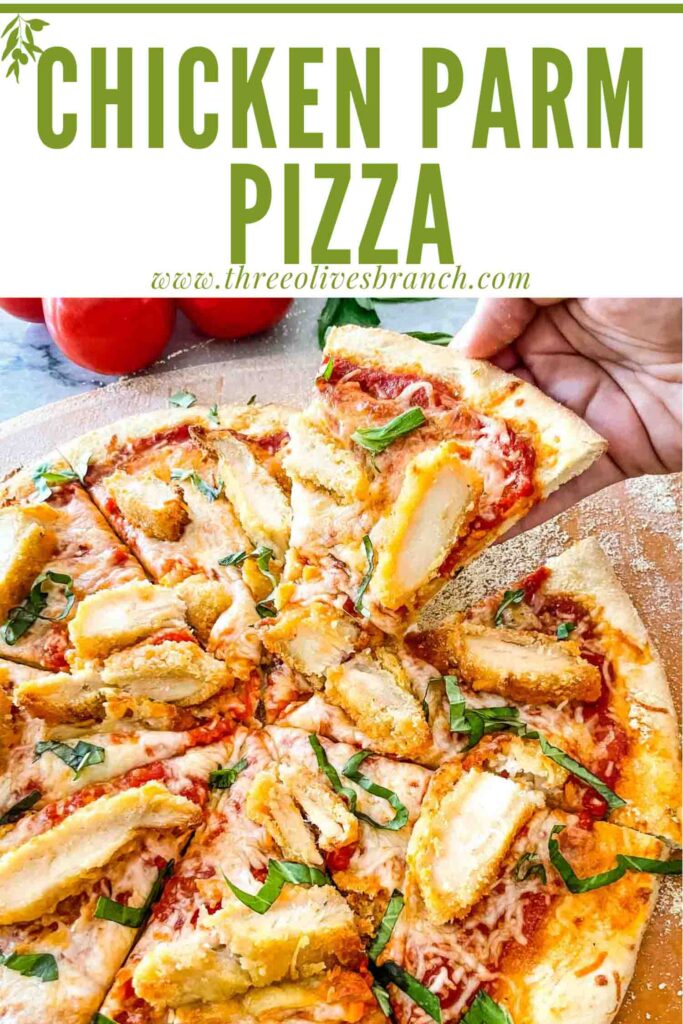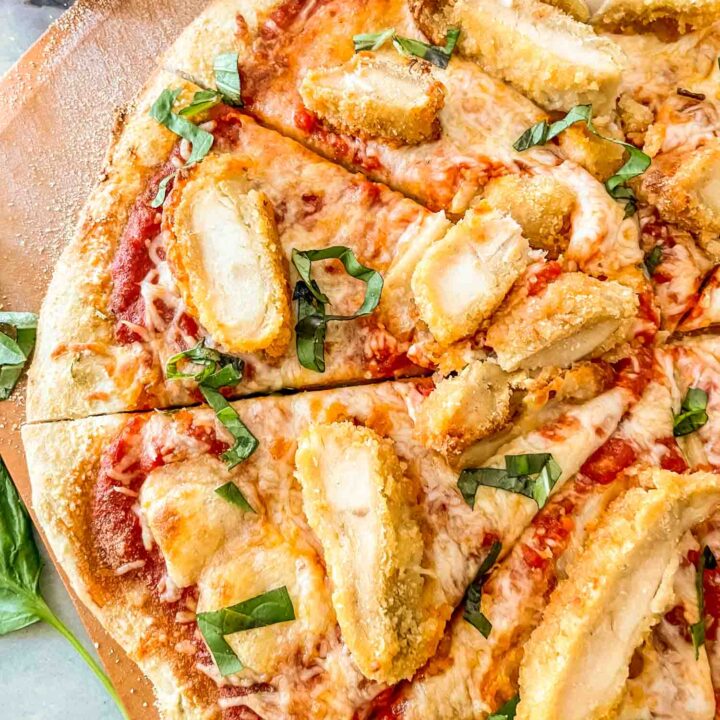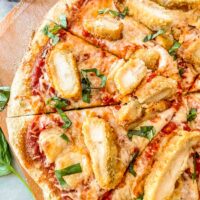 Chicken Parmesan Pizza
Chicken Parm Pizza is a fun dinner twist! Homemade pizza recipe inspired by the Italian favorite Chicken Parmesan with breaded chicken and cheeses.
Print
Pin
Rate
Servings:
8
slices (12″ pizza)
Instructions
Parmesan Breaded Chicken
Heat a large nonstick skillet over medium heat.

Prepare the dredging ingredients in three shallow bowls or three small plates. (Bowl 1) Flour (Bowl 2) Egg, beaten with a fork to mix the whites and yolks. (Bowl 3) Panko breadcrumbs, parsley, and Parmesan mixed together.

Take one piece of chicken and coat in the flour on both sides and edges.

Transfer the chicken to the egg mixture, again coating both sides and all edges.

Transfer the chicken to the breadcrumb mixture and coat both sides and the edges. Repeat with the second piece of chicken. You may need additional flour, egg, or breadcrumbs depending on the size of your chicken.

Add the oil to the skillet. When the oil is heated through, add the chicken.

Cook until the chicken is golden brown, approximately 5 minutes. Flip and cook until the second side is also golden brown, approximately 3-5 minutes.

Make sure your chicken is cooked all the way through. Continue cooking if necessary. If it is turning brown too quickly, turn the heat down.

When the chicken is done, set aside.
Pizza Assembly
Prepare the pizza dough if not completed already. If following one of our recipes, follow instructions until the crust is par-baked and set aside.

Preheat oven to 450°F. Place your pizza stone or baking sheet in the oven to heat.

Place your pizza crust on a peel or another surface that will allow you to easily transfer it to the oven. Generously sprinkle cornmeal underneath it for easier movement of the dough.

Spread out the sauce across the pizza to taste.

Layer the provolone cheese slices across the sauce. Add the mozzarella cheese, more or less to taste.

Slice the chicken and spread the pieces over the cheese. Sprinkle with the fresh Parmesan.

When the oven is finished preheating, transfer the pizza to your pizza stone or baking sheet. This is easiest by shimmying the peel and sliding it off onto the stone.

Cook until the cheese has started to turn brown, approximately 10-12 minutes (or to your desired doneness).

Remove the pizza from the oven. Sprinkle the fresh basil on top and some red pepper flakes if desired for an extra kick. Serve warm.
Notes
Shortcut: Use frozen, breaded chicken and skip the chicken making ingredients and steps!
For a delicious, chewy dough, I recommend my Rosemary Red Pepper Dough recipe.
For a faster dough/crust, use the dough recipe from my Chicken Pesto Pizza 
Please note that the exact cook time will vary with your oven.
If you use a different pizza crust, the cook time will vary based on size and thickness.
Make the chicken, sauce, and crust in advance for a quick dinner!
The better quality ingredients you use, the better it will taste!
Preparation and cook time will be reduce if the chicken, sauce, and/or crust are already prepared. Please reference the instructions for timelines of each step as needed.
If your chicken breasts are very large, one piece will be enough for the pizza.  Load as much or little chicken as you desire.  Pictured is one very large chicken breast, cut at 3/4″ thickness.
By