These Rosemary Sourdough Crackers are a perfect way to use sourdough starter discard! A flavorful addition to charcuterie meat and cheese boards for party entertaining. #charcutterieboards #crackers #sourdoughdiscard #sourdough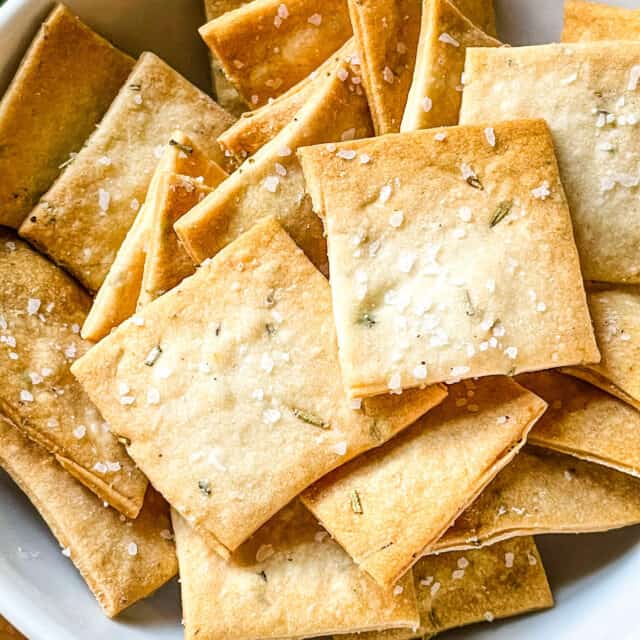 Rosemary Sourdough Crackers are a perfect use for sourdough discard! A simple to make homemade cracker recipe.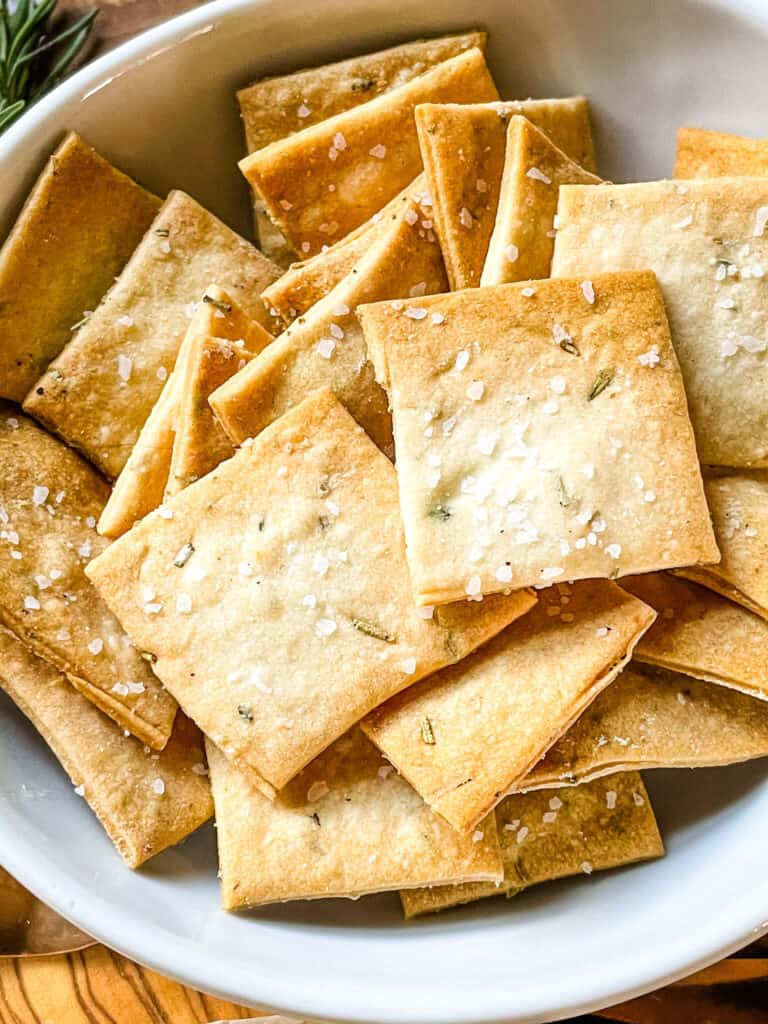 These Rosemary Sourdough Crackers remind me of Wheat Thins! They have a very similar texture and bite.
I started experimenting with new ways to make recipes using sourdough discard, and these crackers are SO easy and SO good!
The sour flavor is not too strong here, so you really are tasting the rosemary in a delicious cracker.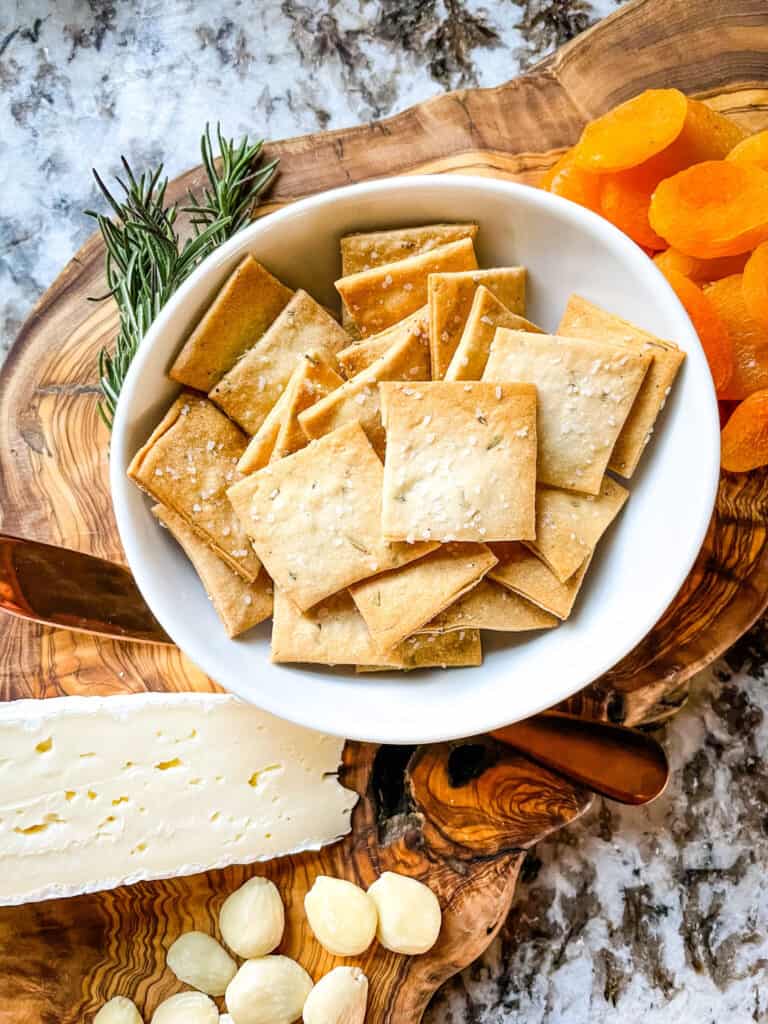 What is Sourdough Discard?
Sourdough discard is what you remove and would typically throw away when you are feeding a sourdough starter.
Instead of throwing it away, you can use the discard to make amazing sourdough flavored recipes like these sourdough crackers.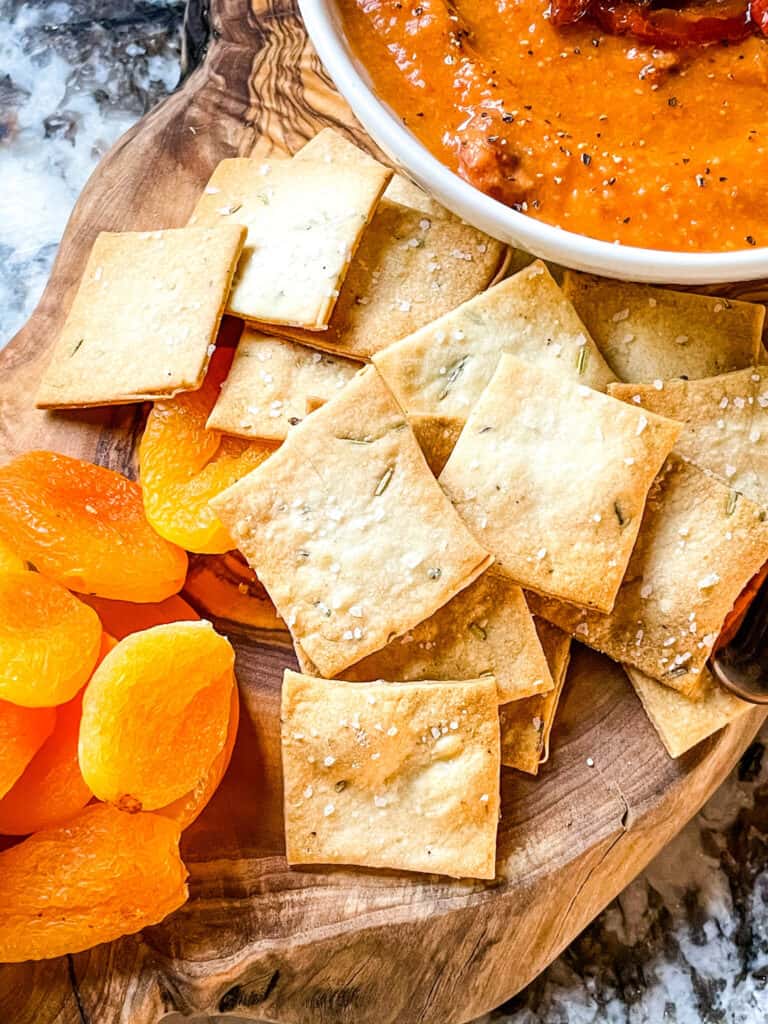 Making Sourdough Starter
There are a lot of recipes out there for making sourdough starter.
I use the King Arthur Flour recipe.
I did find that the results were much different if you use volume (cups) instead of weight. My starter did not work with volume. So I recommend using a kitchen scale and doing this by weight instead.
You could also call around to local shops that make bread and see if you can just purchase some from them, all ready to go!
Sourdough Cracker Flavors
Easy switch up the flavors you put in your sourdough crackers!
I love rosemary because it is very versatile.
Other great options include thyme, Parmesan, parsley, and plain. Herbs or cheese can be swapped out at the same ratio and adjust as preferred.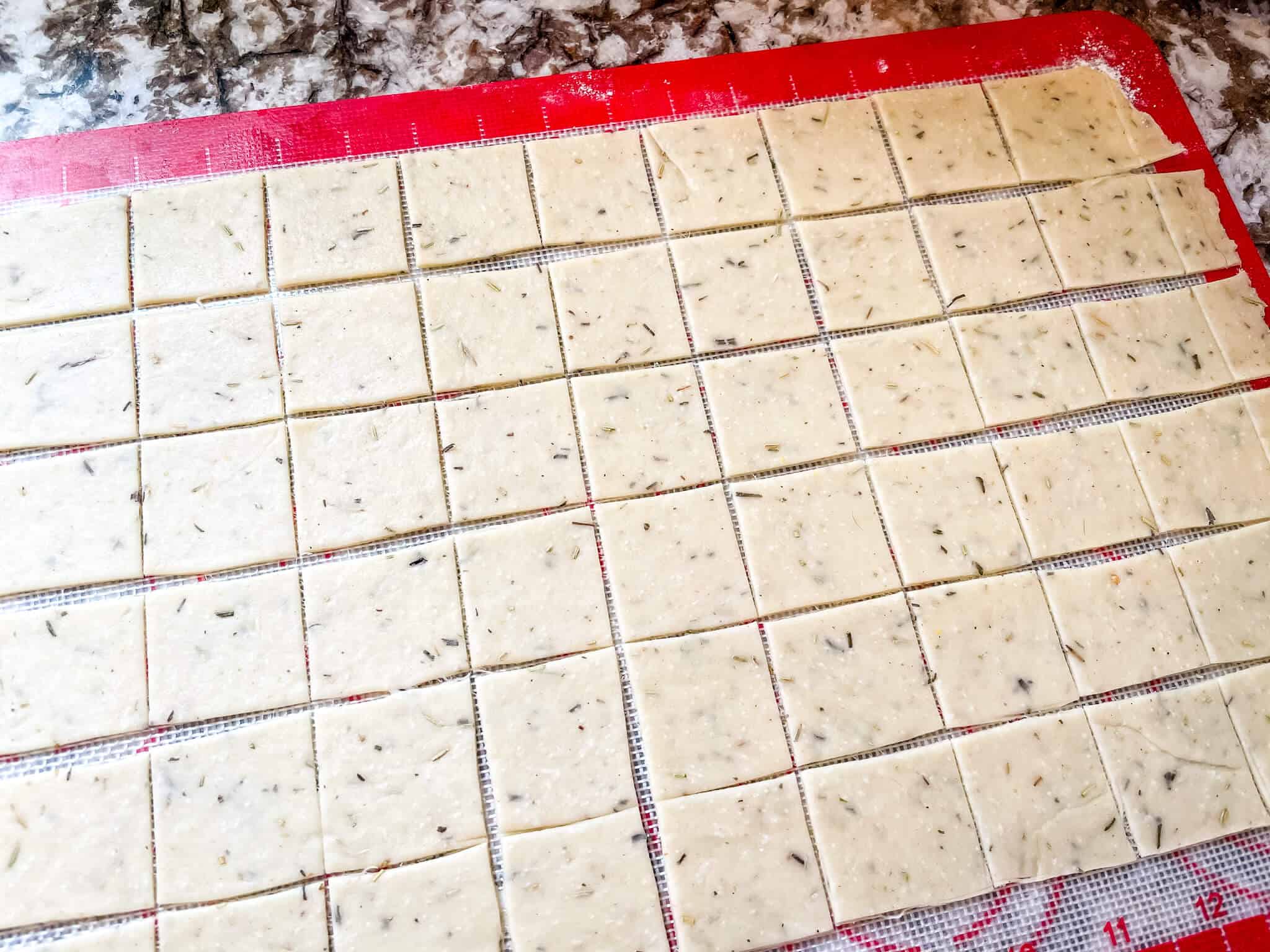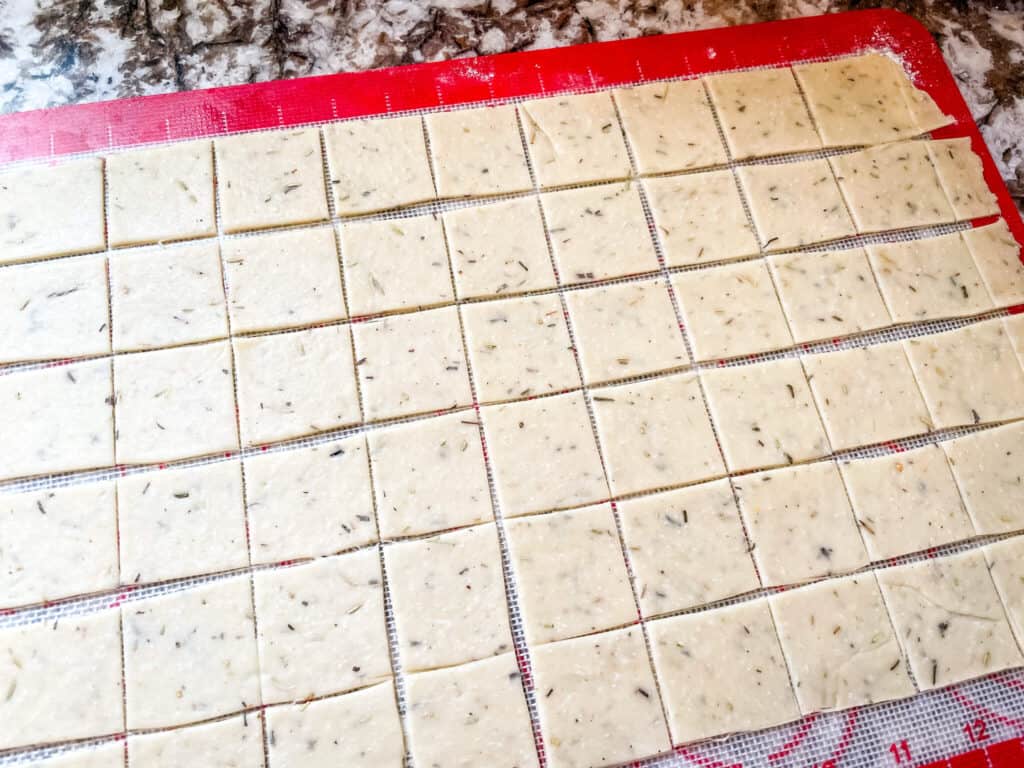 Cracker Tips
The dough puffs up so you want to get it pretty thin. I roll and cut it (gently) on a silicone baking mat (or parchment paper) so I do not need to transfer the crackers.
Roll it very thin. 1/16 inch thick tends to give you crackers about as thick as a Wheat Thin and if you can see through the dough, it will be thinner like a water cracker.
You will likely get some air bubbles that puff up in the crackers, as I did. To avoid this, prick the dough with a fork many times before baking.
The outer edge crackers brown much faster than the crackers in the middle, so keep an eye on them as you approach the end of cooking and remove crackers as needed when they are browning to avoid them getting too dark.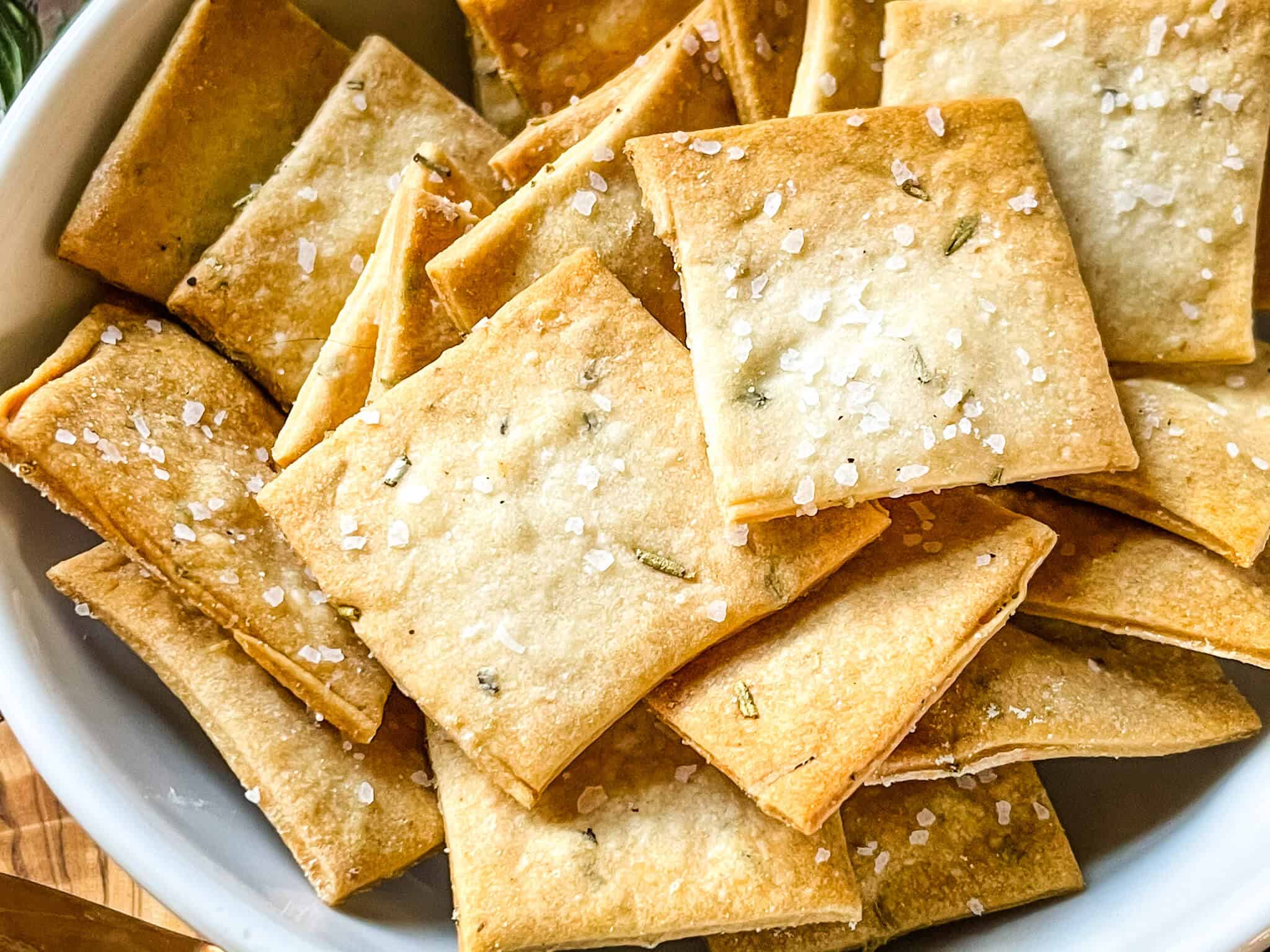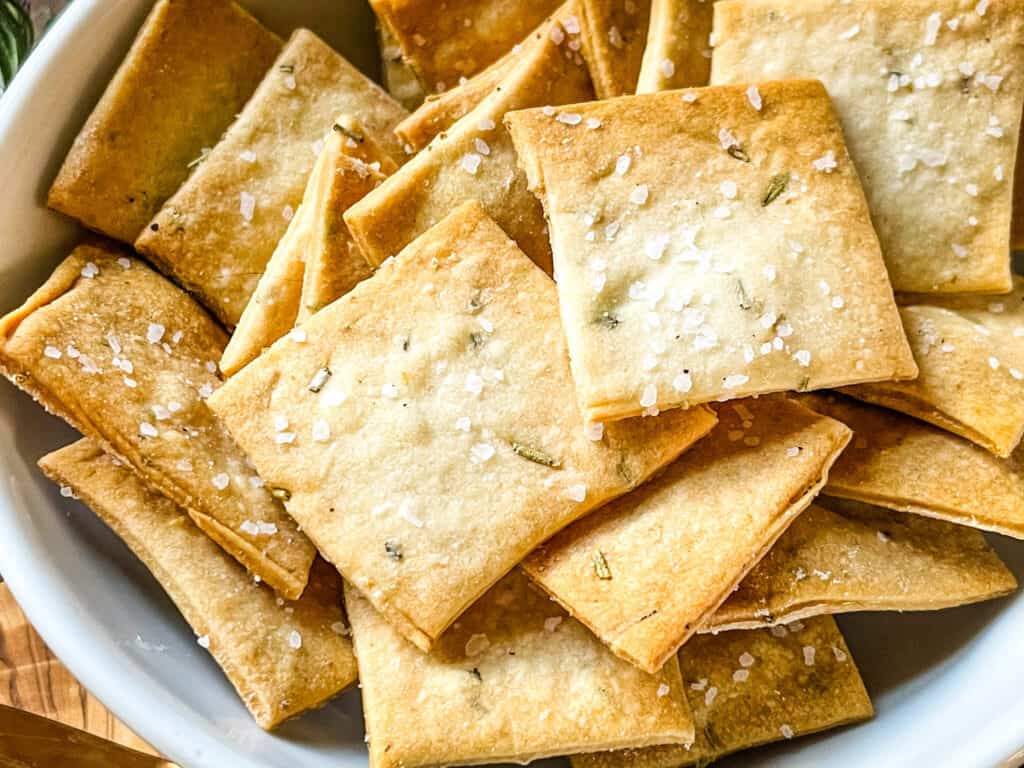 Serve these sourdough crackers up with your favorite cheeses or dips! Find a collection of our popular dip recipes below.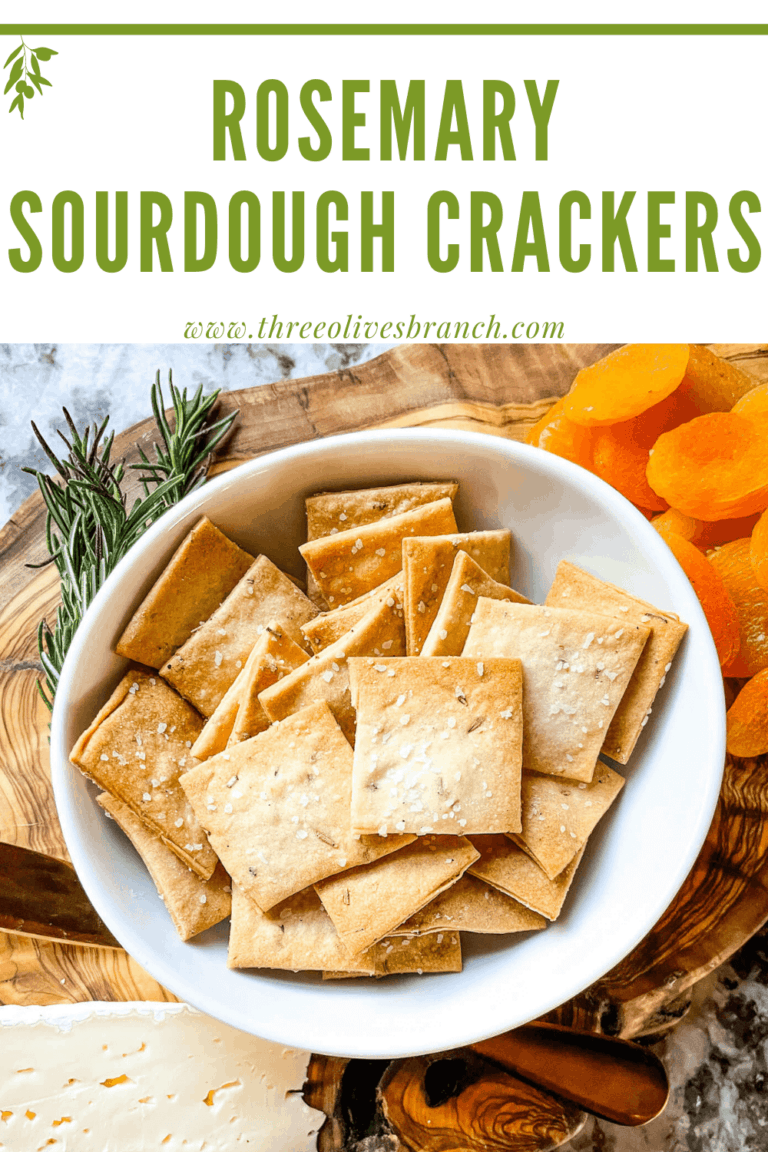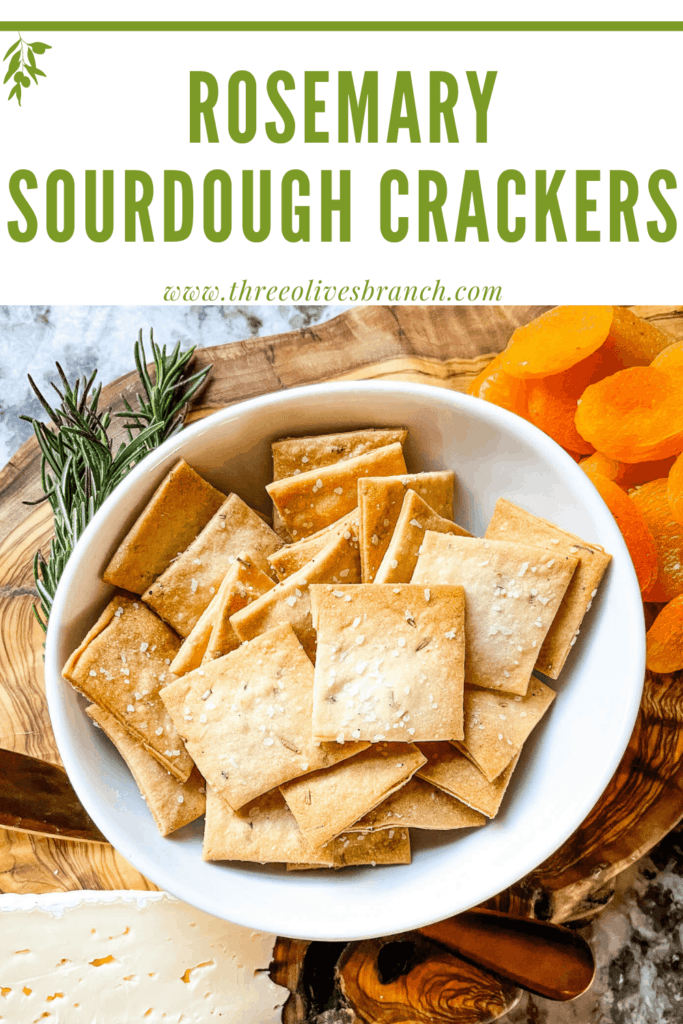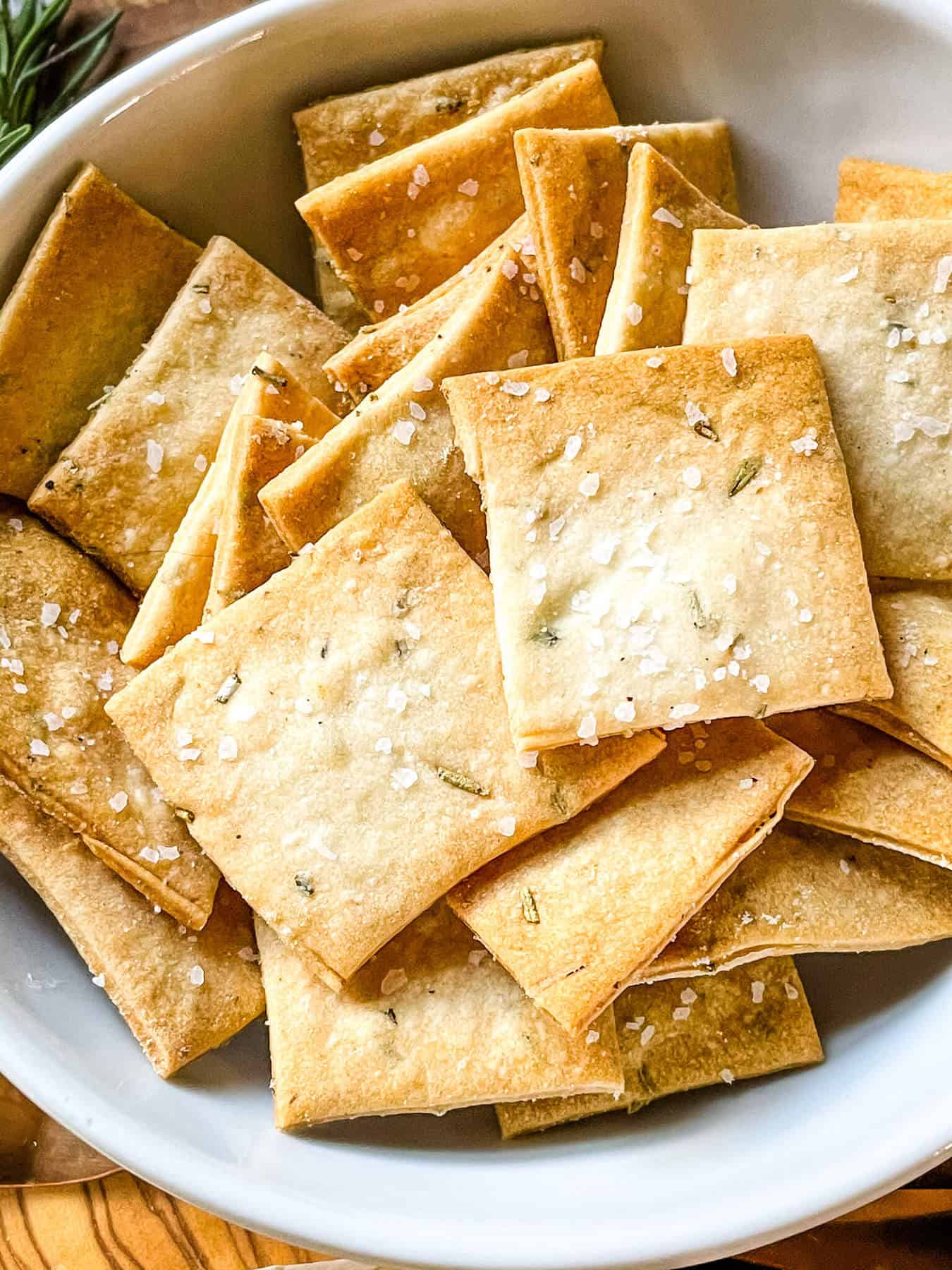 Instructions
Combine the sourdough starter, flour, oil, rosemary, and 1/2 teaspoon salt in a medium bowl. Mix until incorporated.

Pour the dough out onto a smooth surface and knead until the dough has come together and is smooth. Cut in half and set one half aside.

Lightly flour parchment paper or a silicone baking mat (whatever you are baking the crackers on). Roll out the one half of dough onto the baking mat until very thin, approximately 1/16 inch. (See note).

Use a pizza cutter or knife and cut into squares approximately 1¼ inches on each side.

Sprinkle the tops of the crackers with half the kosher salt.

Bake the crackers until starting to turn a light brown, approximately 20 minutes. Turn half way through. The outer crackers brown much faster so keep an eye on them in the second half of cooking and remove browned crackers as needed while the rest continues to cook.

Repeat the process with the second half of the dough. Crackers can be stored in an air tight container for up to 2 weeks.
Notes
The dough at 1/16 inch will give you Thin Wheat type texture. If you roll it out extra thin where you can start to see through the dough, it will be thinner and crisper like a water cracker.
You could use other dried herbs as desired.
Nutrition
Serving:

1

cracker

|

Calories:

13

kcal

|

Carbohydrates:

2

g

|

Protein:

1

g

|

Fat:

1

g

|

Saturated Fat:

1

g

|

Sodium:

39

mg

|

Potassium:

2

mg

|

Fiber:

1

g

|

Sugar:

1

g

|

Vitamin A:

1

IU

|

Vitamin C:

1

mg

|

Calcium:

1

mg

|

Iron:

1

mg

By