Homemade Sausage Stuffing is perfect for your Thanksgiving table! A simple dressing recipe with meat and sage. Serve up with turkey and any other sides for a delicious and special holiday side dish.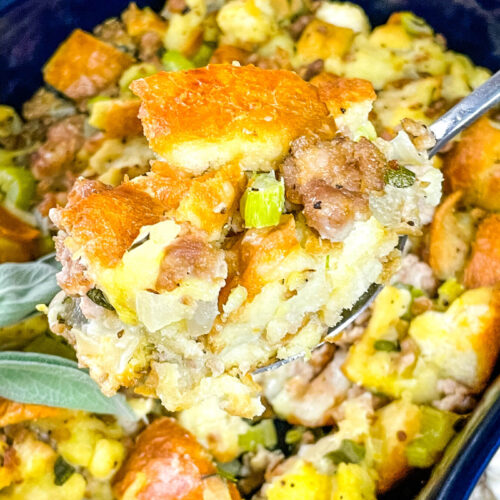 A homemade Sausage Stuffing is a delicious meat lovers twist on a classic holiday recipe! Filled with ground sausage, sage, onion, celery, and savory flavors for a fun dressing meant for your turkey.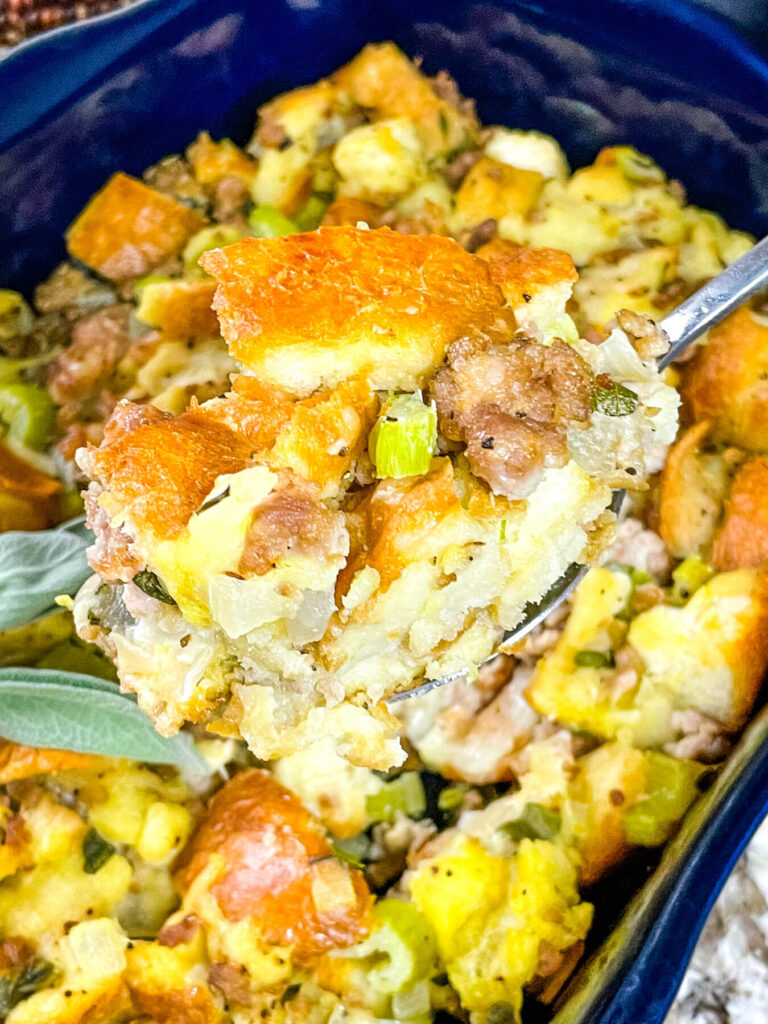 Homemade Stuffing
If you have never tried making a homemade stuffing, you should!
I love our boxed family tradition, but I also have fallen in love with homemade versions like this one! So much so that I have started making other varieties like a classic Onion and Sage Stuffing and a Thanksgiving Stuffing with Wild Rice, Cranberries, and Water Chestnuts.
Should you put egg in stuffing?
Yes! The egg is what binds everything in the stuffing together, helping it hold together.
It also provides a fluffy texture to the mixture. If desired, you can add another egg to make it ever fluffier based on your preference.
What is difference between dressing and stuffing?
They are pretty much the same thing with the difference of being how you cook it!
Stuffing traditionally is stuffed inside of the turkey to cook, and dressing traditionally is cooked in a baking dish.
You will see the words used interchangeably regardless of cooking method, such as this stuffing that is cooked in a dish.
"Dressing" is more common in the South, and "Stuffing" more common in the West and North.
Also, cooking stuffing inside the turkey can cause some concerns in proper cooking temperature. So if you cook it in the bird, be sure it reaches 165F before serving it!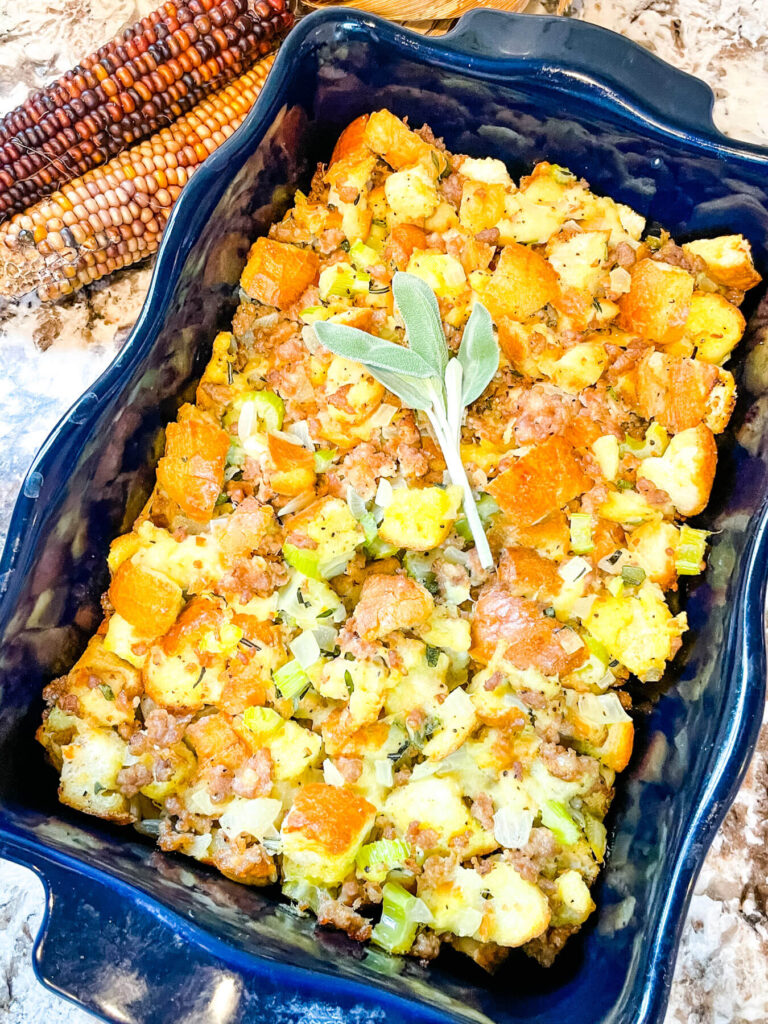 What kind of bread is used for stuffing?
Technically you can use any type of bread. I will often use French bread for a stuffing, like I did here. It is easy to find and cheap.
But denser breads bring more volume and texture to the stuffing. And cornbread is always an option.
Ultimately it is your preference that should decide what type of bread to use!
What is the best way to dry out bread for stuffing?
It is incredibly important to dry out the bread for stuffing.
It might seem counterintuitive, since you add moisture back to it, but it makes a difference. If the bread was not dried out, you would end up with very mushy stuffing.
I have found the best way to dry out the bread is in the oven at a very low temperature (250F). The low temperature prevents it from browning or burning while still drying it out.
Some prefer to let the bread air dry up to two days in advance, but I find that this can cause the bread to taste stale.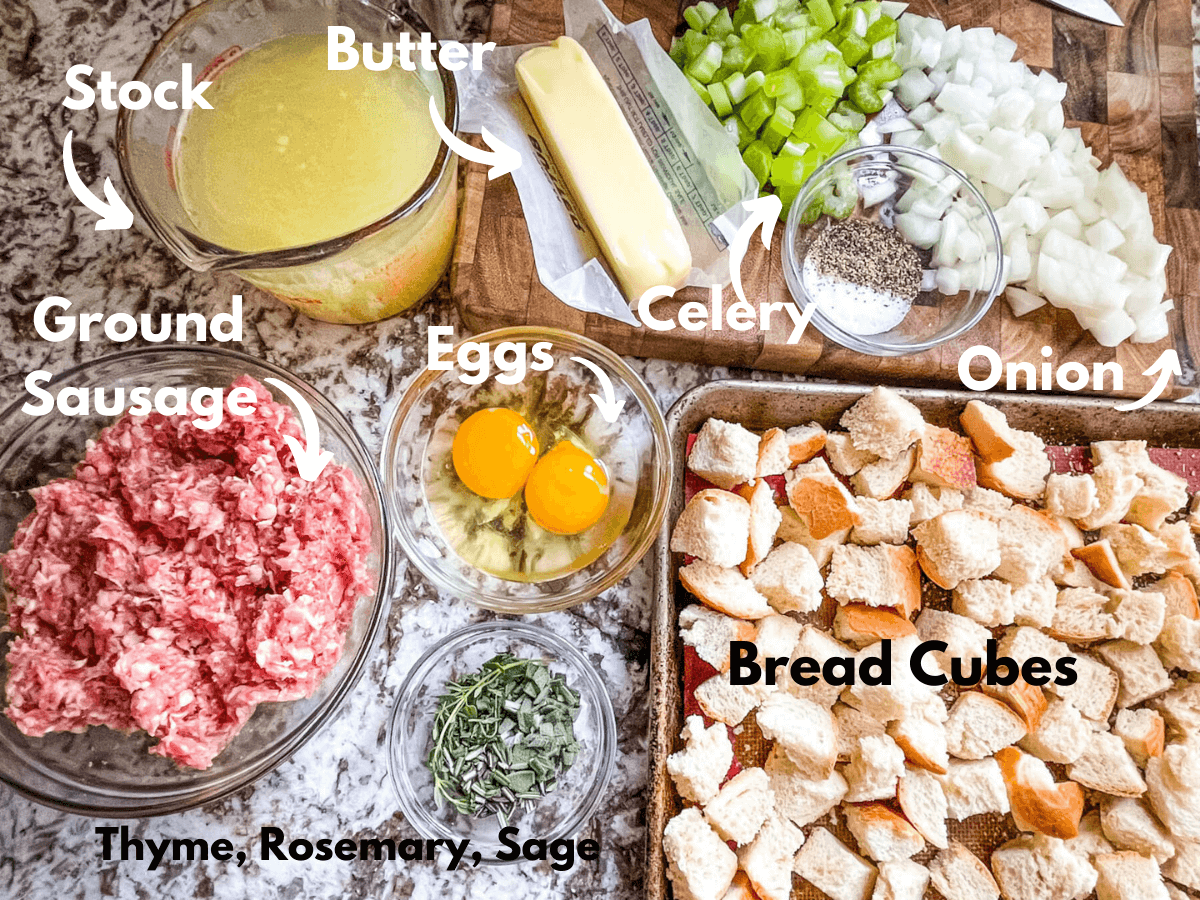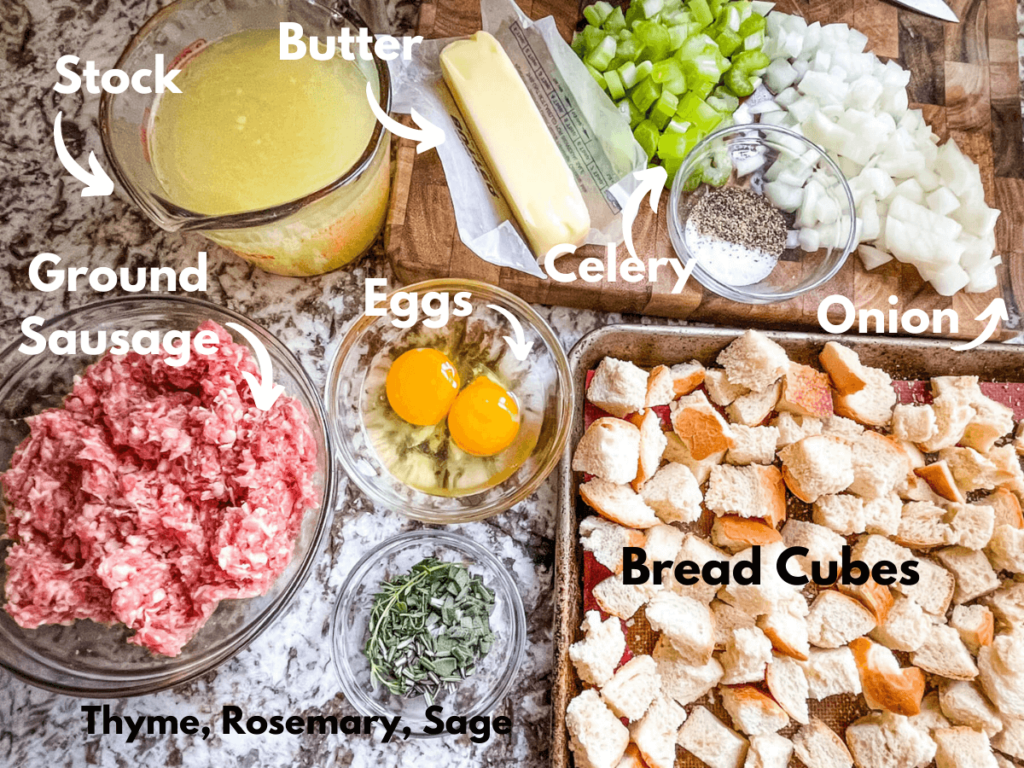 Ingredients Needed
Here is what you need to make this Sausage Stuffing:
Ground Sausage
Bread Loaf
Egg
Sage
Thyme
Rosemary
Onion
Celery
Chicken Stock (or veggie)
Instruction Overview
First get your bread cut up into large cubes and dried out. I like to do this in the oven on a low temperature.
Next cook up your sausage until cooked through.
Then cook your vegetables and the herbs in some butter.
Now mix it all together in a large bowl and bake!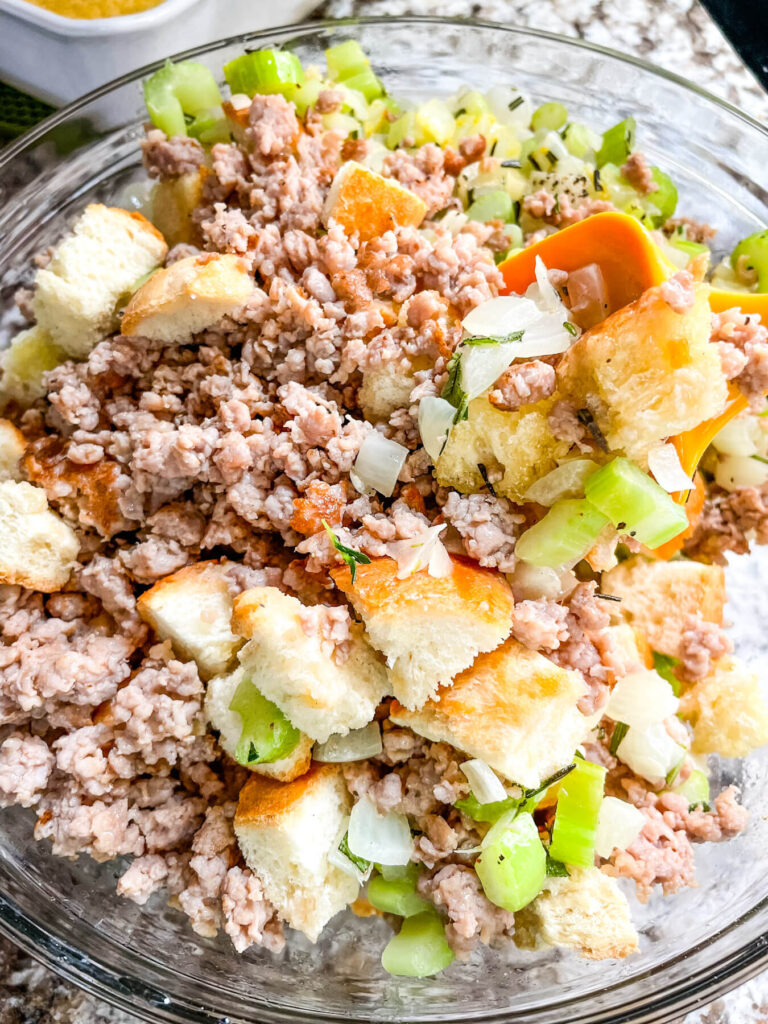 YouTube Recipe Video
Want to see me make this stuffing from beginning to end? And hear some tips? Watch our instruction video on YouTube!
Should stuffing be cooked covered or uncovered?
It is up to you! And I will explain how each makes a difference.
Cooking it covered will trap in moisture and greatly slow any crisping or darkening of the top. The moisture stays in the dish. This is best if you prefer a wet, soft stuffing.
Cooking it uncovered lets moisture escape, and the top also darkens quickly. This is best for dryer stuffings.
I like to do both: cook covered for about 30 minutes to keep it from drying out too much, especially since I do not overload it with moisture. And then finish it off with no cover for the last 15 minutes to crisp up the top and let extra steam or moisture escape.
How do you know when stuffing is cooked?
The best way to know the stuffing is cooked is to take its temperature and make sure it is cooked to a safe 165F in the center.
You can also test it by pressing in the center, where it cooks last. It should be rather firm and not squish or move much. If it moves or condenses, most likely there is still liquid and it needs to cook longer.
How do you fix soggy stuffing?
In a rush and still have wet or soggy stuffing?
Fix it by scooping it out onto a baking sheet, spread out a little so it is not all packed together. Make sure it is in a relatively even layer and pop it back in the oven.
Keep cooking until it has dried up as much as desired.
The extra space around the stuffing is going to help the heat access the wet areas much faster and let the steam and moisture escape.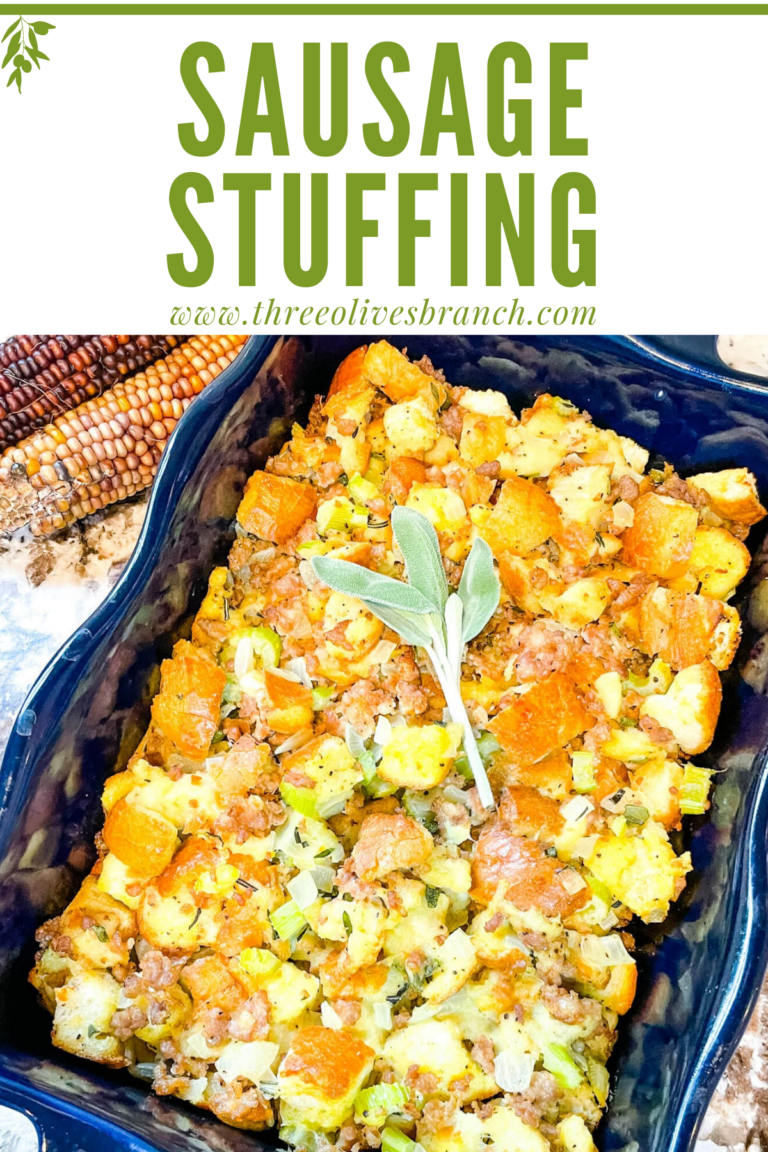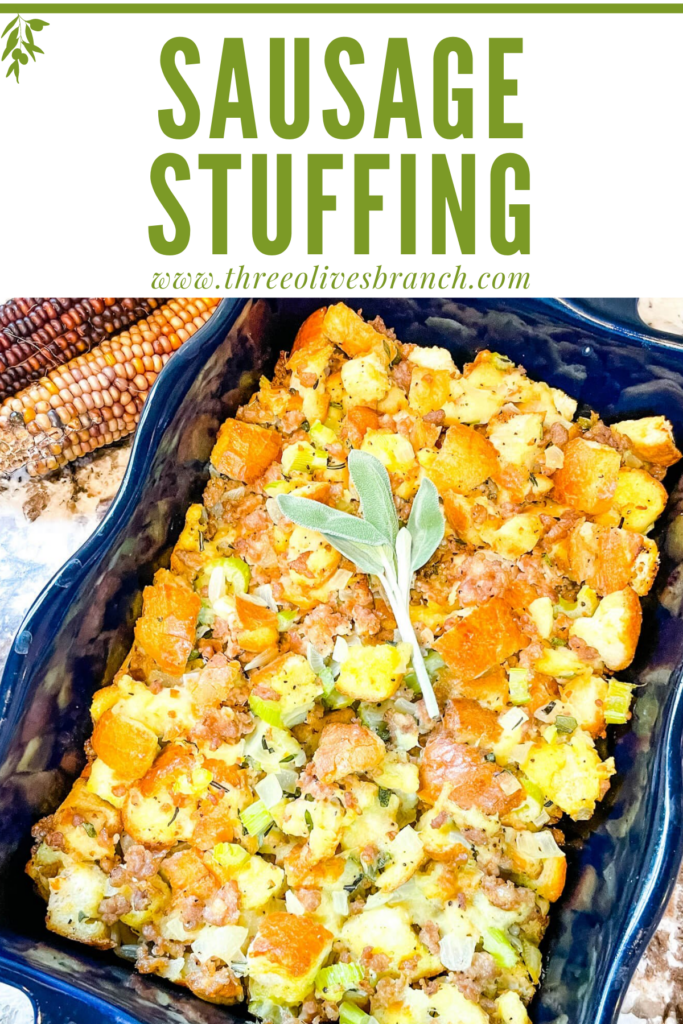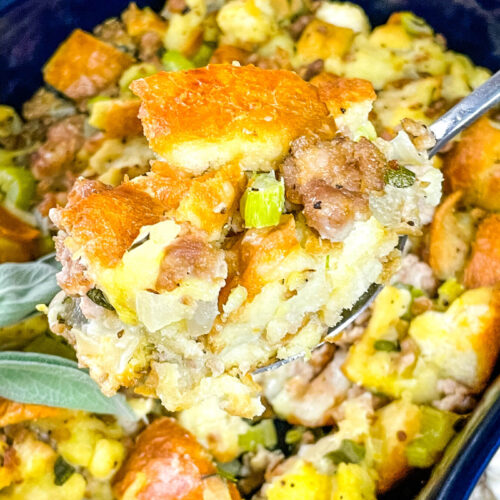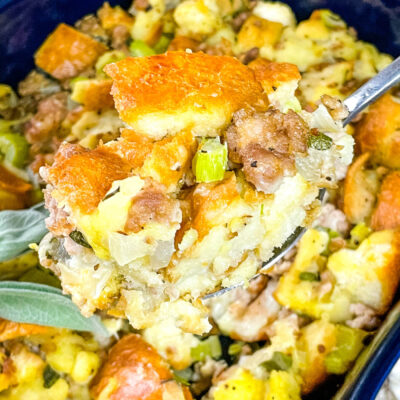 Sausage Stuffing Recipe
Homemade Sausage Stuffing is perfect for your Thanksgiving table! A simple dressing recipe with meat and sage. Serve up with turkey and any other sides for a delicious and special holiday side dish.
Print
Pin
Rate
Ingredients
12

cups

bread

cut into 1 inch cubes

1

pound

ground sausage

½

cup

unsalted butter

1 ½

cups

onion

white or yellow, chopped

1

cup

celery

chopped

2

Tablespoons

fresh sage

finely chopped, or 2 teaspoons dried

1

teaspoon

salt

1

teaspoon

black pepper

2

large

eggs

2

cups

vegetable stock

or chicken stock
Instructions
Preheat oven to 250°F or warm setting. Cut your bread into 1 inch cubes (12 cups total) and spread out on a baking sheet. Place in the warm oven and bake until the cubes are dry, approximately 45 minutes. Remove from oven and set aside.

Adjust oven to 350°F. Spray a 9×13 inch baking dish with cooking spray.

In a medium pot or large skillet, cook the sausage over medium heat until cooked through. Break up sausage as needed to prevent large clumps.

Place the cooked sausage in a large mixing bowl. Any fat or oil can remain in the pot/skillet.

In the same pot/skillet as the sausage fat, melt the butter over medium heat. Add the onion, celery, sage, salt, and black pepper. Simmer until the vegetables are softened, approximately 5 minutes.

Whisk the eggs to break them up. Add the eggs, stock, bread cubes, and onion sage mixture to the large bowl that the sausage is in. Toss to combine and pour into the prepared baking dish. Cover with foil.

Bake the stuffing for approximately 35-40 minutes, or until the moisture is absorbed and stuffing is setting.

Remove the foil cover and continue cooking another 15 minutes to crisp up the top. Serve warm.
Video
Notes
If using a very soft bread like French bread, be very gentle when cutting to avoid smashing the bread and losing volume. Use a serrated knife and a gentle grasp.
A dense bread is recommended as it will hold its shape better and provide more texture.
This can be made up through assembly in advance and then refrigerated. Bake when ready to serve.
One large loaf of French, Italian, or rustic bread is enough for this recipe. If the bread is not quite 12 cups that is fine, as long as you get to 10 cups or more.
Nutrition
Serving:
1
serving
|
Calories:
539
kcal
|
Carbohydrates:
46
g
|
Protein:
19
g
|
Fat:
31
g
|
Saturated Fat:
13
g
|
Polyunsaturated Fat:
4
g
|
Monounsaturated Fat:
11
g
|
Trans Fat:
1
g
|
Cholesterol:
118
mg
|
Sodium:
1453
mg
|
Potassium:
401
mg
|
Fiber:
4
g
|
Sugar:
7
g
|
Vitamin A:
650
IU
|
Vitamin C:
3
mg
|
Calcium:
154
mg
|
Iron:
4
mg
Thanksgiving Recipes
Delicious recipes for Thanksgiving!

By