Homemade Shredded Beef Red Chilaquiles is perfect for a Mexican inspired breakfast or brunch! A savory recipe made with tortilla chips in enchilada sauce, barbacoa, and eggs. Chilaquiles rojos is a great way to use leftovers. Gluten free.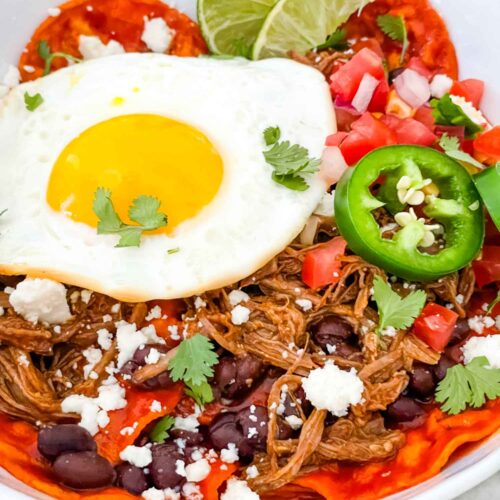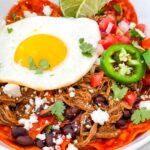 Shredded Beef Red Chilaquiles are an amazing breakfast or brunch food full of Mexican flavors! Tortillas are coated in an enchilada sauce and topped with barbacoa beef, beans, toppings, and eggs.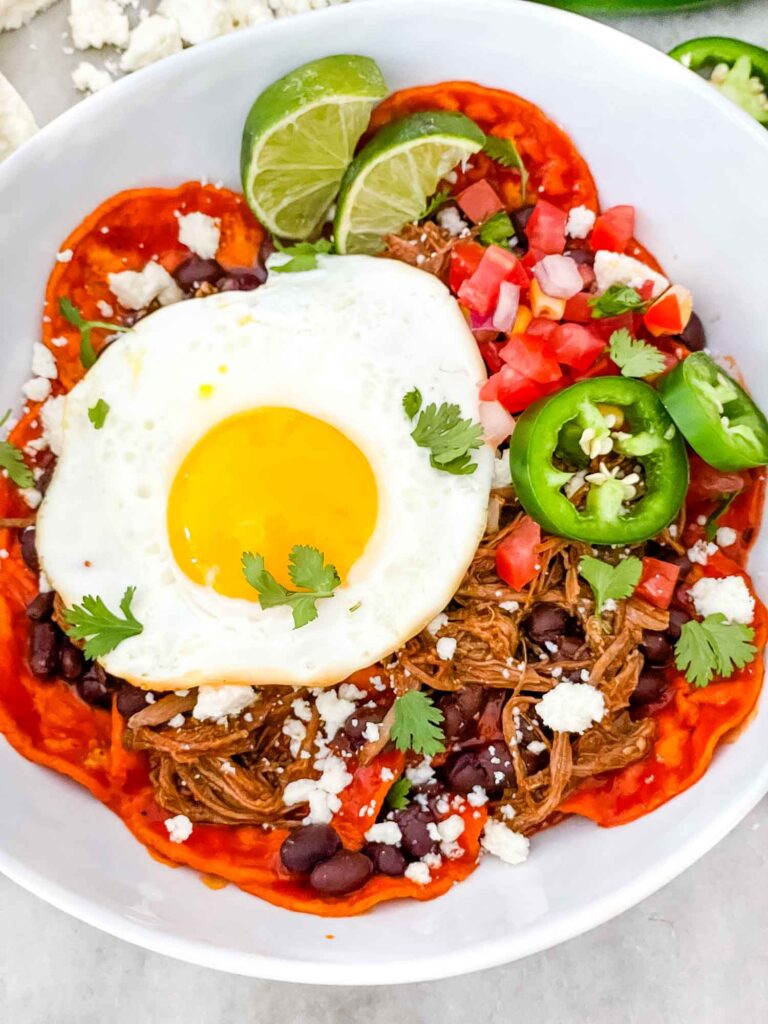 Why You Will Love This Recipe
I feel in love with chilaquiles when on a work trip to San Diego and now love making them at home!
Chilaquiles are an amazing way to enjoy Mexican flavors for breakfast.
The slightly-wet chips bring amazing texture and flavor to a bunch of toppings and eggs. And it is a great way to use up leftover shredded beef.
There is a ton of room for customizing this Mexican breakfast recipe with different toppings and flavors as you want!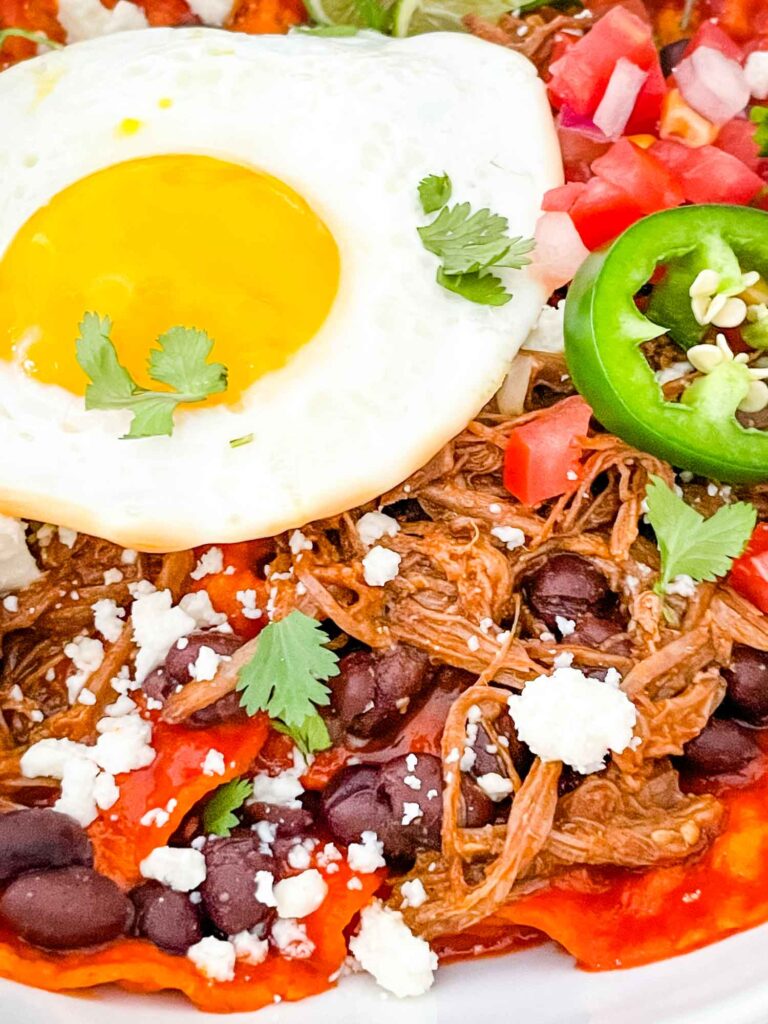 Ingredients
These are the ingredients you need to make these beef chilaquiles:
Shredded Beef
Eggs
Tortilla Chips
Black Beans
Cotija Cheese
Lime
Ground Cumin
Salt
Toppings as Desired
Shredded Beef – I love to use my versatile beef barbacoa recipe for these chilaquiles. It is a great way to use up leftover meat that you made for enchiladas, burritos, or anything Mexican! Make it in either the Instant Pot or a Crock Pot. Here are the recipe links:
Cotija Cheese – Cotija is a dry, crumbly cheese similar to Feta. You can use any cheese you want.
Toppings – Use anything that you love! Ideas include:
Picked Jalapenos (or fresh)
Salsa
Pickled Red Onions
Radishes
Fresh Cilantro
Sour Cream
Equipment
Here is the equipment you need to make the chilaquiles rojos recipe:
Large Skillet
Tongs
Measuring Cups
Small Bowl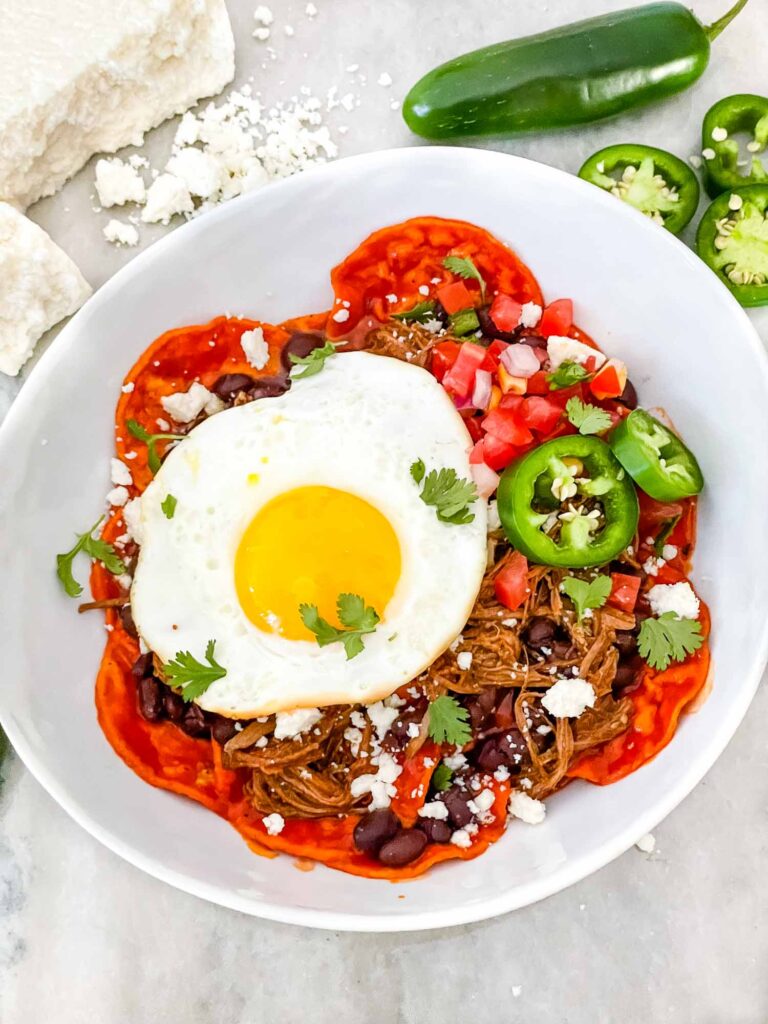 Instruction Overview
Have your eggs cooked and everything ready to go.
Heat the sauce in a large skillet.
When warm, add the tortilla chips and toss to coat.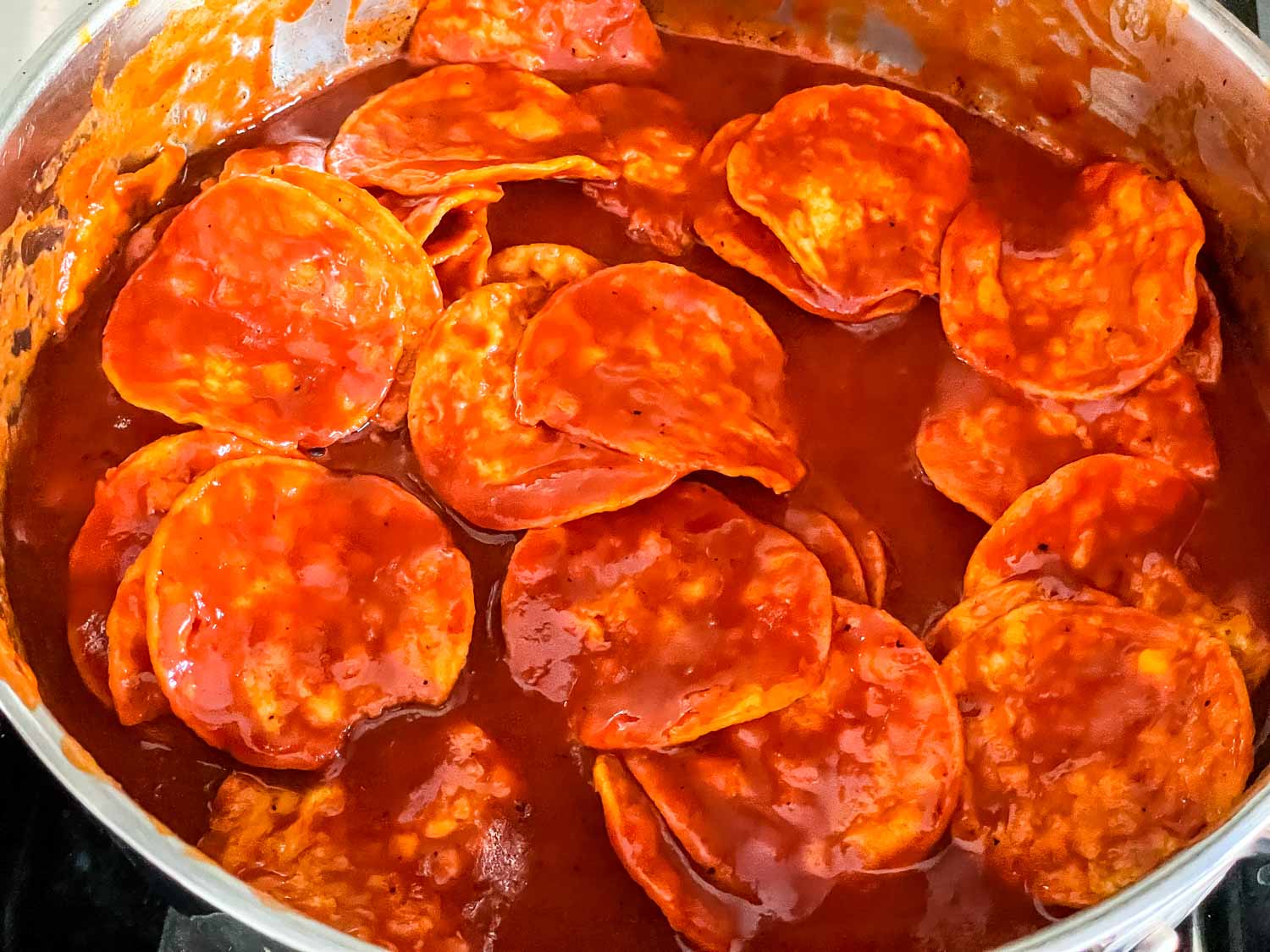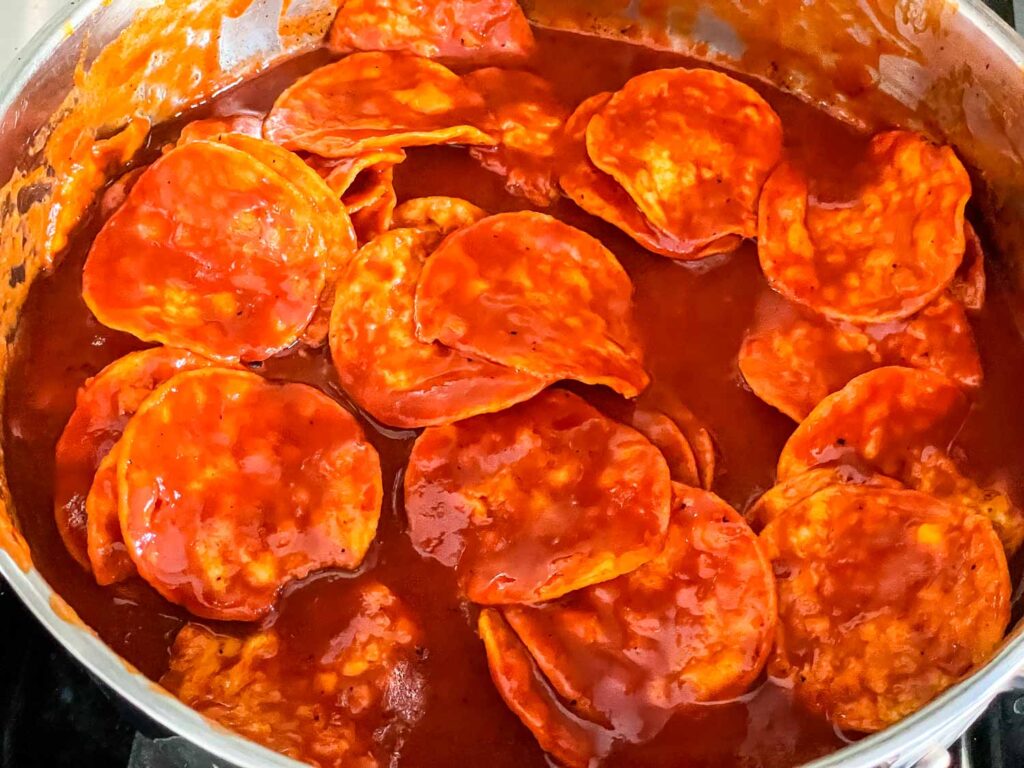 Put the chips in a bowl.
Add the beans, beef, and toppings as desired.
Top off with egg of choice.
Modifications and Substitutions
Use any enchilada sauce that you like. I prefer my classic Red Enchilada Sauce.
This recipe is a great way to use leftover shredded beef. You can also make the beef just for this recipe, or swap out other meats as desired.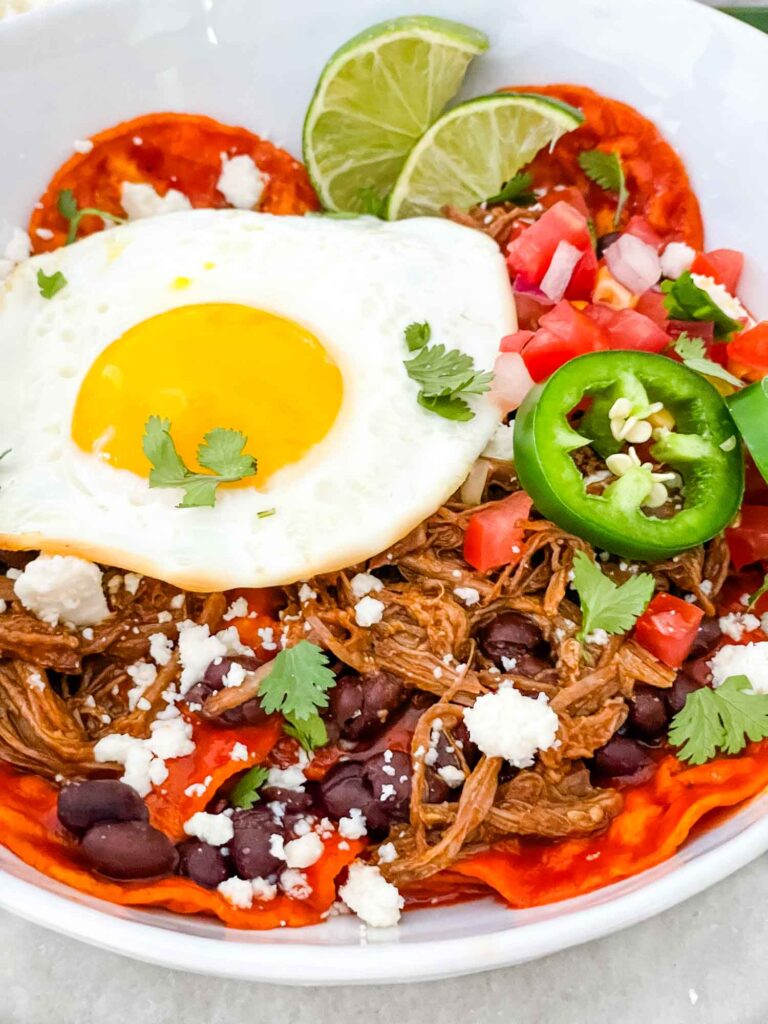 Kim's Tips
Have everything ready to go before coating the chips with sauce so you can get it served before they are too soggy!
FAQs
What are chilaquiles rojos made of?
Chilaquiles rojos are made of tortilla chips, red enchilada sauce, meat, beans, eggs, and toppings of choice.
Which is spicier red or green chilaquiles?
Typically, red is spicier than green sauce in a restaurant.
But you can control how spicy your sauce is for this recipe!
What are the two types of chilaquiles?
The two main types are rojos and verde: red and green! This is in reference to the color of the sauce or salsa used in the recipe.
Should chilaquiles be crunchy or soft?
It is a middle ground! The chips should be slightly soft from the sauce soaking in but still have a little crunch to them.
That is why it is important to serve them immediately after making them!
Does chilaquiles come with meat?
Yes, it is very common But not required.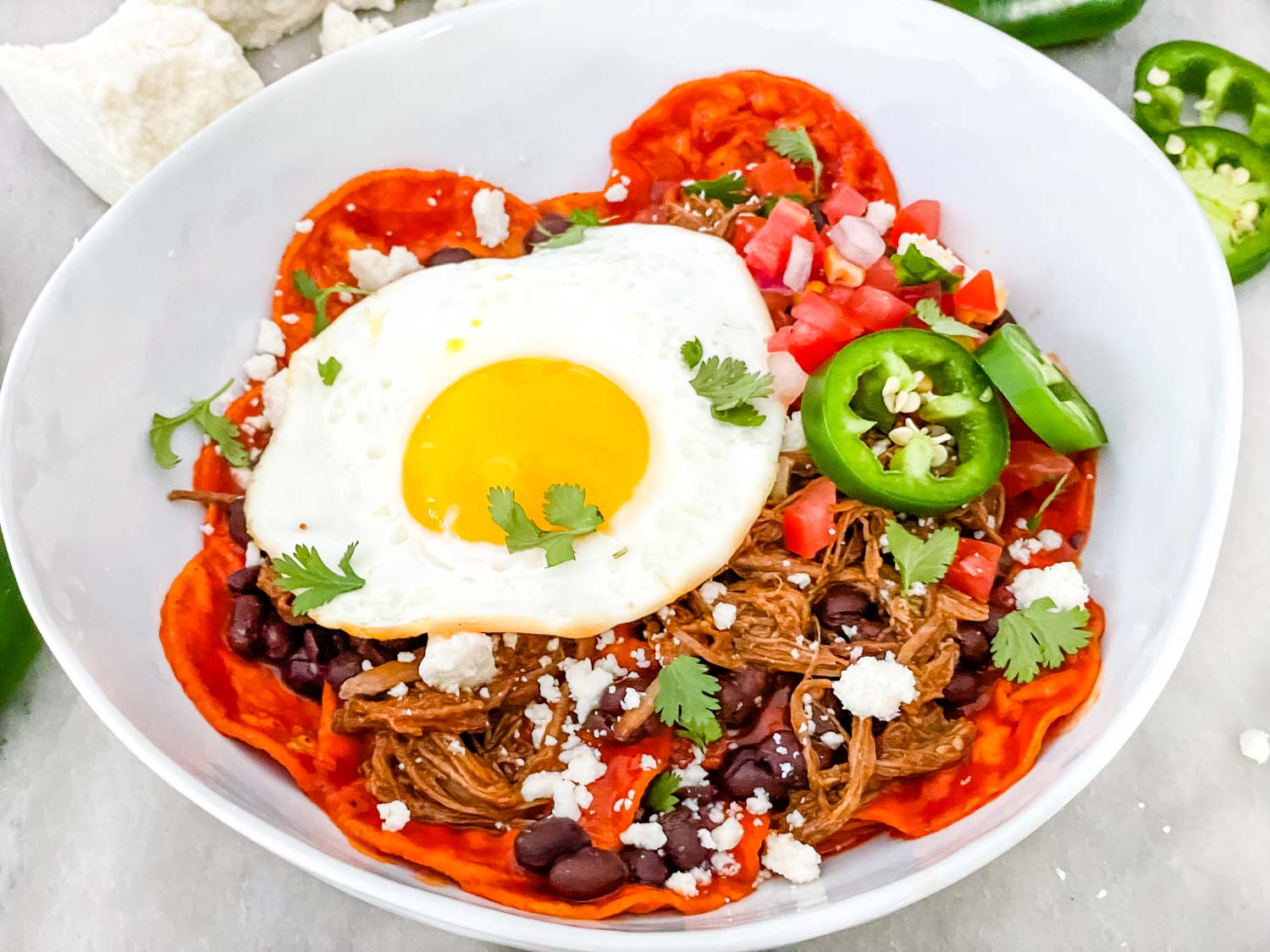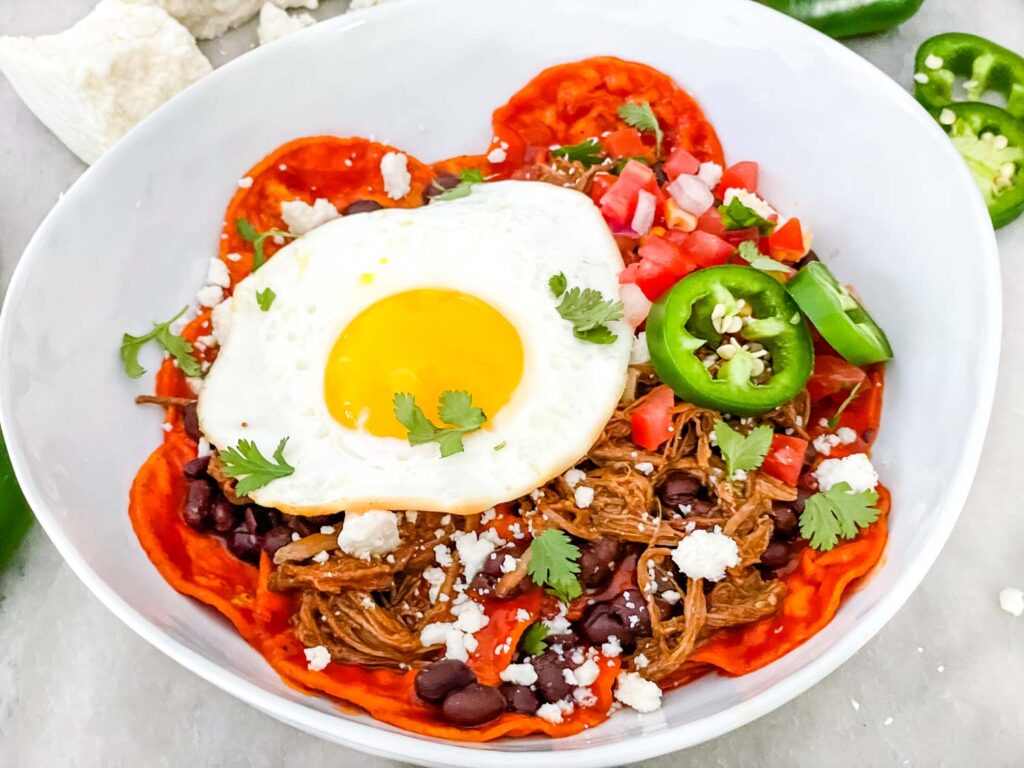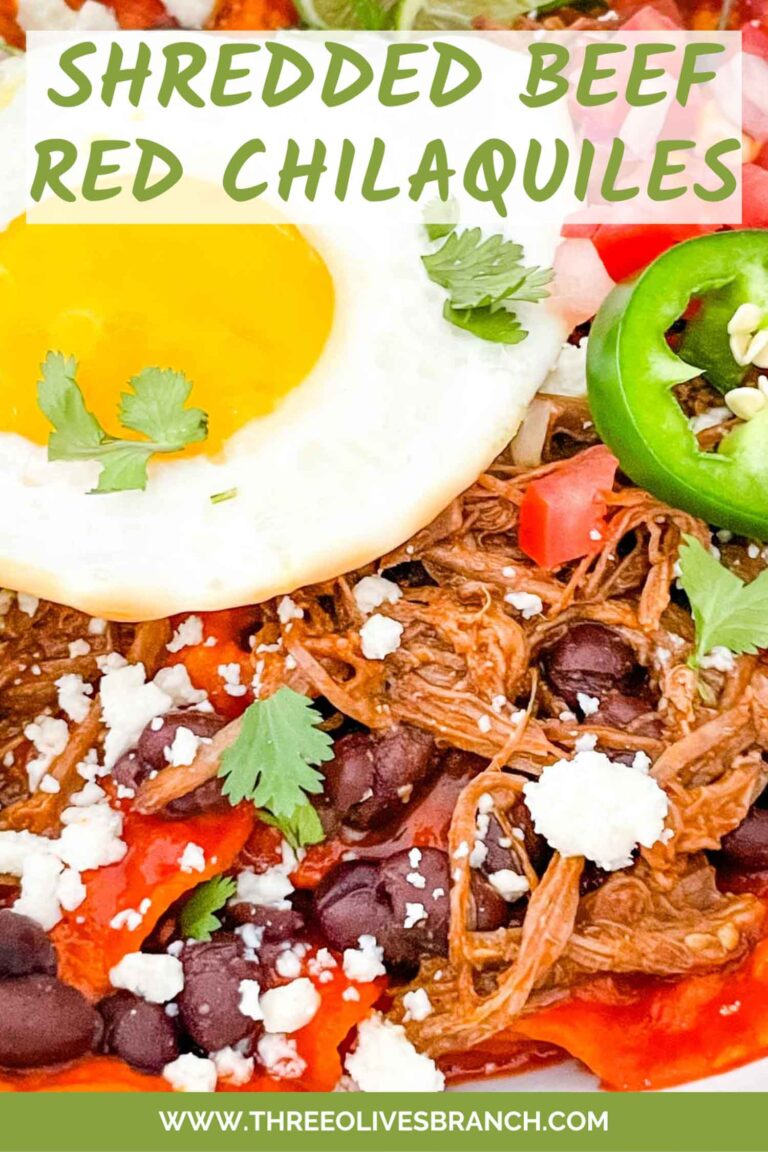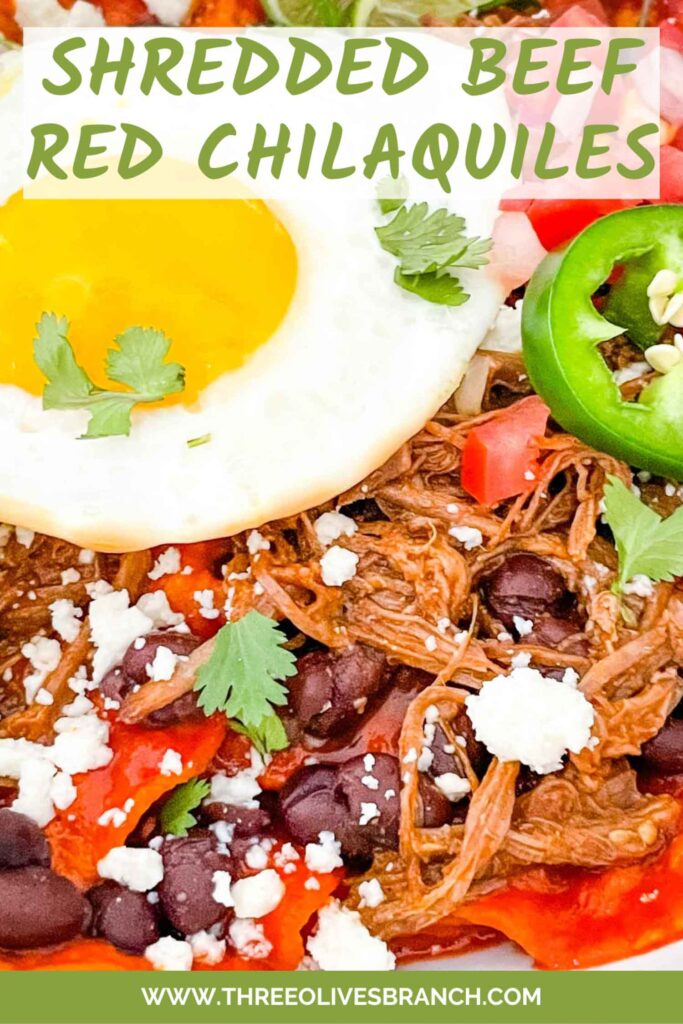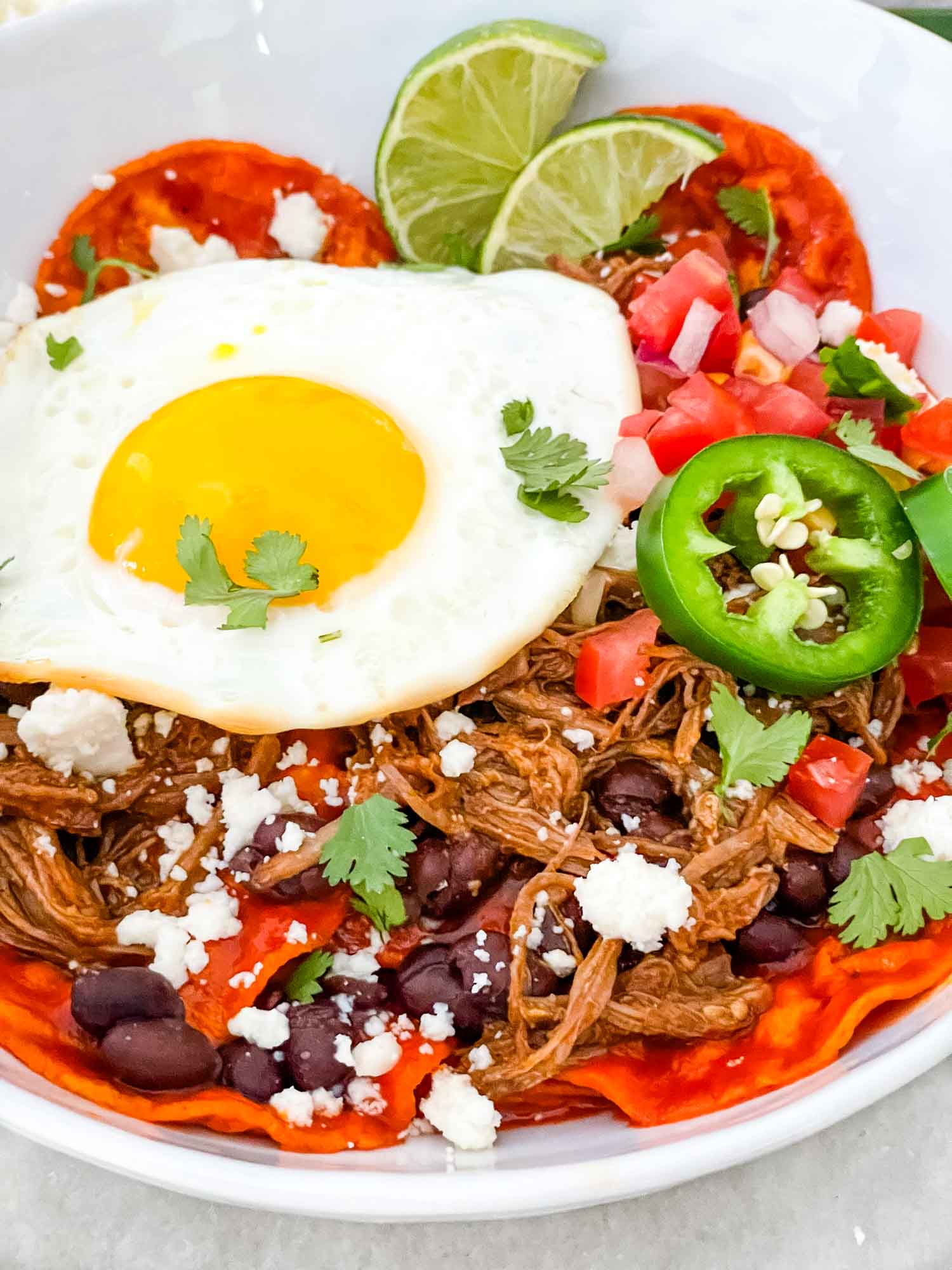 Ingredients
Toppings as Desired
pickled red onions

pickled jalapenos

or fresh
Instructions
Heat the skillet over medium heat.

Add a little oil and cook each egg as desired.

(Over medium is my favorite so the white is cooked through but the yolk is still runny).

4 large eggs,

1 Tablespoon vegetable oil

Remove eggs from the skillet and set aside on a plate.

Prepare the beans by draining and rinsing them, and then heating them in the microwave for 1 minute. (Heat longer if needed so that they are warm).

Combine the beans with the lime juice, cumin, and salt in the bowl. Set aside.

½ lime,

¼ teaspoon salt,

¼ teaspoon ground cumin

Heat the enchilada sauce in the large skillet over medium heat.

2 cups red enchilada sauce

When warm, turn off the heat and add the tortilla chips. Toss to coat.

Put the chips in serving bowls or plates.

Distribute the beans among each bowl on top of the chips.

Add the shredded beef to each bowl, approximately 1/2 cup per serving.

Place the eggs on each bowl of chips.

Add the cotija cheese (approximately 1 Tablespoon per bowl) and additional toppings or garnishes as desired.

4 Tablespoons cotija cheese
Nutrition
Serving:
1
serving (minus toppings)
|
Calories:
709
kcal
|
Carbohydrates:
95
g
|
Protein:
26
g
|
Fat:
27
g
|
Saturated Fat:
6
g
|
Polyunsaturated Fat:
10
g
|
Monounsaturated Fat:
7
g
|
Trans Fat:
0.1
g
|
Cholesterol:
201
mg
|
Sodium:
1731
mg
|
Potassium:
623
mg
|
Fiber:
16
g
|
Sugar:
9
g
|
Vitamin A:
1157
IU
|
Vitamin C:
5
mg
|
Calcium:
235
mg
|
Iron:
5
mg
More Mexican Beef Recipes
By