Vegan Carrot Pigs in a Blanket are an amazing vegan appetizer recipe perfect for game day or party finger food! Tasting just like sausage little smokies or hot dogs wrapped in crescent rolls.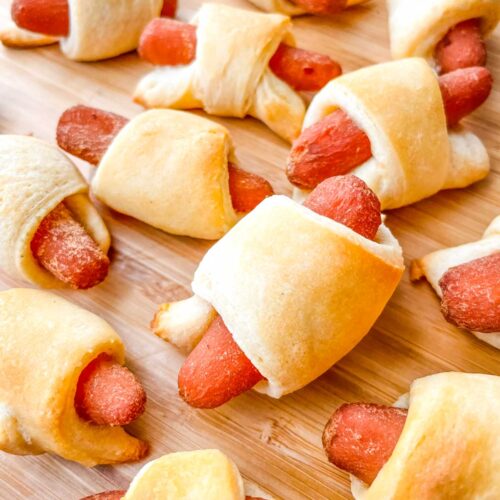 These Vegan Carrot Pigs in a Blanket taste JUST like the real thing! And at half the calories, they are a great healthy alternative for a game day snack.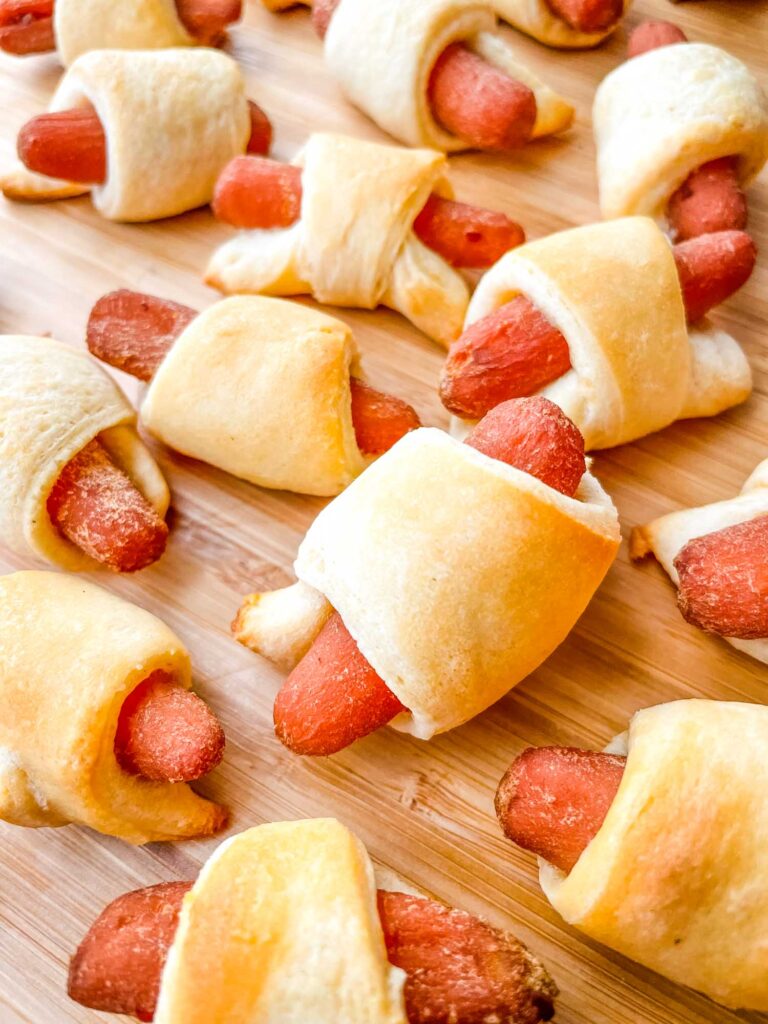 Vegan Carrot Dogs
These Vegan Carrot Pigs in a Blanket are inspired by the popular vegan dogs.
Made with carrots in a marinade, they taste so much like the real thing!
I took that same popular concept and turned it into a game day snack recipe.
I must admit, I was skeptical about how similar these would be. But everyone was talking about how they freakishly tasted like the real thing! All the same great flavors in a vegan and crowd friendly food.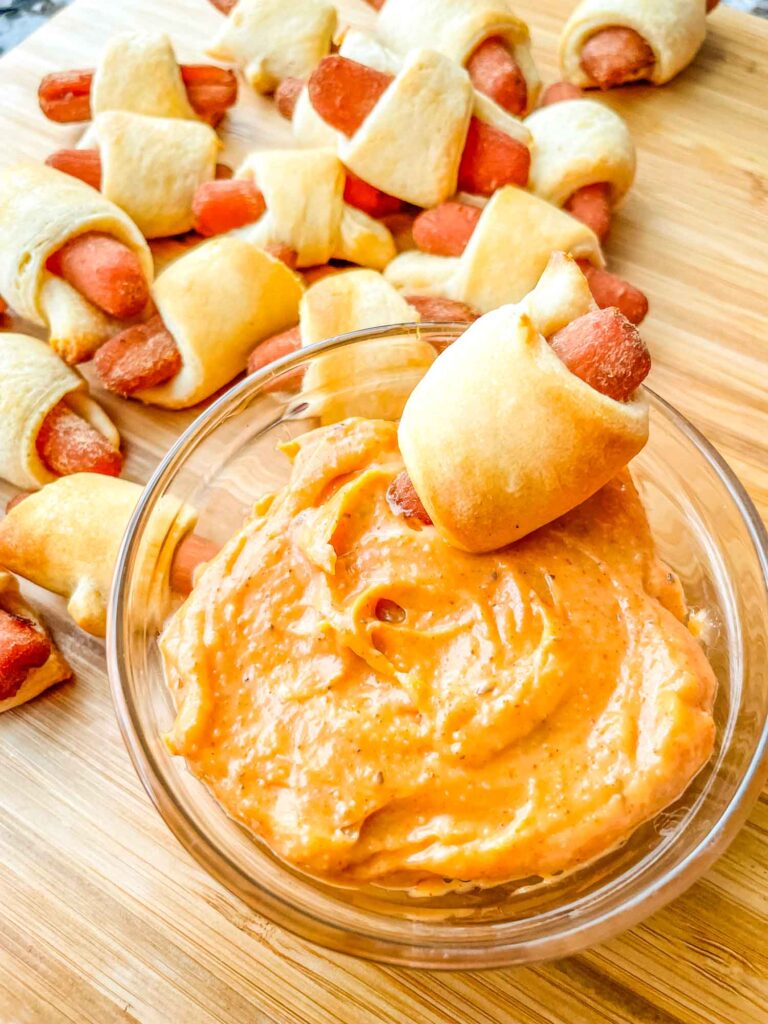 Ingredients Needed
Here is what you need to make this vegan recipe:
Baby Carrots (or cut up large carrots)
Vegetable Stock/Broth
Garlic
Onion Powder
Soy Sauce
Red Pepper Flakes
Apple Cider Vinegar
Maple Syrup
Yellow Mustard
Crescent Rolls
What is Liquid Smoke?
Liquid smoke is a powerful ingredient very commonly used in barbecue foods.
It brings the flavor of being cooked and smoked over wood to a food, even if it was not!
And by using liquid smoke here, you are going to get that sausage or hot dog flavor packed into the carrot.
There are different wood flavors of liquid smoke, such as hickory and mesquite. Any flavor will work!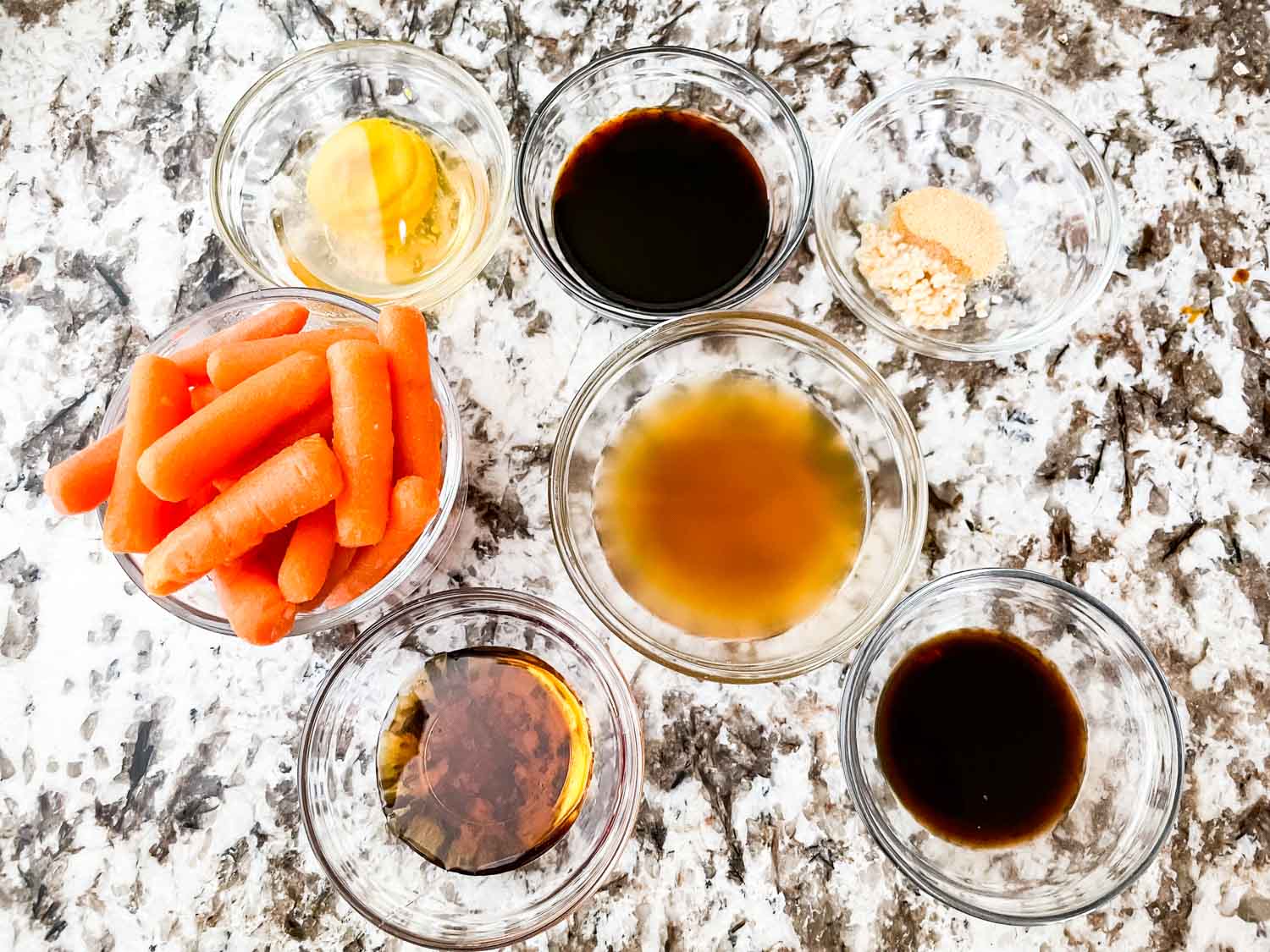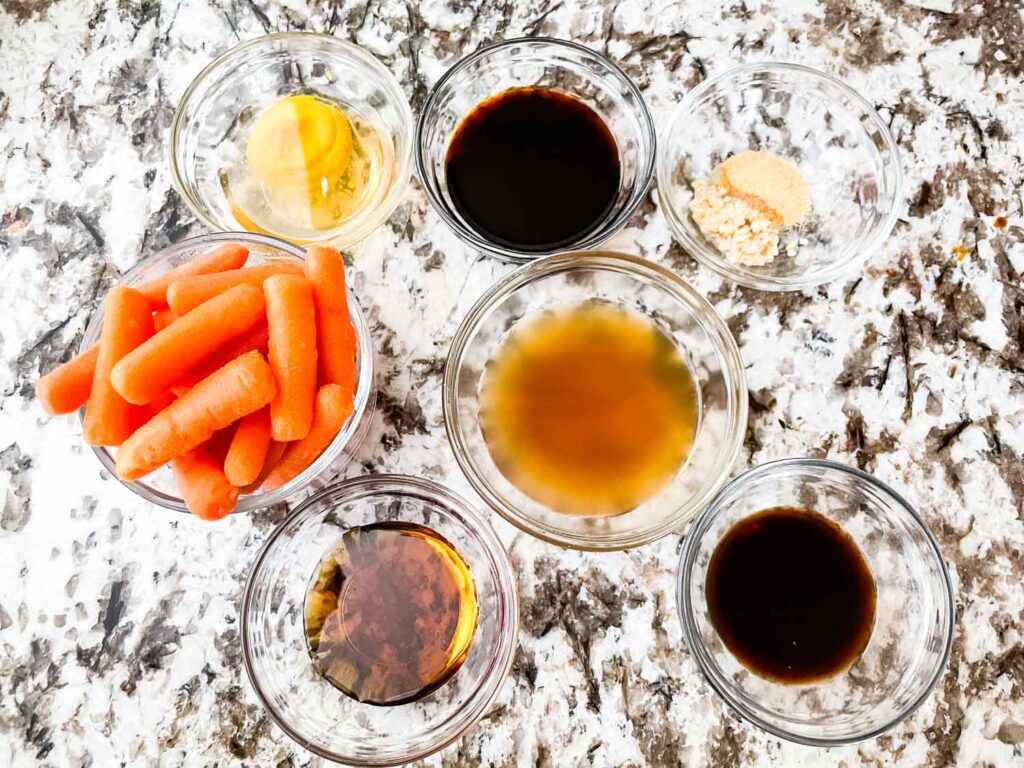 Are crescent rolls vegan?
Yes! Surprisingly, most brands and varieties are!
You will want to double check the ingredients list if you are definitely wanting a vegan option as some might have a dairy product, such as butter varieties. But generally, this product is vegan.
How to Make Vegan Pigs in a Blanket
First you need to make your carrots, which is best the day before so they have maximum time to marinate.
Heat the marinade ingredients with the carrots over a stove. Cook until they are soft. This is VERY important as they will not cook much more later, so you want them soft.
If they still have the carrot crunch, it will throw off the texture of the final food. So make sure they are very fork tender like you would expect a sausage!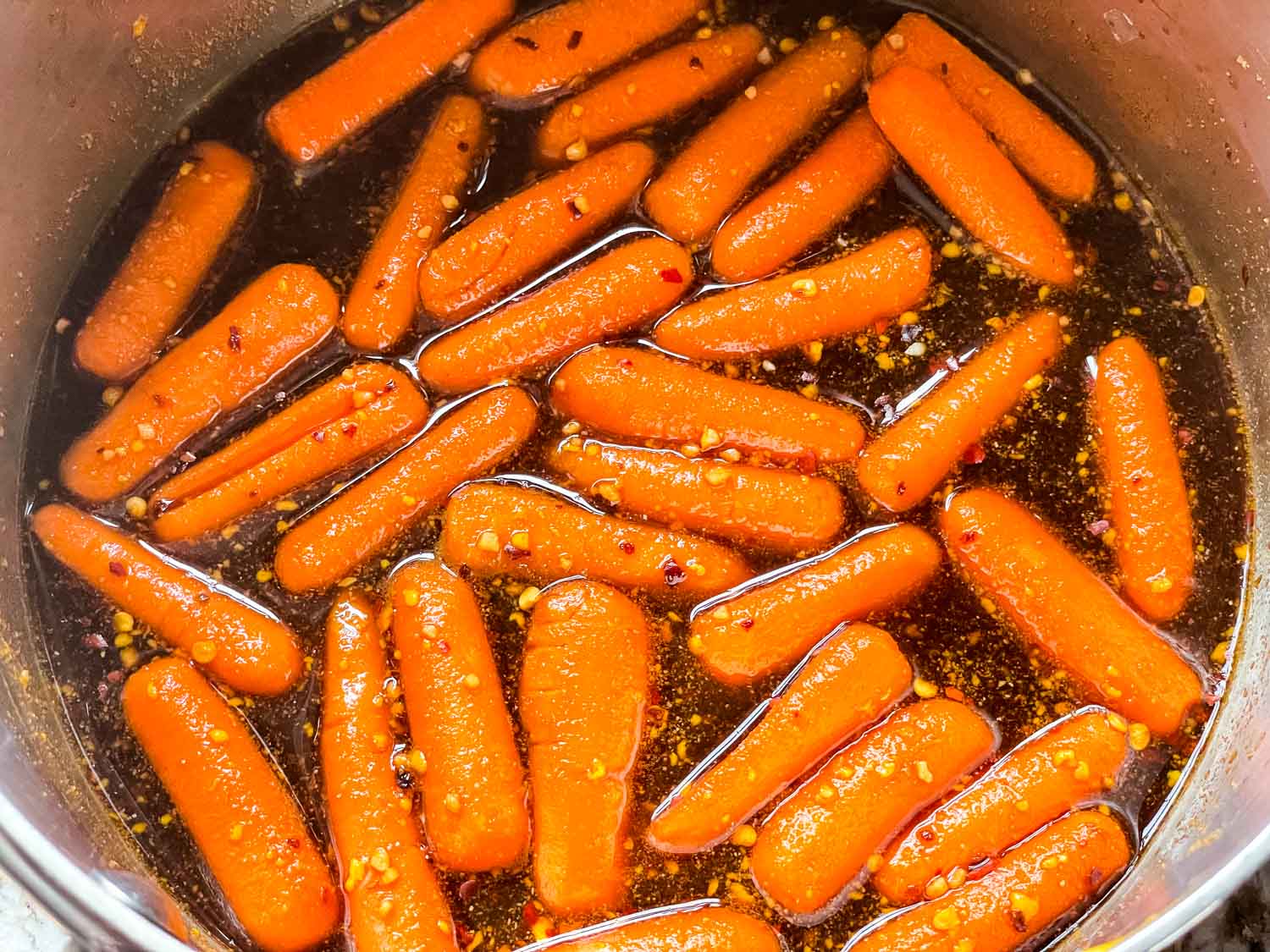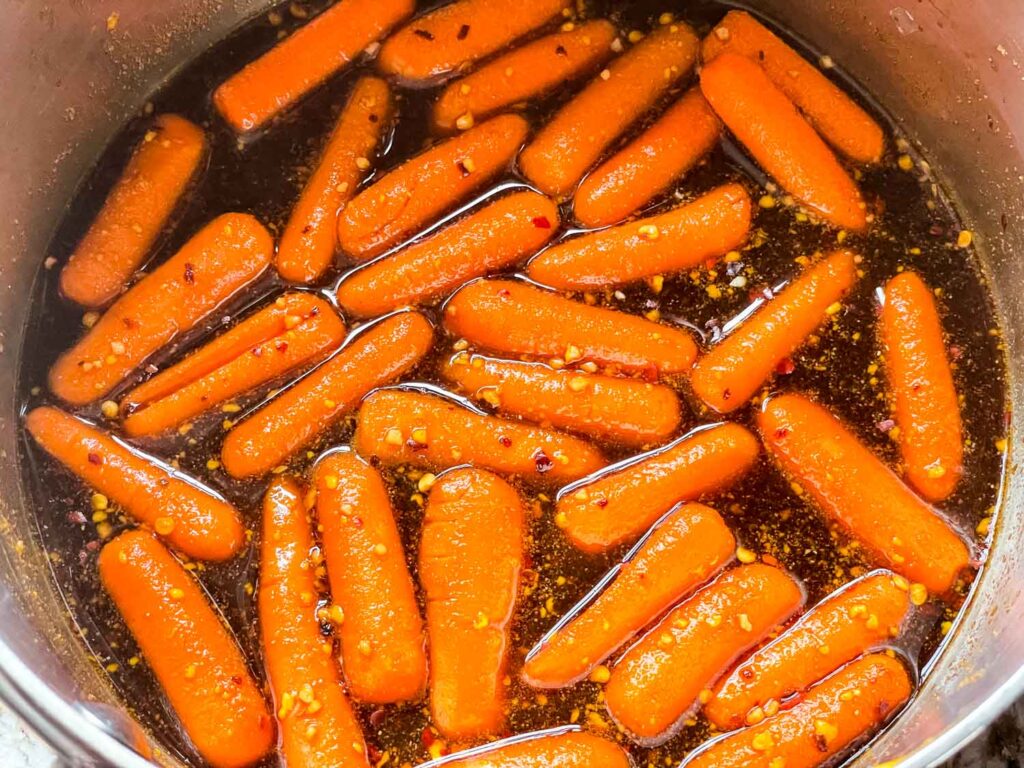 If your sauce is getting too thick during cooking, add a little more water at a time until they are soft enough.
Then let them marinade overnight (ideally) to soak up as much flavor as possible.
When you are ready to finish them off, remove them from the marinade and let them drain. You do not need them bone dry, but they should not be overly wet. I like to let them sit in a strainer on top of a paper towel.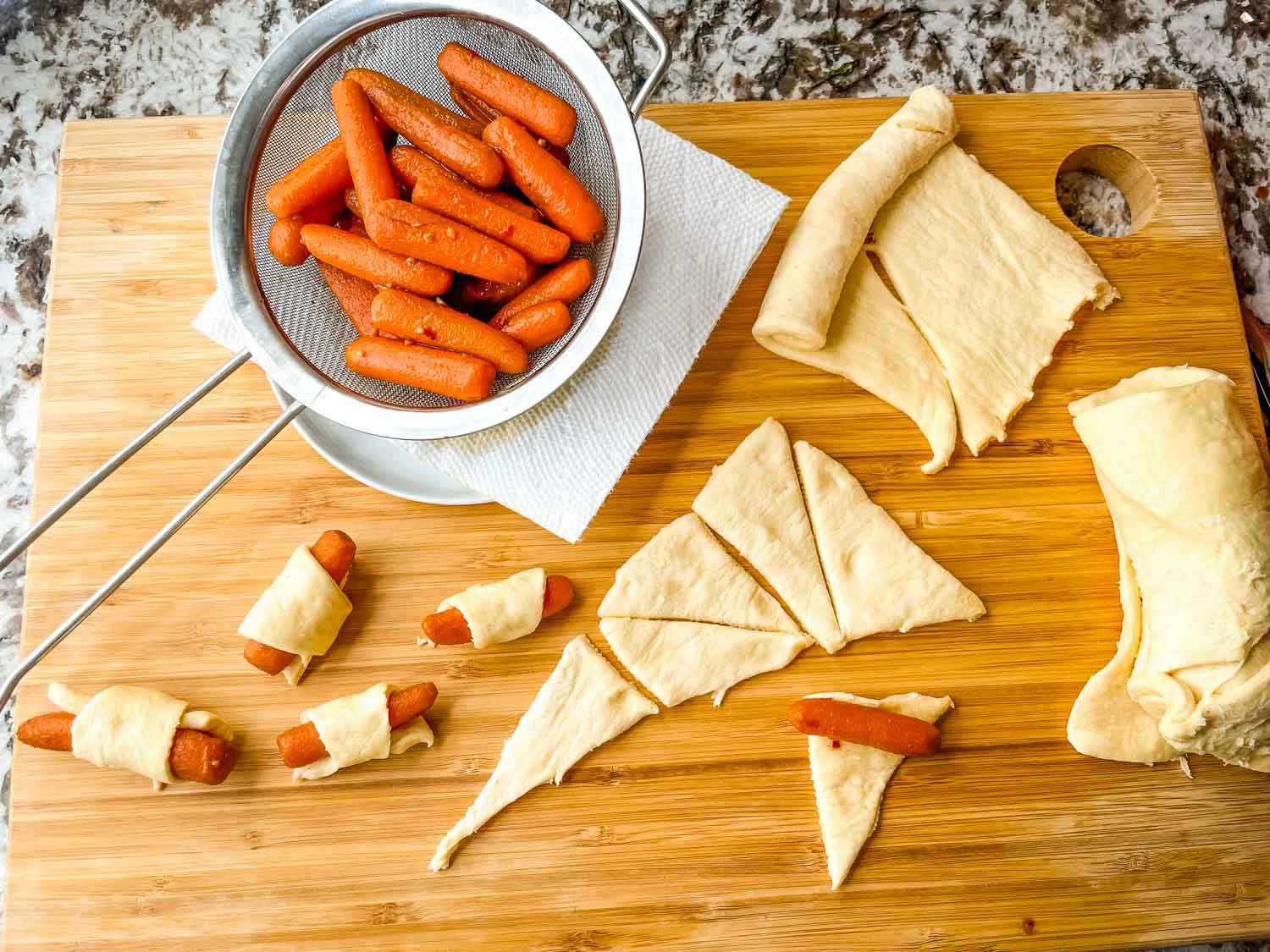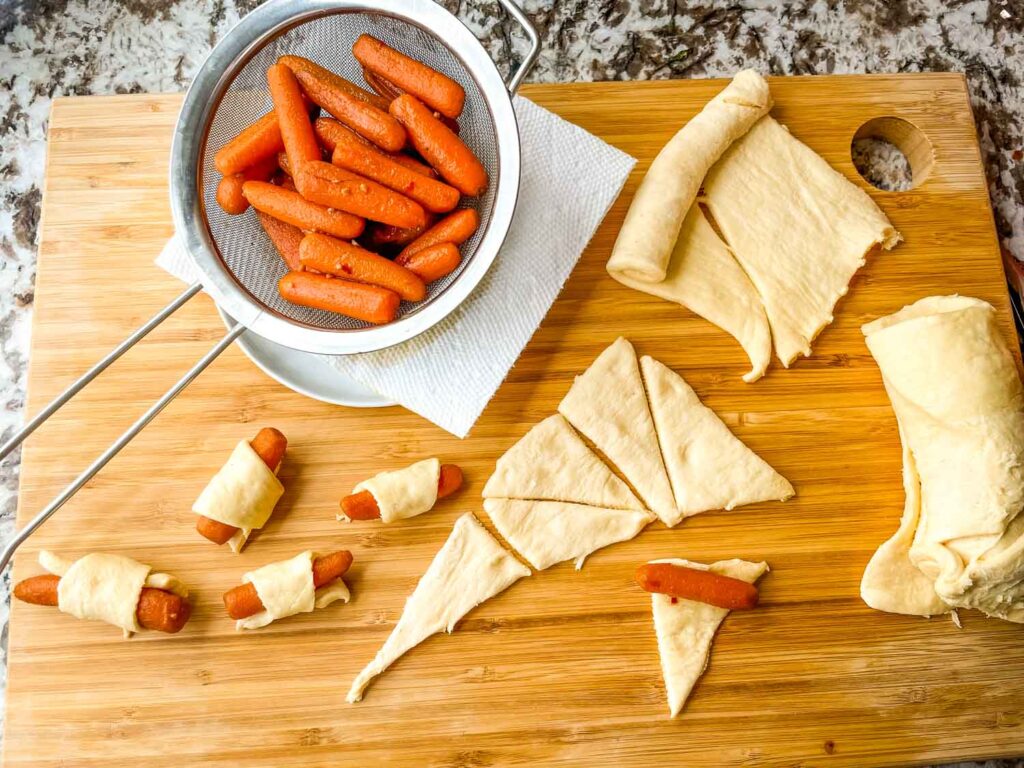 Cut each crescent roll piece into 6 pieces as shown in the picture. You could stretch it further for more pieces if desired.
Then wrap up one carrot in each little piece of dough.
Place in the oven and cook until golden brown, approximately 17-20 minutes.
Serve with your favorite dipping sauces like a honey mustard or cajun sauce!
Why are they called pigs in a blanket?
The name dates back to the 1600s when farmers wrapped meat inside of dough.
It stems from the fact that pork is a pig product and wrapped up tightly resembles a blanket.
What is the difference between a pig in a blanket and a kolache?
Pigs in a Blanket are typically made with a sausage or meat in the middle and a kolache is made with jam in the middle.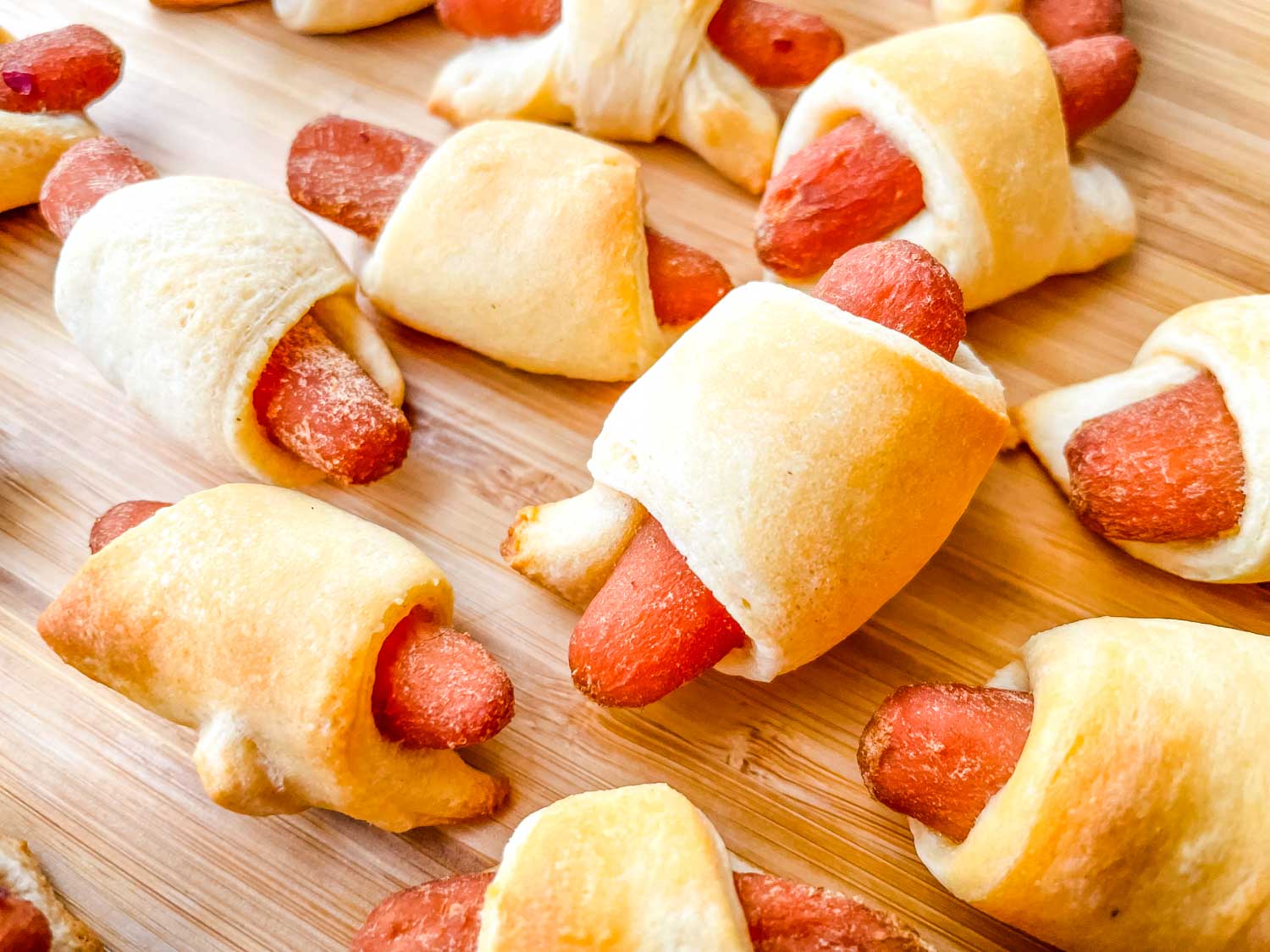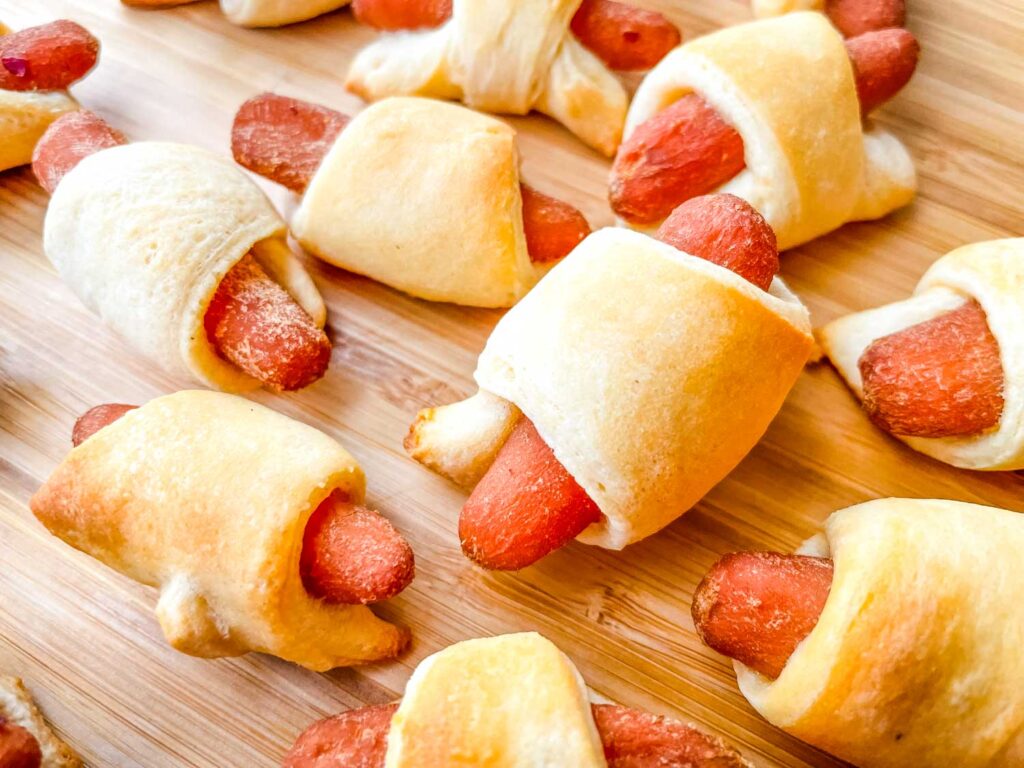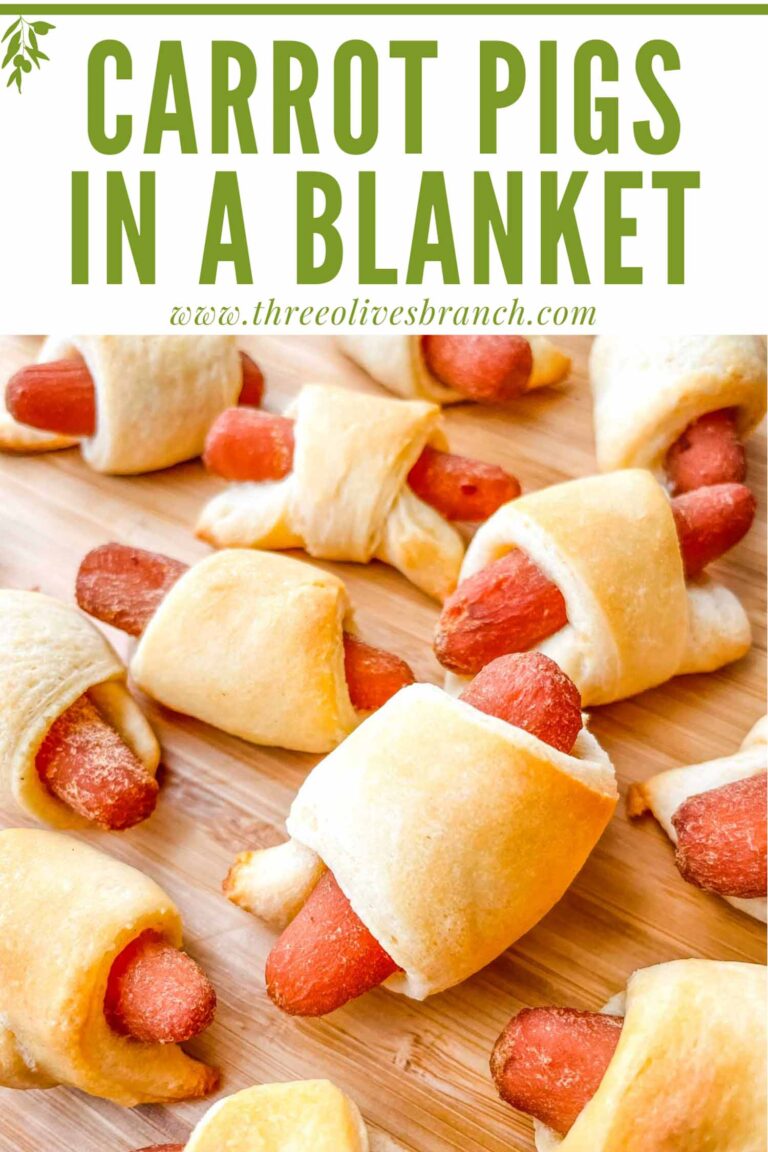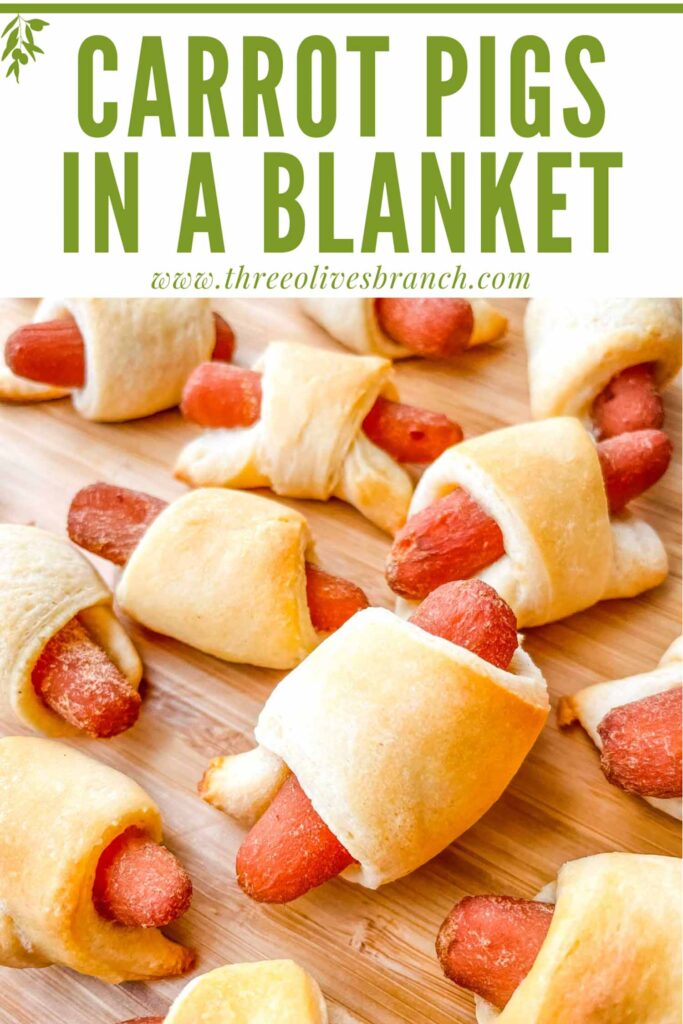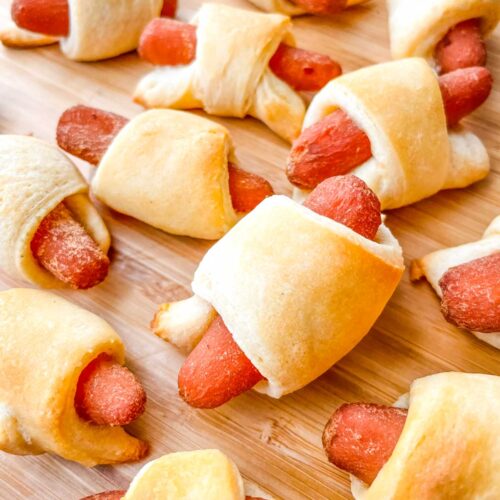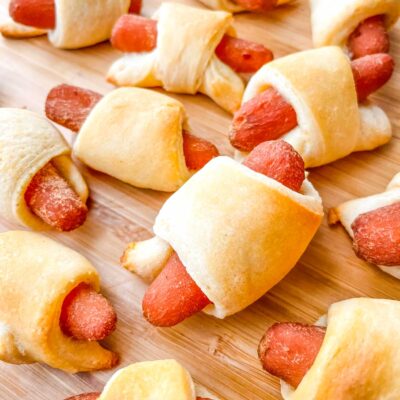 Vegan Carrot Pigs in a Blanket Recipe
Vegan Carrot Pigs in a Blanket are an amazing vegan appetizer recipe perfect for game day or party finger food! Tasting just like sausage little smokies or hot dogs wrapped in crescent rolls.
Print
Pin
Rate
Instructions
Put the carrots and all ingredients except the crescent rolls into a small or medium pot.

Heat over medium high heat and bring to a simmer. Reduce heat to medium.

Continue cooking at a simmer until the carrots are completely soft and a fork can easily pierce them. Add more stock or water if needed to continue the cooking process. There should not be any carrot-like crunch in the middle when you pierce them.

The carrots will not cook much further, so make sure they are soft to avoid any carrot crunch later.

Remove from the heat and store the carrots with the marinade in a jar or container in the refrigerator overnight.

When ready to assemble, preheat oven to 375°F.

Drain the carrots from the liquid and let drain over a paper towel in a strainer. No need to pat dry as it can remove some of the flavor.

Unroll the crescent roll dough. Cut each roll triangle into 6 pieces (if making 32 servings).

Do this by cutting it into three rows (top long edge, middle, and bottom tip) and then cutting the middle section into two triangles and the top large section into two. See picture.

Roll up one carrot in each small piece of dough and place on a baking sheet.

Bake in the oven until the dough is a light golden brown, approximately 17-20 minutes.

Remove from oven and serve warm with your favorite dipping sauces.
Notes
Baby carrots are convenient, and I like to pick out the larger baby carrot that are a similar size to little smokies. Alternatively, you can also cut up large carrots into the appropriate size before cooking in the marinade.
It is very important that you cook the carrots in the marinade on the stove until they are soft and no longer have a carrot-crunch in the middle. This is what throws off the final product, as the carrots do not get much softer when baking. 
Nutrition
Serving:

1

piece

|

Calories:

27

kcal

|

Carbohydrates:

4

g

|

Protein:

1

g

|

Fat:

1

g

|

Saturated Fat:

1

g

|

Polyunsaturated Fat:

1

g

|

Monounsaturated Fat:

1

g

|

Sodium:

147

mg

|

Potassium:

31

mg

|

Fiber:

1

g

|

Sugar:

2

g

|

Vitamin A:

1389

IU

|

Vitamin C:

1

mg

|

Calcium:

5

mg

|

Iron:

1

mg

By