Armadillo Eggs are a perfect summer BBQ recipe! A southern Texas classic. Cheese filled jalapeno poppers wrapped in ground pork sausage and wrapped in bacon with BBQ sauce. Bake or grill. Gluten free.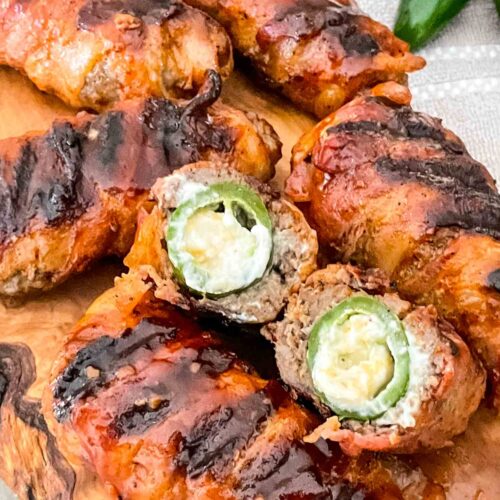 Calling all pork lovers! These Armadillo Eggs are for you! Jalapeno poppers wrapped in a seasoned ground sausage and then wrapped in bacon. Grilled with barbecue sauce.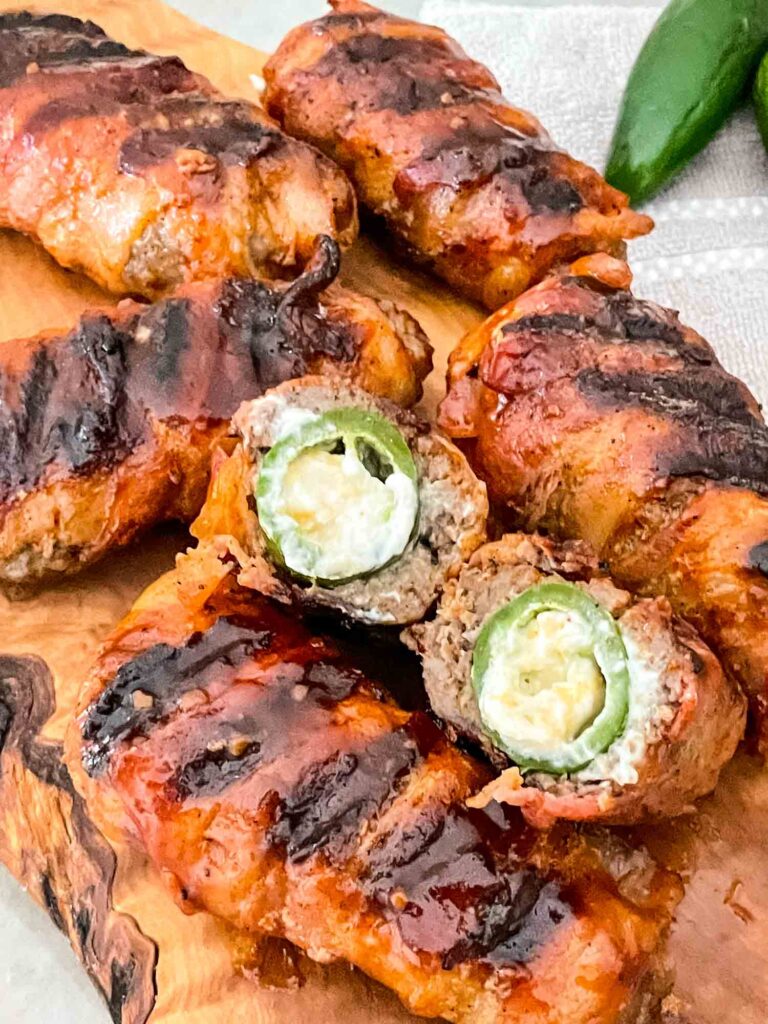 Texas Armadillo Eggs
This recipe is a lot of fun to eat and a big hit for your friends and family!
Perfect for pork lovers, these Armadillo Eggs can be served as hefty appetizers or as a side. Even a main course if you want!
Each egg is rather large and can be cut in half for smaller portions. But just be sure to cut when eating as the cheese might start leaking out!
Why Are They Called Armadillo Eggs?
The egg part of the name comes from the shape. And the armadillo part is because when wrapped with the bacon, it has the same ridges and bumps like an armadillo body.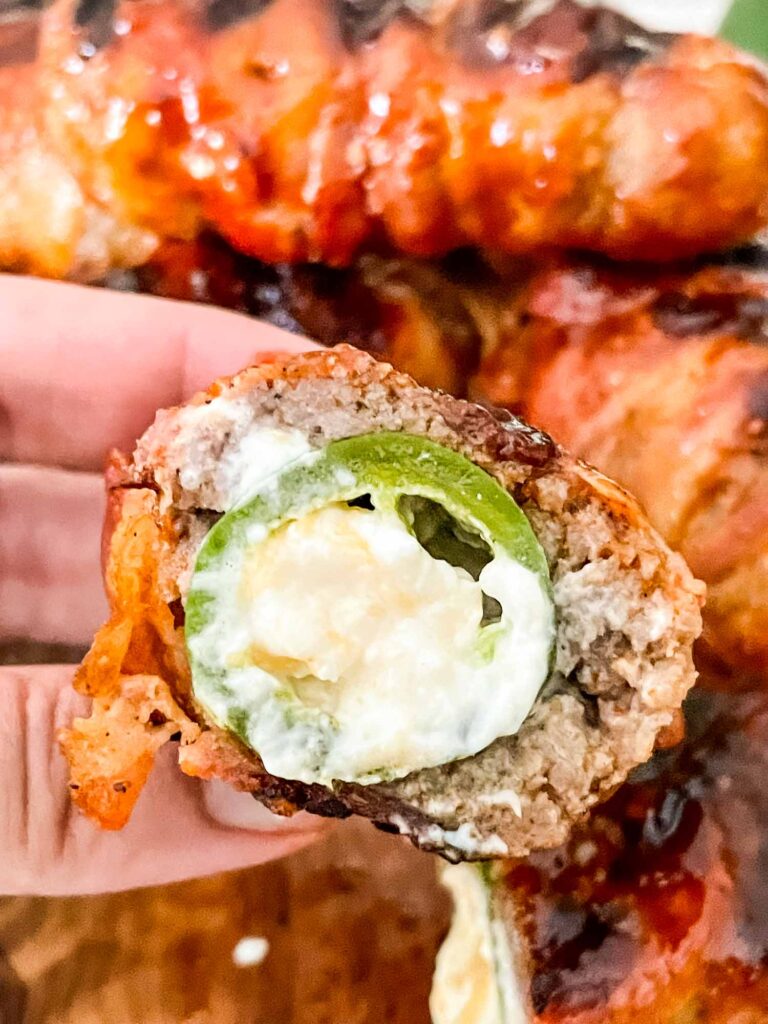 What are Armadillo Eggs Made Of?
Here are the ingredients you need for this recipe:
Jalapeno Peppers
Cream Cheese
Cheddar Cheese
Garlic Powder
Ground Sausage
Bacon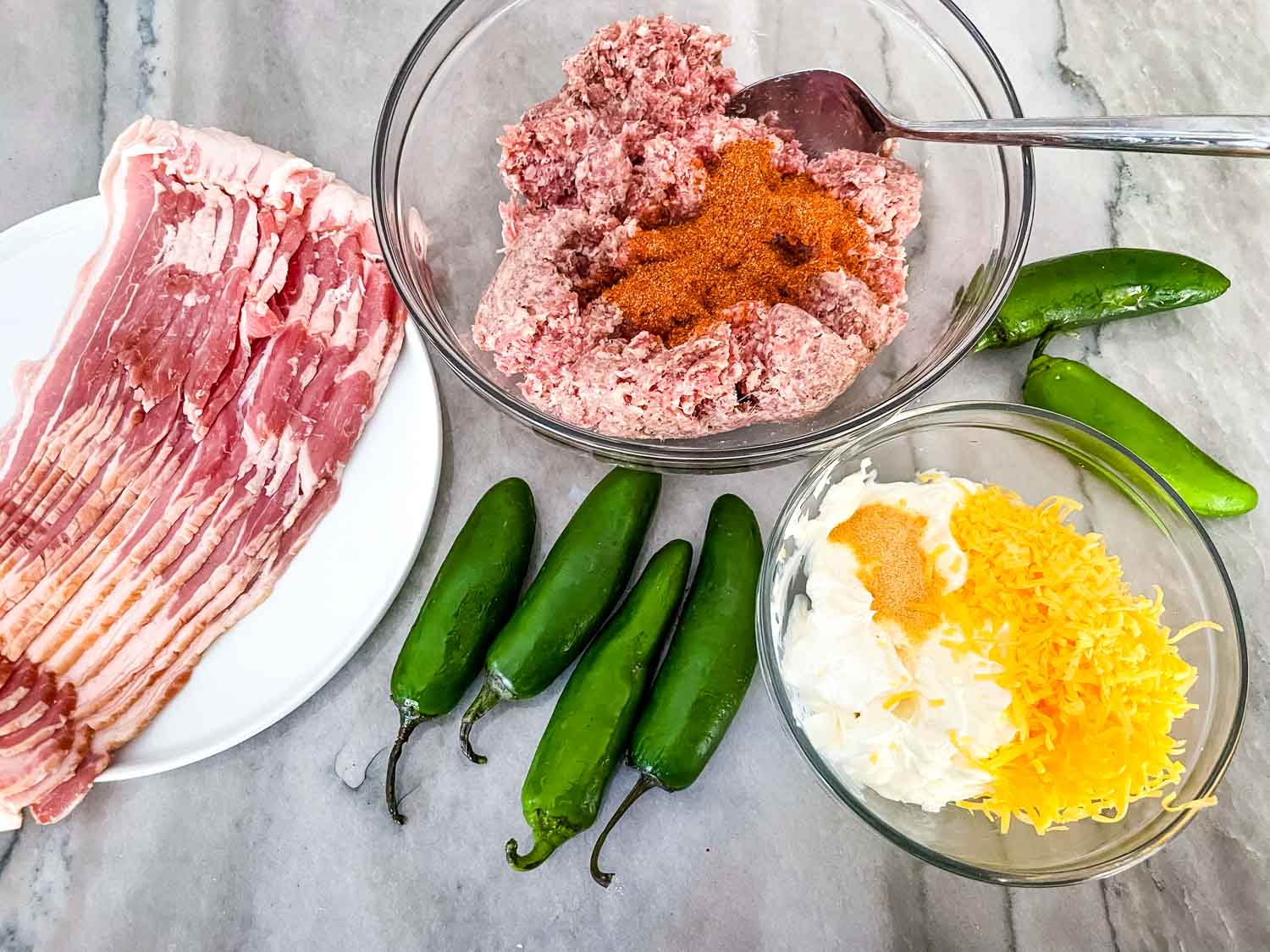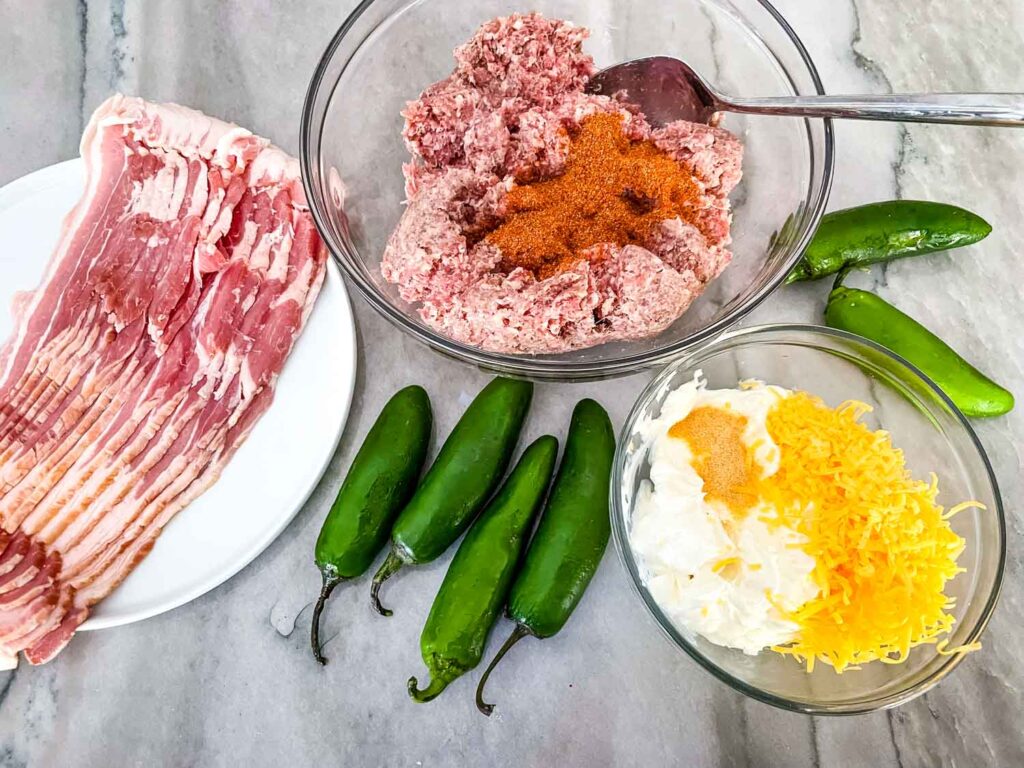 How to Pick the Right Jalapenos for Armadillo Eggs
Try to find peppers that are rather straight, which will make them easier to core out and also to make into an egg shape.
Aim for smaller ones as well that are not too thick or too long. If needed, you can always make a pepper shorter but making it skinnier is going to lead to leaking cheese.
Where Do Armadillo Eggs Come From?
This barbecue staple has its roots in Texas, but the exact origin is a little unclear.
How Do You Make Armadillo Eggs?
First core the jalapenos, and be very careful when doing it! See below for more detailed notes on how to get the seeds and ribs out of the pepper. You can always leave them in, but they will be hotter and also more difficult to stuff.
Mix up your cheese mixture and then stuff it into the hollowed out peppers.
Mix the ground sausage with 1 Tablespoon of the BBQ rub (use any rub you like, but I love my versatile BBQ rub recipe!). Divide it into 6 portions, one for each pepper.
Flatten a portion of the sausage and put the stuffed pepper in the middle. Then wrap the sausage around, making sure you are fully covering the open pepper end to avoid too much cheese leakage!
Then wrap the sausage pepper with two slices of bacon. Start with one slice near the top and wind around, slightly overlapping. And start the second slice where the first ends, covering the entire piece.
Secure the ends of the bacon with toothpicks to keep them in place when they cook. Otherwise the bacon can shrink back and leave some places exposed without bacon. I try to have the toothpicks stick out the sides as in the picture below so the larger flat sides can lay easily on the grill.
Then grill or bake, see below for both options!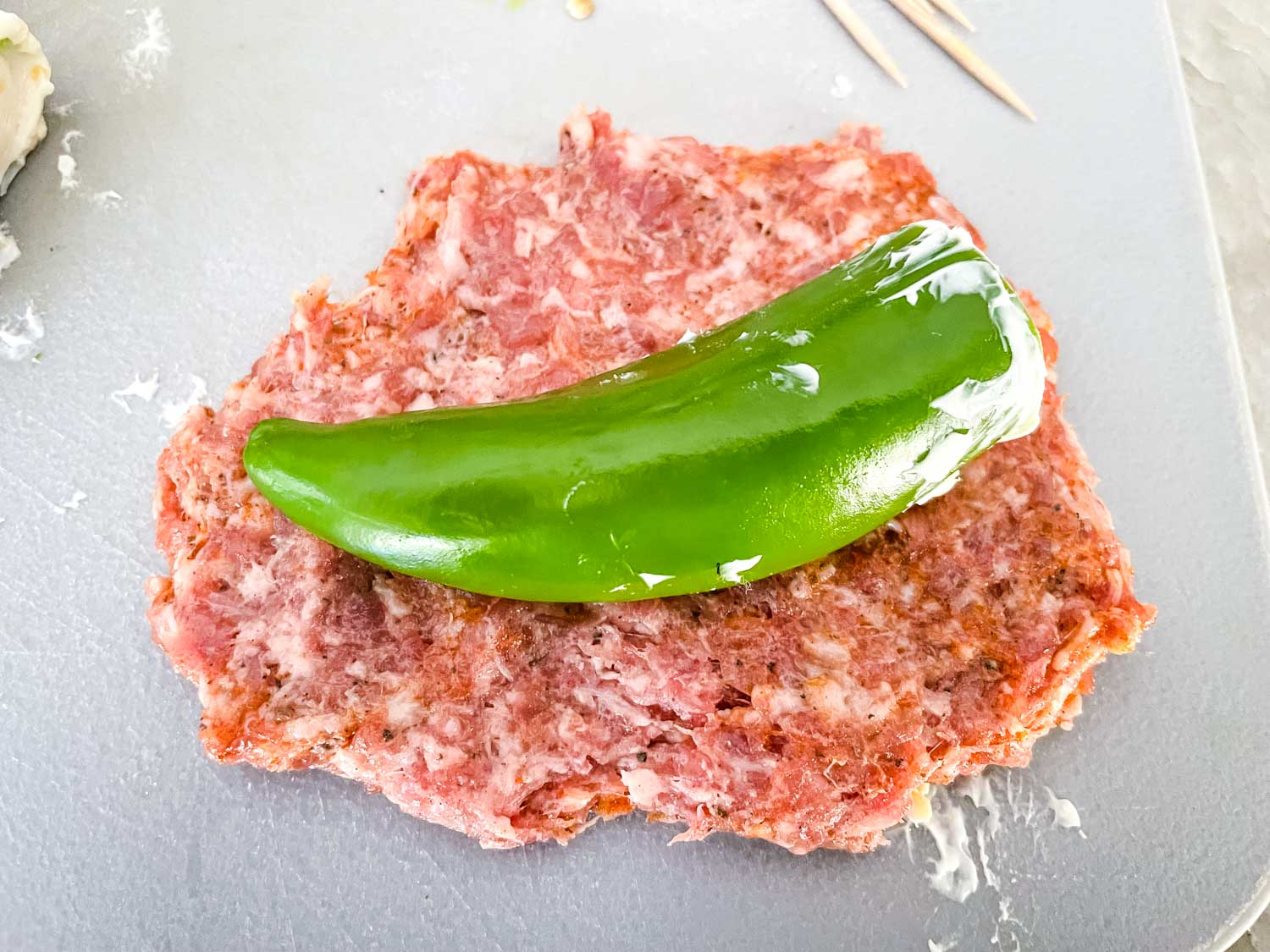 How Do You Core Jalapenos Easily?
Be very careful when doing this!
You can use a pepper corer which is like a curved knife or grapefruit spoon.
I cut off the top and then use a small knife to cut around the pepper in a circle, removing the white ribs.
Then tap on the counter to knock the ribs and seeds out.
It is better to core them from the top than to cut them in half because if cut in half, cheese will leak out all the way around.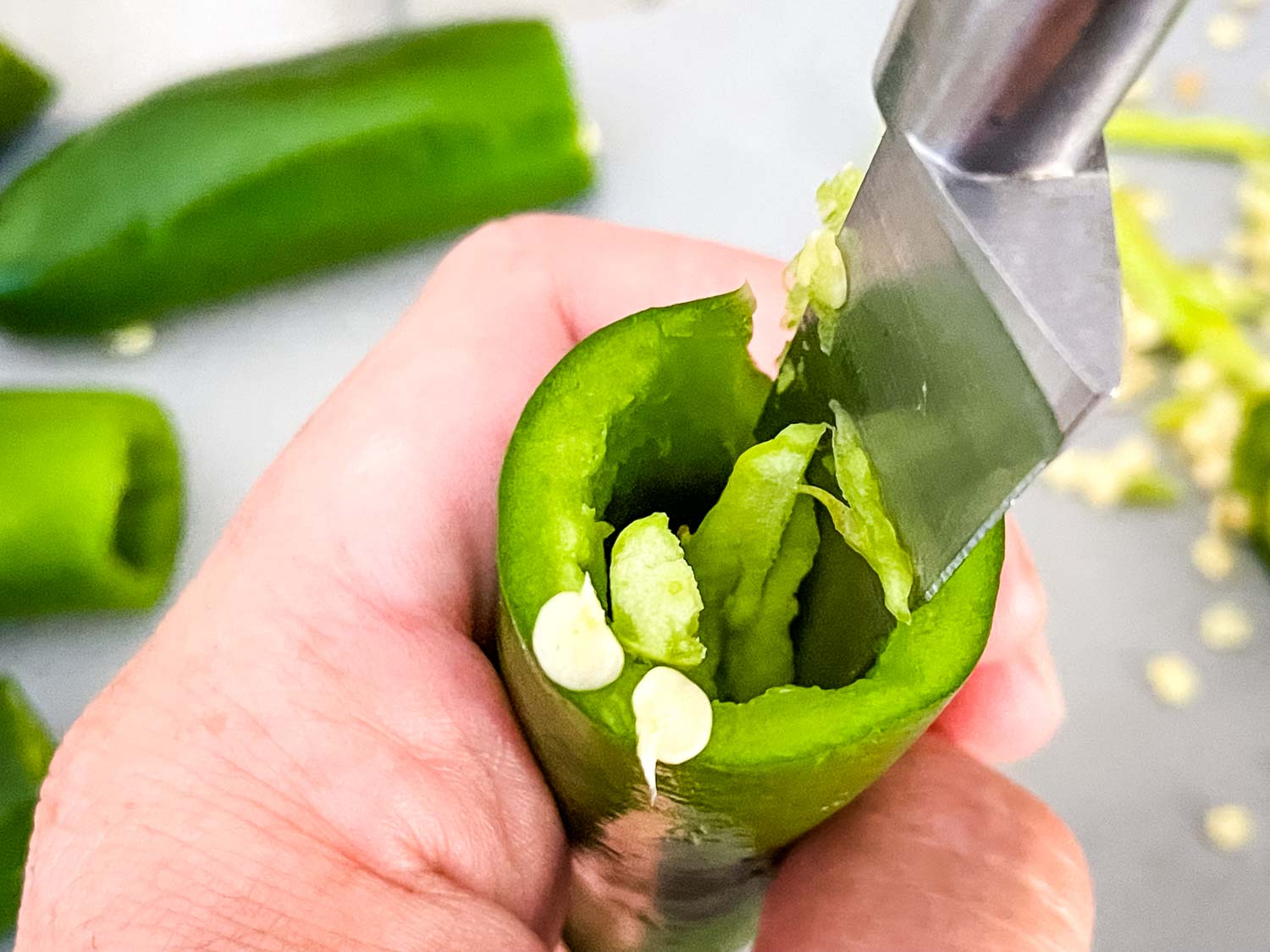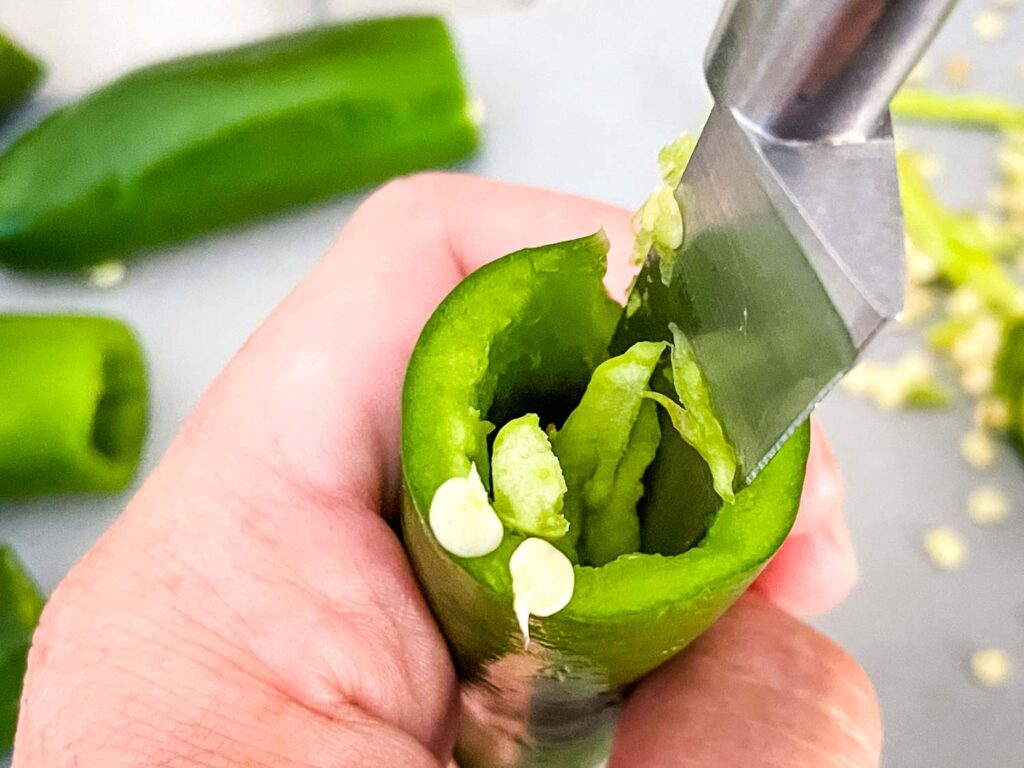 How Do You Cut Jalapeños without Burning your Hands?
Anyone who has gotten hot pepper juice in their eyes knows the regret of not protecting their hands!
I always use disposable gloves when cutting hot peppers. You never know how hot any particular pepper will be, and you have a very small chance of getting pepper hands (burning hands) or pepper in your eyes!
Armadillo Eggs in the Oven
To make these in the oven, preheat the oven to 400F.
Place the armadillo eggs in a baking dish and cook for 30 minutes, flipping half way through. Add BBQ sauce during the last 5 minutes.
Remove from the oven when the internal temperature reaches 165F.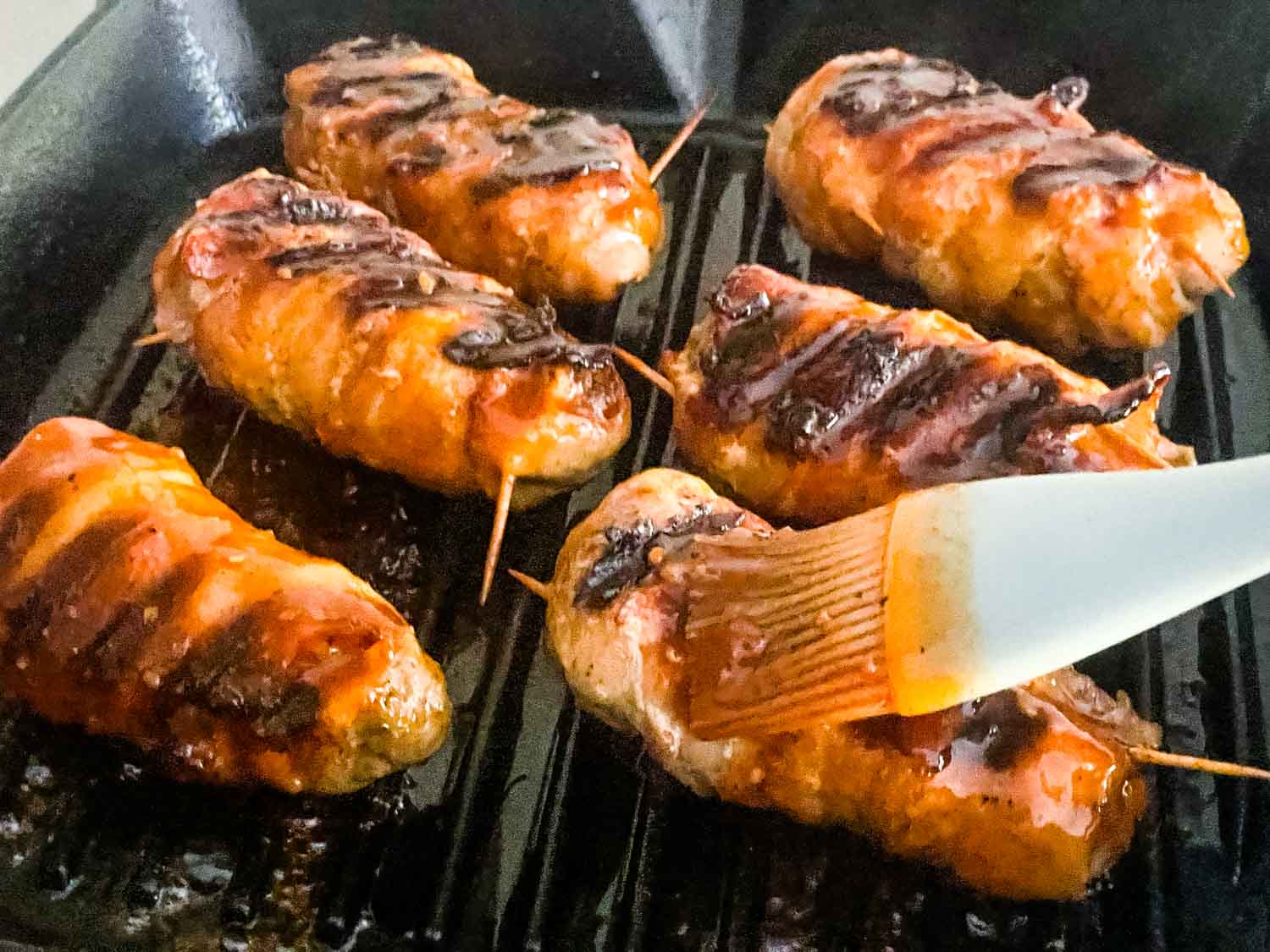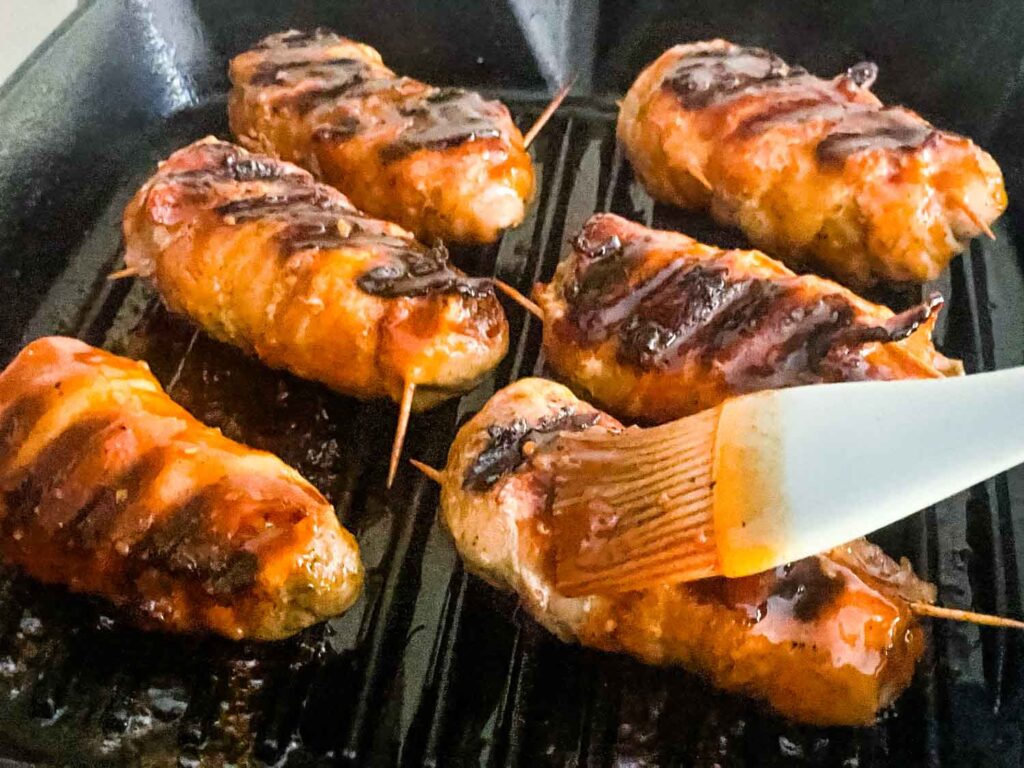 Grilled Armadillo Eggs
If you want to make these on the grill, preheat the grill to medium heat (400F) and let preheat for at least 15 minutes.
Place each egg on the grill, cover, and let cook for 15 minutes.
Flip, cover, and let continue cooking an additional 10 minutes.
Then start basting the eggs with your BBQ sauce, let cook a couple minutes, flip, and sauce again. Serve when the internal temperature is 165F.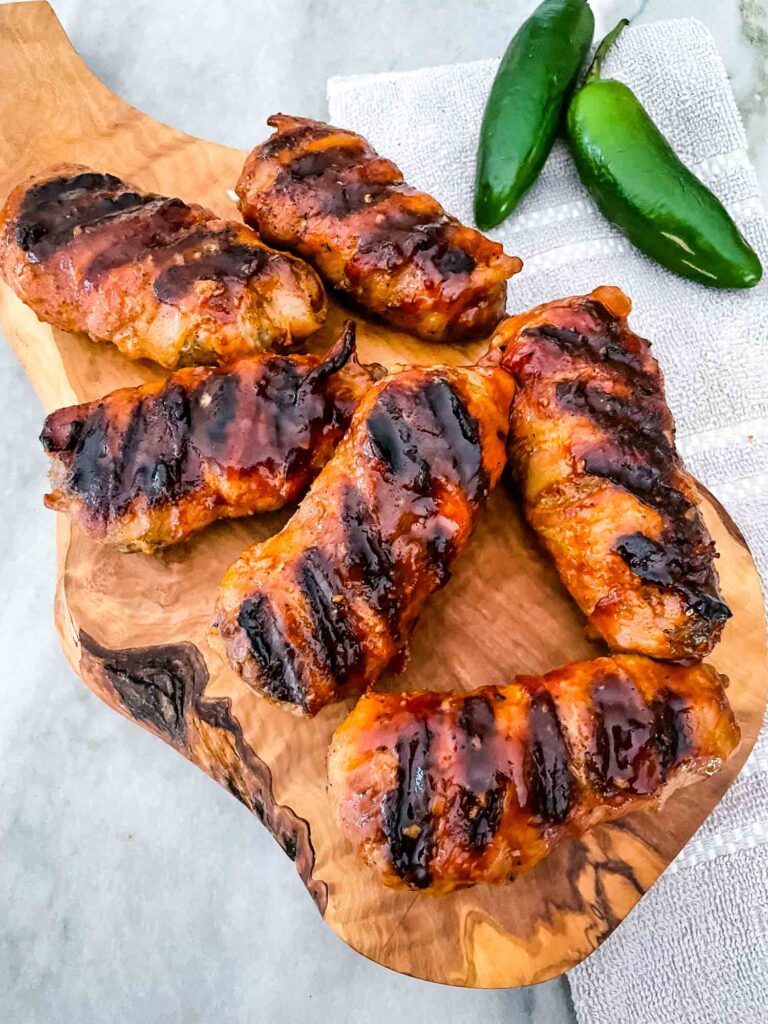 Can Armadillo Eggs be Frozen?
Yes! They can be frozen either before or after cooking.
Just Freeze them separately on a baking sheet before putting in a bag.
When ready to eat, try to give yourself time to thaw them in advance and cook as per directions.
For pre-cooked eggs, cook at 350F for about 15 minutes.
How Do You Reheat Armadillo Eggs?
Easily reheat this recipe! You can bake them at 350F for 15 minutes, or even put them in the air fryer to bring back that crisp outside at 350 for 5 minutes.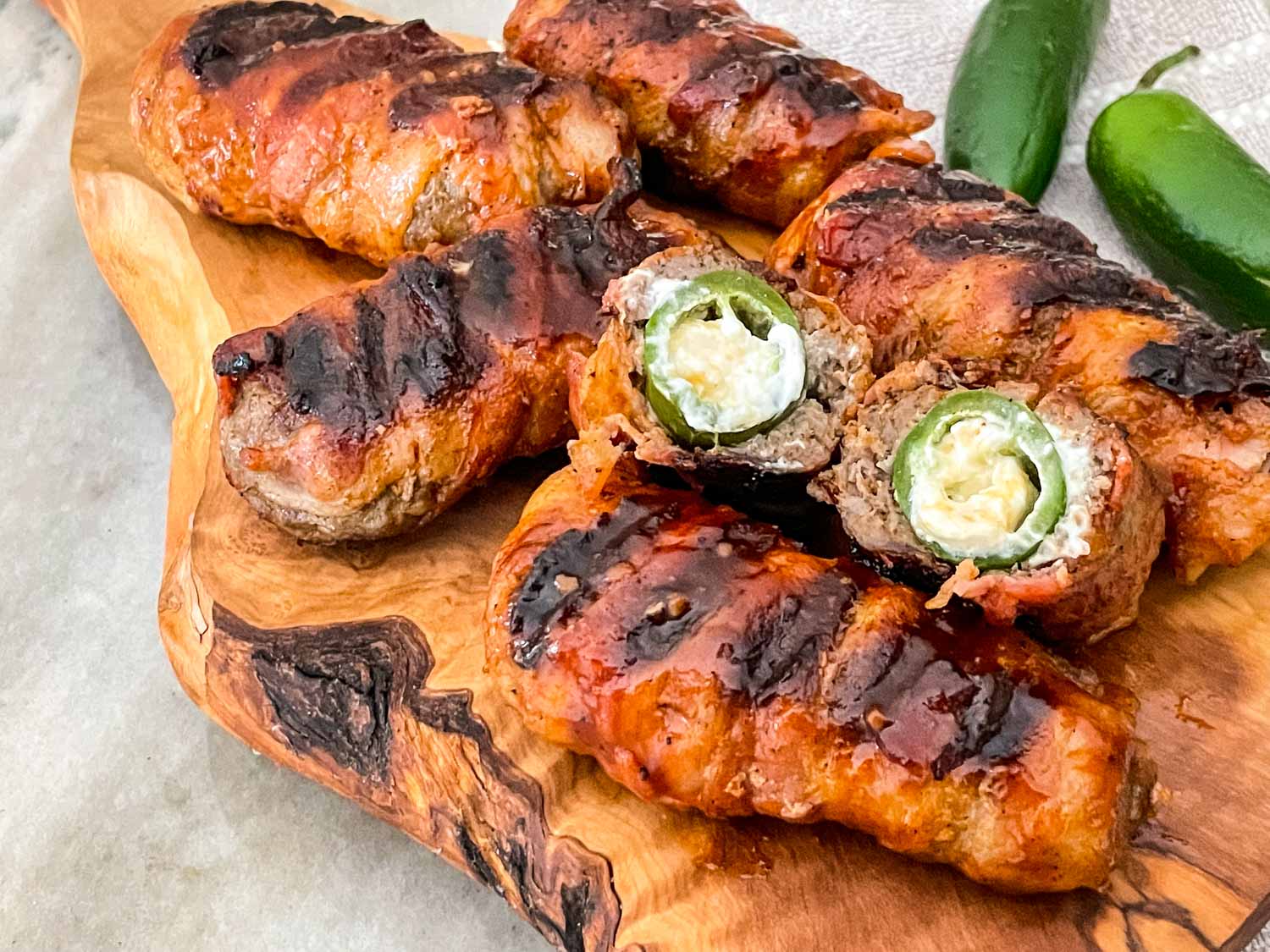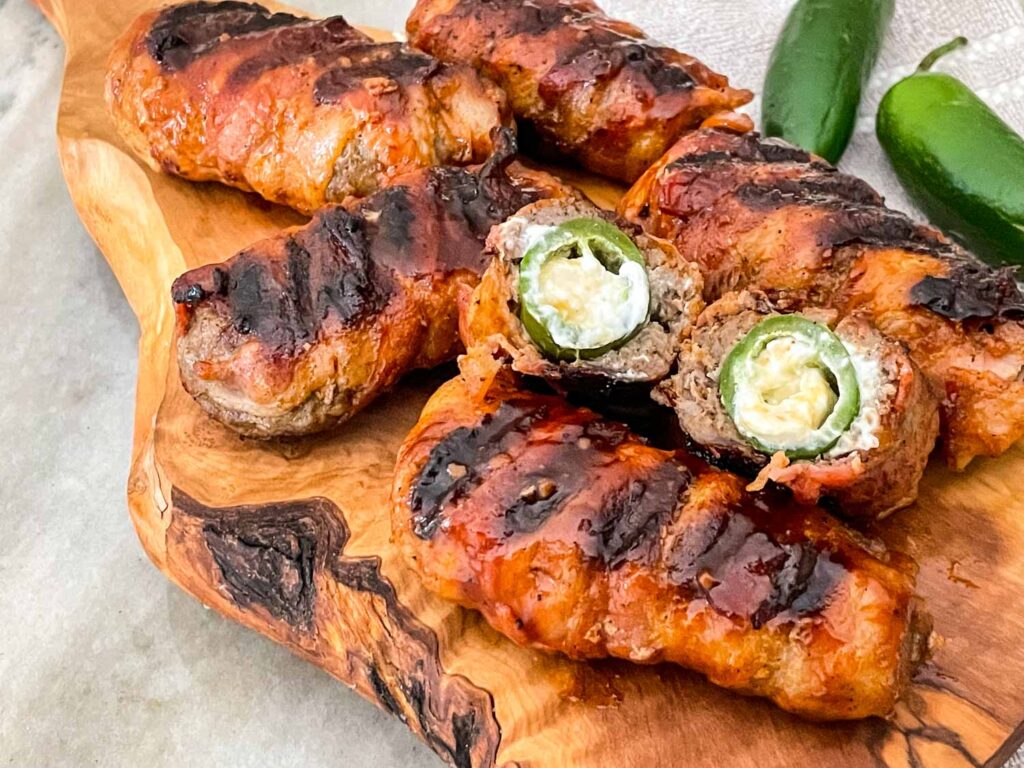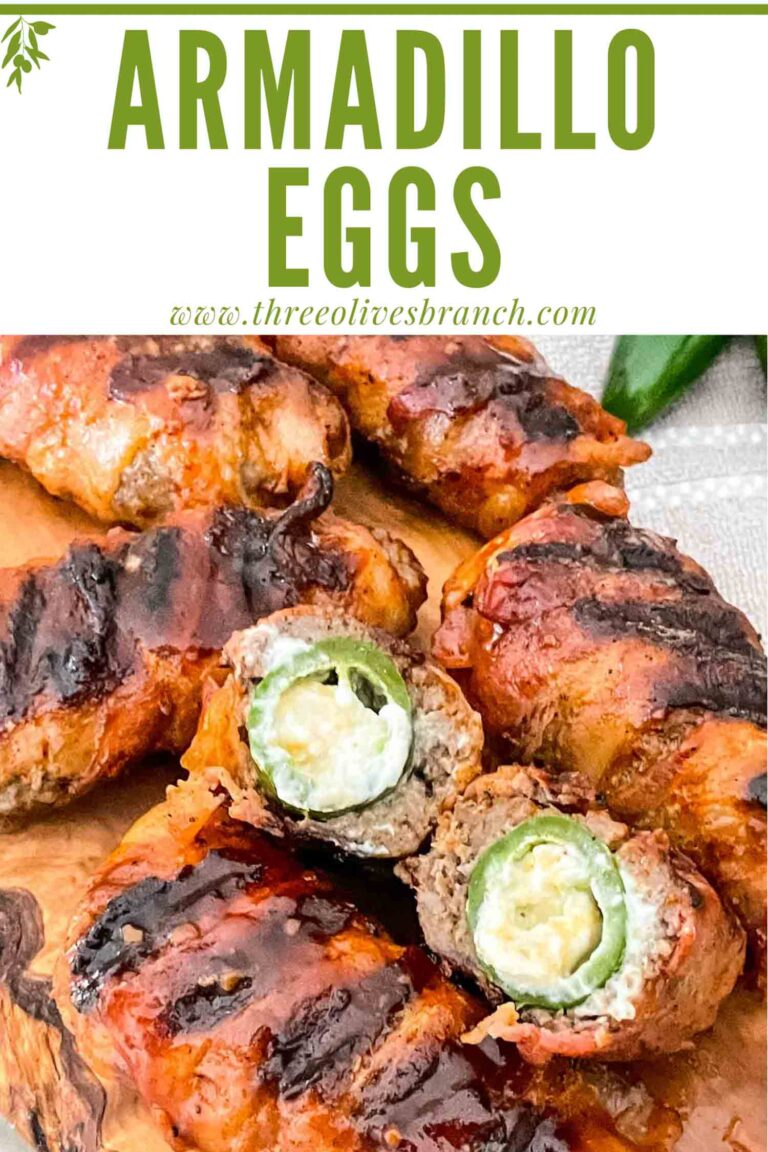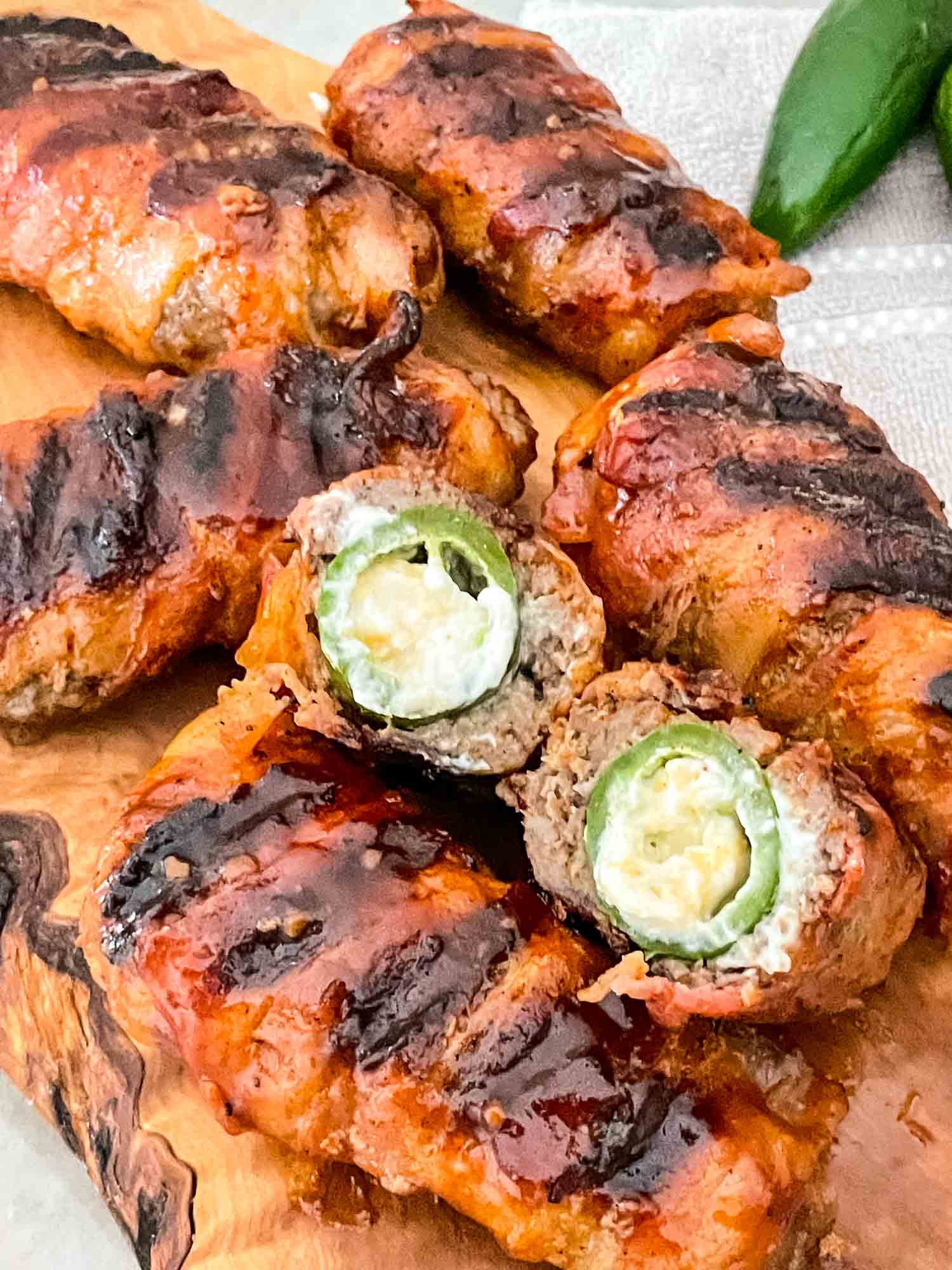 Equipment
Small Knife

Small Bowl

Grill

Grill Thermometer

Recommended to ensure cooked through
Instructions
Preheat grill to 400°F (medium heat). (Or 400°F if using an oven).

Wear disposable gloves and use a pepper corer or a small knife to carefully cut off the tops of the peppers and carve out the ribs and seeds from the insides. Tap against the counter to knock them loose to come out.

In a small bowl, combine the cream cheese, cheddar cheese, and garlic powder.

4 ounces cream cheese,

¼ cup grated cheddar cheese,

¼ teaspoon garlic powder

Stuff each pepper with the cream cheese mixture using a spoon or spatula. Tap the pepper against the counter to help move the cheese mixture down to avoid large air gaps at the bottom.

In a medium bowl, mix the ground sausage with 1 Tablespoon of the BBQ rub.

Divide the sausage roughly into 6 portions.

Wrap each stuffed pepper with a sixth of the sausage, sealing all the way around the pepper and especially near the open cheese end.

Wrap each sausage covered pepper with two pieces of bacon, winding one around from an end in a slightly overlapping pattern, and adding the second piece of bacon when the first runs out.

Secure ends of the bacon with toothpicks to help keep in place.

Tip: Keep the toothpicks sticking out of the thinner sides so that they will still lay flat on the grill when sitting on the flatter, wider sides.
Grilling Instructions
Place the armadillo eggs on the grill, cover, and let cook 15 minutes.

Flip, cover, and cook another 10 minutes.

Baste the armadillo eggs with barbecue sauce, let cook 2-3 minutes, and flip.

Baste the second side of the eggs and let cook another 2 minutes. When registering 165°F in the middle, they are done. Remove from heat and serve.
Oven Instructions
Place the armadillo eggs in a baking dish and bake for 25 minutes.

Baste the eggs with the barbecue sauce and bake an additional 5 minutes. When registering 165°F in the middle, they are done. Remove from heat and serve.
Nutrition
Serving:
1
egg
|
Calories:
569
kcal
|
Carbohydrates:
16
g
|
Protein:
22
g
|
Fat:
46
g
|
Saturated Fat:
17
g
|
Polyunsaturated Fat:
6
g
|
Monounsaturated Fat:
19
g
|
Trans Fat:
0.2
g
|
Cholesterol:
107
mg
|
Sodium:
1608
mg
|
Potassium:
361
mg
|
Fiber:
0.4
g
|
Sugar:
12
g
|
Vitamin A:
525
IU
|
Vitamin C:
17
mg
|
Calcium:
62
mg
|
Iron:
1
mg
BBQ and Grilling Main Courses
Main course ideas to go along with your favorite BBQ and grilling sides!

By