This fast and easy Chicken Fajita Casserole uses the same great flavors of Mexican chicken fajitas in a one dish creamy meal!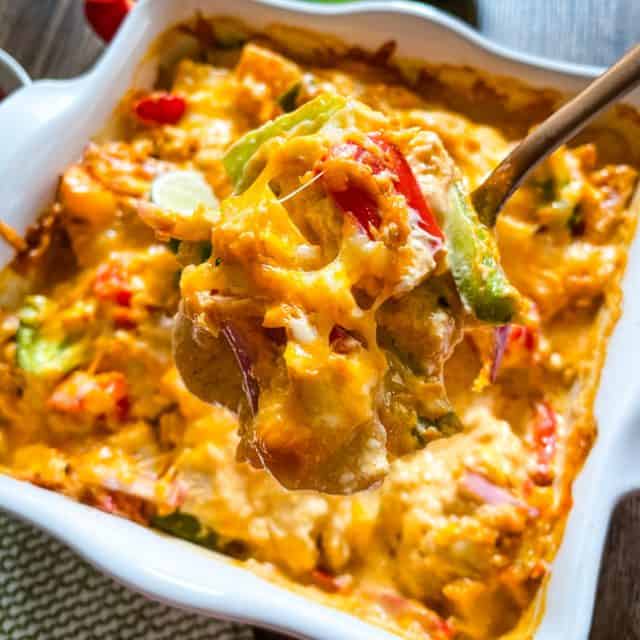 This Chicken Fajita Casserole is ready in just 30 minutes! A creamy, cheesy casserole packed with chicken, bell peppers, onions, cheese, and classic fajita flavors.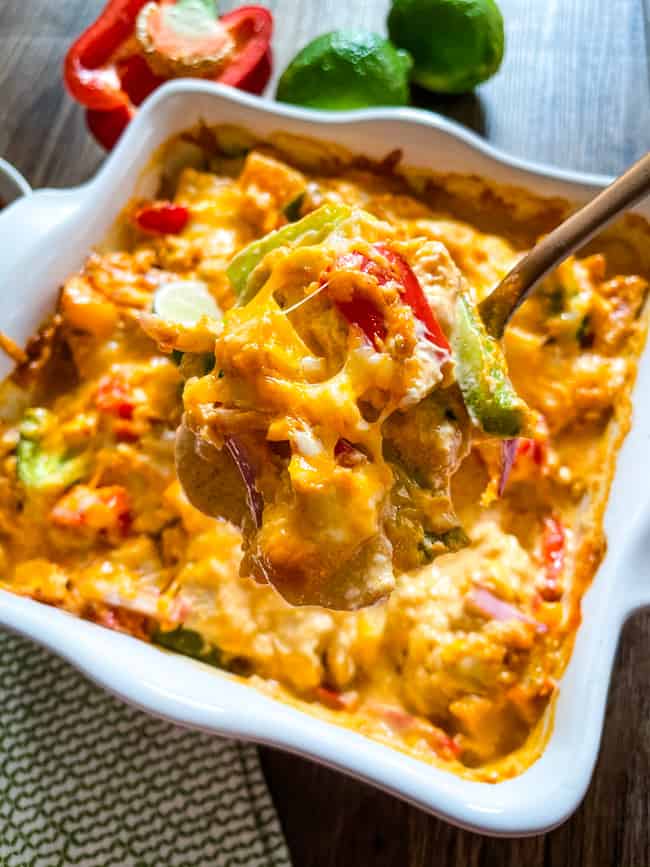 This Chicken Fajita Casserole is inspired by my Citrus Chicken Fajitas!
I love making fajitas, but wanted to make an alternative option that was faster and easy for busy nights.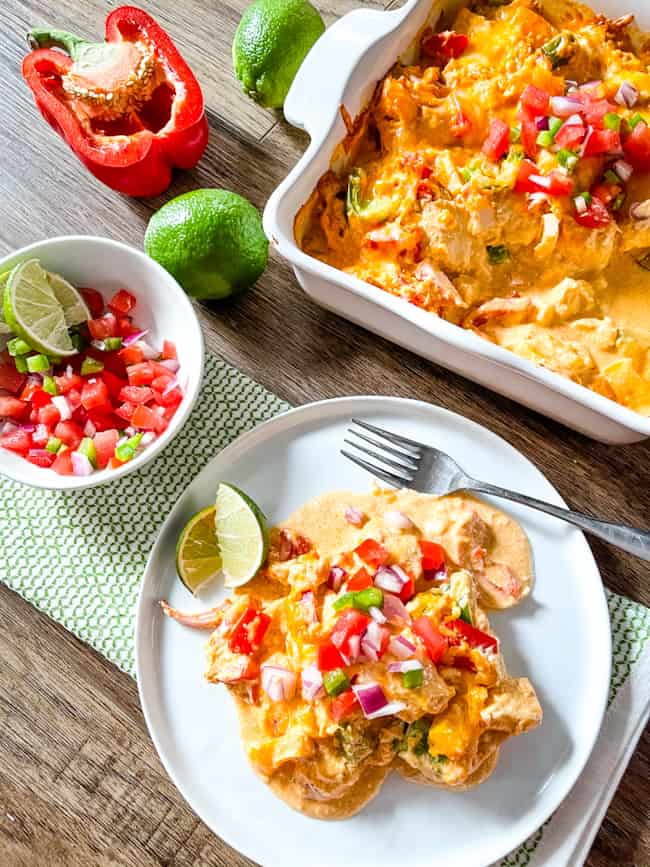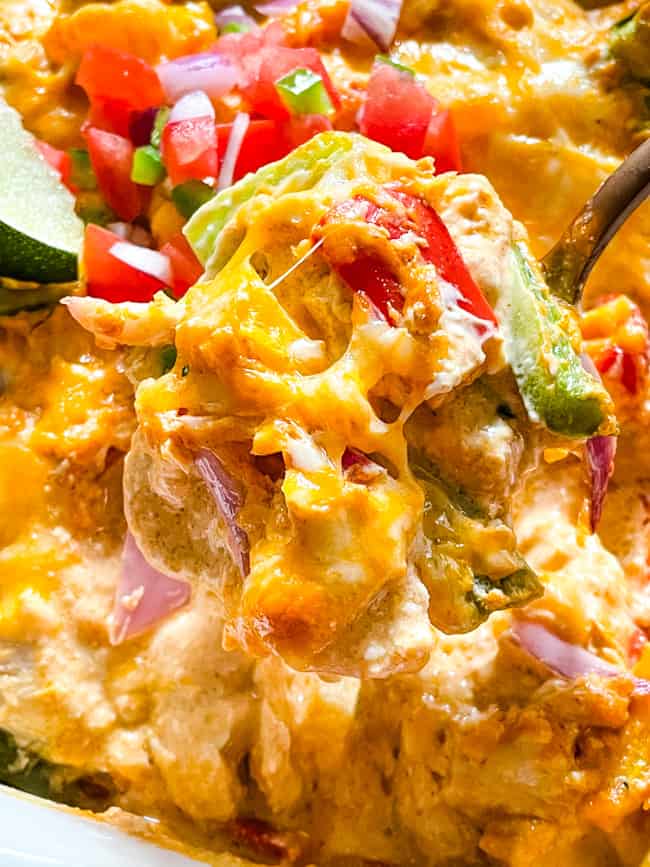 Ingredient Options
I am a big believer in modifying ingredients as you need to for what you have or can get.
For this Chicken Fajita Casserole, I like to use chicken breasts but any cut of chicken works. Just remove bones and skin before baking.
You could also use any cut of chicken and leave them whole, with the rest of the ingredients mixed in.
Any color of bell peppers work. I like to use a green and a red (or yellow/orange) to balance out sweetness with crispness.
Red onion is also my go-to because it has a little extra sweetness and less sharp, spicy flavor, but any colored onion is fine.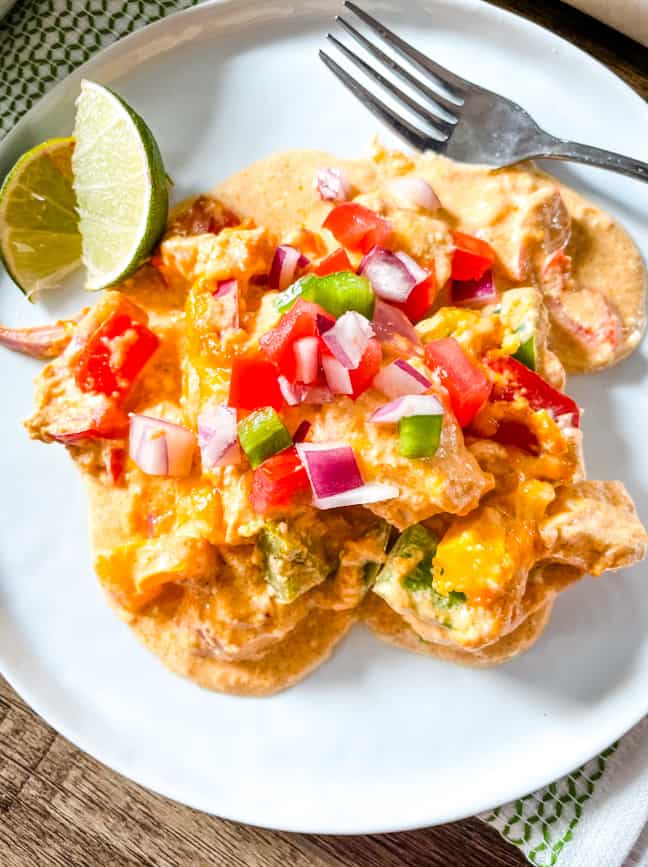 I love that this chicken casserole recipe is saucy!
I am a sauce lover, and that sauce can also be used to serve on top of rice or vegetables.
Serve it up with your favorite toppings like lime wedges, pico de gallo salsa, or cilantro.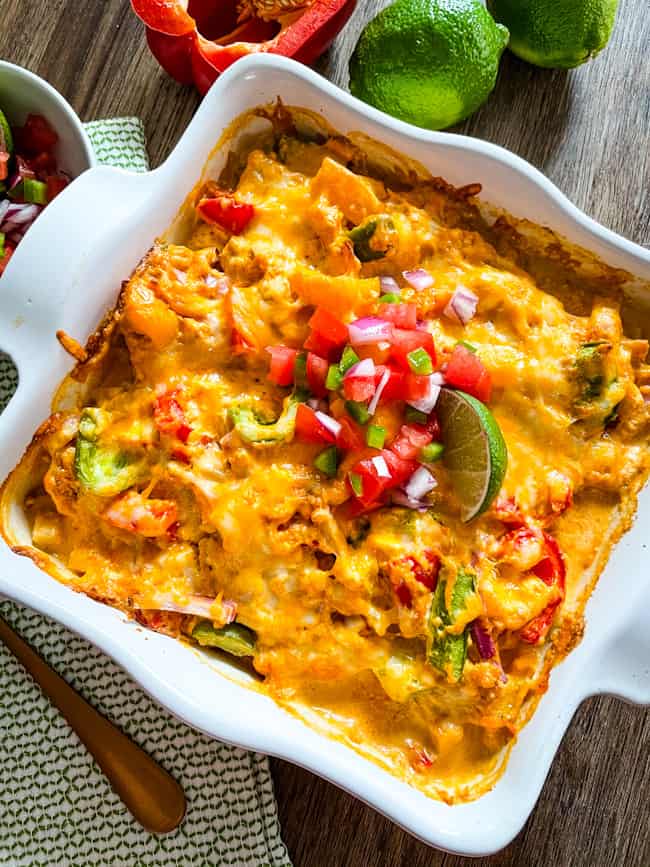 Spice it up!
This Chicken Fajita Casserole is what I would call a mild heat (unless you are using rather spicy chili powder!).
If you are a heat lover and want something more in the medium to hot range, you have a few options!
Add more

chili powder

(1/2 to 1 Tablespoon)
Add cayenne pepper
Add hot sauce
Add jalapeno peppers along with the bell peppers
All of these options can be added to the cheese mixture as desired based on your preference.
Just keep tasting the cheese mixture until it is where you want it!
Need to accomodate a crowd?
I always like to keep things in the mild range and then offer hot sauce and hot salsas for those that want to add it while keeping everyone happy!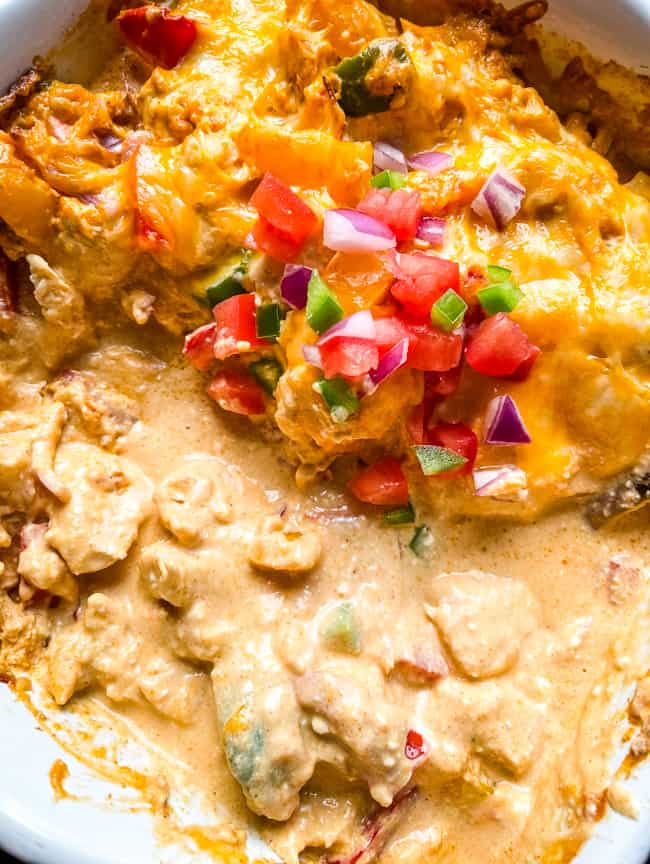 This Chicken Fajita Casserole cooks quickly in the oven in less than 30 minutes which makes it a great weeknight meal.
You could also turn this into a slow cooker crock pot recipe. Just add all of the ingredients into the slow cooker with the cheese on top and let it cook on low for 6-8 hours.
This is great for when you want to make something in advance with no fuss at meal time.
If needed, add a little water or stock to the casserole if it thickens too much.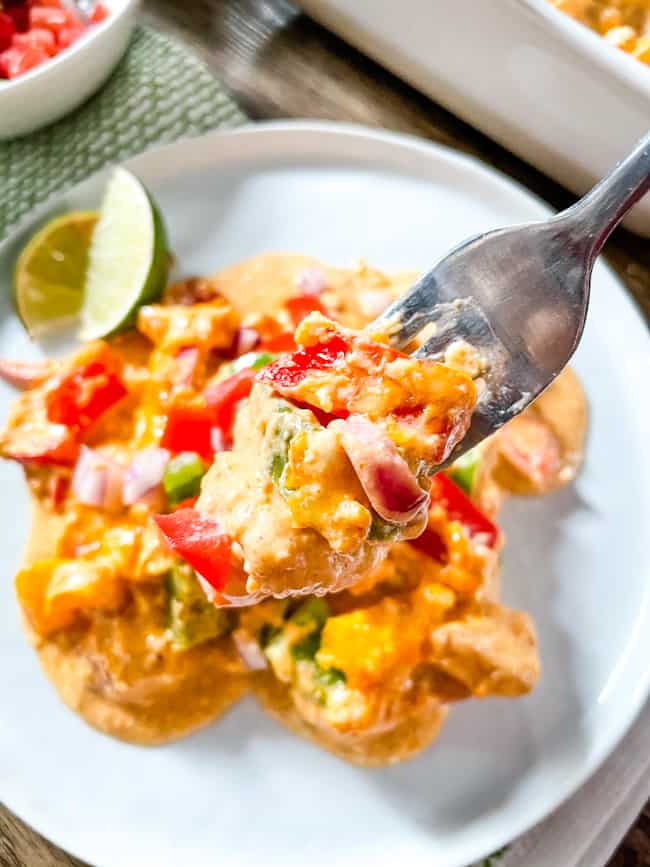 Chicken Recipes
Some of our most popular chicken recipes!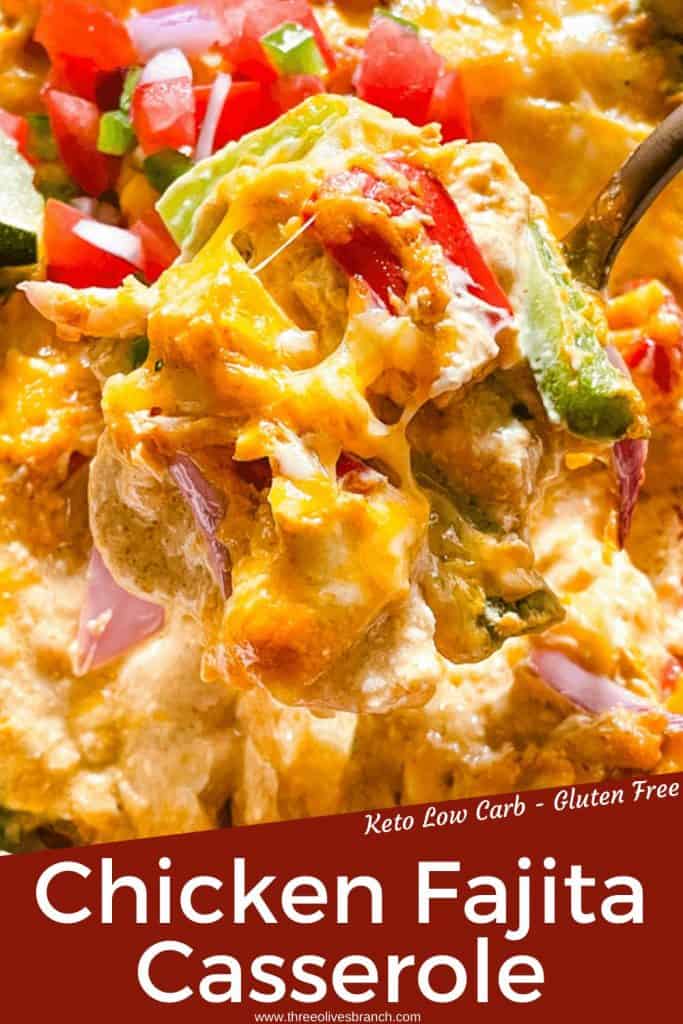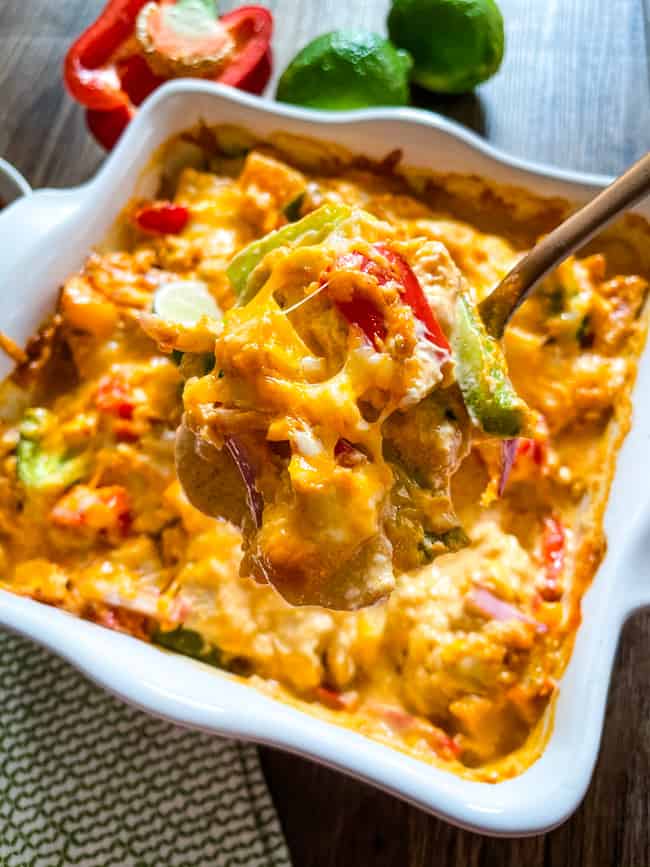 Instructions
In a large mixing bowl, combine the cream cheese, sour cream, and mayonnaise. (If the sour cream is not softened, microwave in the bowl in 30 second increments until it is mainly mixable).

Add the chili powder, cumin, paprika, garlic powder, and salt into the cheese mixture. Season to taste as desired, including more heat from either chili powder, cayenne powder, or hot sauce.

Cut the chicken into 1 to 1.5 inch pieces and add to the bowl.

Cut the bell peppers and onions into strips (like you would for fajitas) and then bite sized pieces and add to the bowl.

Add 1 cup of your shredded cheese to the bowl.

Mix all of the ingredients together.

Spray an 8×8 (or larger) baking dish with nonstick spray.

Pour the chicken mixture into the dish and level out.

Top with the remaining 1/2 cup cheese (or more!).

Bake until the chicken is cooked through, approximately 20 minutes.

Serve with your favorite toppings like salsa, pico de gallo, avocado, etc.
Notes
You can use a larger baking dish, however note that the thinner layer will likely result in a quicker cooking time and you will need more cheese to cover the top of the casserole.
This casserole is pretty saucy, so it is great to be served on top of rice or vegetables. If you prefer a less soupy casserole, either add 1 Tablespoon thickener like flour or cornstarch, another cup of shredded cheese, or omit the sour cream and mayonnaise.
Nutrition
Serving:

1

serving

|

Calories:

910

kcal

|

Carbohydrates:

12

g

|

Protein:

64

g

|

Fat:

67

g

|

Saturated Fat:

28

g

|

Cholesterol:

279

mg

|

Sodium:

1238

mg

|

Potassium:

1233

mg

|

Fiber:

3

g

|

Sugar:

7

g

|

Vitamin A:

4154

IU

|

Vitamin C:

81

mg

|

Calcium:

426

mg

|

Iron:

3

mg

By