Sauteed chicken, bell peppers, and onion tossed with angel hair pasta in a butter scampi sauce, just like the restaurant favorite!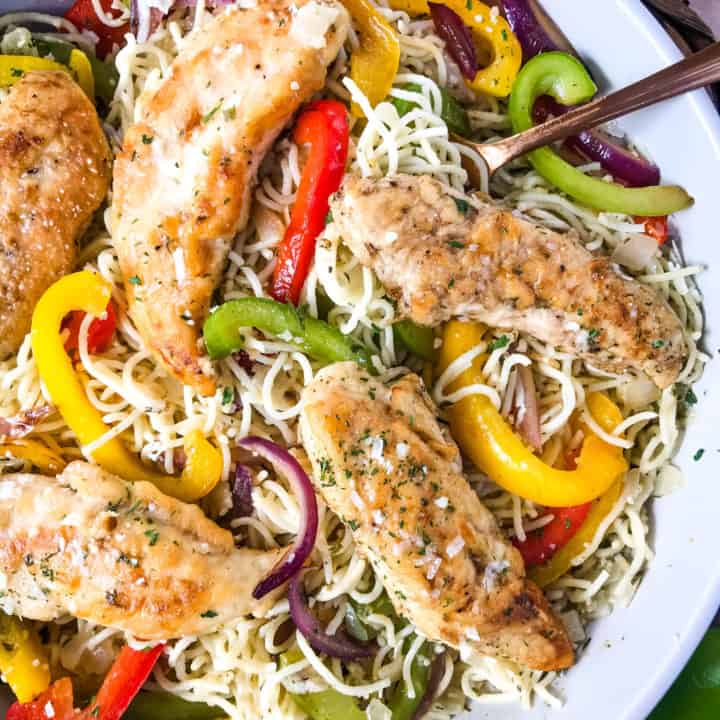 This Copycat Olive Garden Chicken Scampi recipe is just like the real thing! Chicken tenders are tossed with bell peppers and onion in a scampi sauce with pasta.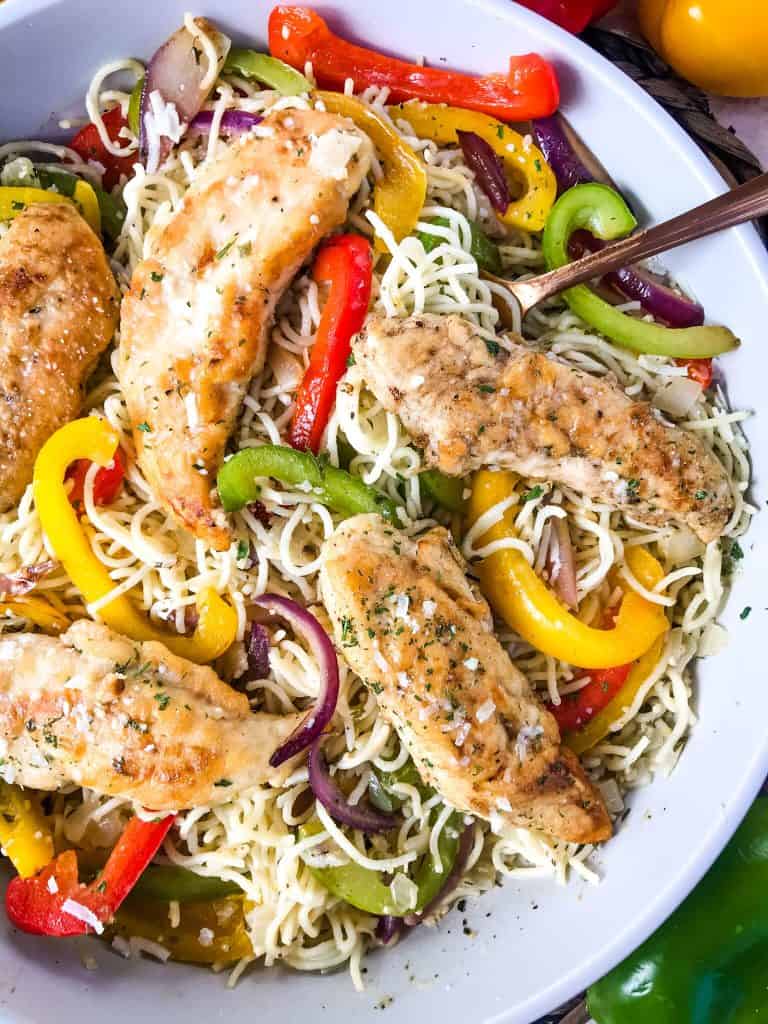 Why You Will Love This Recipe
Chicken Scampi is a dish that's often associated with Italian-American cuisine.
It typically features sautéed chicken breast pieces in a garlic-infused buttery sauce, often with the addition of white wine, lemon juice, and red pepper flakes for a hint of heat.
The dish is usually served over pasta, such as linguine or spaghetti, just like its sister shrimp scampi recipe.
Chicken scampi pasta is one of my favorites when I want something outside of the cream, tomato, or pesto categories. And the restaurant classic was always delicious.
Copycat recipes are a great way to enjoy your restaurant favorites at home for a fraction of the price! And this Olive Garden copycat recipe is one of the most popular on this site!
I wanted to make a scampi Olive Garden copycat for my own! And I am pretty proud of how this one turned out.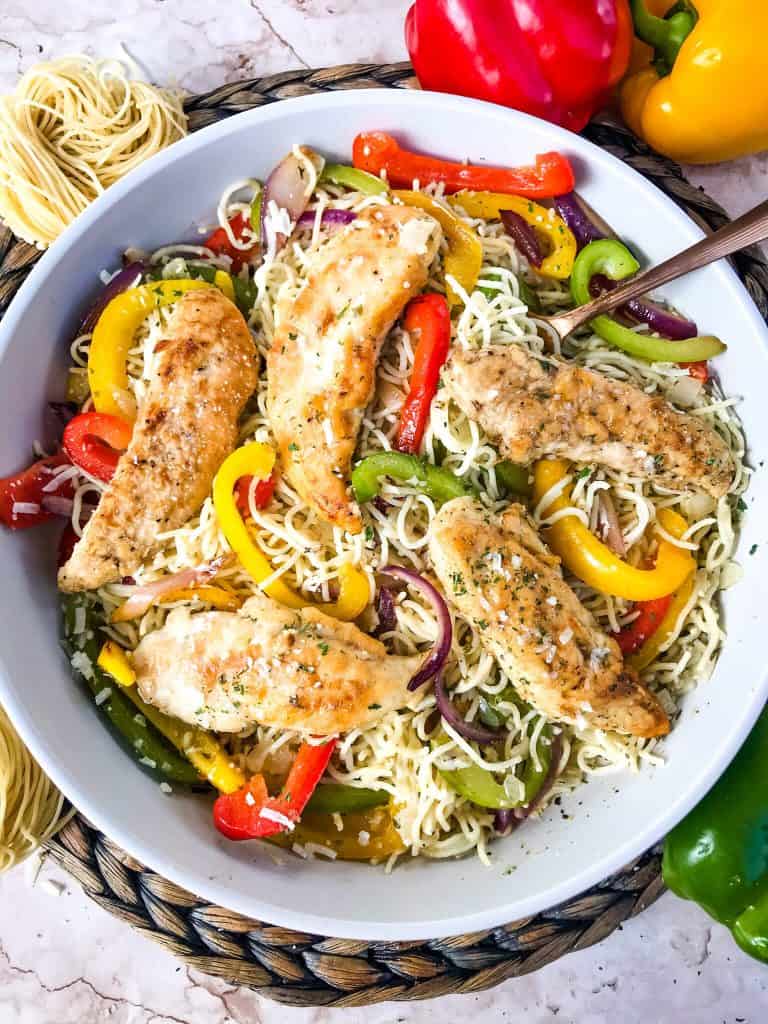 Ingredients
You can find full quantities and recipe instructions in the full recipe card below.
What is chicken scampi sauce made of? Here is what you need to make this sauce:
Butter
Yellow Onion
White Wine
Chicken Stock – or chicken broth
Lemon Juice
Parsley
Red Pepper Flakes
To make the rest of the dish, you will also need:
Chicken – Olive Garden uses chicken tenders, but use any cut that you like
Bell Peppers – the restaurant uses a mix of yellow, green, and red bell peppers but you can use any combination. I like to use at least green bell pepper and a red or yellow bell pepper for the balance of flavors and sweetness.
Red Onion
Angel Hair Pasta (or shape of choice) – the more edges the pasta has, the more sauce you need to coat it
Flour – this is for the Olive Garden chicken as the restaurant uses very lightly floured chicken in the pasta
Vegetable Oil – you can use olive oil instead, however it should not be heated above medium heat as it starts to burn and can create carcinogens
Parmesan Cheese – for serving, if desired
This chicken pasta is made with chicken tenders, colored bell peppers, and red onion. It is tossed with angel hair pasta at the restaurant, but you could easily use any pasta you want (longer shapes are best here!).
The sauce is a tangy, buttery, garlic sauce that was tricky to replicate.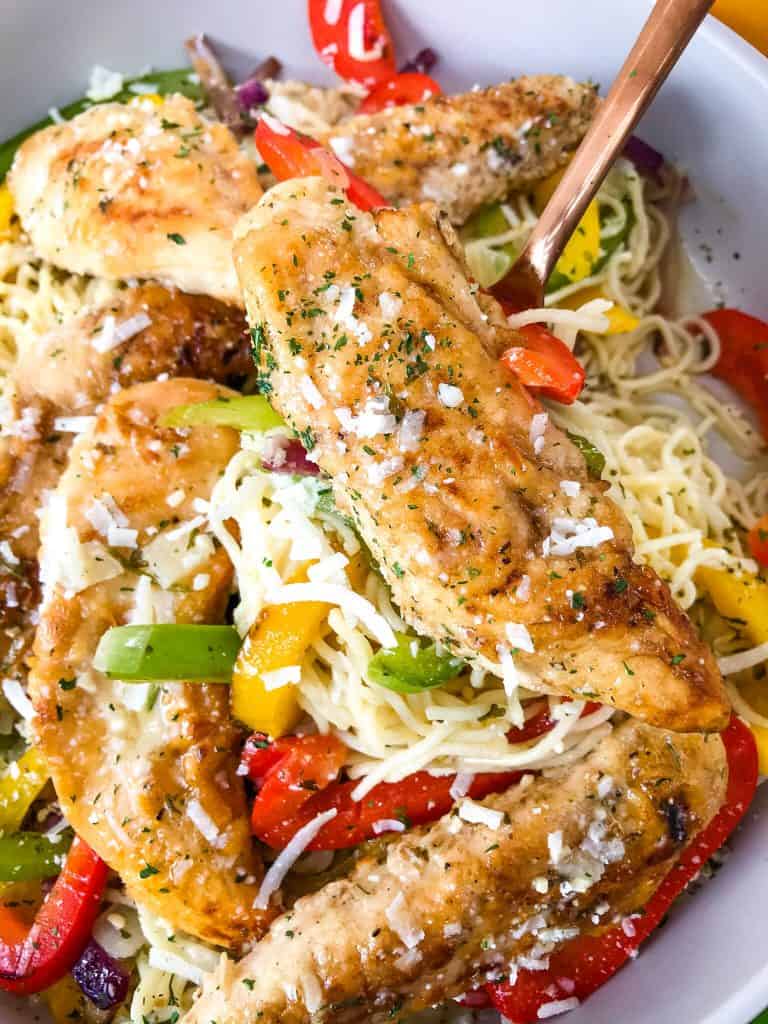 How Close is this Copycat Olive Garden Chicken Scampi to the Real Thing?
Olive Garden copycat recipes are popular dishes to recreate.
I played around with trying to create the Copycat Olive Garden Chicken Scampi recipe for a while. There are so many variations out there: cream or no cream? Lemon or no lemon? Wine? Thicken with flour?
But ultimately this is the version I landed on and when I tried it side by side with the real thing via takeout, WOW. It is pretty darn close.
So now that I have a good Olive Garden copycat recipe, I have a new dilemma of trying not to make it too often just like my Copycat Olive Garden Fettuccine Alfredo.  Definitely a love-hate relationship and a balance of having access to something so yummy and not going overkill with it.
And it is SO good that I also made the Copycat Olive Garden Shrimp Scampi for you to try!
Instruction Overview
Make your scampi sauce by cooking onion and garlic in butter over medium heat.
Add the wine and slightly reduce.
Then add the stock or broth, red pepper flakes, parsley, and lemon juice.
Off the heat, whisk in the butter to create a silky sauce.
Lightly coat your chicken tenders with some flour and a pinch of salt.
Cook the chicken in a skillet over medium heat with oil, approximately 5-7 minutes per side until cooked through.
Cook your pasta until al dente as per package directions. Angel hair pasta cooks very quickly.
Cook your vegetables until they are just starting to get soft so that they still have a firm texture.
When everything is ready, combine it all together and season to taste as desired.
Thin out the sauce if needed with a little water or stock.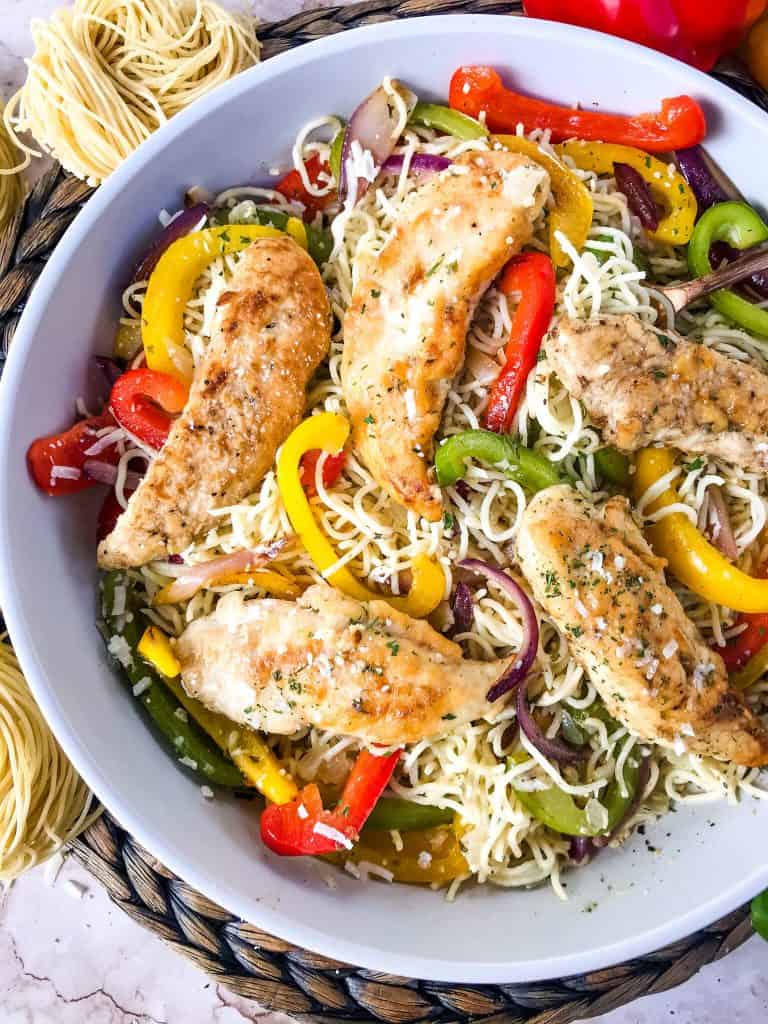 Kim's Tips
Some people think this should be a creamy pasta, but it is NOT made with cream or milk. Any creaminess likely comes from the butter and/or cheese melting into the pasta. You can add heavy cream if desired, but it is not part of the restaurant recipe.
The Olive Garden chicken has a light coating on it which I tried a few variations of as well, such as dredging with eggs, etc. But just one pass in flour proved to be the most accurate.
It gives it a light and thing crust without density. I hope you love making this at home as much as I do!
The preference of sauce to pasta ratios for everyone, so you might want to consider only mixing in some of the pasta at first.
If you need to thin out the sauce, add a little water or more stock.
A dinner portion at the restaurant is a full half pound of pasta, plus the rest of the ingredients. This recipe has changed up the portions so there is less pasta and more chicken per serving. Adjust as desired for your preference.
FAQs
What is Olive Garden chicken scampi made of?
This pasta dish is made of angel hair pasta, lightly floured chicken tenders, bell peppers, red onion, and a butter wine sauce.
What is Olive Garden Scampi Sauce Made Of?
The main ingredients of this sauce are butter, onion, garlic, white wine, chicken stock, and herbs.
Is scampi breaded or battered?
Typically scampi refers to shrimp that are peeled and in a garlic butter sauce, sometimes with breadcrumbs.
Why is it called scampi?
Scampi is an Italian word for breaded prawns or shrimp.
This recipe takes its name from the shrimp scampi pasta version.
Can chicken scampi be made in advance?
This dish is best served fresh.
If you do want to make elements in advance, you can cook the pasta and make the sauce. Everything else is recommended to make fresh as peppers become overly soft and chicken can be dry when reheated. It is best to store the sauce separate from the pasta (if not already mixed as leftovers) to avoid the pasta absorbing extra liquid and becoming dry.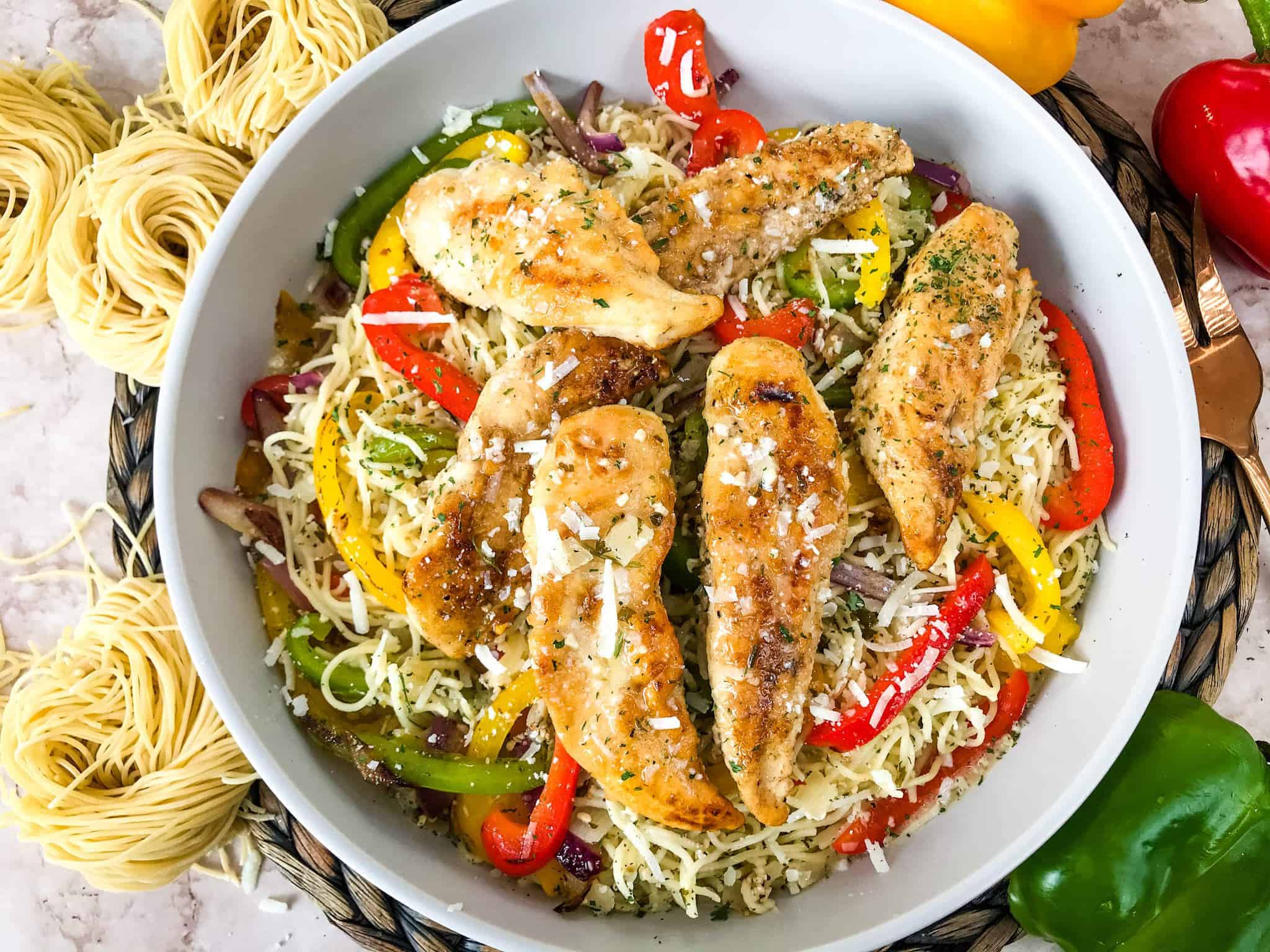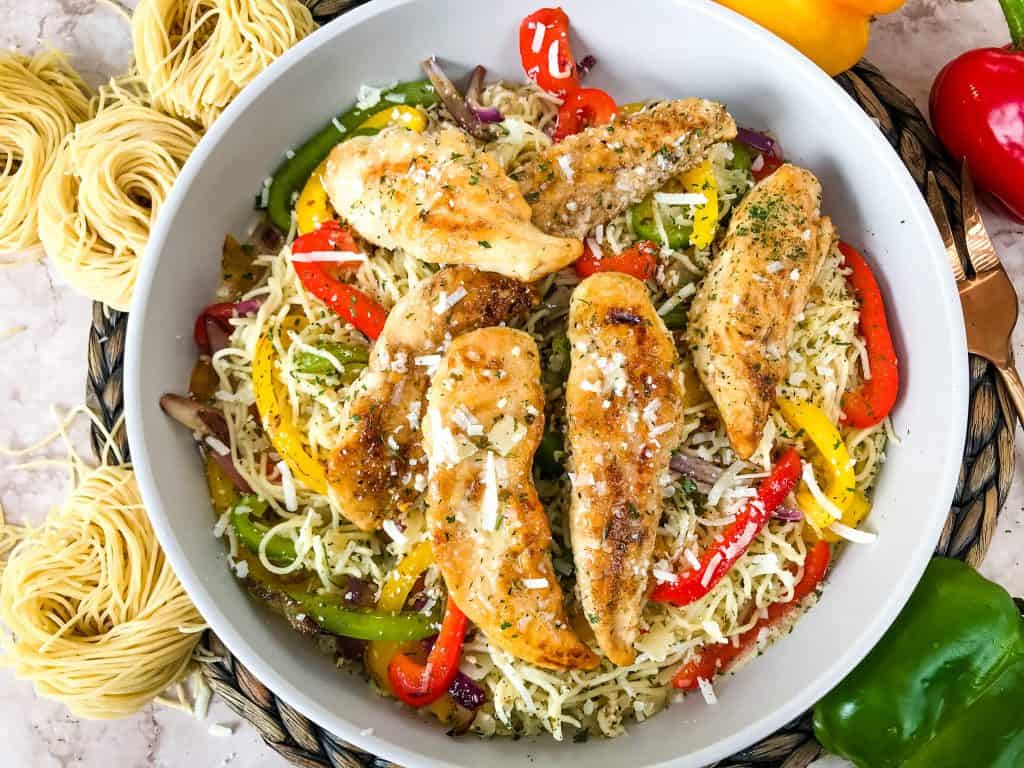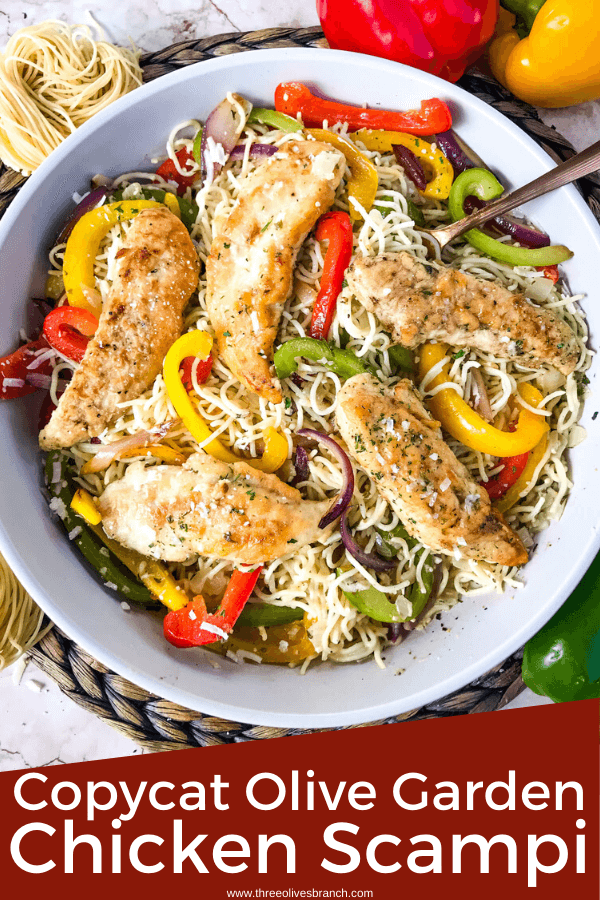 More Olive Garden Copycat Recipes
Copycat Olive Garden
Copycat recipes from Olive Garden to enjoy at home!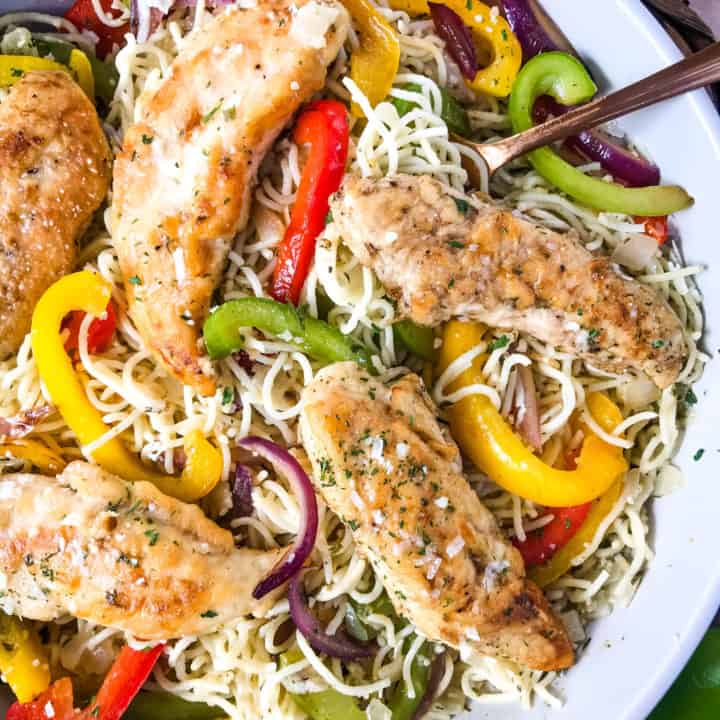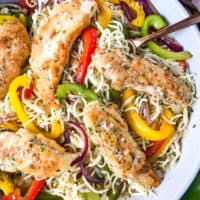 Copycat Olive Garden Chicken Scampi Recipe
Sauteed chicken, bell peppers, and onion tossed with angel hair pasta in a butter scampi sauce, just like the restaurant favorite!
Print
Pin
Rate
Instructions
Heat a large pot of water over high heat until boiling. Salt the water to your preference and add the pasta. Cook until just shy of al dente (the pasta will finish cooking in the sauce later). Save 1 cup of the pasta water. Drain the pasta and set aside.

12 ounces angel hair pasta
Prepare the Chicken
While the water is heating, start your chicken. Heat a large frying pan over medium heat. Add 2 Tablespoons of oil

While heating, put the flour in a shallow dish with a pinch of salt. Coat each chicken piece on all sides in the flour, shaking to remove excess flour.

½ cup flour,

12 chicken tenderloins

When the pan and oil are hot, cook the chicken until just golden brown on each side, approximately 5-7 minutes per side. Repeat with all chicken, adding more oil as needed. Set the chicken aside.
Make the Scampi Sauce
As you are working on batches of chicken, make your sauce. Heat a medium saucepan over medium heat. Add 2 Tablespoons of butter until melted.

2 Tablespoons unsalted butter

Add the onion and garlic to the butter and cook until just soft but not brown, approximately 3 minutes.

½ cup yellow onion,

2 Tablespoons garlic

Add the white wine and simmer to burn off some of the alcohol and reduce 2 minutes. Scrape up any bits from the bottom of the pot while simmering.

Add the chicken stock, lemon juice, parsley, and crushed red pepper flakes. Simmer 5 minutes.

1 cup chicken stock,

2 Tablespoons lemon juice,

1 Tablespoon dried parsley,

⅛ teaspoon red pepper flakes

Remove the sauce from the heat and whisk in the remaining 8 Tablespoons (1/4 stick) of butter until incorporated. Set aside.
Vegetables and Assembly
Put the large pot from the pasta back on the stove (or a new large pot – but one less thing to clean!). Add 1 Tablespoon of oil and heat over medium heat.

Once hot, add the peppers and onion and cook until just beginning to soften, approximately 3-5 minutes.

½ red bell pepper,

½ yellow bell pepper,

½ green bell pepper,

½ medium red onion

Add the pasta and sauce to the pot. Gently toss to coat and combine (be very gentle to help prevent the pasta from breaking – once the pasta meets the warm sauce, it will start to loosen up and unstick).

Season to taste with salt and pepper. Use the pasta water if needed to loosen the sauce and make it saucier as desired.

Serve the pasta in one large dish or as individual portions. Top with Parmesan cheese if desired. Place the pieces of chicken on top.

freshly grated Parmesan cheese
Notes
There are a lot of parts to this recipe, but many of them can be done at the same time. You can also make the chicken and/or sauce in advance for an even easier meal.
Use any white wine that you like to drink, but I recommend sticking with a chardonnay, sauvignon blanc, or pinot grigio. Avoid anything sweet.
Nutrition
Serving:

1

serving

|

Calories:

901

kcal

|

Carbohydrates:

87

g

|

Protein:

48

g

|

Fat:

35

g

|

Saturated Fat:

20

g

|

Polyunsaturated Fat:

2

g

|

Monounsaturated Fat:

9

g

|

Trans Fat:

1

g

|

Cholesterol:

174

mg

|

Sodium:

279

mg

|

Potassium:

1052

mg

|

Fiber:

5

g

|

Sugar:

7

g

|

Vitamin A:

1510

IU

|

Vitamin C:

67

mg

|

Calcium:

69

mg

|

Iron:

3

mg

By