Homemade Hatch Green Chile Bean Dip Recipe makes a fast and easy appetizer recipe! Mexican flavors with cheese and roasted peppers for game day, entertaining, or a party. High in protein, vegetarian, gluten free.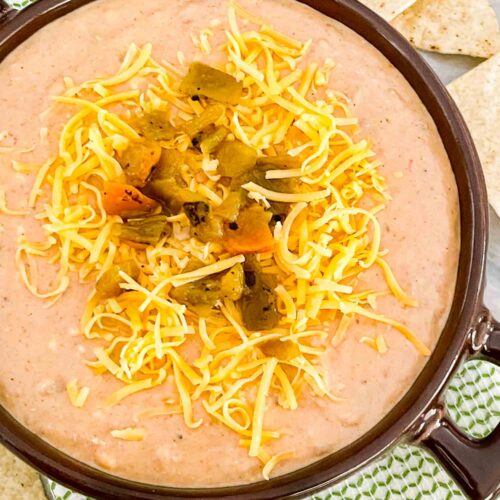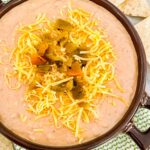 Homemade Hatch Green Chile Bean Dip makes a delicious and popular appetizer recipe! A high protein creamy dip with roasted peppers. Perfect for a Mexican party appetizer or game day!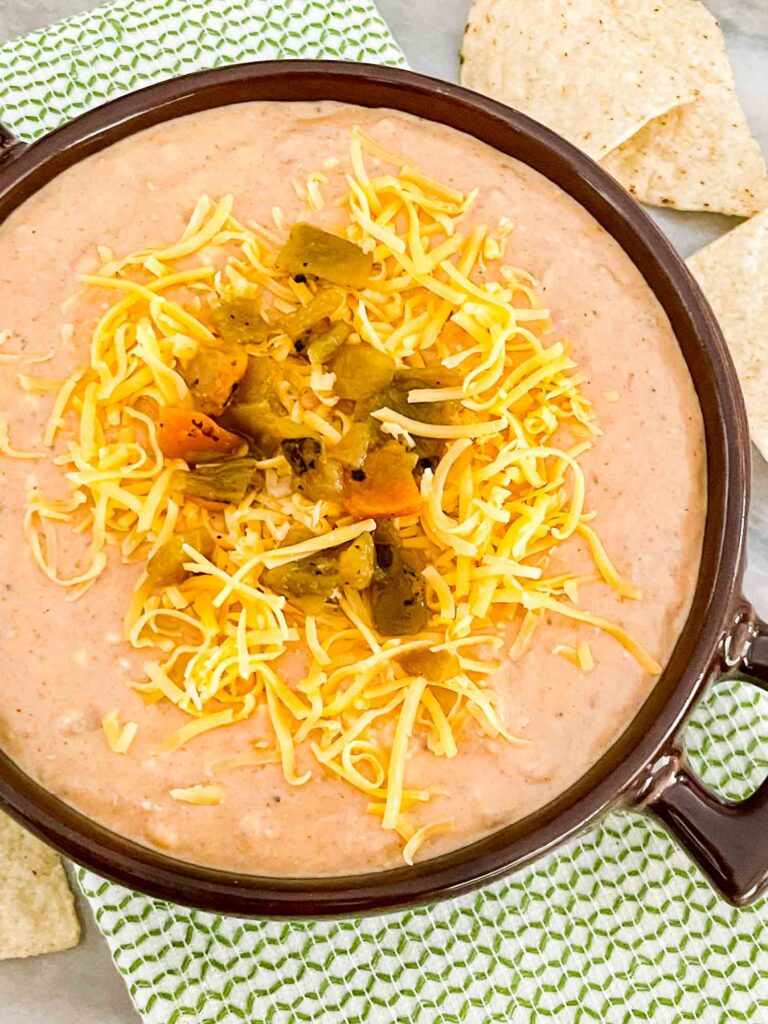 Why You Will Love This Recipe
This Hatch Green Chile Bean Dip Recipe brings together the creaminess of beans, the tanginess of sour cream, and the vibrant heat of Hatch green chiles to create a dip that will be the star of any gathering or party.
It's incredibly easy to make and requires just a handful of ingredients, making it a go-to recipe for quick and delicious appetizers.
The amazing flavor of this dip comes from the combination of homemade taco seasoning and Hatch chile peppers. And it is gluten free and vegetarian, making it perfect for serving a crowd of people!
Whether you're hosting a game night, a potluck, or simply looking to add a punch of flavor to your snack time, this Hatch Green Chile Bean Dip is sure to be popular!
You could even use it as an ingredients or condiment for other Mexican foods, such as adding it to tacos or burritos like our Green Chile Sausage Breakfast Burritos!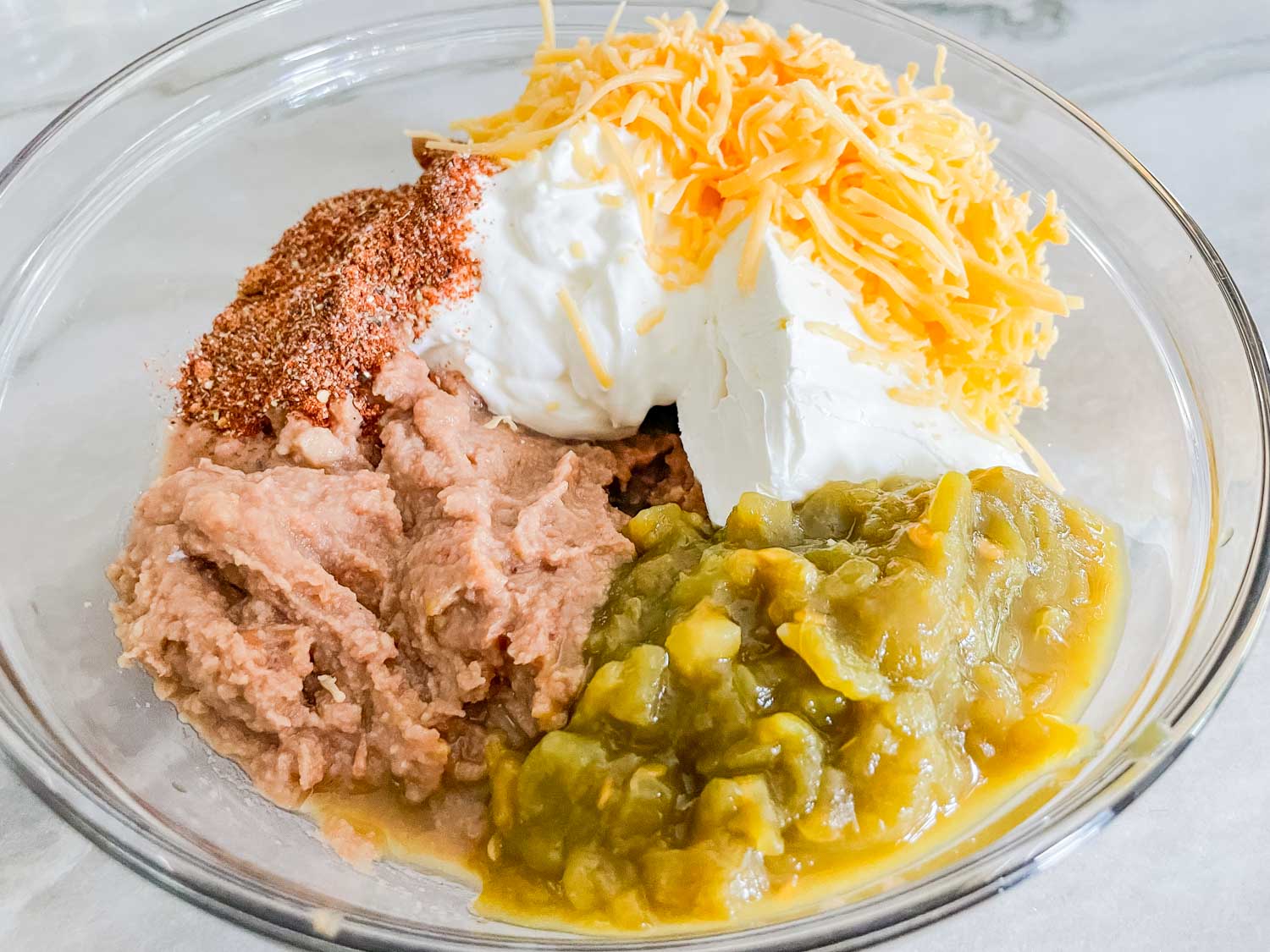 What are Hatch Chile Peppers?
Hatch green chiles are renowned for their unique taste and are grown in the Hatch Valley region of New Mexico, where the combination of hot days and cool nights creates chiles with exceptional flavor.
Incorporating these authentic chiles into a creamy bean dip is a fantastic way to showcase their distinctive character.
Hatch chile peppers are long, somewhat thin, light green peppers.
If you are familiar with Anaheim peppers, they actually are very similar! Anaheim peppers were taken from Hatch to Anaheim, California and grown to be incredibly mild with very little heat.
Fresh peppers are best if you can find them, followed by frozen ones that you can find in the Hispanic frozen section of the grocery store. Canned peppers will also work great!
Cooking Options
This bean dip can be made in an oven, microwave, or slow cooker.
Microwave is great when you need it cooked fast. Just be sure to stir frequently so you do not have beans exploding!
A slow cooker is perfect for when it needs to stay warm for a long period of time. No need to mix and heat before. You can simply add to the slow cooker and heat over warm or low, stirring occasionally. This does take longer, if you have the time, but is much easier. (Or heat via microwave, then serve in the slow cooker!)
Serving
This refried bean dip is best served warm with chips or other dunkers.
To keep it warm, you can serve it in a small slow cooker on the warm setting.
The dip can be reheated by microwaving for 30 second intervals, stirring each time, until warm throughout.
Modifications and Substitutions
You can use any Mexican style cheese, such as pepperjack, Monterey jack, cotija, or oaxaca.
Make it spicy by using spicier Hatch peppers or adding some hot sauce.
This recipe uses a good amount of Hatch peppers which will bring lots of flavor with some heat. You can easily use just half of the peppers, but the flavor will not be as strong.
This dip will be thinner than refried beans, as we are adding thin ingredients to it. If you want a thick dip, skip the sour cream at first and then add as desired to get the consistency you want. The dip will be much thicker when cold than when hot.
I like to melt some extra shredded cheddar cheese on top, because why not!
FAQs
How long can I keep bean dip in the fridge?
This bean dip recipe is good for 3-4 days in the refrigerator.
Simply reheat before serving.
Is bean dip supposed to be hot?
You can use it cold or at room temperature, but bean dip is best when it is hot.
Can you freeze homemade bean dip?
Yes. Bean dip can be frozen for up to 3 months.
How do you make bean dip thicker?
You can add more cheese or some cornstarch. Cornstarch, when heated, will thicken.
What can I eat with bean dip besides chips?
Bean dip can be used as a condiment for Mexican food such as a topped or side with tacos, enchiladas, burritos, and more.
Why is my dip watery?
If your dip is watery, there is extra moisture from the chiles or ingredients in general. You can thicken it by adding more cheese, adding some cornstarch, or cooking it longer to evaporate the moisture.
How do you thicken beans without flour?
Cornstarch, which is gluten free, is a great thickener. Simply add to the food and heat. The heat is what activates the cornstarch to thicken.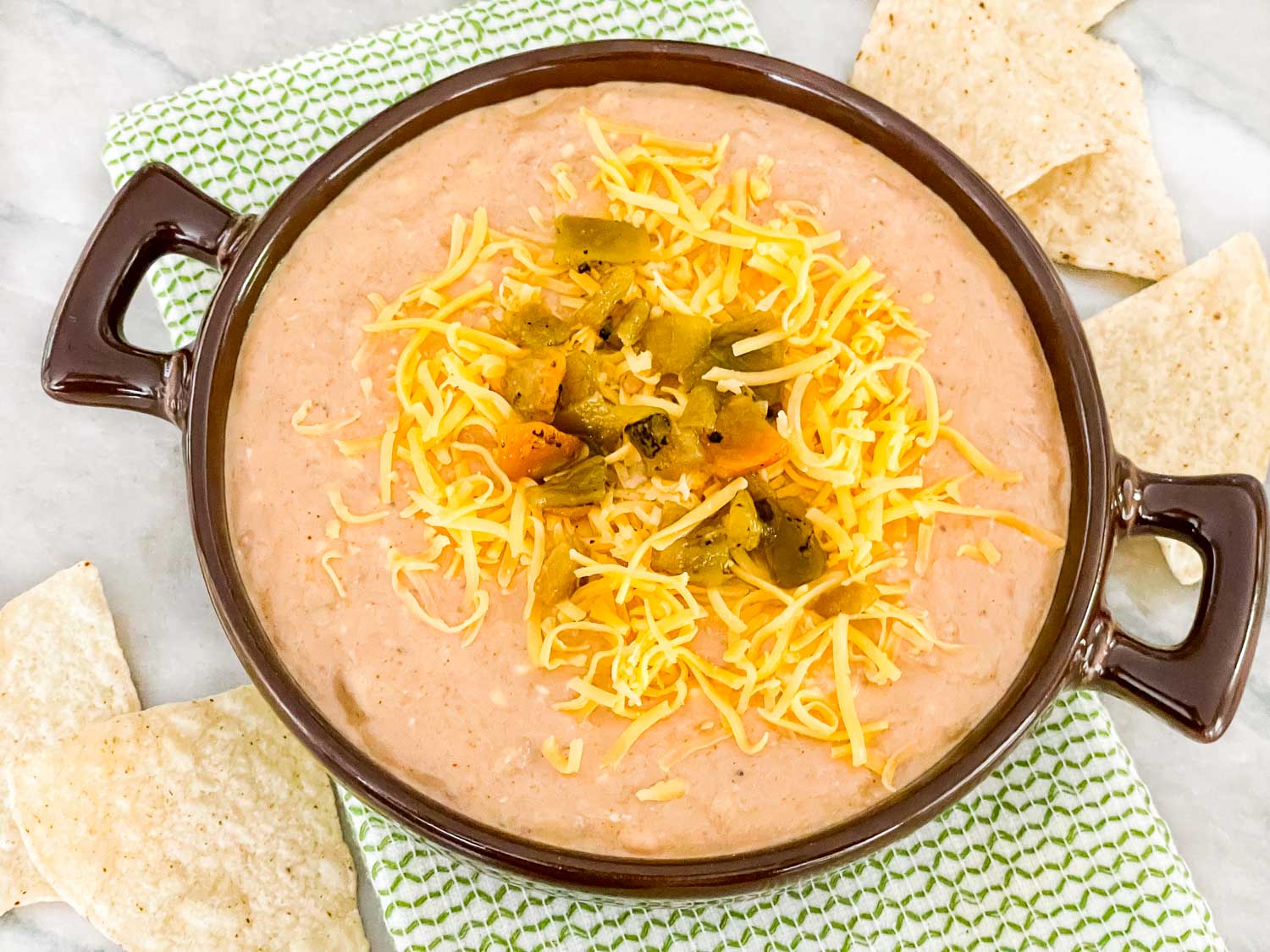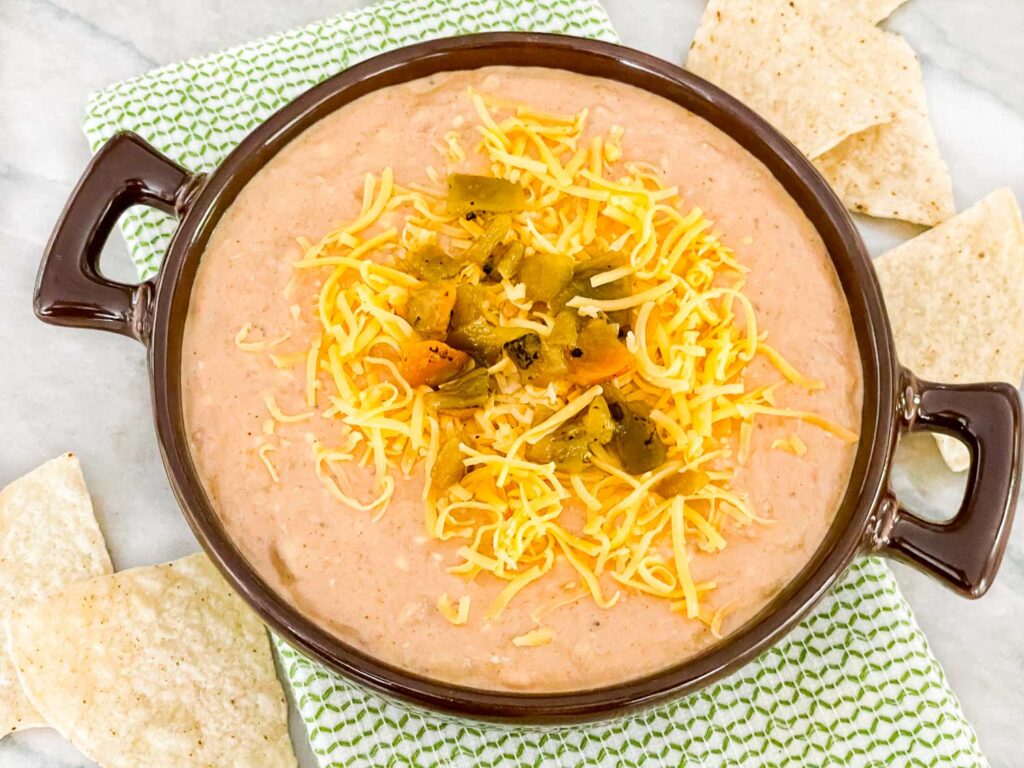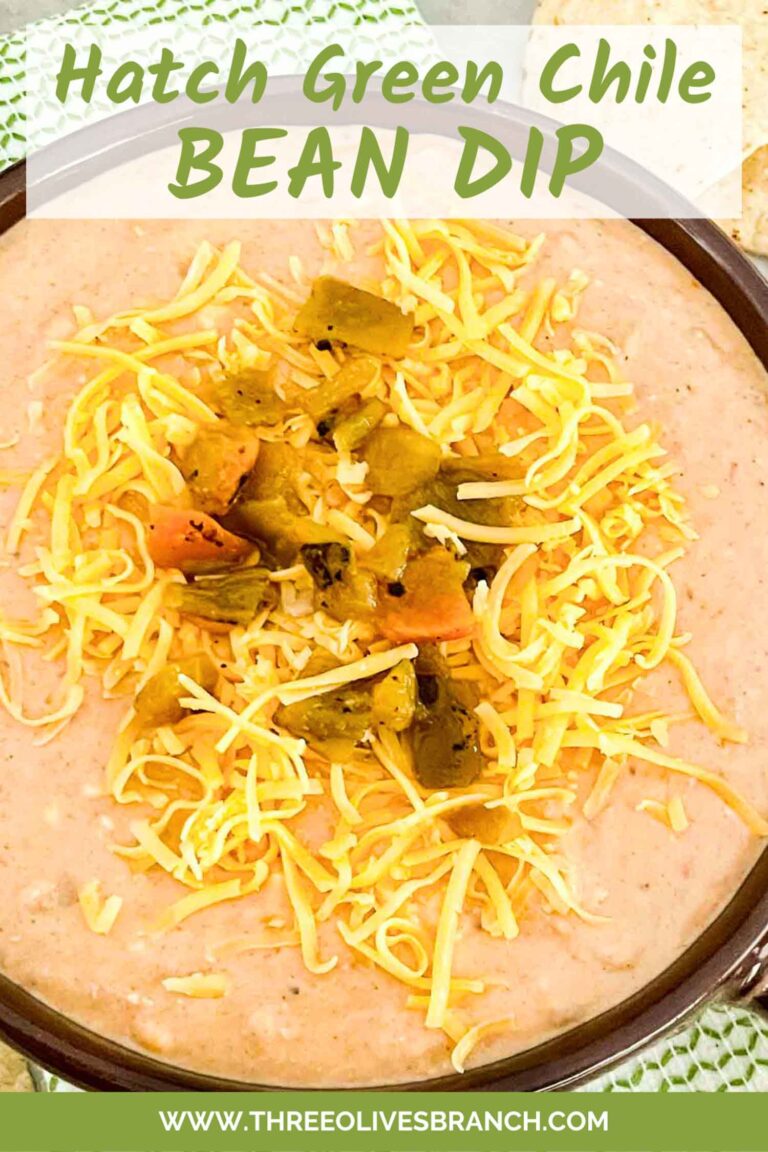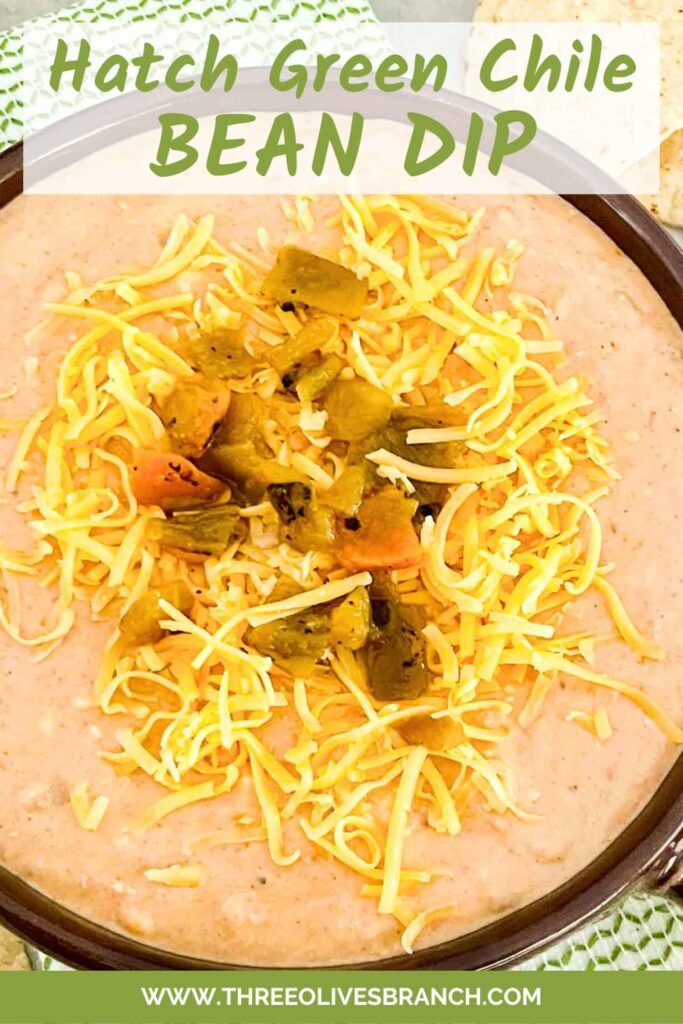 More Green Chile Recipes
Hatch Green Chile Recipes
A collection of just some of our Hatch Green Chile recipes!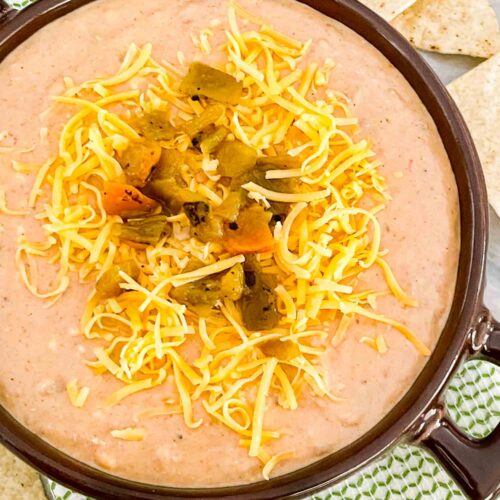 Hatch Green Chile Bean Dip Recipe
Homemade Hatch Green Chile Bean Dip Recipe makes a fast and easy appetizer recipe! Mexican flavors with cheese and roasted peppers for game day, entertaining, or a party. High in protein, vegetarian, gluten free.
Print
Pin
Rate
Instructions
Combine all ingredients together in a medium bowl.

Spread the dip into a baking dish.

Bake until warmed through, approximately 10 minutes.

Serve warm with chips or other dunkers.
Microwave Instructions
If desired, this dip can be made in a microwave instead. Simply mix in a microwave safe bowl and heat for 1 minute.

Stir and continue heating in 30 second intervals until warmed throughout.
Notes
You can also serve this bean dip in a small slow cooker on warm setting to keep it warm.
To ensure a truly vegetarian recipe, make sure you are using vegetarian cheese and vegetarian refried beans.
Nutrition
Serving:

1

serving

|

Calories:

208

kcal

|

Carbohydrates:

9

g

|

Protein:

9

g

|

Fat:

15

g

|

Saturated Fat:

8

g

|

Polyunsaturated Fat:

1

g

|

Monounsaturated Fat:

4

g

|

Cholesterol:

44

mg

|

Sodium:

529

mg

|

Potassium:

106

mg

|

Fiber:

3

g

|

Sugar:

3

g

|

Vitamin A:

587

IU

|

Vitamin C:

3

mg

|

Calcium:

206

mg

|

Iron:

1

mg

By