Just like the restaurant favorite! Copycat Olive Garden Chicken Alfredo is a creamy, Parmesan sauce tossed with pasta and topped with a lightly breaded chicken.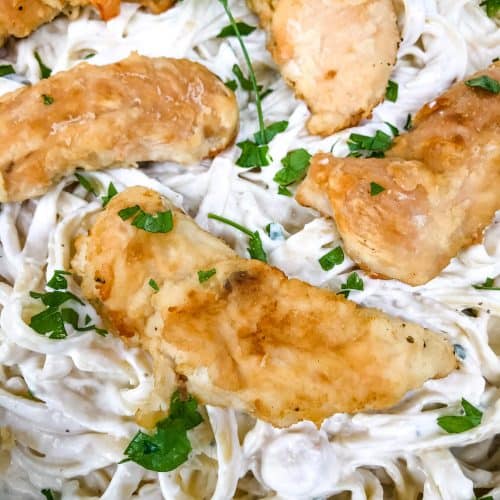 Make this Copycat Olive Garden Chicken Alfredo to bring the restaurant favorite to your home!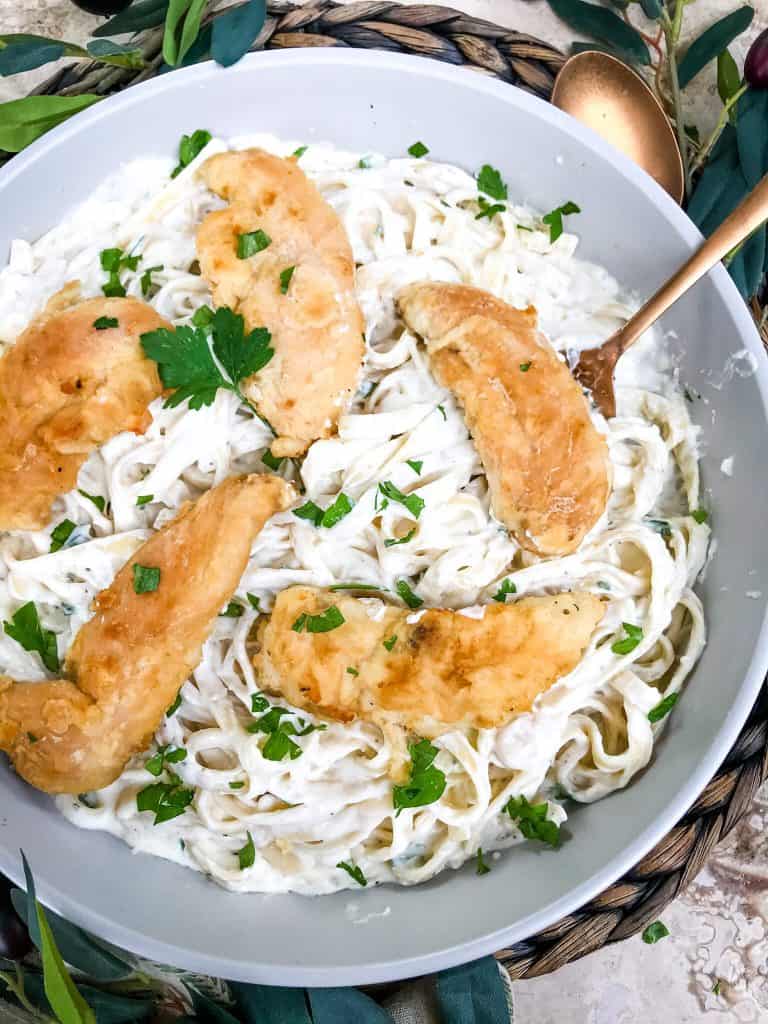 This post contains affiliate links.
The Olive Garden Fettuccine Alfredo is well known for being a favorite.
And once I found a way to recreate it, I knew I was in trouble because it was so good!
Since then, I have used that sauce to make many of the restaurant favorites like Olive Garden Steak Gorgonzola Alfredo (my favorite, and also SO popular!) and Olive Garden Shrimp Alfredo.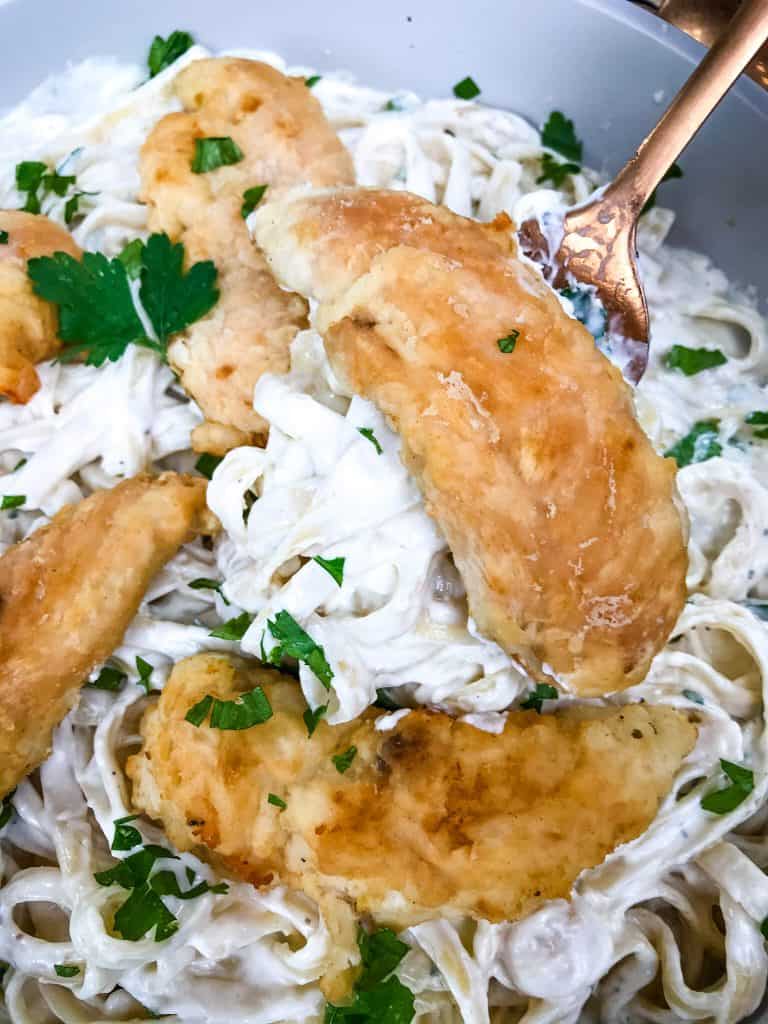 I love making restaurant favorites at home, and this Copycat Olive Garden Chicken Alfredo recipe is one of our favorites.
You can get the same great flavors without leaving the house and for a lower price.
And if you really want to go for the full experience, pair it up wither other Copycat Olive Garden recipes like this Copycat Olive Garden Zuppa Toscana! This soup is SO popular, filled with Italian sausage, kale, and potatoes.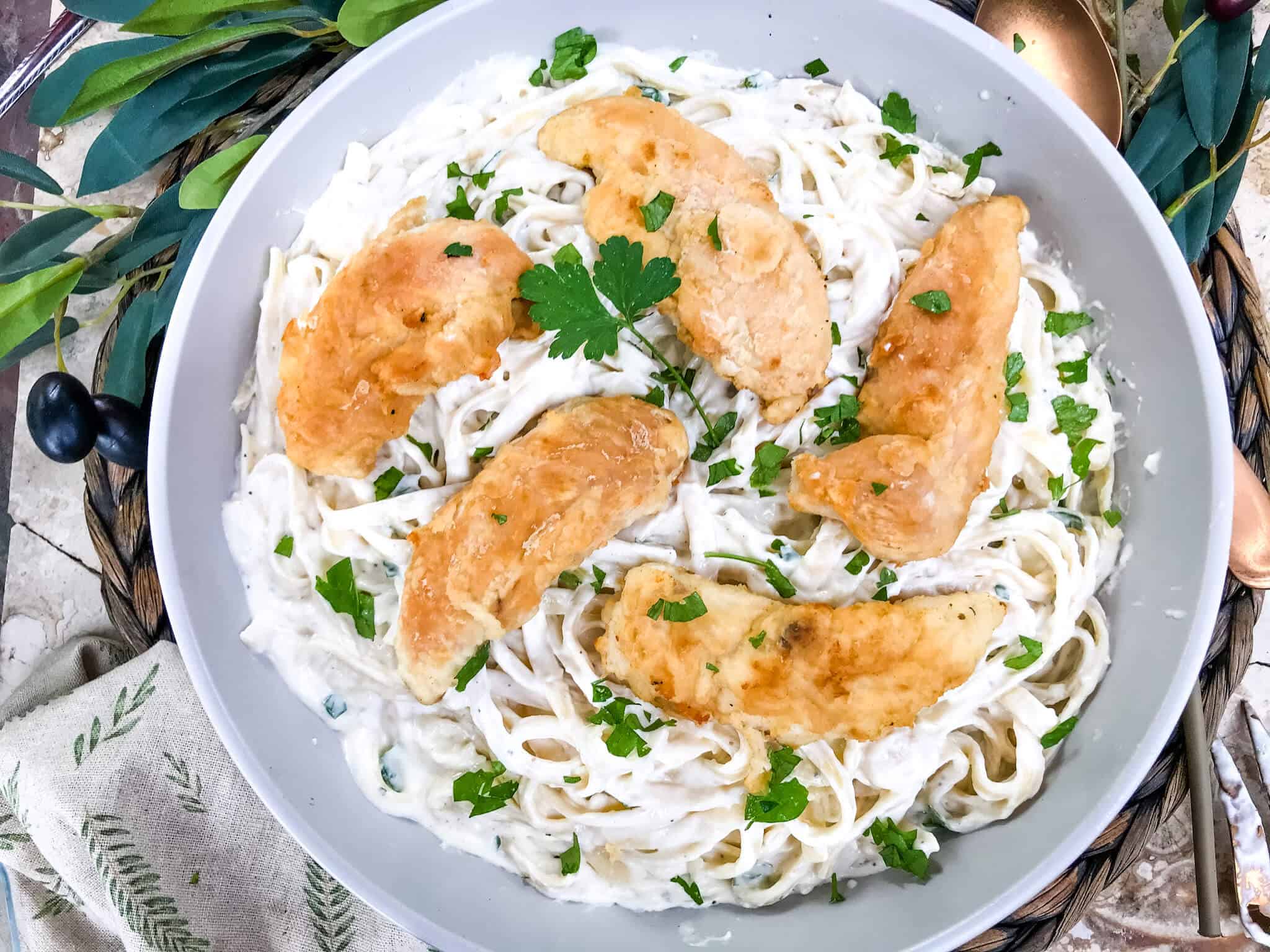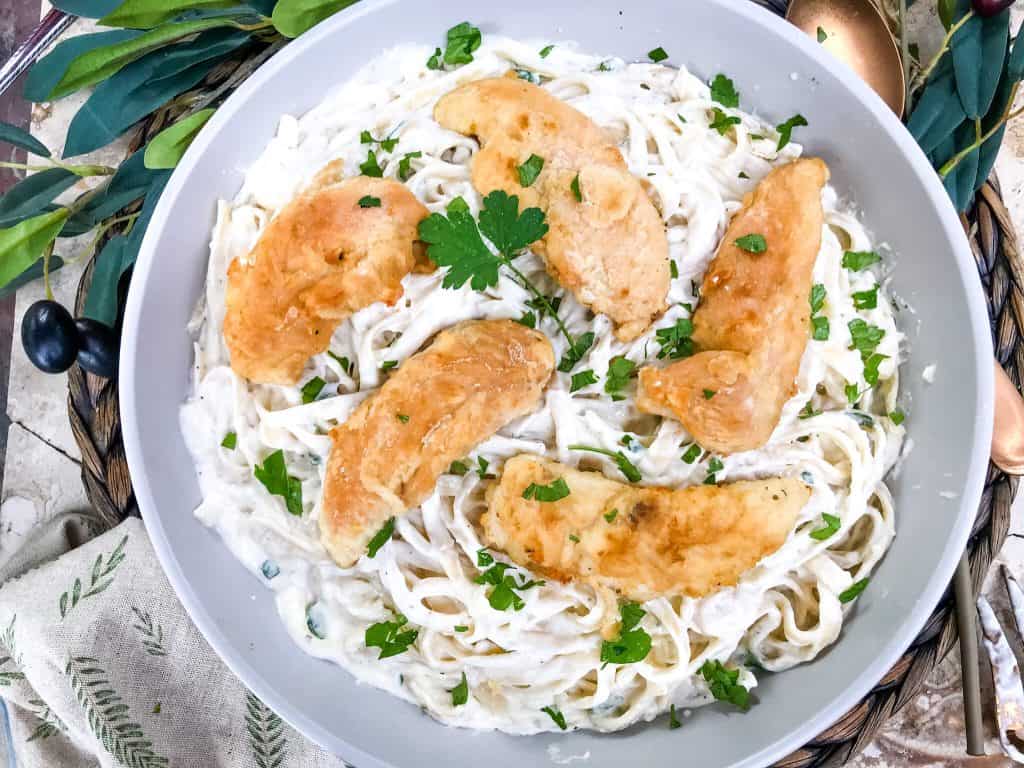 The chicken at Olive Garden is lightly breaded, which I recreated here.
All it needs is a light coating in flour before being cooked in a pan. I tested different flouring methods, some with egg, and this was the best recreation.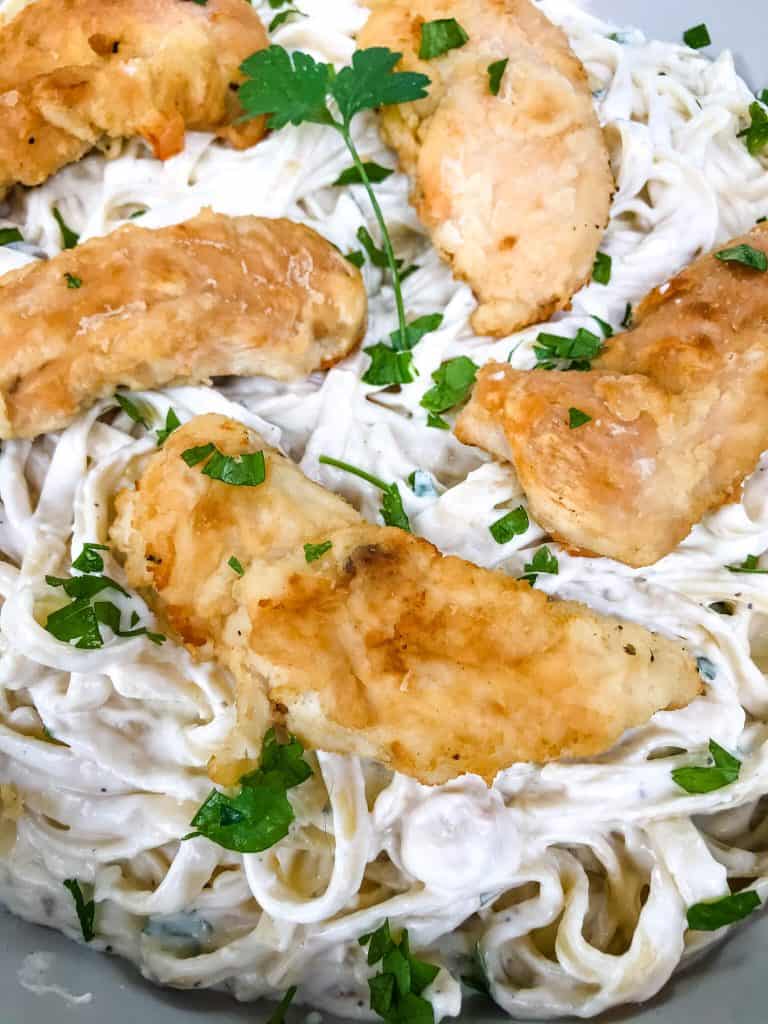 The restaurant uses full, thin cut chicken breast pieces. You can use any cut or size that you like. My personal preference is chicken tenders because they cook quickly.
Grilled chicken would also be a fantastic substitute!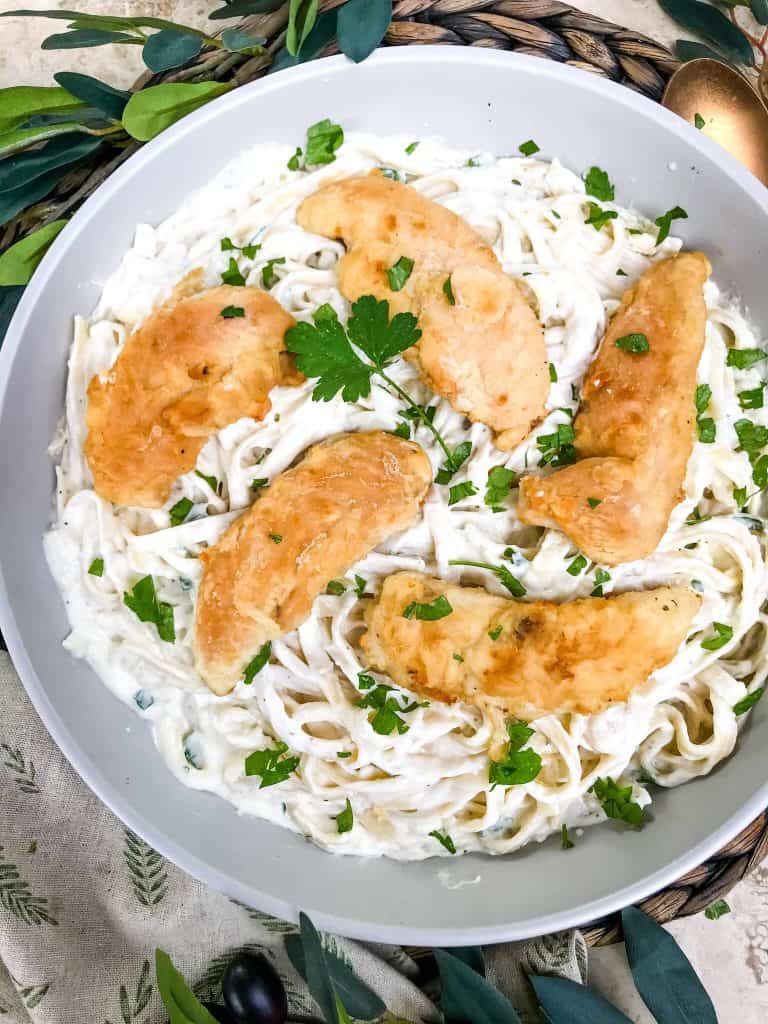 Alfredo sauce recipes are heavy and very filling, so it goes far!
I love pairing alfredo with a salad or side vegetable like broccoli to cut the heaviness.
Fettuccine alfredo can reheat well with a little TLC.
Just add a dash of water before heating, or fresh cream after, and stir. This helps loosen the sauce and bring it back to life!
That is, if you do have any leftovers!
Copycat Olive Garden
Copycat recipes from Olive Garden to enjoy at home!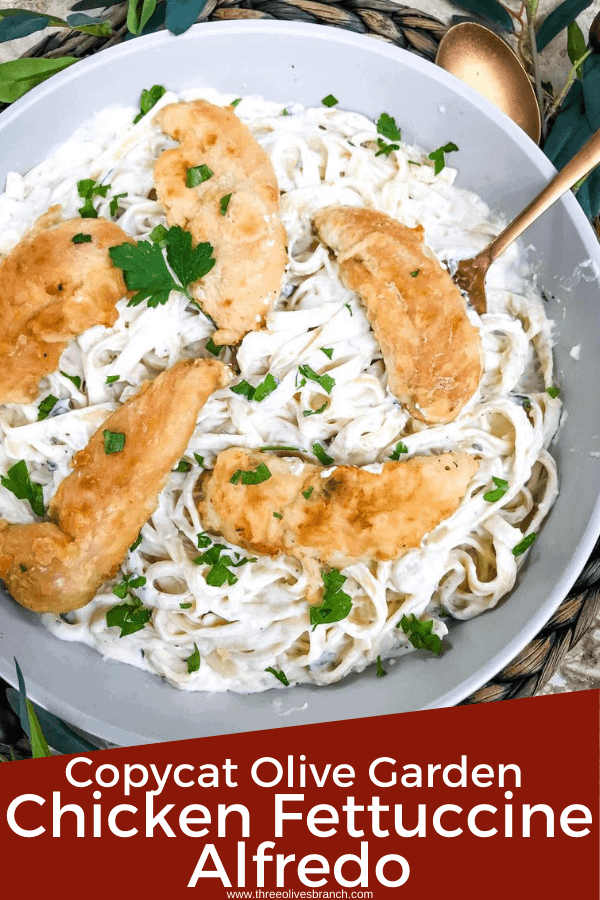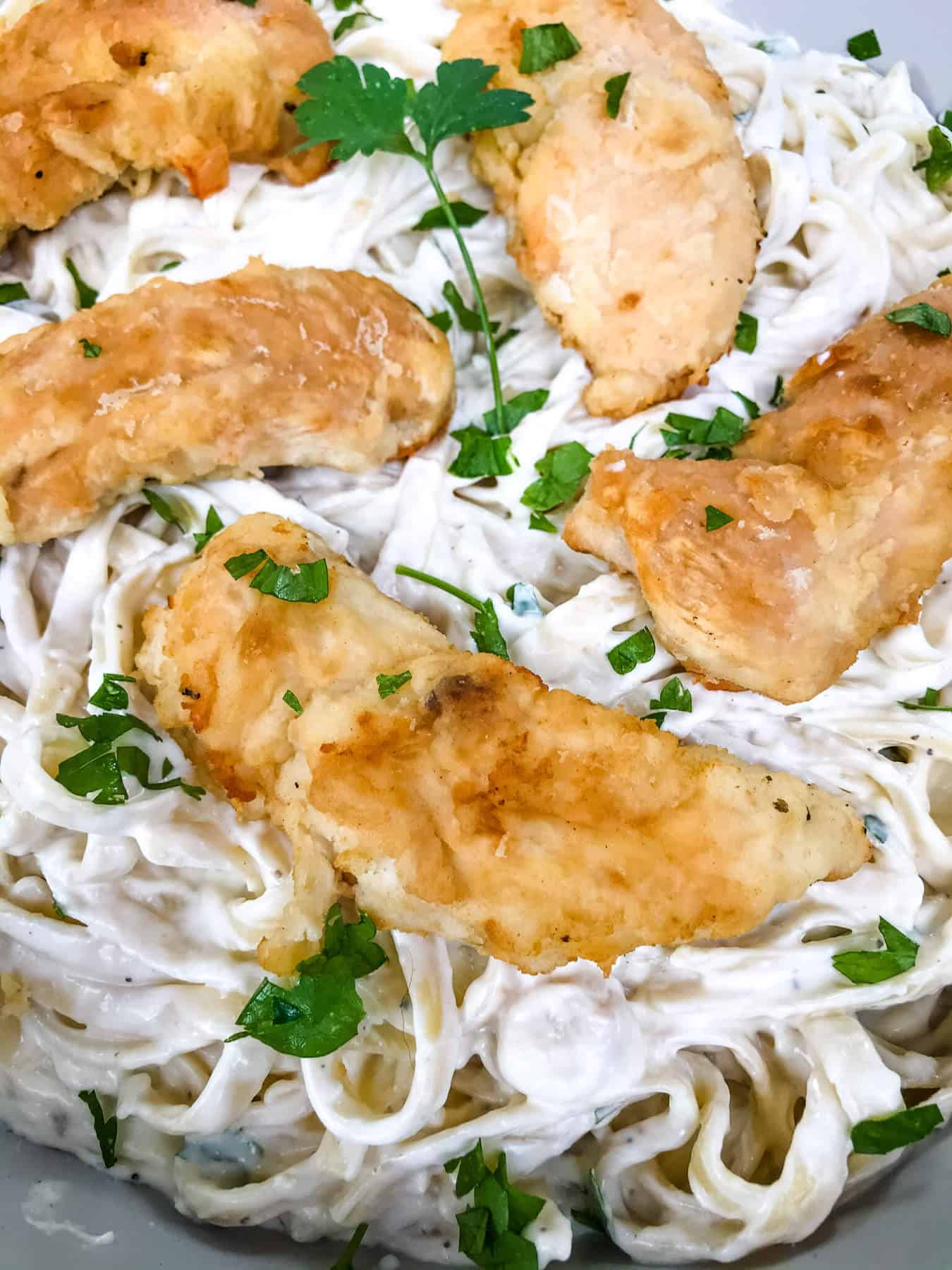 Instructions
Start the water for the fettuccine pasta. Cook as per package directions until just shy of al dente (it will be added to the sauce later and will continue to cook). If the pasta is done too early, drain and set aside while reserving 1 cup of the cooking liquid just in case the sauce is too thick.

As the pasta is cooking, make the chicken. Heat a large skillet over medium heat with 2 Tablespoons of oil. Place the flour in a small dish or plate and season with 1/4 teaspoon salt and 1/4 teaspoon pepper.

Lightly dredge the chicken in the flour to fully coat. Shake off excess flour. When the skillet and oil are hot, add the chicken. Cook approximately 5 minutes per side until browned and the chicken is cooked through. Set the chicken aside.

Also while the pasta is cooking, combine the butter and cream in a large pot or a wide skillet with tall edges (like the one in my picture). Heat over medium until the butter is melted into the cream.

Turn heat down to medium low. Add the nutmeg to the cream and butter mixture. Whisk to combine.

Add the Parmesan cheese. Season with salt and pepper to taste (cheese is salty, so make sure you do not salt until after the Parmesan is added).

Add the pasta to the sauce and toss to coat. Let it cook for 2-3 minutes to combine the flavors. If the sauce is too thick, add a little pasta water at a time to loosen the sauce (or cream). If too thin, let it cook a little longer.

Remove from heat and add the chicken. Serve immediately.
Notes
The quality of the cheese is very important since it is the star of the dish.  Use any freshly grated Parmesan cheese.
You can use any size or cut of chicken. I prefer to use chicken tenderloins because they cook quickly.
A dinner portion at the restaurant is 1/2 pound of pasta, so these 4 servings will be smaller than what you find at Olive Garden. 
Make shredding cheese easy by using one of my favorite tools, a food processor!
Nutrition
Calories:

1371

kcal

|

Carbohydrates:

97

g

|

Protein:

44

g

|

Fat:

90

g

|

Saturated Fat:

52

g

|

Cholesterol:

386

mg

|

Sodium:

711

mg

|

Potassium:

520

mg

|

Fiber:

4

g

|

Sugar:

3

g

|

Vitamin A:

2897

IU

|

Vitamin C:

2

mg

|

Calcium:

574

mg

|

Iron:

4

mg

By