Copycat Olive Garden Ravioli Di Portobello is a delicious Italian pasta recipe! Made with mushroom ravioli and a creamy sundried tomato sauce. A discontinued restaurant favorite to make at home for date night.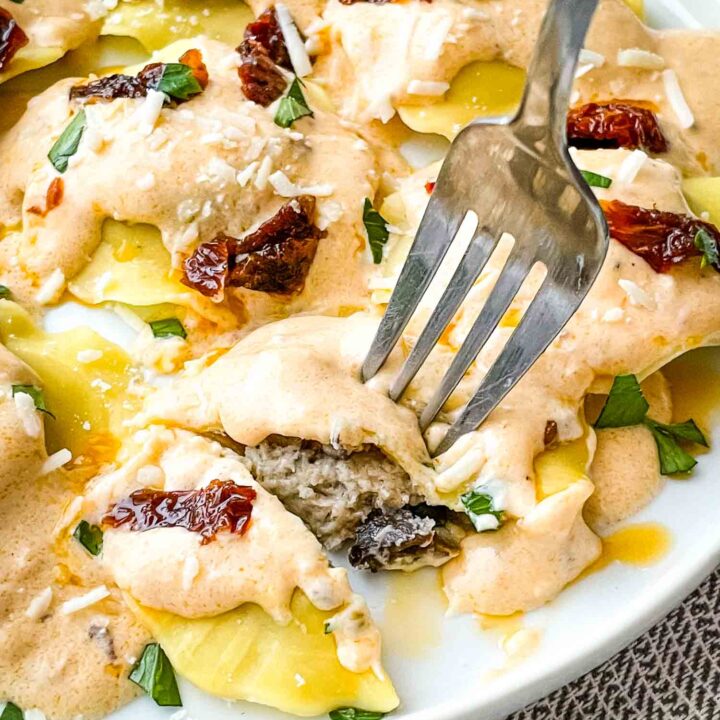 This Copycat Olive Garden Ravioli Di Portobello is just like the restaurant favorite! Discontinued from the menu, but now something you can make at home. Mushroom ravioli are topped with a creamy, sundried tomato and cheese sauce.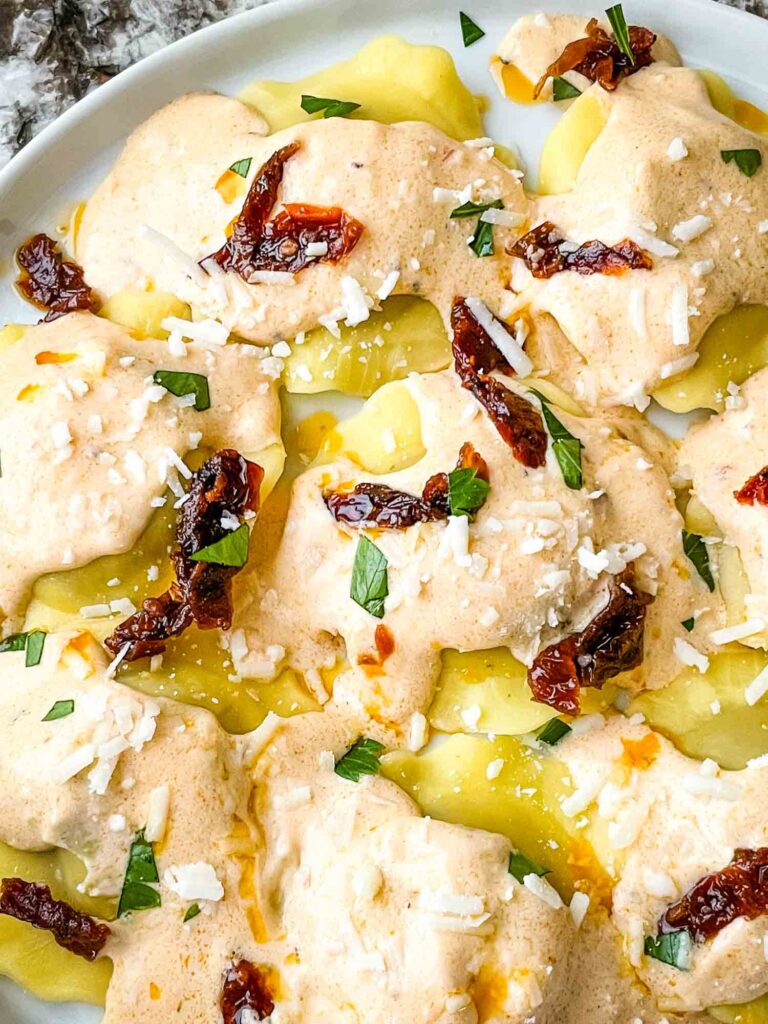 Creamy Mushroom Ravioli
This Olive Garden pasta recipe was quite popular back when they had it on the menu!
What I loved about it was the unique flavors in the sauce and how well it balanced a mushroom ravioli.
This recipe is really fast and easy to make at home, and great for a date night or when you want to replicate the restaurant experience.
What Happened to Olive Garden Ravioli di Portobello?
It was discontinued!
Restaurants often remove items from their menu to make space for new items. This decision comes from popularity of the item being ordered, ingredients that are needed on hand for it, or a combination of those factors.
But good news, you can now make this dish at home!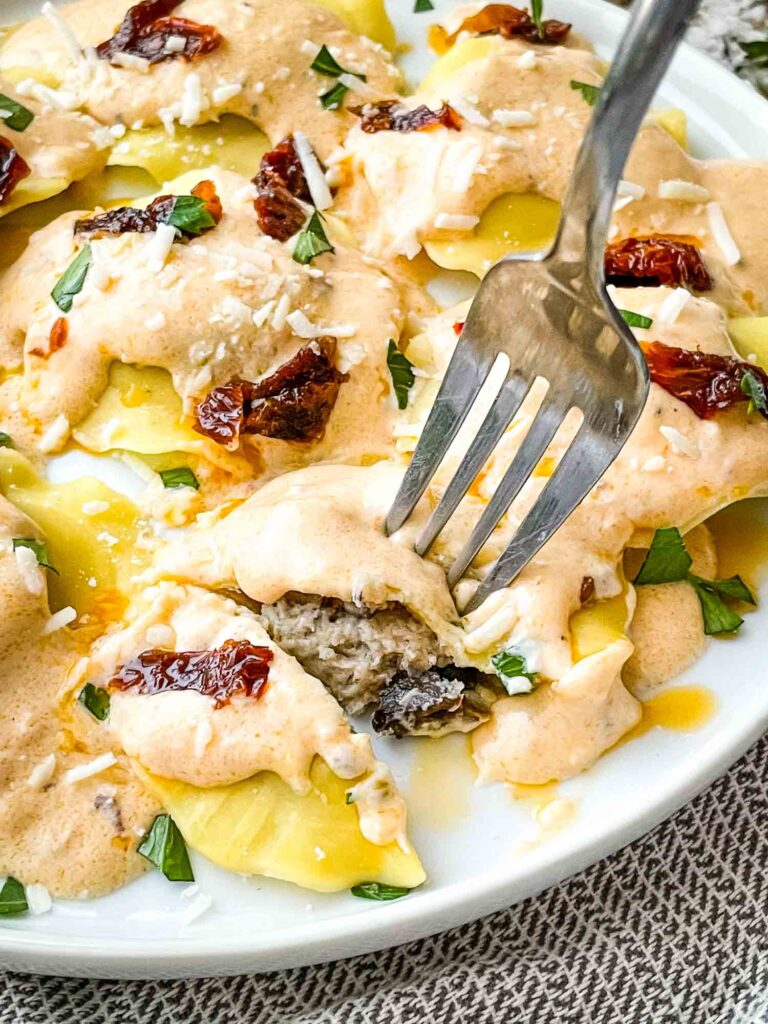 Ingredients Needed
Here is what you need to make this copycat recipe:
Milk
Heavy Cream
Butter
Garlic
Flour (or cornstarch)
Parmesan Cheese
Mozzarella Cheese
I love Rana brand of ravioli. It is the best tasting that I have found so far, and they have a mushroom ravioli that is perfect for this recipe! You can find it in the fresh pasta section, typically near cheese in the dairy area.
You can use any brand of mushroom ravioli that you can find.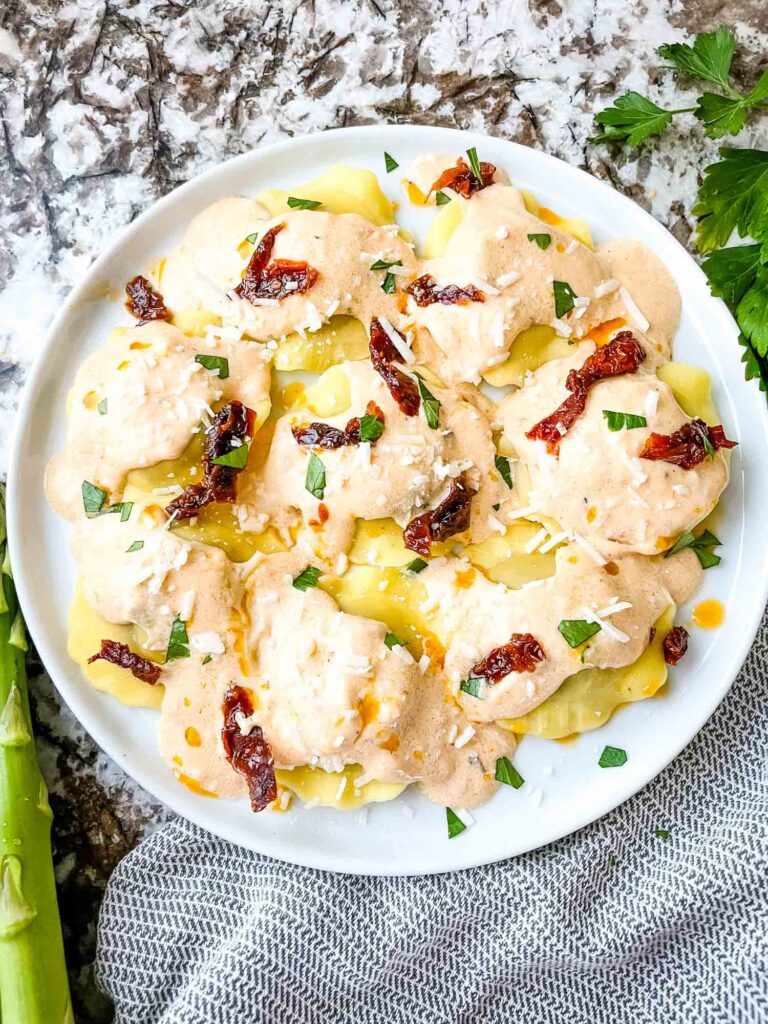 Sundried Tomato Paste
I use a sundried tomato paste that comes in a tube for this recipe.
I LOVE tomato paste in a tube when you need just a Tablespoon or two and want to avoid waste or complicated ways of storing the leftovers.
If you do not have the paste, you can also take sundried tomatoes and mince them up, or even grind them up with the side of a knife, food processor, or mortar and pestle, to make it as paste like as possible. You will want to measure the paste itself and not the tomatoes.
The paste is superior to the cut tomatoes here because it disperses into the sauce better to enhance the flavor.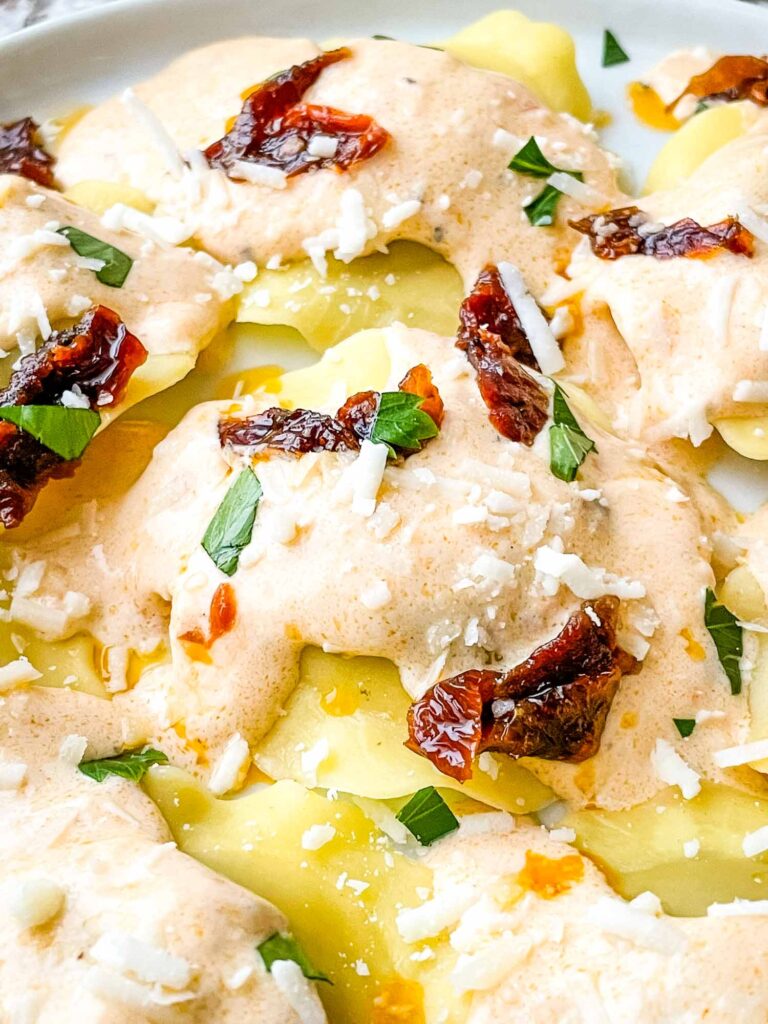 Can I Use All Milk Instead of Heavy Cream?
Yes, you can!
The only difference is the sauce will be a little thinner. You could add a little more flour or cheese to still thicken it up.
What Kind of Cheese is in Olive Garden Ravioli?
Their ravioli is not made in house, but is a blend of Italian cheeses. Best guesses are that it includes Parmesan or Romano, mozzarella, and ricotta.
This restaurant dish and recipe use a mushroom ravioli. Depending on the brand, there might be a little cheese mixed in but the mushrooms in the filling are the star!
What do you Serve with Mushroom Ravioli?
You can easily add a meat if desired to the ravioli, such as chicken, shrimp, or sausage.
I like to add asparagus or peas since they have a bright, crisp flavor to balance the richness of the ravioli. I toss them right in with the pasta itself!
A vegetable or salad would be great to serve alongside as well.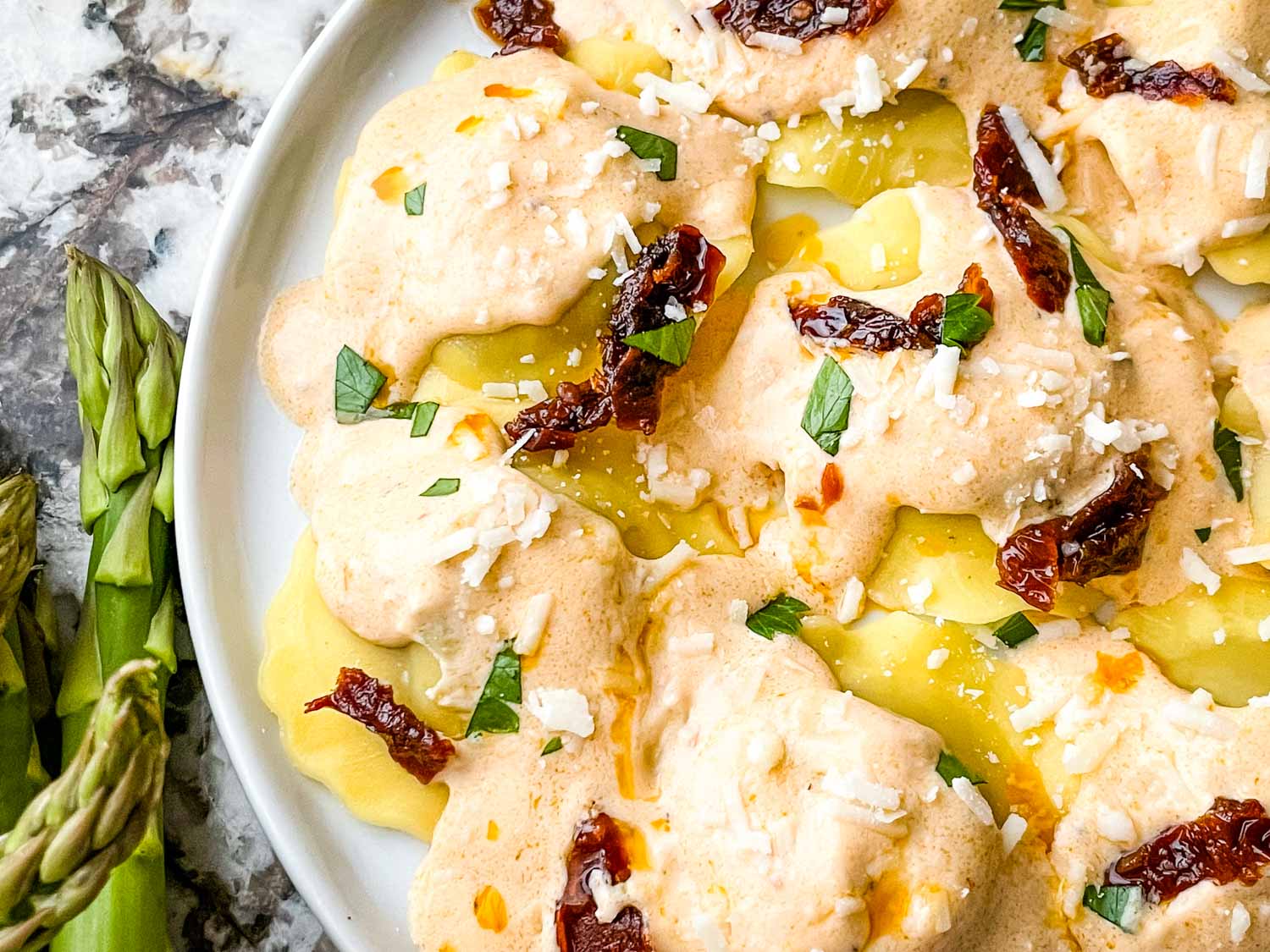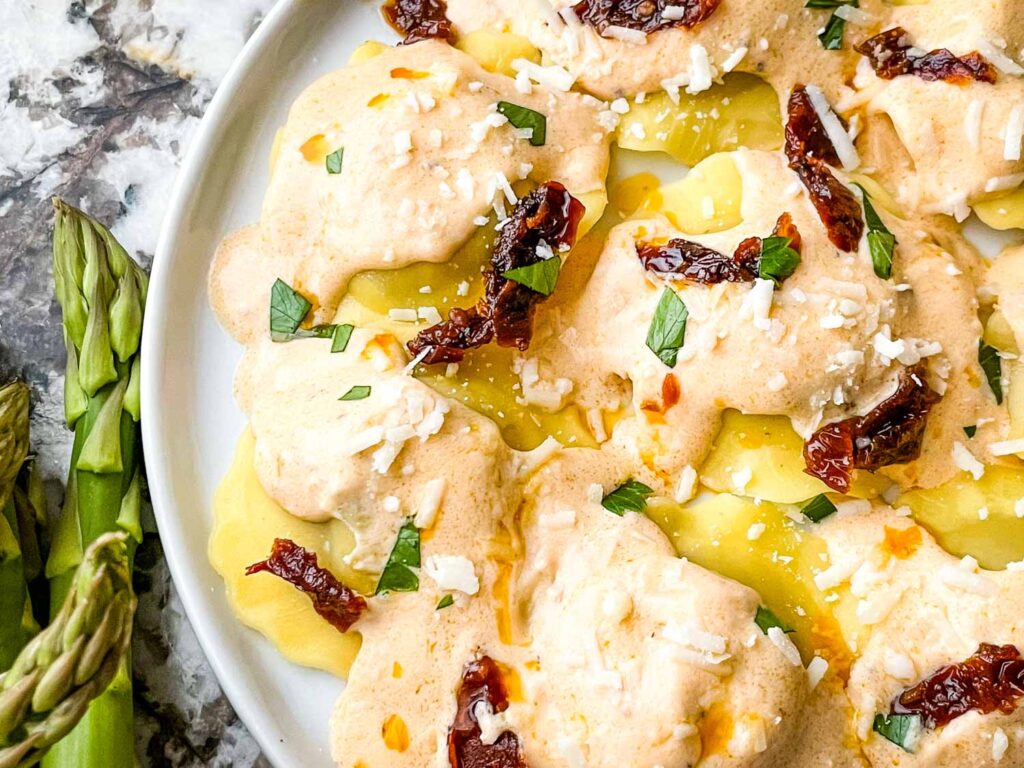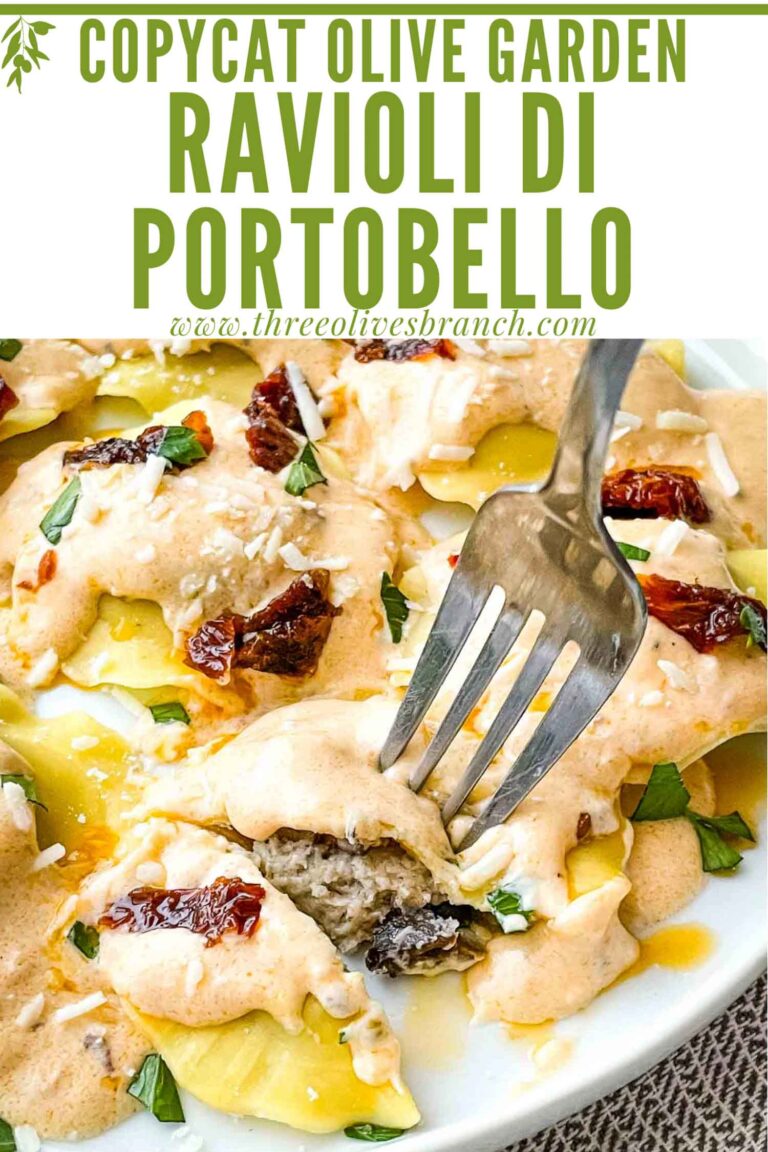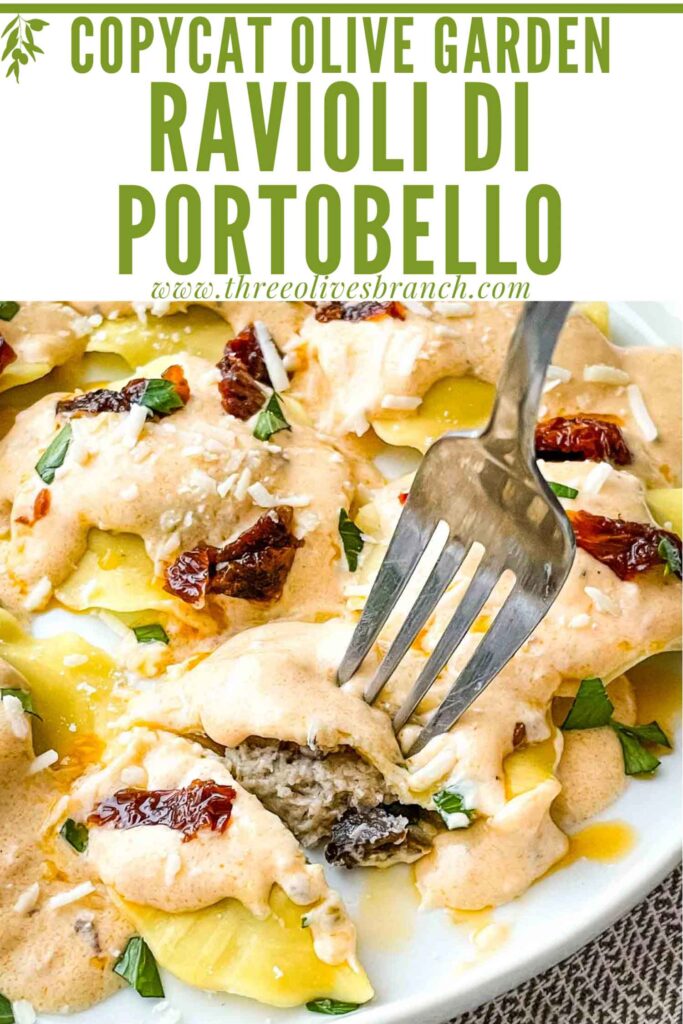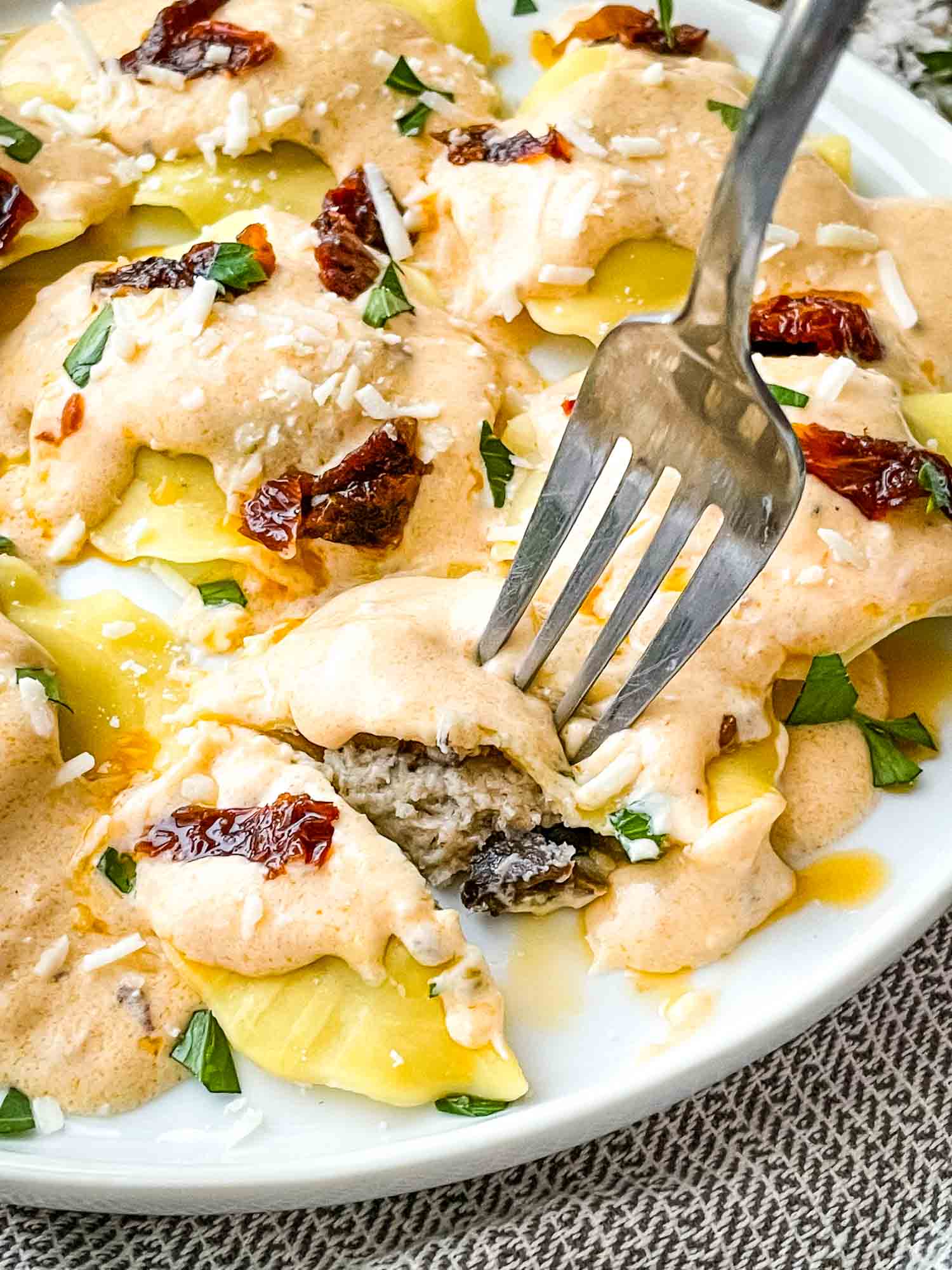 Instructions
Bring a large pot of water to a boil over high heat. When boiling, add the ravioli and cook as per package directions to al dente.

Meanwhile, make the sauce. Heat a small pot over medium heat. Add the butter to melt.

Add the garlic, flour, and sundried tomato paste. Stir and let it cook 2 minutes. It should smell like garlic and/or sundried tomatoes.

Add the heavy cream and milk. Whisk and bring to a simmer. Turn up the heat if needed to medium high.

When simmering, reduce the heat to low and add the Parmesan and mozzarella. Whisk constantly to melt the cheese and let the sauce thicken. Remove from the heat when the cheeses are melted.

Season to taste with salt and black pepper.

Place the ravioli on plates and spoon the sauce over the ravioli. Add additional sundried tomatoes, fresh tomatoes, parsley, or other vegetables if desired.
Notes
Tubes of sundried tomato paste are easy and convenient! Do not have sundried tomato paste? Simply mince or mash sundried tomatoes with the side of a knife, food processor, or mortar and pestle to make it into a paste. A paste will flavor the sauce better than cut tomatoes.
My favorite ravioli brand is Rana, which is typically found in the fresh pasta section near cheeses and dairy. But you can use any mushroom ravioli.
Nutrition
Serving:
1
serving
|
Calories:
978
kcal
|
Carbohydrates:
99
g
|
Protein:
38
g
|
Fat:
46
g
|
Saturated Fat:
20
g
|
Polyunsaturated Fat:
1
g
|
Monounsaturated Fat:
5
g
|
Cholesterol:
189
mg
|
Sodium:
1634
mg
|
Potassium:
114
mg
|
Fiber:
7
g
|
Sugar:
7
g
|
Vitamin A:
920
IU
|
Vitamin C:
1
mg
|
Calcium:
198
mg
|
Iron:
24
mg
Copycat Olive Garden
Copycat recipes from Olive Garden to enjoy at home!

By