A copycat of the Copycat Olive Garden Seafood Alfredo. Ready in less than 30 minutes.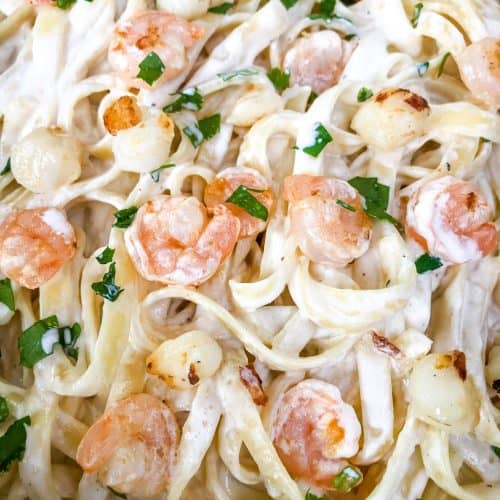 Bring the restaurant favorite home by making Copycat Olive Garden Seafood Alfredo in your own kitchen!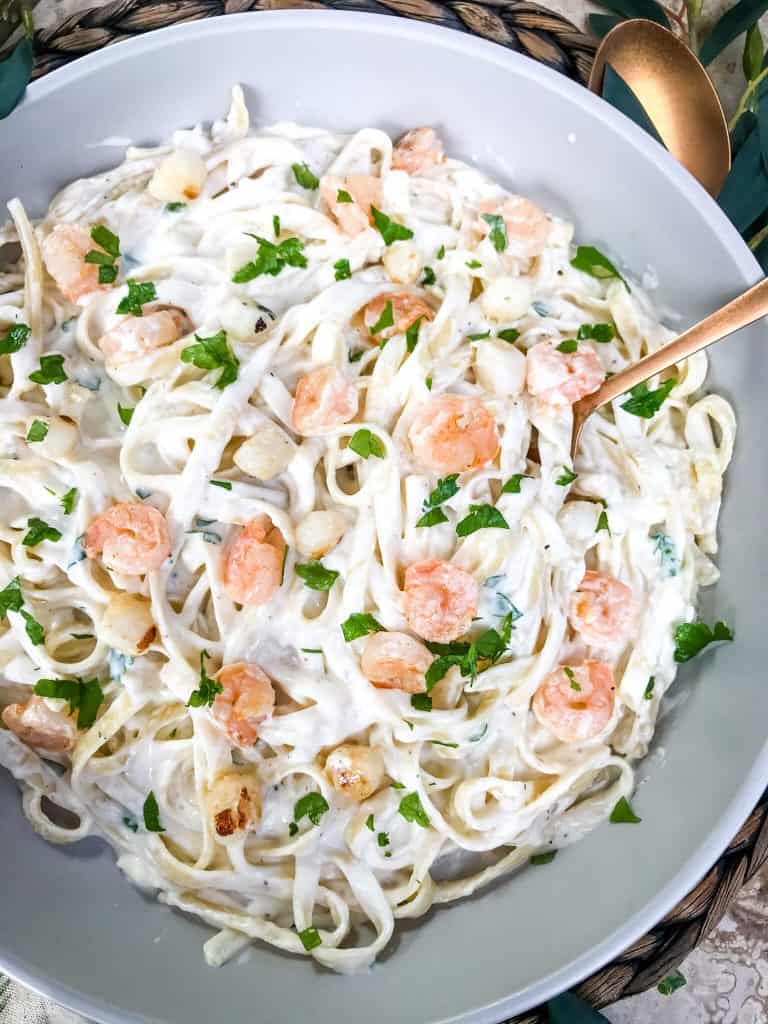 This post contains affiliate links.
Why You Will Love This Recipe
Olive Garden is known for their alfredo. And it is good.
But when I found a way to mimic the alfredo and, dare I say, make it better? It became a dangerous situation.
I do not make homemade alfredo sauce too often because it is so rich. But it is SO good and SO worth it!
What is Alfredo?
This Copycat Olive Garden Seafood Alfredo is a fan favorite at the restaurant.
Alfredo is the name of the sauce, and fetticcine is the pasta we typically use here in the United States.
Alfredo sauce has variation to it, but is typically made with butter, cream, and LOTS of Parmesan cheese.
Because there are so few ingredients, I highly recommend using quality ingredients. That means freshly grated cheese.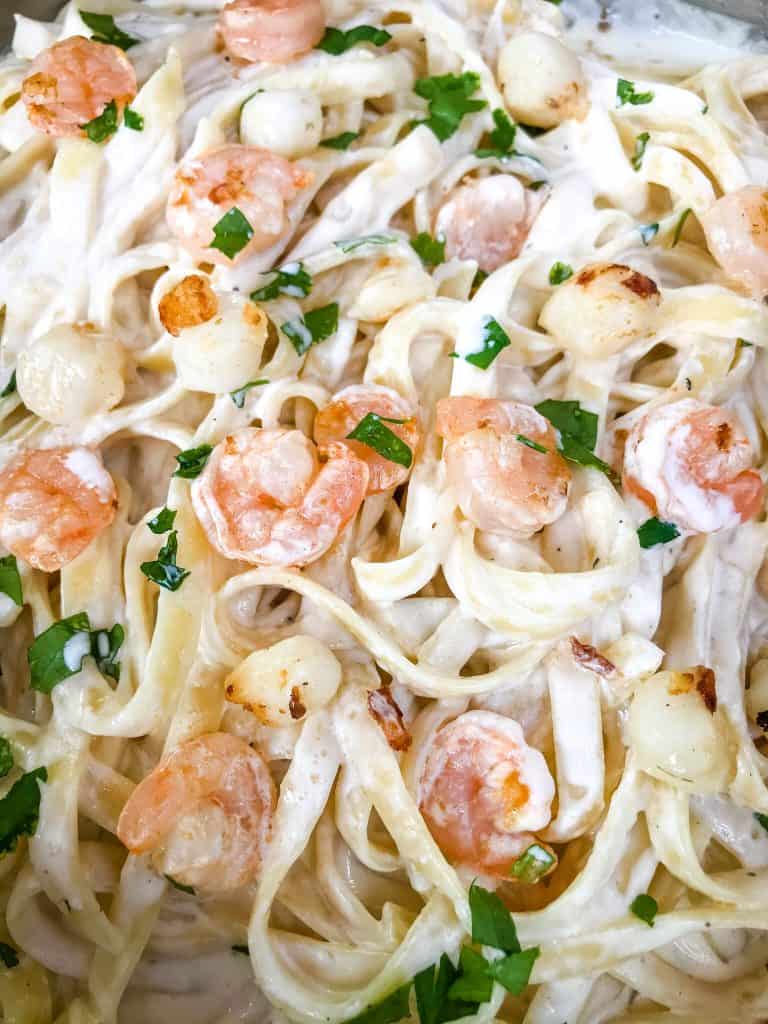 Ingredients
Here is what you need to make this recipe:
Fettuccine Pasta
Heavy Cream
Butter
Freshly Grated Parmesan Cheese
Small Shrimp
Bay Scallops
Mussels (optional, see Seafood Selection section about this ingredient)
Ground Nutmeg
Salt and Pepper
Freshly Grated Parmesan Cheese – I highly recommend using a freshly grated cheese and not pre-shredded nor canned cheese here. The quality of the cheese makes a big difference since it is a big part of the flavor!
Seafood Selection
Fettuccine pasta is coated in an alfredo sauce recipe and tossed with shrimp and scallops.
Now the classic restaurant dish uses the extra small shrimp size in their pasta.
You can go with the traditional option and get the extra small shrimp, or you can shake it up and use any shrimp size you like.
Large or extra large shrimp are a favorite around here!
Same with scallops. They use bay scallops which are small, but feel free to switch up the size to larger scallops and adjust cooking time.
The discontinued Olive Garden Seafood Alfredo also had mussels in it several years ago. If you wish to recreate that version, make everything the same however add some mussels as well to the shrimp and scallops.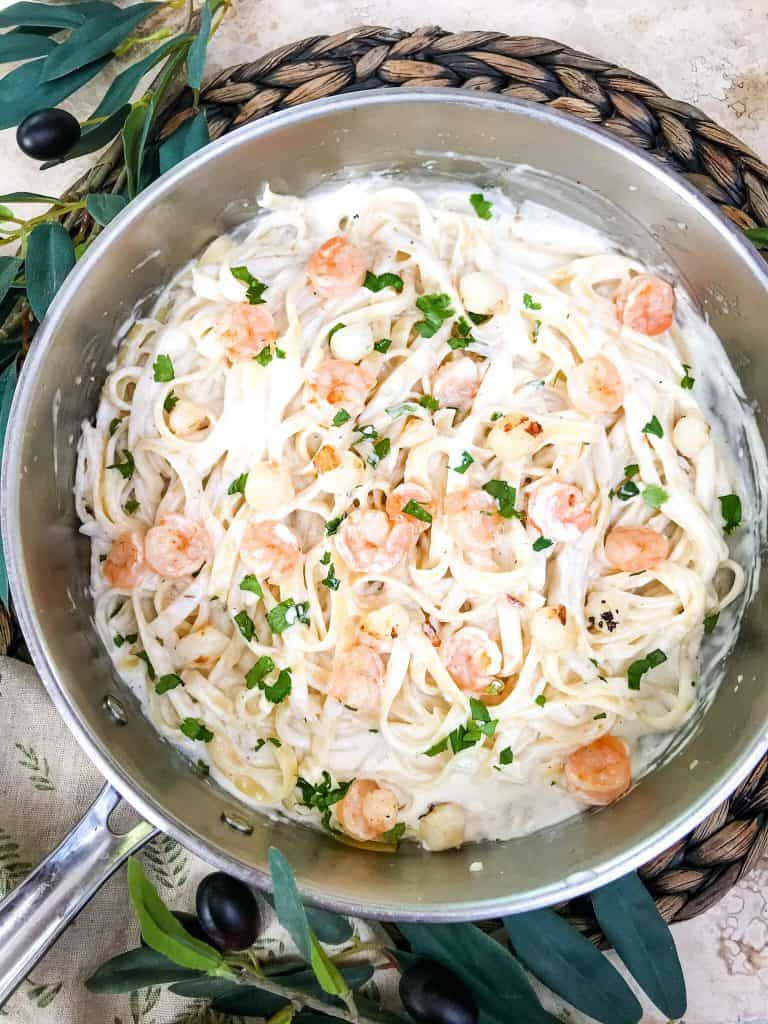 Instruction Overview
Cook your pasta as per package directions for al dente. Drain and set aside.
Make the sauce by melting the butter, heavy cream, and nutmeg together.
When the sauce is warm, add the cheese and stir until melted. At this point, season to taste with salt and pepper as desired.
Add the pasta into the sauce along with the shrimp and scallops (they will cook fast since they are so small!) Toss and cook 2-3 minutes until the seafood is done. Serve.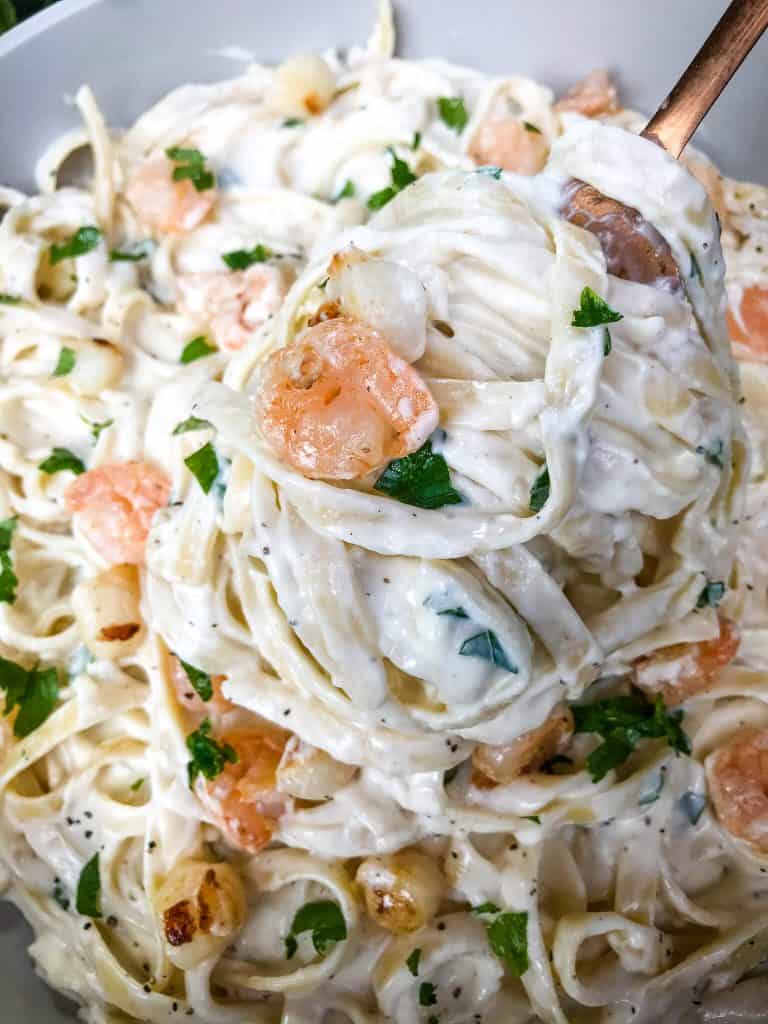 Modifications and Substitutions
True Parmesan can be expensive, so Romano is a perfect substitute. And Romano is actually what they serve at the restaurant in those cheese graters – not Parmesan!
Use any size shrimp or scallops as desired and just adjust cooking time accordingly.
FAQs
What is the difference between Alfredo and scampi?
Alfredo is primarily heavy cream, butter, and cheese.
Scampi has variations but is typically mainly butter and garlic with minimal cheese and cream, if any.
You can check out our popular Copycat Olive Garden Shrimp Scampi recipe and see the difference!
What's Alfredo sauce made of?
The ingredients specifically for the sauce are butter, heavy cream, Parmesan cheese, ground nutmeg, salt, and black pepper.
What can I use instead of heavy cream for Alfredo sauce?
The best substitution is whole milk with extra butter. The exact ratio recommendation varies, but I like for every 1 cup that you need to use 3/4 cup whole milk with 1/4 cup butter.
Can I make alfredo in advance?
It tastes best fresh because if reheated, the sauce will split with the butter and fats separating from the rest. Since it comes together so quickly, try to make it right when you are ready to serve.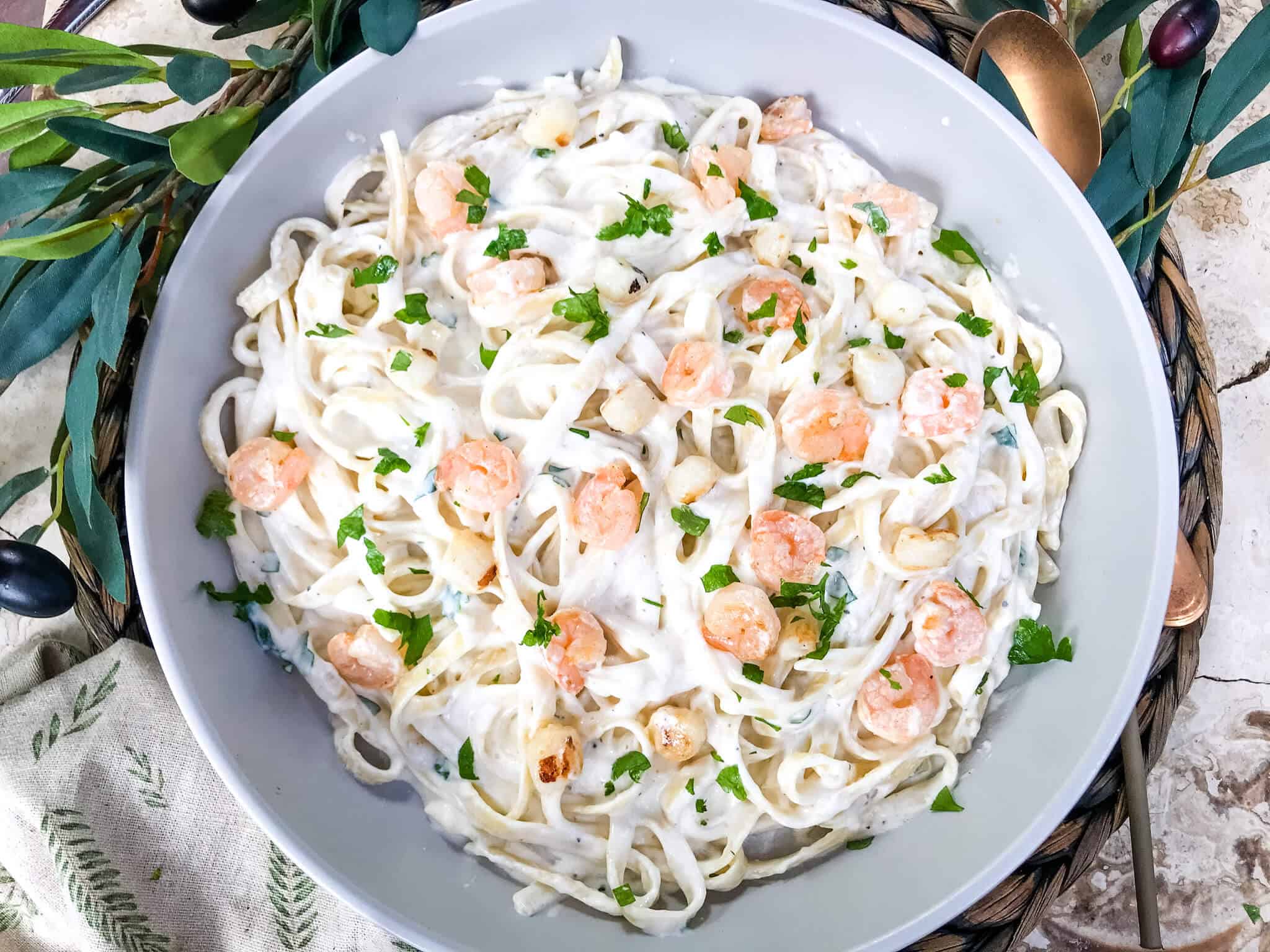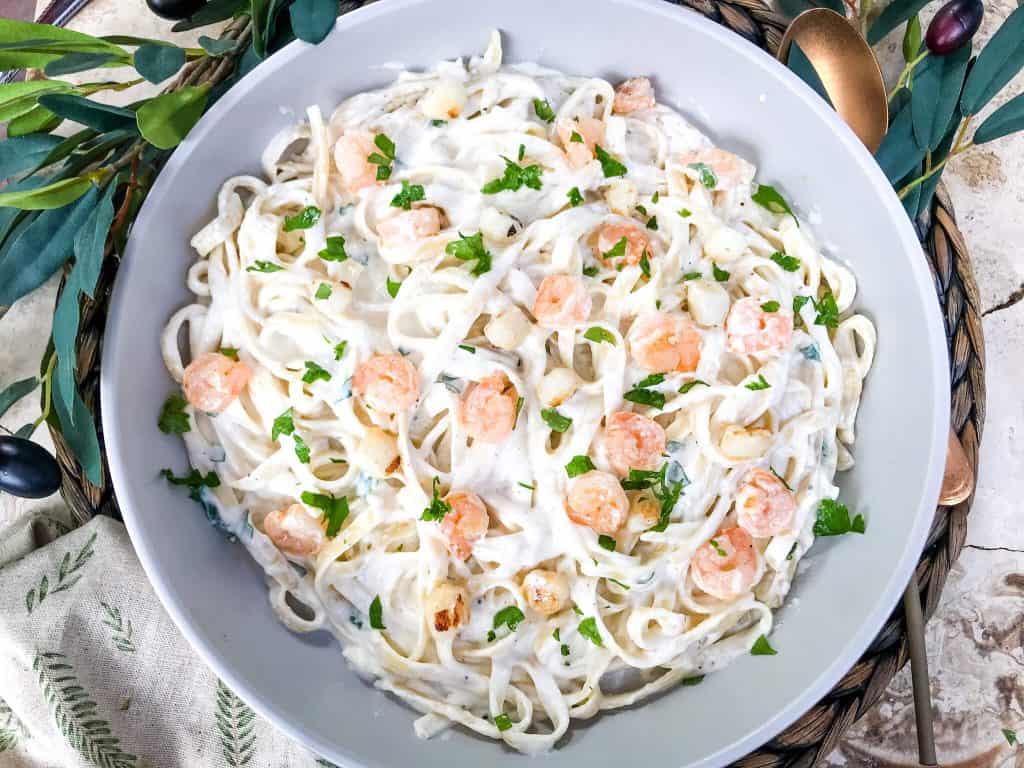 Looking for more Olive Garden alfredo sauce recipes?
Find more variations here on the site, like the popular Chicken Fettuccine Alfredo and Shrimp Fettuccine Alfredo.
And want something a little different? My Copycat Olive Garden Steak Gorgonzola Alfredo is the most popular recipe on this site!
Want to fully complete the entire Olive Garden experience?
Try making this alfredo recipe with our Copycat Olive Garden Pasta Fagioli Soup or the Copycat Olive Garden Zuppa Toscana soup, another restaurant favorite!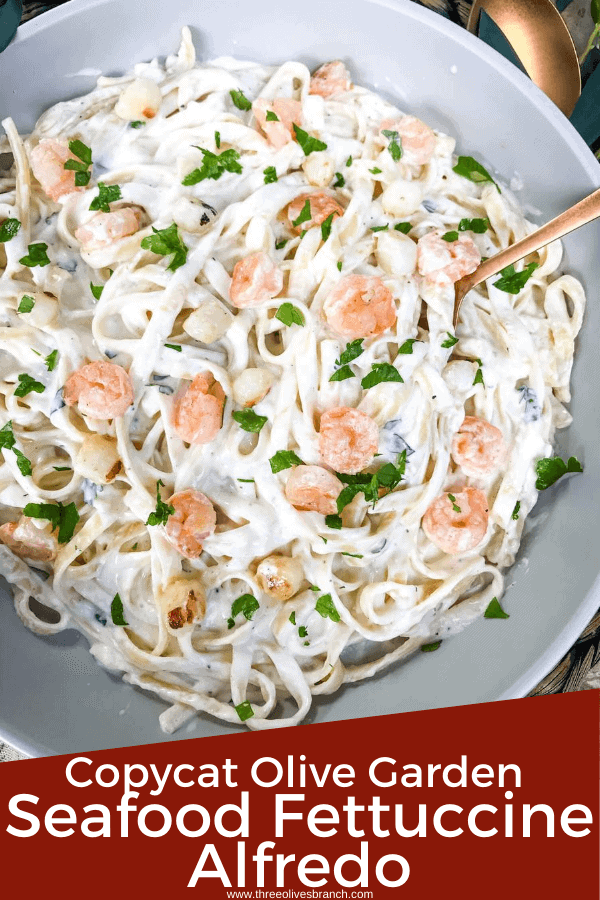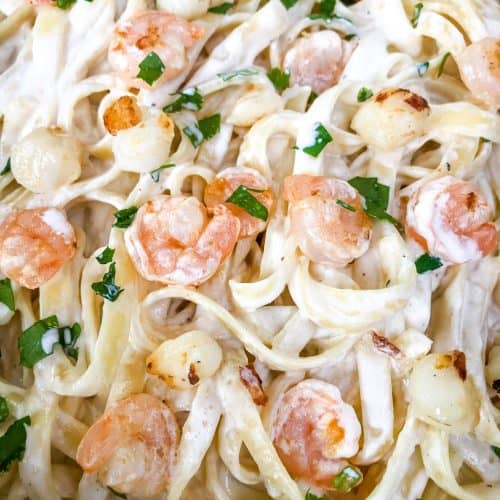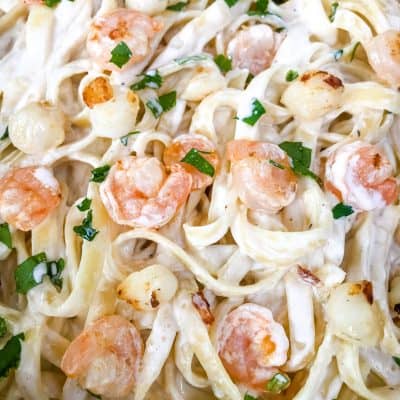 Copycat Olive Garden Seafood Alfredo Recipe
A copycat of the Copycat Olive Garden Seafood Alfredo. Ready in less than 30 minutes.
Print
Pin
Rate
Instructions
Start the water for the fettuccine pasta. Cook as per package directions until just shy of al dente (it will be added to the sauce later and will continue to cook). If the pasta is done too early, drain and set aside while reserving 1 cup of the cooking liquid just in case the sauce is too thick.

As the water is starting for the pasta, combine the butter and cream in a large pot or a wide skillet with tall edges (like the one in my picture). Heat over medium until the butter is melted into the cream.

Turn heat down to medium low. Add the nutmeg to the cream and butter mixture. Whisk to combine.

Add the Parmesan cheese. Season with salt and pepper to taste (cheese is salty, so make sure you do not salt until after the Parmesan is added).

Add the shrimp, scallops, and pasta to the sauce and toss to coat. Let it cook for 2-3 minutes to combine the flavors. If the sauce is too thick, add a little pasta water at a time to loosen the sauce (or cream). If too thin, let it cook a little longer. This should be enough time for the small seafood to cook (see note).

Remove from heat. Serve immediately.
Notes
The quality of the cheese is very important since it is the star of the dish.  Use any freshly grated Parmesan cheese.
They use the extra small shrimp which typically comes pre-cooked. If you are using raw shrimp of any size, add to the sauce to cook as needed before adding the pasta.
If using larger shrimp or scallops, either cook in advance and toss them in when serving, or add them a couple minutes earlier to cook in the sauce.
Make shredding cheese easy by using one of my favorite tools, a food processor!
Nutrition
Serving:
0.25
batch
|
Calories:
1254
kcal
|
Carbohydrates:
85
g
|
Protein:
44
g
|
Fat:
83
g
|
Saturated Fat:
50
g
|
Cholesterol:
488
mg
|
Sodium:
1113
mg
|
Potassium:
446
mg
|
Fiber:
4
g
|
Sugar:
3
g
|
Vitamin A:
2821
IU
|
Vitamin C:
3
mg
|
Calcium:
650
mg
|
Iron:
4
mg
More Copycat Olive Garden Recipes
Copycat Olive Garden
Copycat recipes from Olive Garden to enjoy at home!

By