This recipe is for a lightly dressed salad. If you want it to have more sauce, double the sauce ingredients.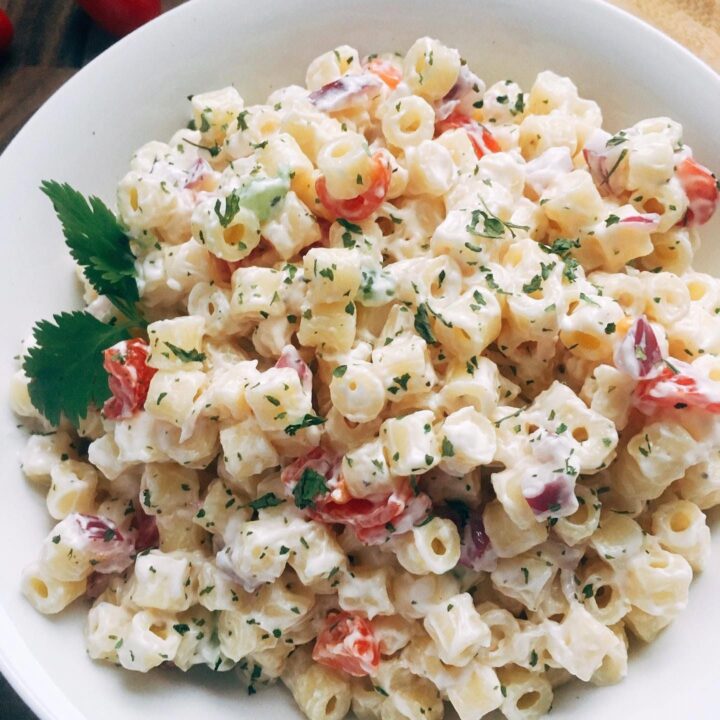 No barbecue is complete without a pasta salad to go along with it. This Simple Macaroni Salad is a crowd pleaser and takes just a few minutes to make!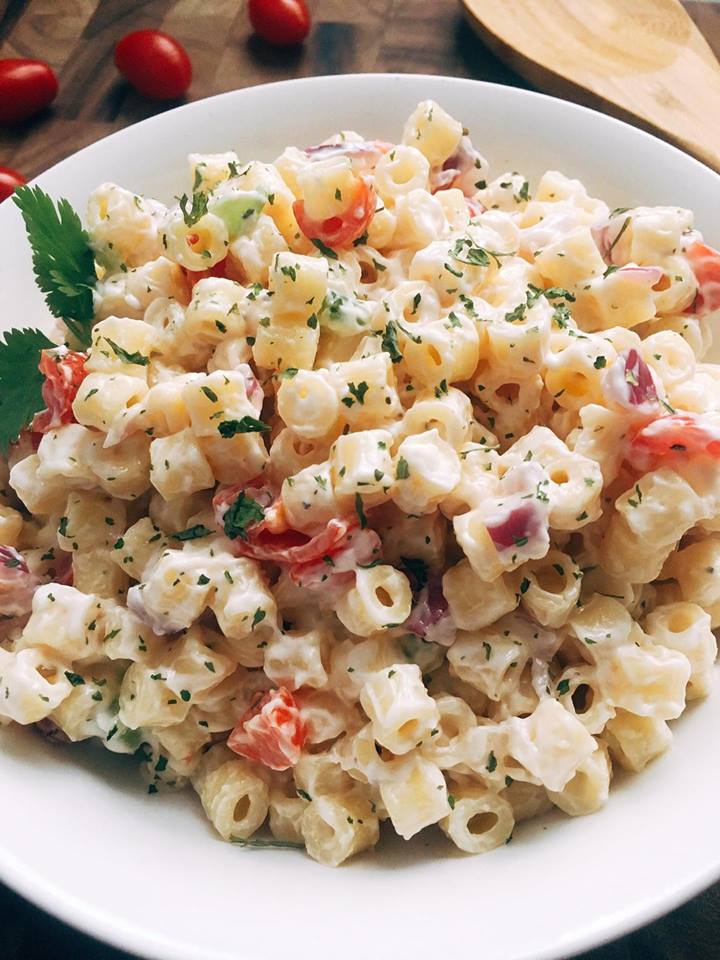 This post contains affiliate links.
This Simple Macaroni Salad has been a staple in my family when I was growing up. Almost every barbecue or grilled meal had this as a side. The flavors are light and fresh, with some added crunch from the vegetables. I do not always use tomatoes, but I will always include the onion and celery.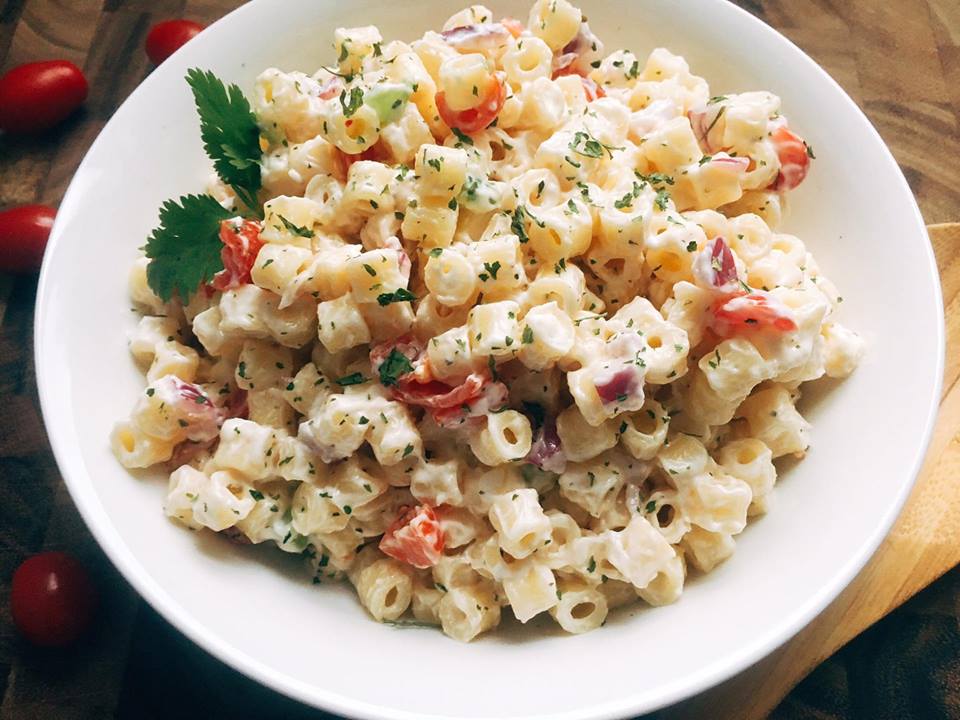 I am personally a fan of pasta and macaroni salads that are lightly dressed and not drowning in mayo. If you like it goopy, simply increase the amount of sauce you make. Any small shaped pasta will do here, but I love to use ditalini as that is how I ate this growing up. Ditalini looks like a small, short tube and I find that the shape is perfect for holding the sauce and easier to eat than larger shapes.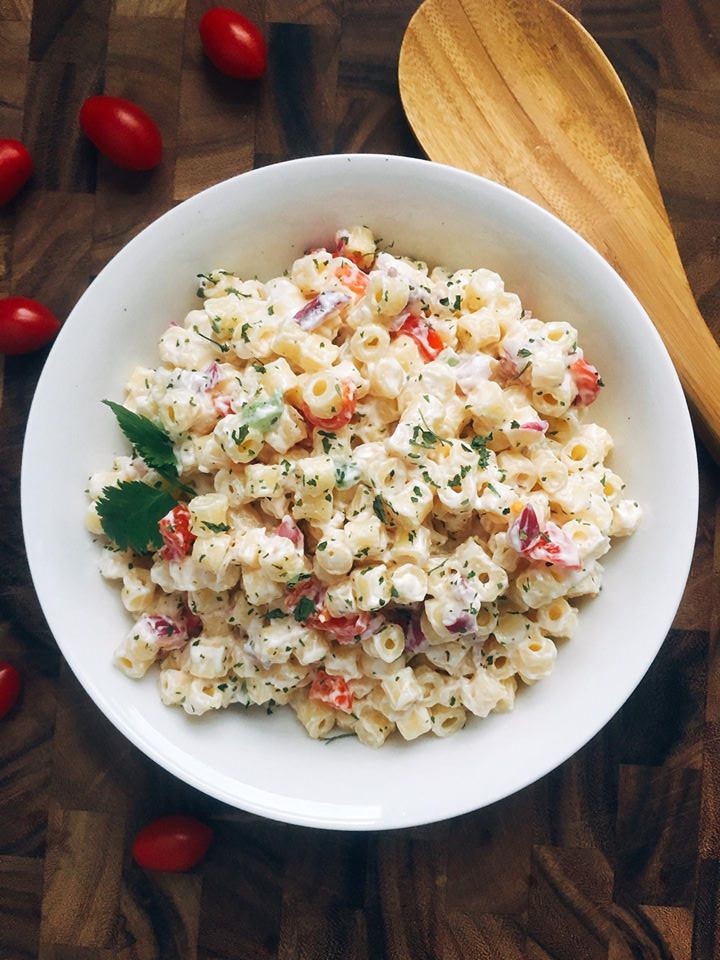 To make Simple Macaroni Salad, first cook the pasta until it is al dente (not too soft). Drain and refrigerate until it is cold. Then make the sauce by combining all of the other ingredients together. The vinegar gives this salad a tang, so if you are not a fan either reduce the amount or skip it at first and then add a little by little until you reach your desired preference. Chill the sauce separately. When ready to serve, mix the sauce into the pasta. (If you store the sauce already mixed into the pasta, the pasta will continue to absorb the moisture and it will be less creamy).
This Simple Macaroni Salad just screams summer! And it works well with anything you are planning on grilling. What were your favorite barbecue sides growing up?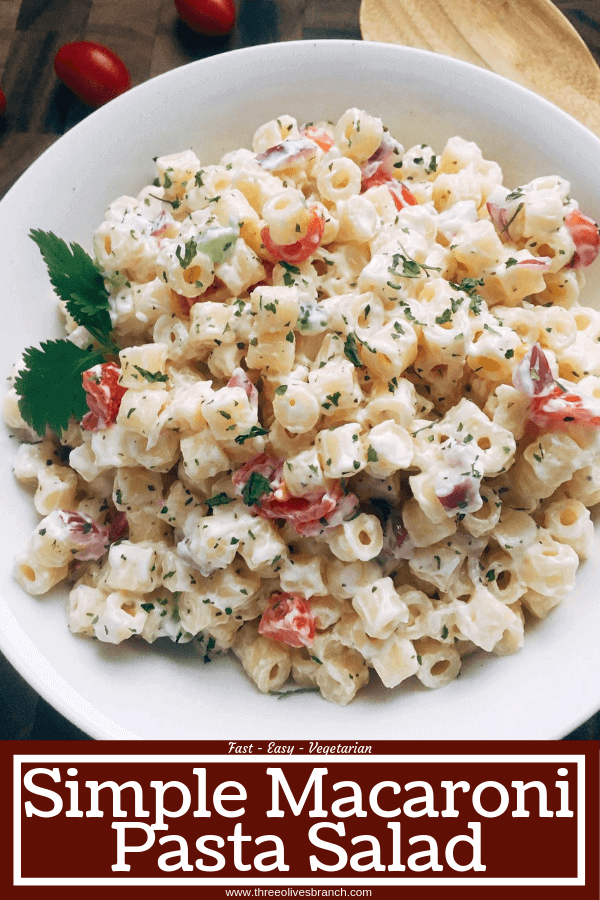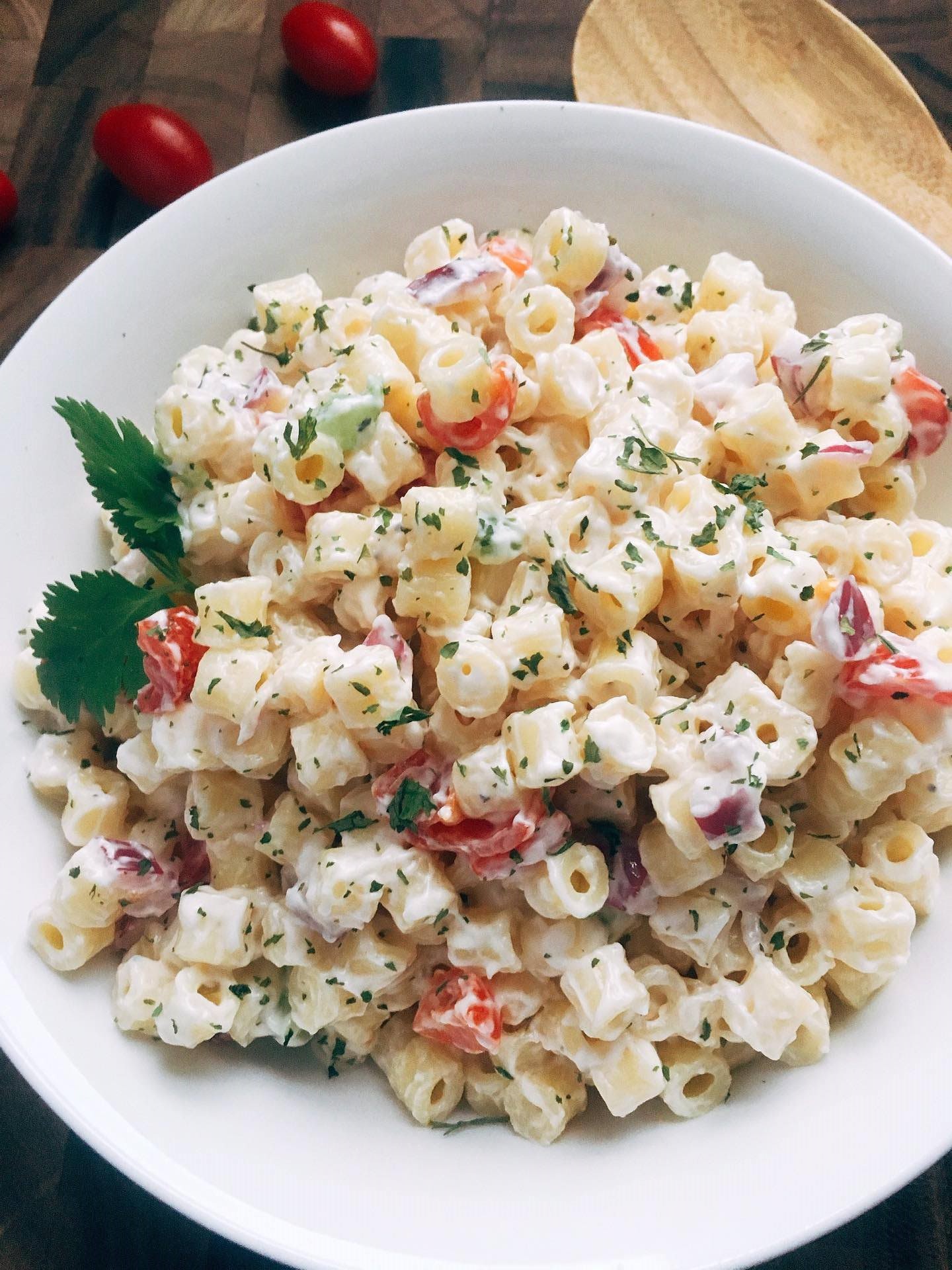 Instructions
In a large pot of boiling water, cook the ditalini until al dente as per package directions. Drain the pasta and place in a large tupperware.

Toss the pasta with the olive oil. Chill in the refrigerator at least 15 minutes.

Finely dice the celery, onion, and tomato. Place the onion only in a small bowl and cover with cold water. Let sit 5 minutes and then drain. (This will take some of the sharpness out of the raw onion).

In a small bowl, combine the mayo, dry mustard, sugar, vinegar, sour cream, and 1/2 tsp salt.

Take the pasta out of the refrigerator. Add the vegetables, sauce, and parsley. Stir to combine. Season with salt and pepper to taste. Serve immediately or chill until needed.
Notes
This macaroni salad has a little tang to it from the vinegar. If you are not a fan of a vinegar taste, reduce or omit the vinegar at first and then add a little at a time to taste preference.
Nutrition
Calories:

437

kcal

|

Carbohydrates:

45

g

|

Protein:

8

g

|

Fat:

25

g

|

Saturated Fat:

5

g

|

Cholesterol:

16

mg

|

Sodium:

388

mg

|

Potassium:

182

mg

|

Fiber:

2

g

|

Sugar:

4

g

|

Vitamin A:

190

IU

|

Vitamin C:

4

mg

|

Calcium:

27

mg

|

Iron:

1

mg

By