This Greek Orzo Salad is a veggie packed pasta salad recipe with spinach, olives, tomatoes, feta cheese, cucumbers, artichokes, and more in a vinaigrette. A perfect cold salad side for BBQ and grilling Mediterranean food. #pastasalad #orzo #greekfood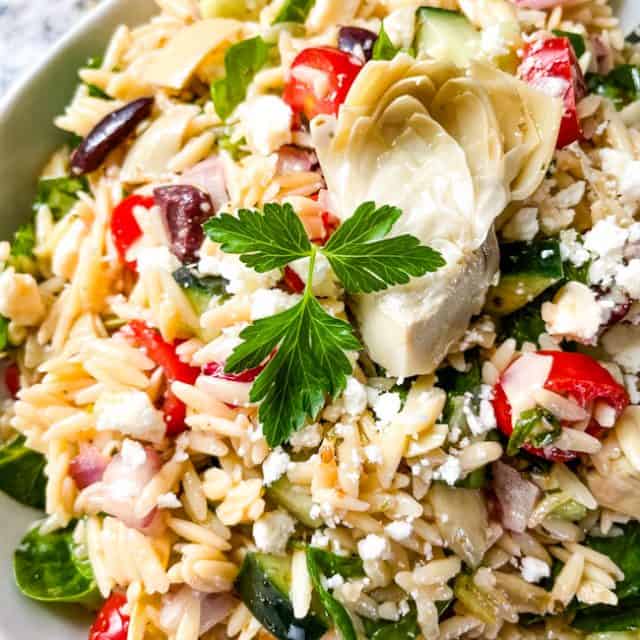 Light and fresh Greek Orzo Salad is a delicious lunch or side dish packed with fresh flavors.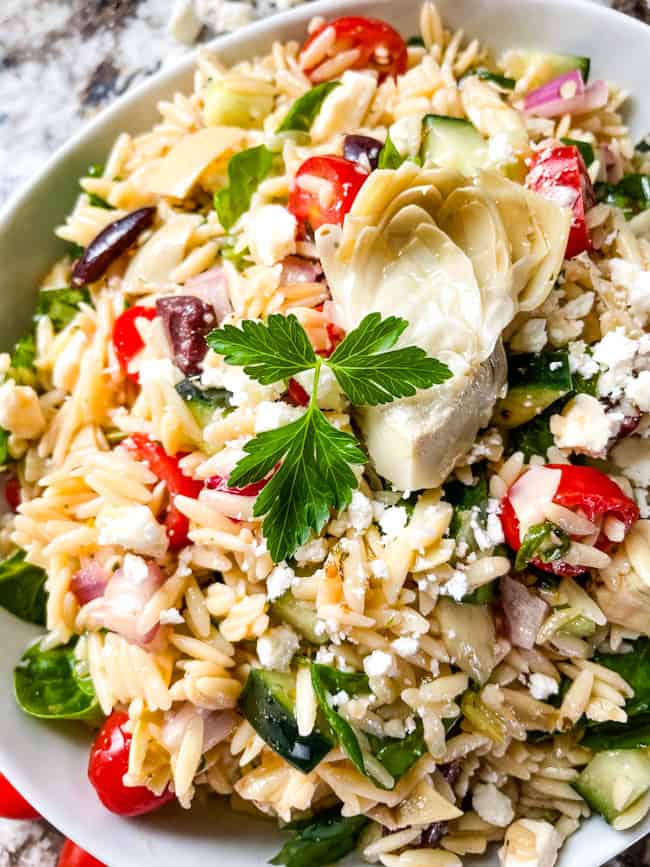 I just love a good pasta salad, especially as a side during the summer months when grilling at the BBQ.
I love to serve this up with my Grilled Greek Chicken Skewers or my Lemon Yogurt Greek Chicken.
This Greek Orzo Salad can be served cold or warm but I love it best cold.
And while it is a pasta salad recipe, the abundance of vegetables and spinach make it light and refreshing.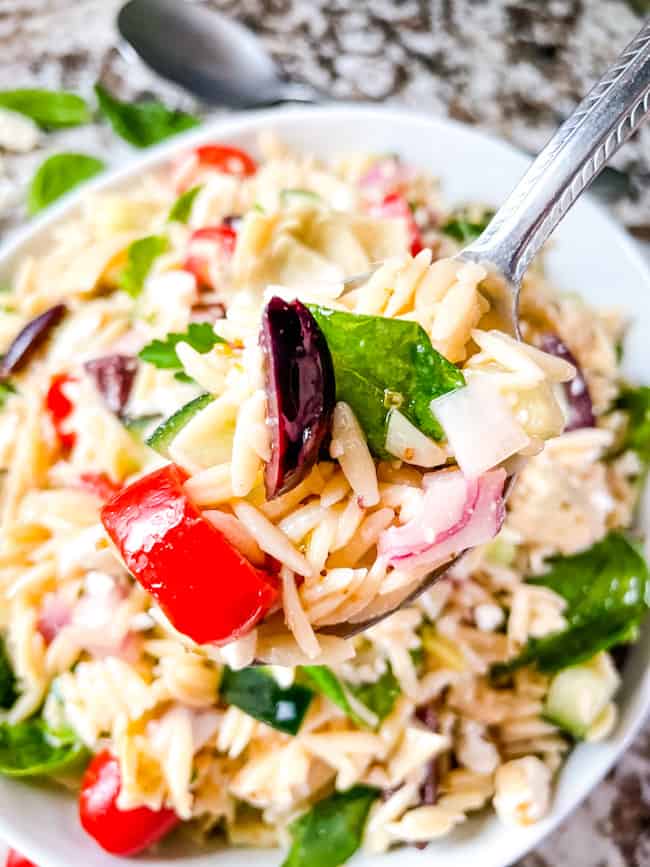 Mix Ins
This Greek Orzo Pasta Salad is inspired by the classic Greek salad and other popular Mediterranean ingredients.
The classic Greek salad is packed with tomatoes, feta, cucumber, and olives.
When I visited Greece, these amazing and simple flavors were everywhere and oh so delicious.
I add some additional Mediterranean flavors here such as artichokes, spinach, and oregano.
Feel free to eliminate anything you do not want, or to increase the ingredients you love! For me, that means extra olives.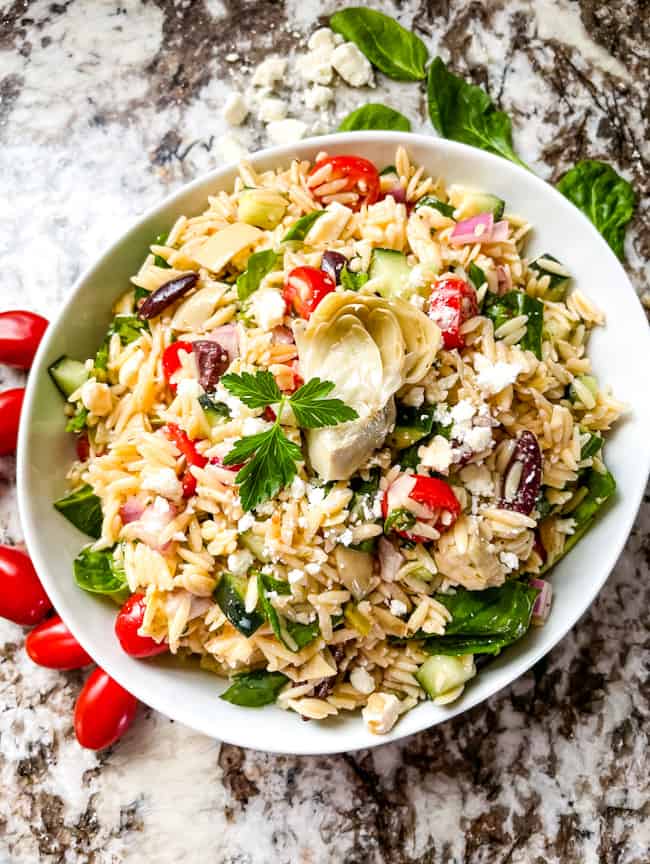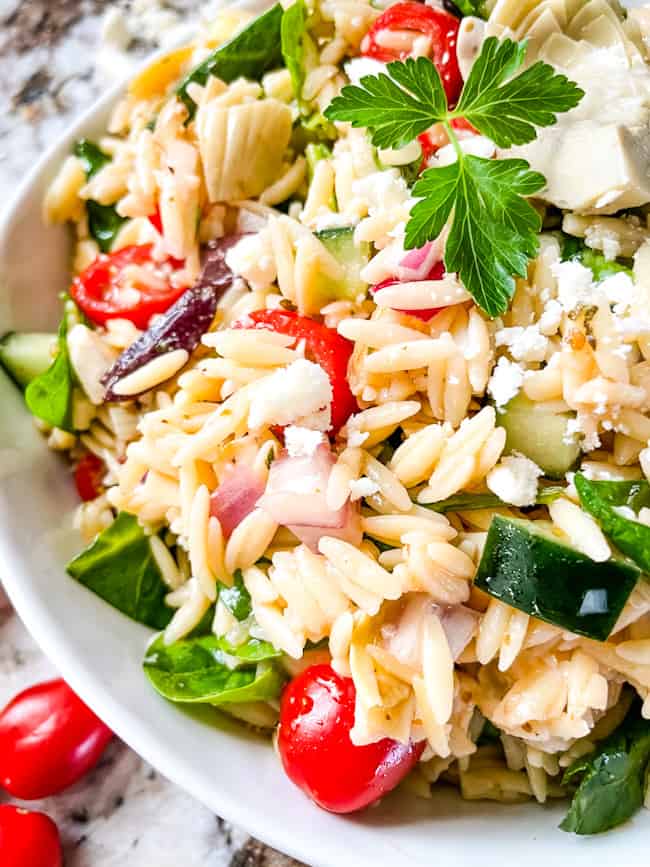 Cooking Pasta for a Salad
I am a big believer in not over cooking pasta to the point of it being too mushy.
Al dente pasta, which literally translates to "to the tooth," means that there is a little bit of bight or firmness left in the pasta. Not crunchy, but texture.
It is especially important to just slightly undercook a pasta when making a pasta salad.
Since the pasta is naturally going to absorb some of the liquid from the dressing, you want to err just shy of how you want it cooked in the end.
And I love orzo pasta for this recipe as it has a great size and shape. If preferred, you can use any shaped pasta or broken angel hair however you may need to adjust the amount of dressing you make and use to get the right ratio.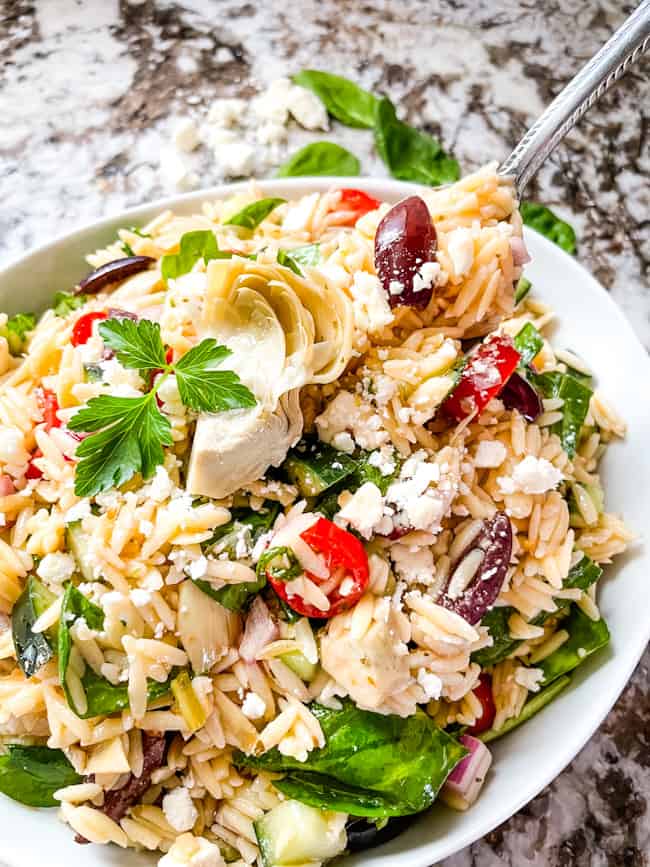 Making the Pasta Salad in Advance
I love cooking as much of the food as possible before an event or party.
So to make this Greek Orzo Pasta Salad ahead of time, make the pasta, toss it with all of the mix ins, and chill.
Then make the vinaigrette dressing and store it separately in the refrigerator.
When ready to serve, toss the vinaigrette into the pasta salad and you are all set!
Why wait until serving to toss it?
The pasta will absorb the vinaigrette when made in advance and you will end up with a rather dry pasta salad.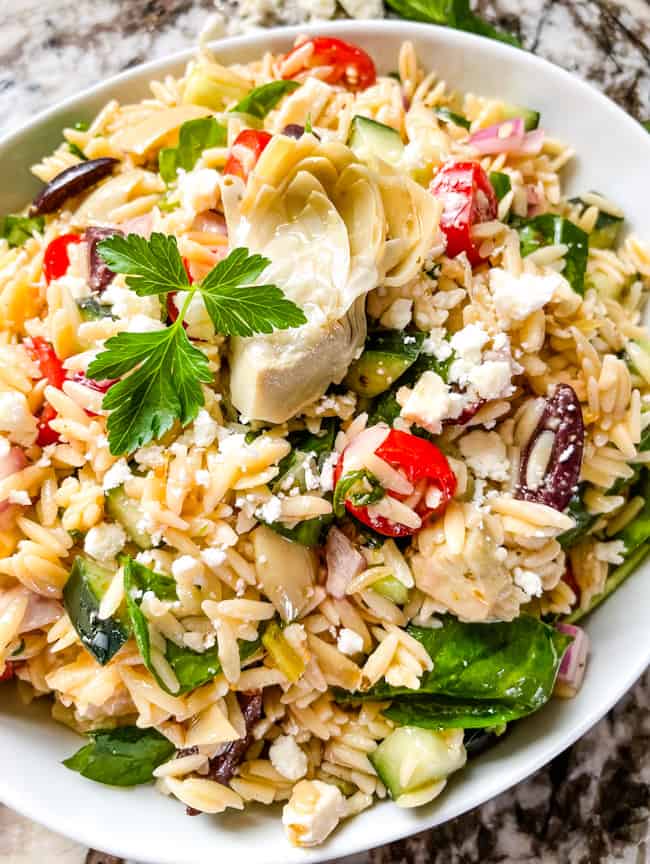 Greek Inspired Recipes
Recipes drawing on Greek flavors and favorites!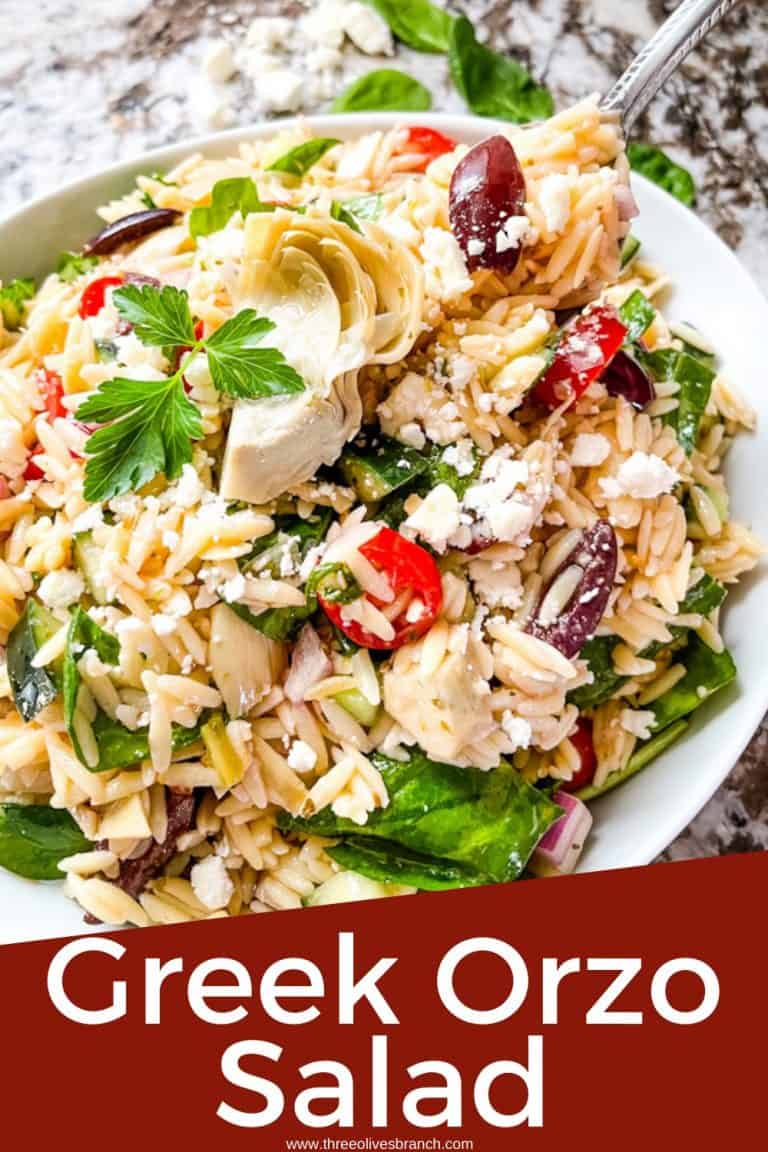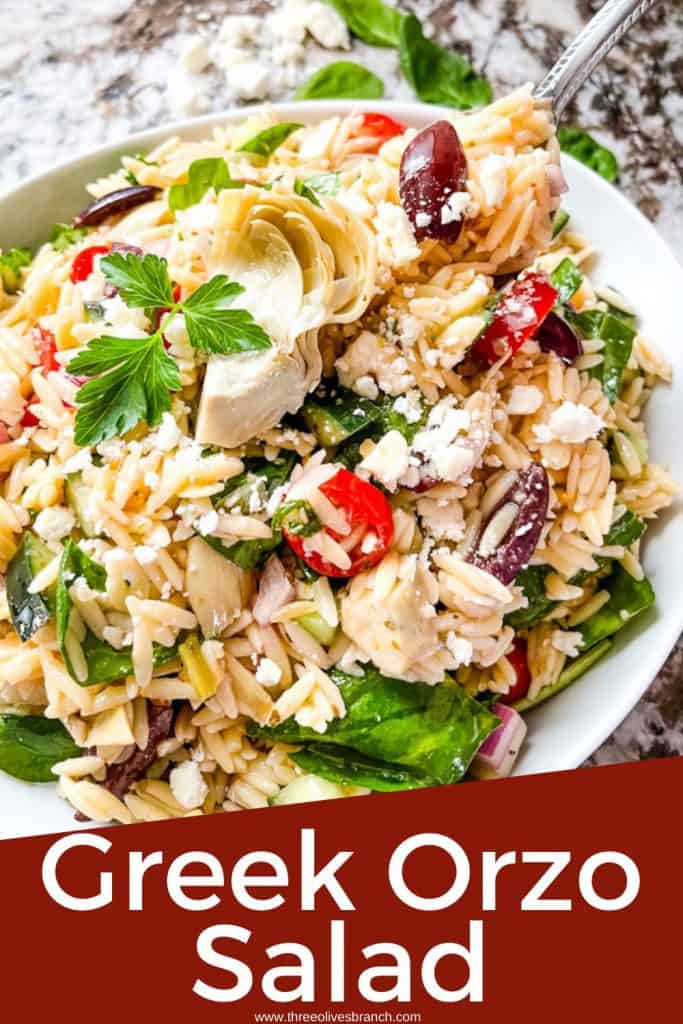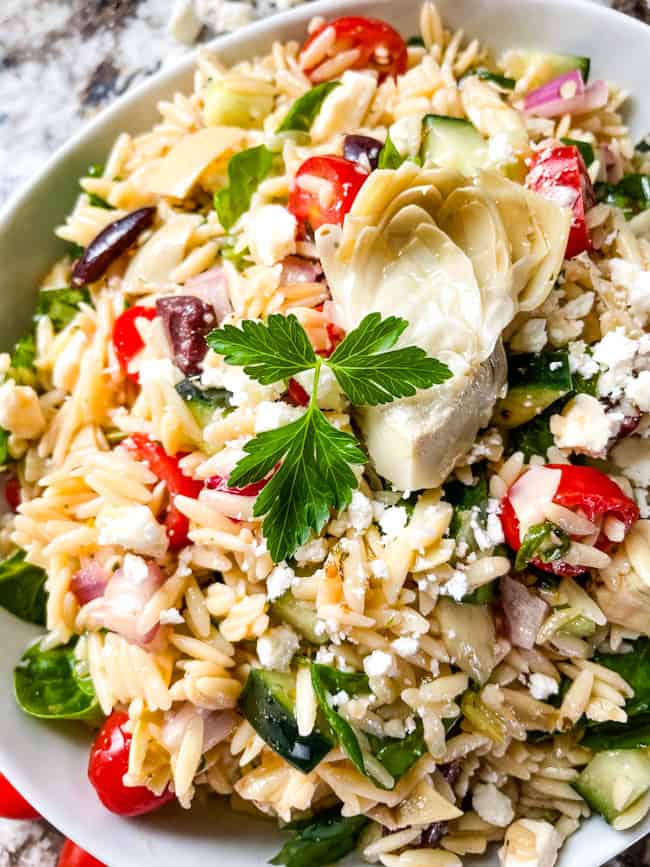 Instructions
Cook the pasta as per package directions until al dente. Drain and place in a large bowl.

While the pasta is cooking, dice the mix ins and make the dressing. Cut the tomatoes, cucumber, onion, olives, and artichoke hearts. Cut the spinach roughly so they are not too large

To make the dressing, in a small bowl combine the oil, vinegar, mustard, oregano, garlic powder, and a pinch of salt. Whisk to combine.

In the large pasta bowl, combine the pasta, vegetables, cheese, and dressing. Toss to coat.

Chill pasta until ready to serve.
Notes
If you are not a vinegar fan, you can cut it back to around 1/4 cup.
If making in advance, do not mix in the dressing until ready to serve so that it does not get soaked up and dry out the pasta.
This would also be great with some chicken or shrimp!
Make into more of a salad by heavily increasing the spinach.
Use more or less of any ingredient as desired based on what you love.
When I have time, I like to chill the pasta after cooking, before mixing with the rest of the ingredients, so it is extra chilled and does not absorb too much of the dressing.
Nutrition
Serving:

1

serving

|

Calories:

445

kcal

|

Carbohydrates:

47

g

|

Protein:

10

g

|

Fat:

24

g

|

Saturated Fat:

5

g

|

Cholesterol:

11

mg

|

Sodium:

325

mg

|

Potassium:

307

mg

|

Fiber:

3

g

|

Sugar:

4

g

|

Vitamin A:

1277

IU

|

Vitamin C:

12

mg

|

Calcium:

110

mg

|

Iron:

2

mg

By