Homemade Philly Cheesesteak Potato Skins are stuffed with steak, bell peppers, onion, and provolone cheese. A fun finger food appetizer recipe that is perfect for a game day party, football, and the Super Bowl. Gluten free.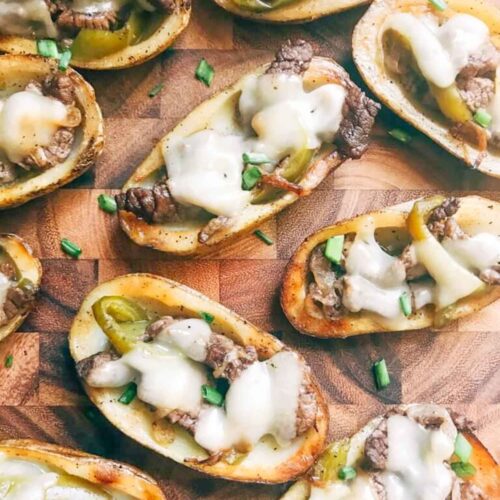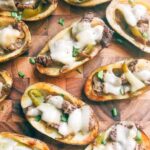 These Philly Cheesesteak Potato Skins combine the classic flavors of a cheesesteak that you love into a potato skin shell. Steak, peppers, and onions with cheese will make this appetizer a hit for your party!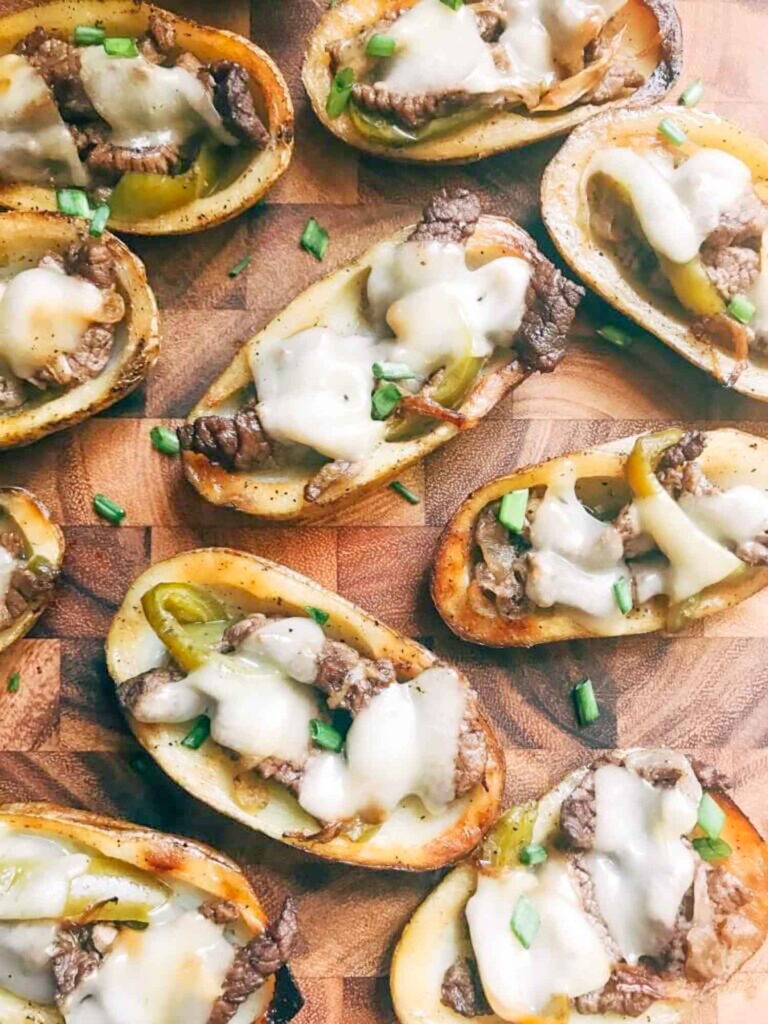 Why You Will Love This Recipe
If you stop by here often, you probably know that I love combining different foods and ideas into a new recipe.  And lately, Philly Cheesesteaks have been a big inspiration.  
These Philly Cheesesteak Potato Skins are the first of several cheesesteak recipes to come, so be sure to subscribe to our emails or follow us on social media to keep up to date with our recipe releases!
Homemade potato skins are perfect for a football or game day watch party as a finger food snack or appetizer.
The topping possibilities for potato skins are endless!  Now that I have a recipe for perfect potato skins, it is somewhat dangerous because they are so good!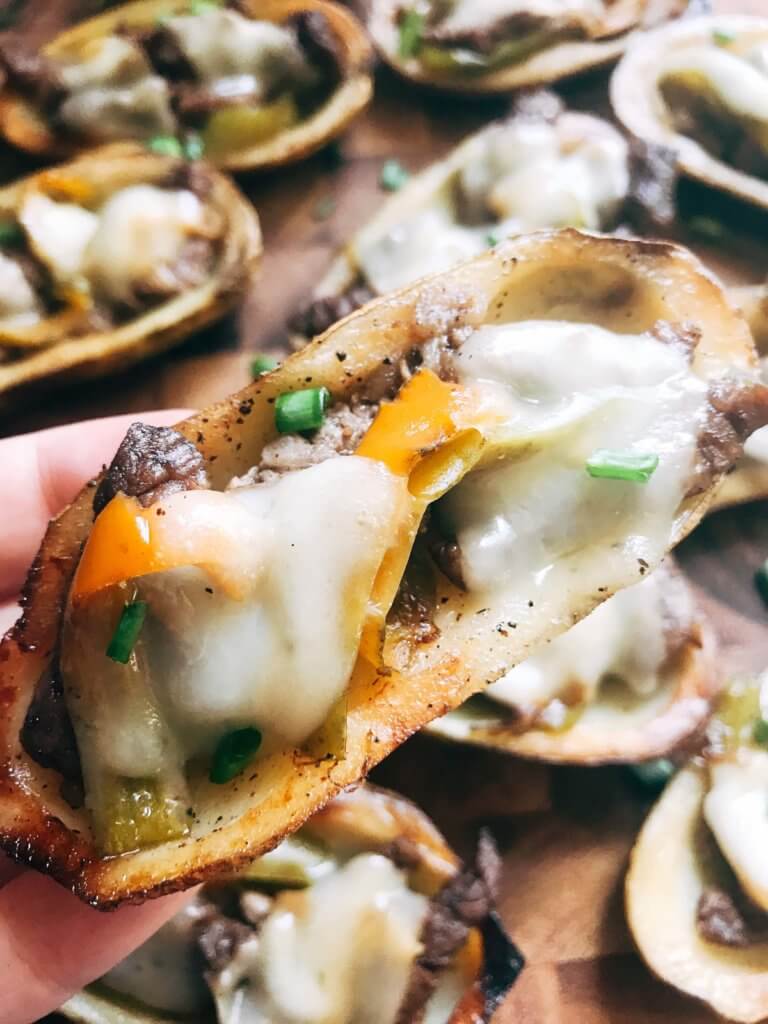 Ingredients
These are the ingredients you need to make Philly Cheesesteak Potato Skins:
Potato Skin Shells — You can find detailed instructions on how to make the best potato skin shells here!  It is my favorite technique as I found using baked potatoes were just too soft and difficult to work with.
Top Round Steak – this is a classic steak cut for cheesesteaks, but you can use any steak desired.
Bell Peppers
Yellow Onion
Provolone Cheese
Vegetable Oil
Salt
Black Pepper
Equipment
This is the equipment you need to make these beef potato skins:
Knife
Cutting Board
Melon Baller – this is the easiest way I have found to scoop out a potato!
Small Bowl
Basting Brush
Baking Sheet
Skillet
Instruction Overview
To make the Philly Cheesesteak Potato Skins, sauté the onion and bell pepper in a large skillet until they are just translucent.  (Some people argue that peppers are not part of a traditional cheesesteak, so skip them if you wish but I love them!)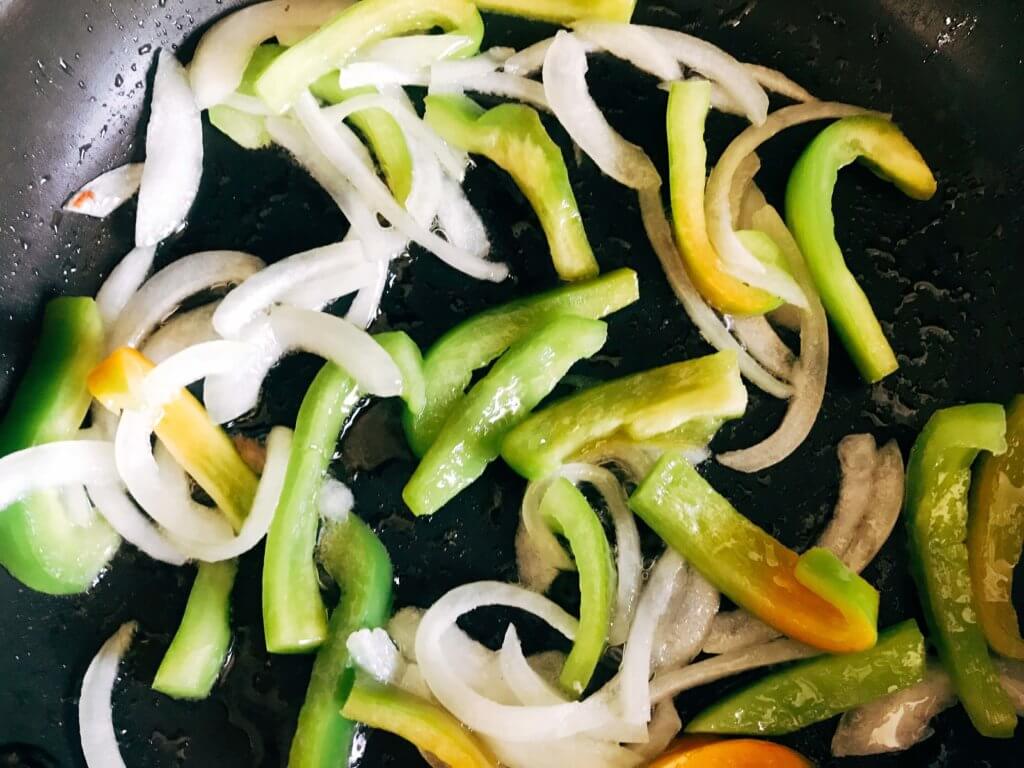 Then add the sliced beef and cook until it is no longer pink.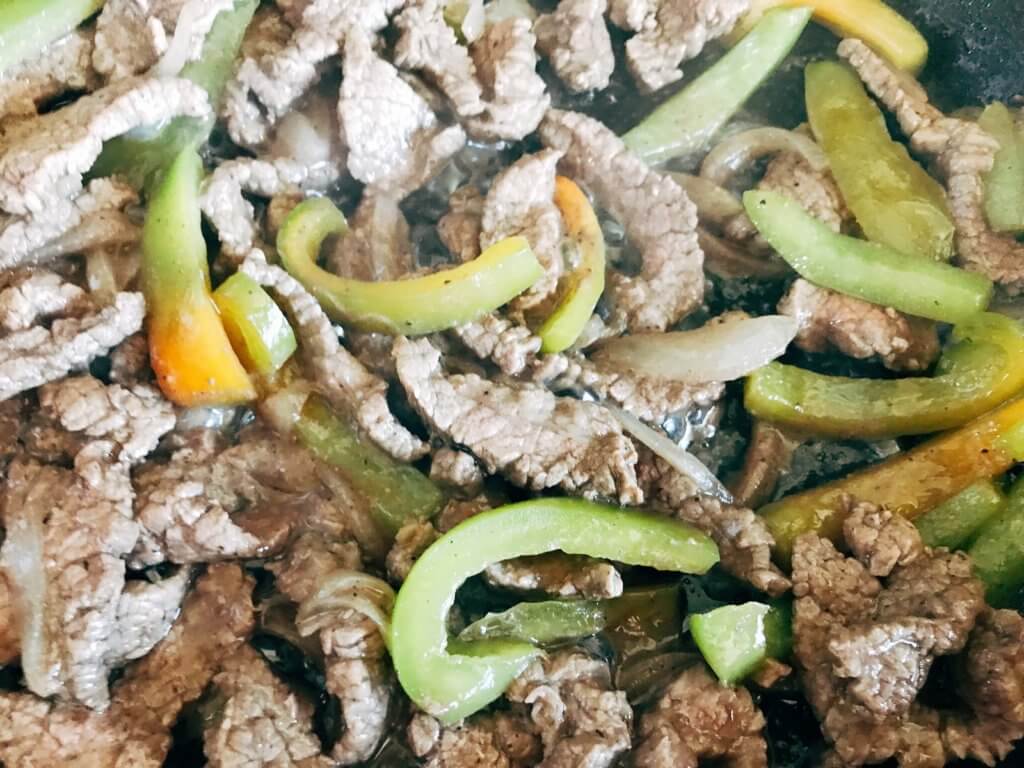 Fill up the potato skin shells with the steak mixture and top with some pieces of provolone cheese.  You can go cheese crazy if you want and put some cheese in the bottom of the skins as well!  
Then bake them off for about 12 minutes until the cheese is softened and melting.
Serve warm!
Modifications and Substitutions
Provolone is the classic cheese used by locals in Philly, but you can also use mozzarella, Monterey Jack, or any preferred cheese.
Any steak cut can work here. Ground beef will also work!
Kim's Tips
Make the potato skin shells in advance for a quick and easy assembly! I like to throw them in a container and refrigerate them for when I am ready to finish them off. That way you can have these Philly Cheesesteak Potato Skins ready to go in no time!
FAQs
Why are they called potato skins?
The name is because the majority of what you are eating of the potato is from the outer skin.
What is another name for potato skins?
Potato skins are sometimes called potato jackets.
Not to be confused with a jacket potato which is a baked potato!
What are your favorite recipes to make on game day? Be sure to tag us on social media if you make any of our recipes. We want to see it!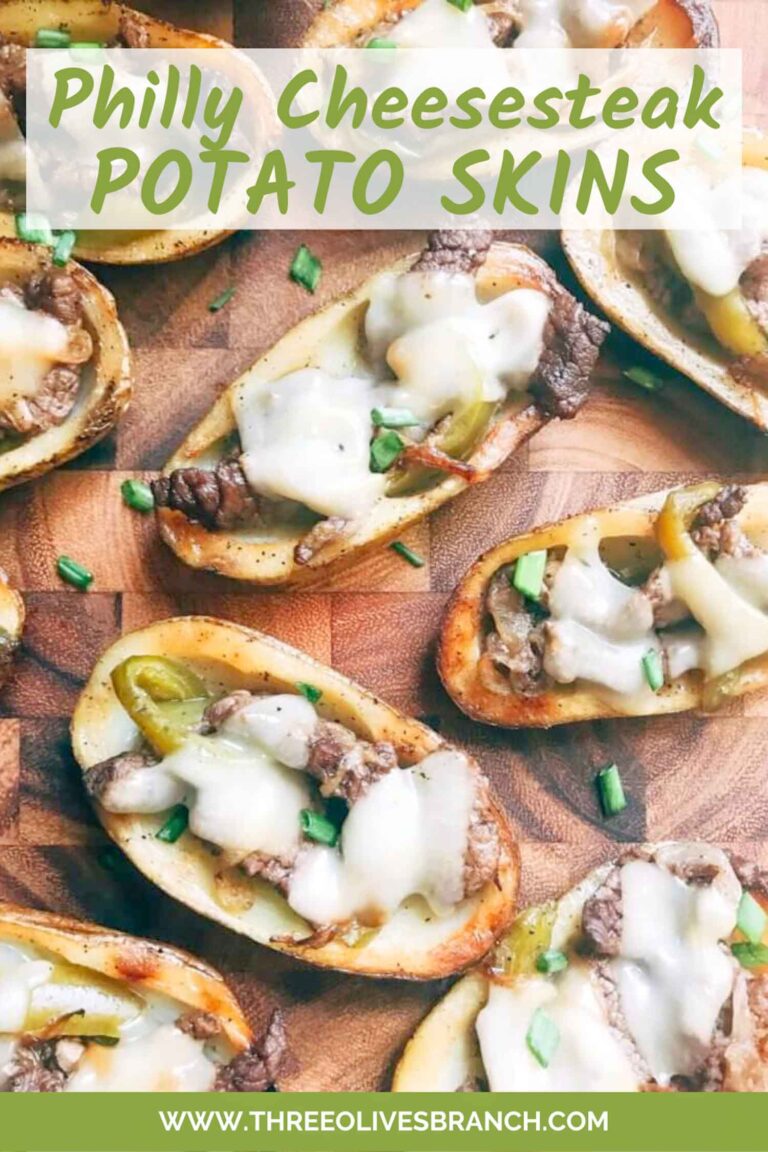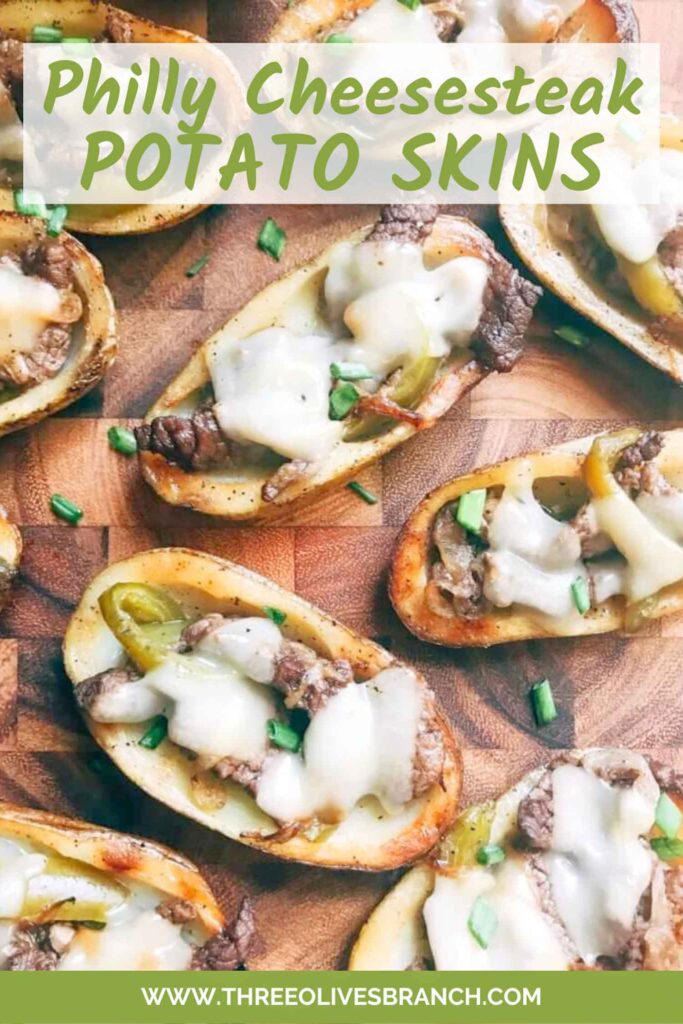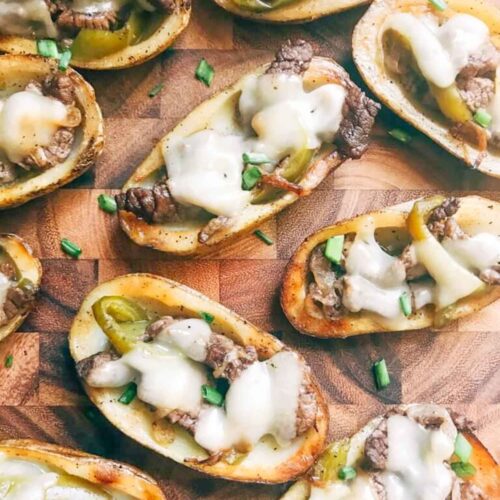 Philly Cheesesteak Potato Skins
Homemade Philly Cheesesteak Potato Skins are stuffed with steak, bell peppers, onion, and provolone cheese. A fun finger food appetizer recipe that is perfect for a game day party, football, and the Super Bowl. Gluten free.
Print
Pin
Rate
Servings:
12
potato skins
Instructions
Get everything prepped by slicing your onion, bell pepper, and steak. The steak should be cut into 1/2″ strips. This can be done with a sharp knife, or you can freeze the meat which makes it easier to cut thinly. Once cut, you can let the meat thaw. Have your potato skin shells done and ready to go.

Heat the oil in a large nonstick skillet over medium high heat.

1 Tablespoon vegetable oil

When heater, add the onion and pepper. Cook until translucent and beginning to soften, approximately 3 minutes.

1/2 cup yellow onion,,

1/2 green bell pepper

Add the steak, salt, and black pepper. Cook until no longer pink, approximately 5 minutes.

8 ounces top round steak,

1/4 teaspoon salt,

1/4 teaspoon black pepper

Remove the steak mixture from the heat. Season to taste with additional salt or pepper if needed, keeping in mind that the potato skin shell is seasoned as well.

Line the potato skin shells on a large baking sheet. Preheat the oven to 350℉.

Fill each potato skin shell with the steak mixture. Top with pieces of provolone. Add more cheese if desired, including under the steak at the bottom of the potato skin shell. (If you do this, you will need more than 4 oz).

Bake the potato skins until the cheese is melting, approximately 12 minutes. Serve immediately.
Notes
You can use any steak of choice, even leftover steak, or ground beef for this recipe.  I used top round because it is one of the more common cuts used for cheesesteaks.  If using leftover steak, simply add to the bell pepper and onion to heat and set aside as it is already cooked.  Season as needed based on the existing steak seasoning.
Learn how to make your own potato skin shells here!  They can be made in advance and stored in the refrigerator.  The longer baking time is to account for making the potato skin shells themselves if you have not done so already.
If you use extra cheese on top, or put cheese in the bottom, you will need more than 4 oz.
Nutrition
Serving:
1
potato skin
|
Calories:
197
kcal
|
Carbohydrates:
20
g
|
Protein:
9
g
|
Fat:
9
g
|
Saturated Fat:
7
g
|
Polyunsaturated Fat:
0.1
g
|
Monounsaturated Fat:
1
g
|
Cholesterol:
18
mg
|
Sodium:
184
mg
|
Potassium:
547
mg
|
Fiber:
1
g
|
Sugar:
1
g
|
Vitamin A:
102
IU
|
Vitamin C:
10
mg
|
Calcium:
92
mg
|
Iron:
0.5
mg
More Potato Skin Recipes
More Philly Cheesesteak Inspired Recipes
Philly Cheesesteak Recipes
Great recipes to enjoy the classic flavors of a Philly cheesesteak sandwich!

By