Pesto Turkey Burgers are a delicious grilling recipe for the summer! Pop a turkey burger on the grill flavored with basil pesto and spices for a delicious and healthy hamburger option made with lean meat. Also works with beef or chicken. A great BBQ entrée for 4th of July, Memorial Day, Father's Day, and Labor Day with Italian flavors.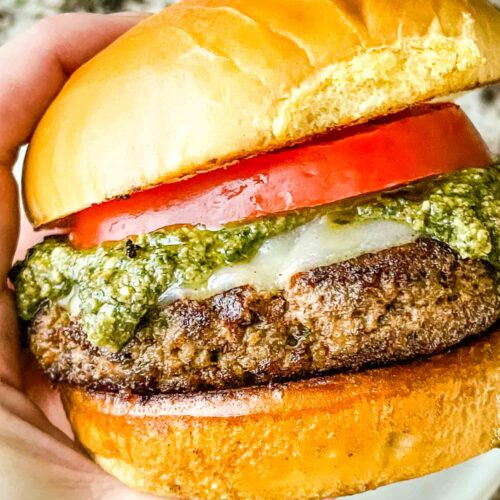 These Pesto Turkey Burgers have become one of THE most popular hamburgers in this house! Packed with a basil pesto and complimentary Italian flavors, this burger recipe is a great way to celebrate the summer!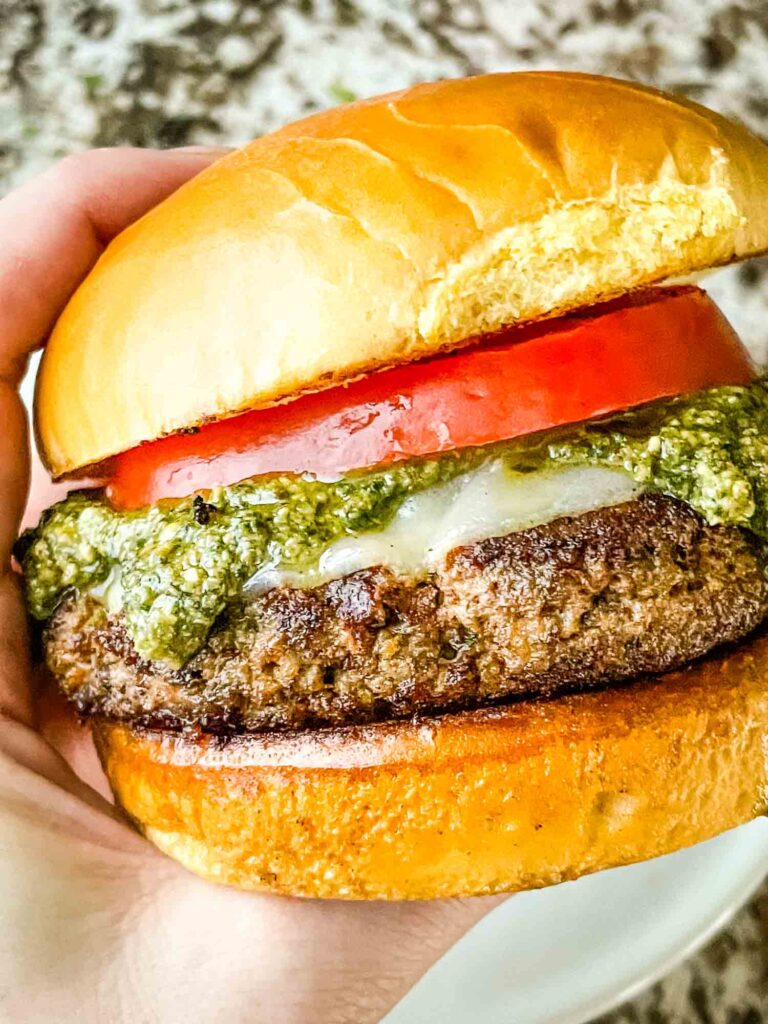 Turkey Burgers Recipe
As soon as the warm weather hits, we LOVE to cook outside on the grill as much as possible!
These Pesto Turkey Burgers were made for family that wanted to avoid beef and red meat, and I thought the combination of Italian flavors with basil pesto would be perfect!
The pesto is in the burger itself and also makes a great condiment for serving.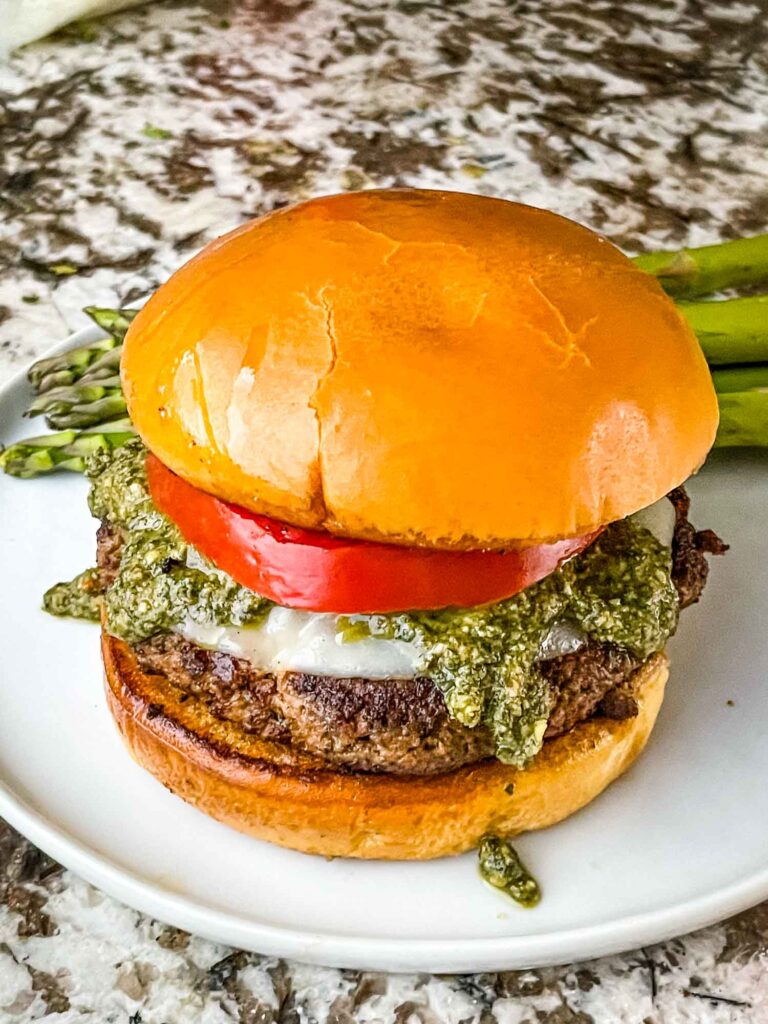 Is a Turkey Burger Healthier Than a Hamburger?
It depends on how you define "healthier."
The biggest difference between the two is the saturated fat content of beef versus turkey. Beef has higher levels of saturated fat.
Do You Put Egg in Turkey Burgers?
Should I put egg in my burgers? I prefer to. The egg adds additional moisture which is important since turkey burgers tend to be dried than their beef counterparts.
And the egg also helps adhere all of the ingredients together so the patties are less likely to fall apart.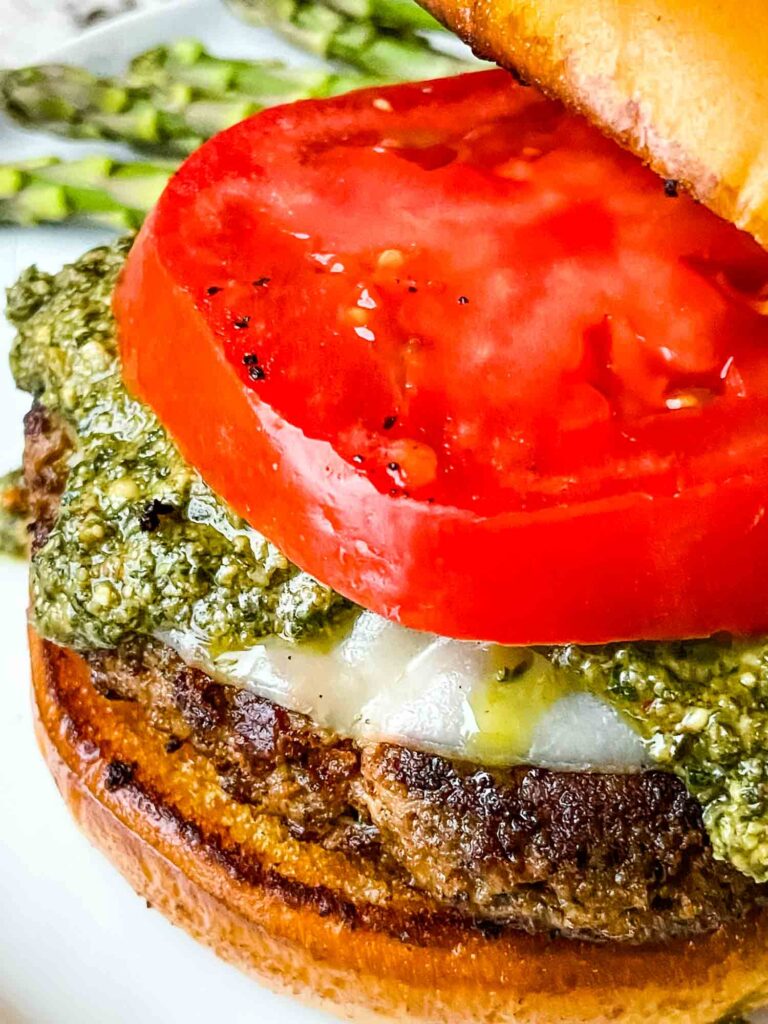 Are Breadcrumbs Necessary for Burgers?
I have found that it is much easier to get the patties to stick together with the breadcrumbs.
I tried this recipe with half the amount of panko breadcrumbs, and they fell apart and cracked in the pan.
Could you make them without the breadcrumbs? Yes, but they might crack. You can also use one more egg to help hold it together.
How Do You Make Turkey Burgers that Don't Fall Apart?
There are two key ingredients here: egg and breadcrumbs.
Why do homemade burgers fall apart? Most likely, there is not enough holding them together which is especially more likely to happen if there are a lot of mix ins inside the patties like onions, vegetables, beans, corn, peppers, etc.
I found that the combination of the egg and breadcrumbs worked well. With less breadcrumbs, they still fell apart, so I recommend using the full 1/4 cup for one pound.
How Do I Keep My Turkey Moist?
The egg plays a big part here because it will add moisture in addition to it helping hold everything together.
We are also getting a little moisture from the pesto's oil which is great.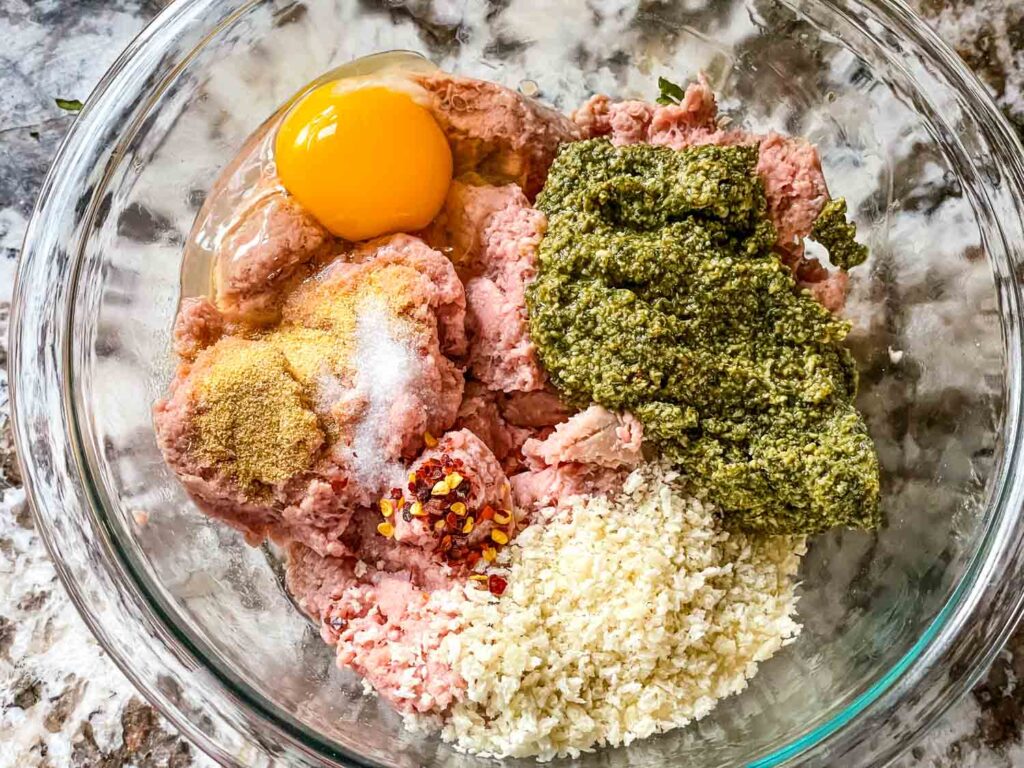 Ingredients in Pesto Turkey Burgers
Here is what you need to make these hamburgers:
Garlic Powder
Egg
Panko Breadcrumbs
Salt
Red Pepper Flakes
Hamburger Buns
Provolone Cheese (or other cheese of choice)
Toppings of Choice
You could also use ground chicken if it is easier to have on hand. And the flavors would also work great for a beef burger if preferred!
I love to make my own homemade pesto recipe for this burger, but you can also use anything from the store as well. Try to avoid anything with a lot of oil as the oil will affect the texture of the burger. Or try and scoop around large oil pools!
For toppings, use anything you like! But I like to keep these simple and serve with tomatoes to make it a caprese-style flavor profile plus some additional pesto for those that want it.
Classics like a fun sauce, mayonnaise, lettuce, onion, and more would also be great!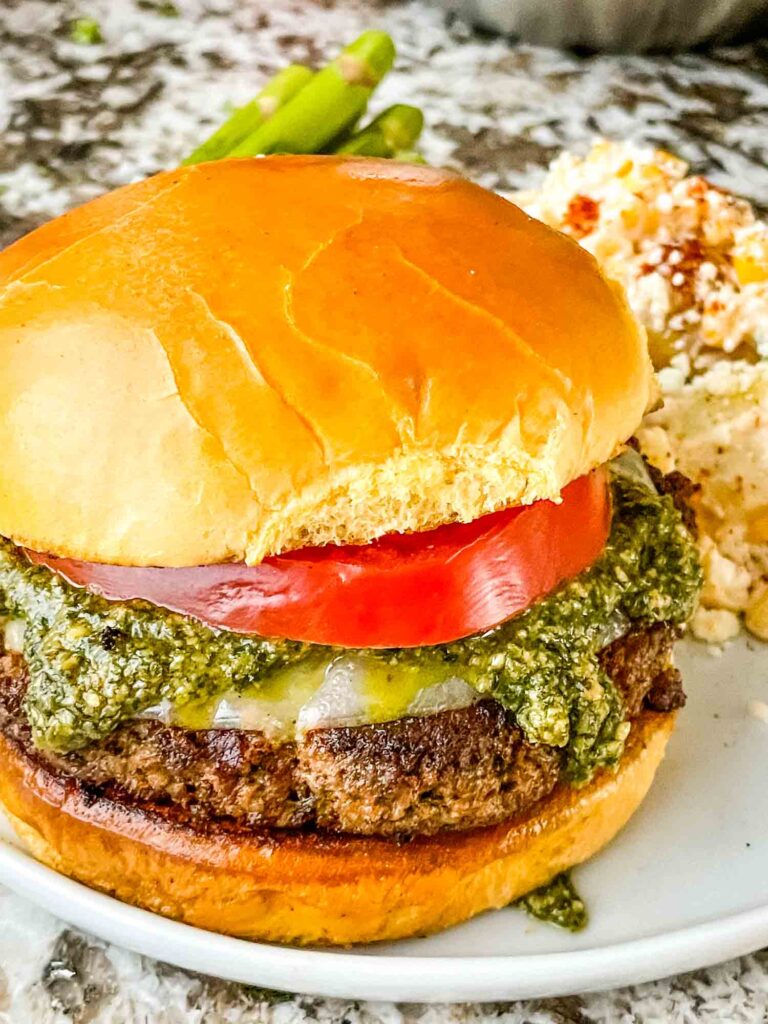 What Can I Use Instead of Breadcrumbs in Turkey Burgers?
You can use regular breadcrumbs (same amount) instead of panko, but I like panko because it brings a great texture a lightness to the meat patty.
Other options include soft breadcrumbs, as in fresh bread that is very briefly pulsed in a food processor into a crumbly texture (but you will need to increase the amount to 1/2 – 2/3 cup).
You could also use the same amount of ground crackers.
How do you bind burgers without breadcrumbs? For a gluten free option, use rolled oats (you will need close to 2/3 cup). The oats will have a slightly different texture (you can always briefly pulse them in a food processor as well).
What Cheese Goes with Turkey Burgers?
In this recipe, I like to use Provolone because it is a great cheese to pair with a basil pesto.
You could also use mozzarella (whether fresh or shredded), or even a Monterey Jack for a great white cheese.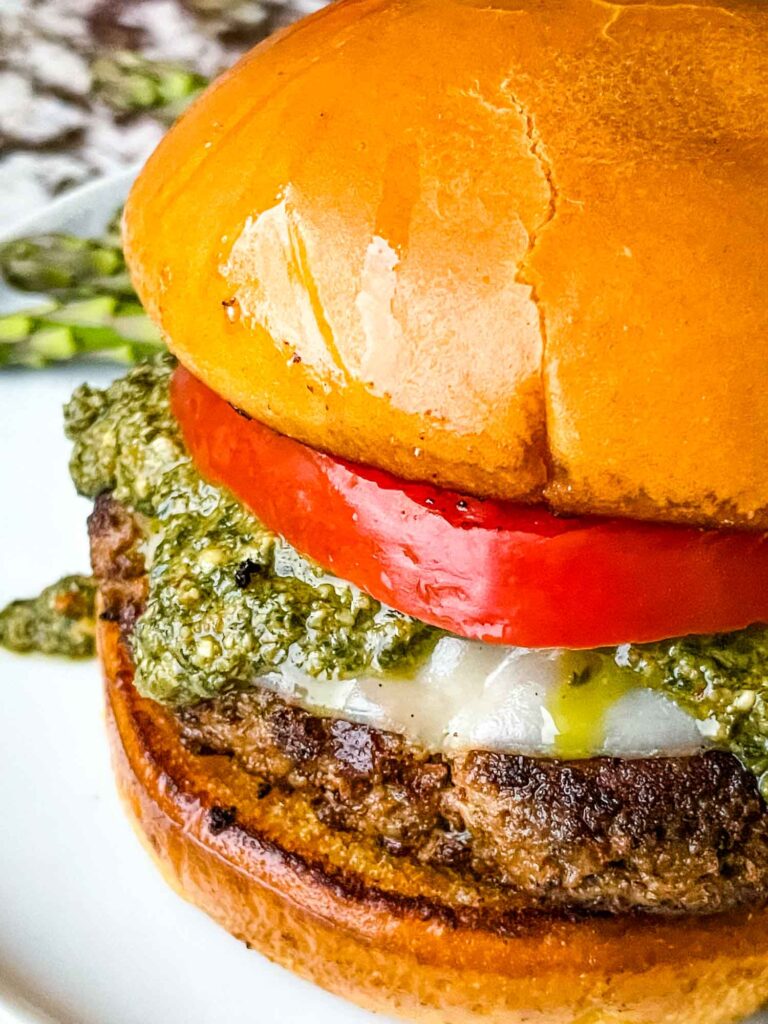 How to Make Turkey Burgers
Make your basil pesto if making from scratch, and then combine all of the ingredients for the patties together.
Mix the turkey, pesto, breadcrumbs, egg, garlic powder, salt, and red pepper flakes together.
Heat a large skillet to medium heat. Meanwhile, divide the turkey mixture into the four patties and place them on a clean plate to easily add to the skillet for cooking.
Want to taste test your burgers for things like salt or heat? Cook a very, very small amount of the meat and taste only after cooking. This will help you understand if you want to add more of anything to the patties themselves!
When the skillet is hot, add a small amount of vegetable oil and add two patties.
Why do I cook burgers in a skillet? It makes it much easier to prevent them from falling apart since there are no gaps under it, plus you have more burger coming in contact with heat. Which means more color and more flavor! You can absolutely still grill them if preferred.
Cook for 5 minutes before flipping. Do not move them, which will be difficult! Leaving the patties in place will help them develop a "crust" and keep them together.
Flip them with a spatula and continue cooking until cooked through, 4-5 minutes more. For the last minute, add the cheese on top and cover with another skillet, baking sheet, or a pan lid. The trapped steam will help melt the cheese.
Remove and set aside on a clean plate.
Repeat with the remaining two patties.
Serve warm with toppings like tomato, more pesto, or anything else desired.
What Do You Eat with Turkey Burgers?
Since these burgers have an Italian flavor, I like to use other Italian inspired recipes! Anything with neutral flavors that are versatile will also be great.
Some of my favorites are grilled zucchini, grilled or roasted asparagus, and neutral potato or pasta salads.
You can find specific recipe ideas to serve up with burgers below under the recipe itself. Enjoy!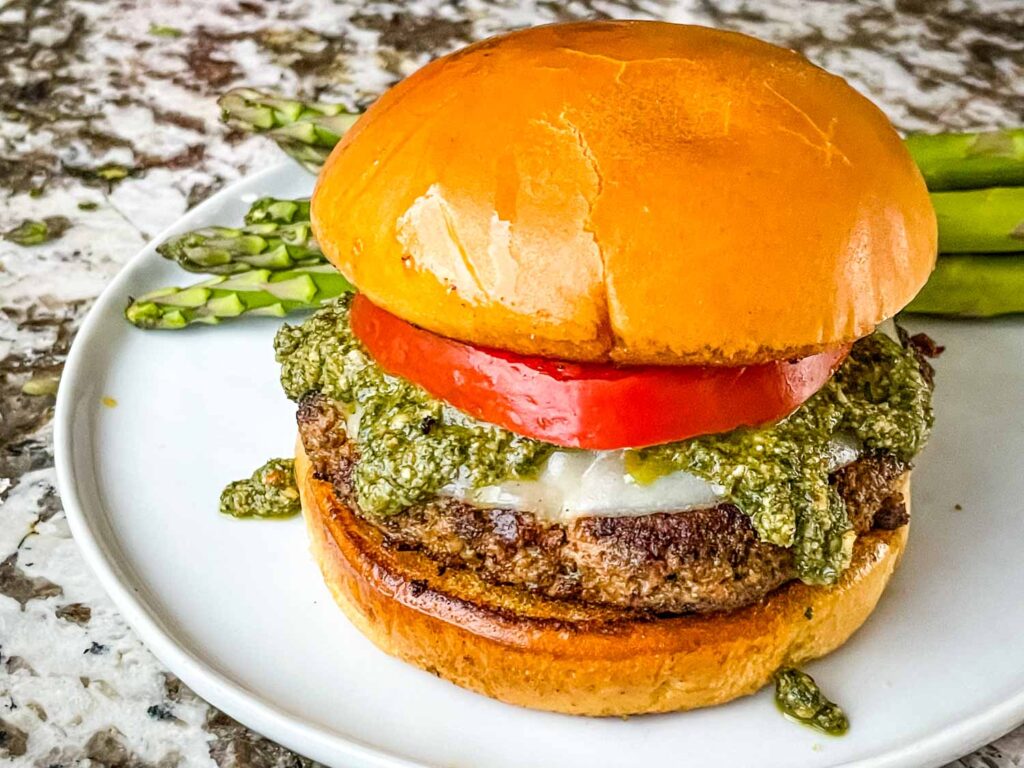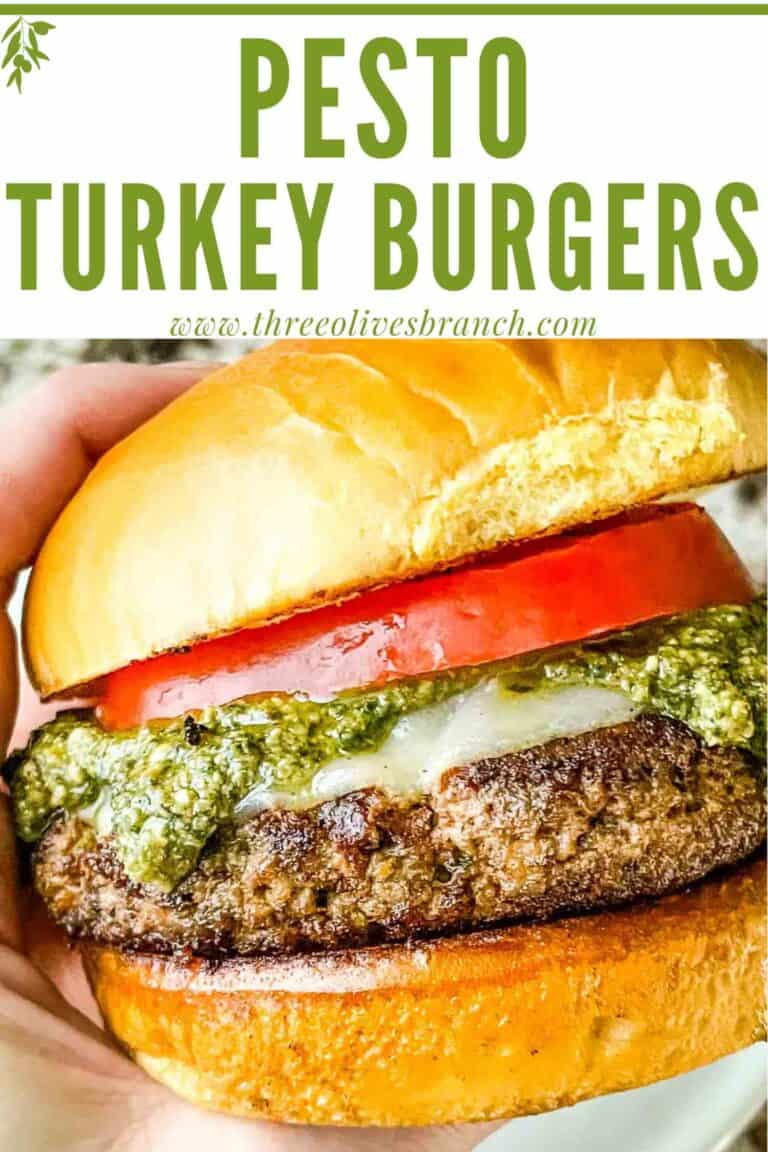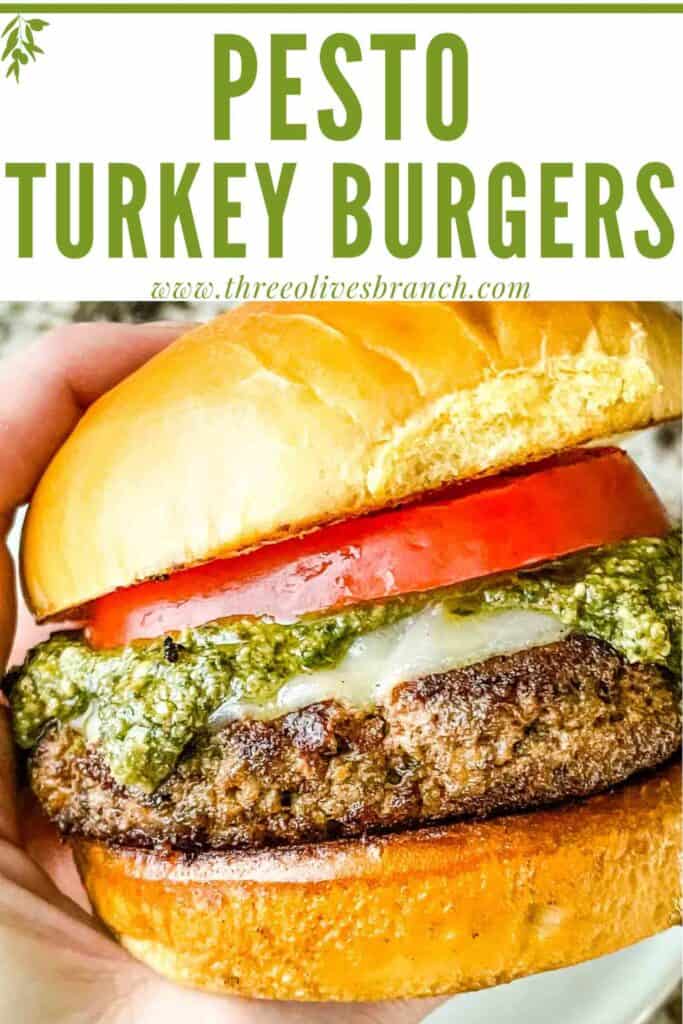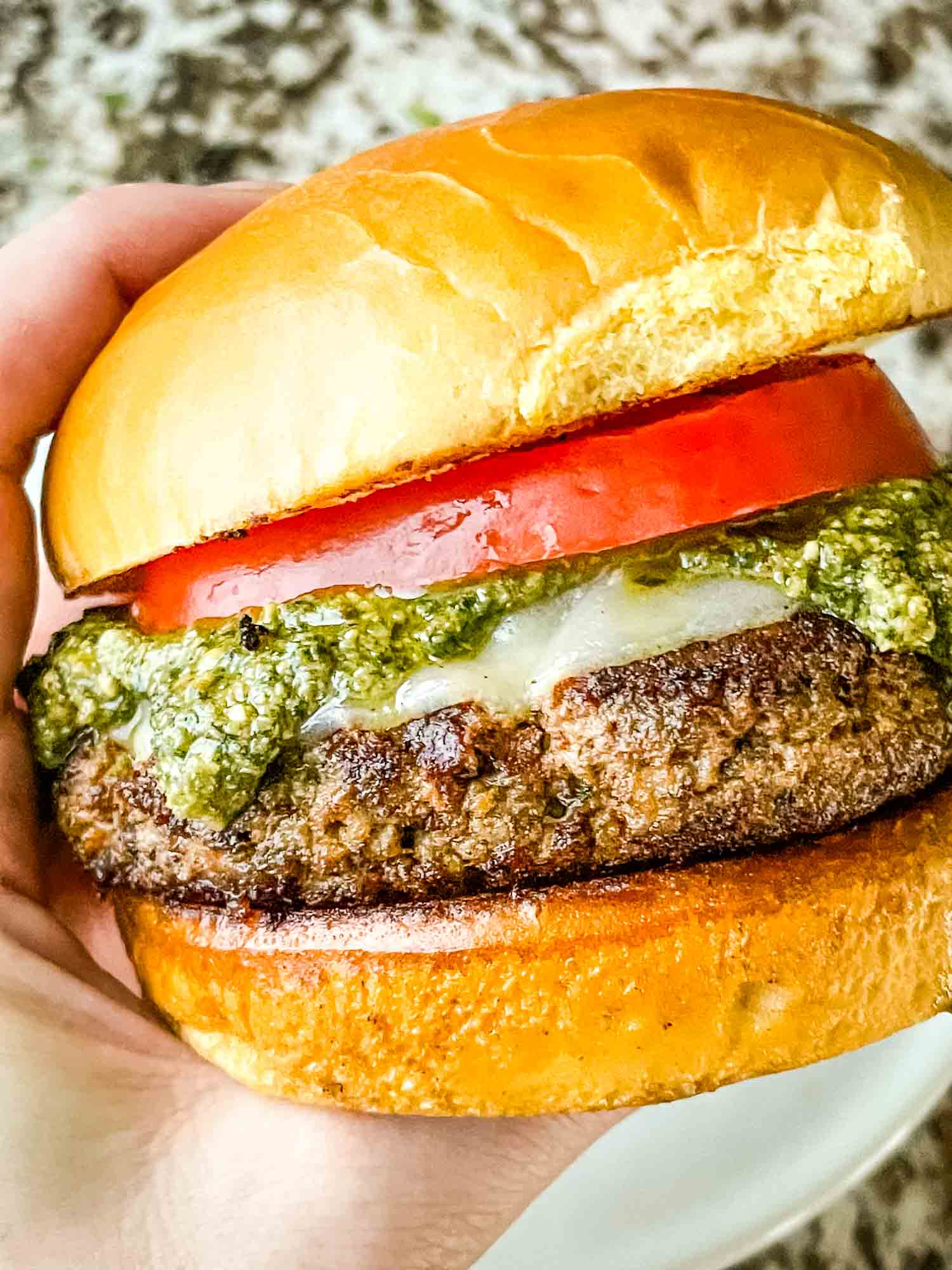 Instructions
Make your pesto if needed.

Heat a large skillet over medium heat.

I prefer to cook burgers in a skillet because it is easier for them to hold together plus more meat comes in contact with the surface of the pan. This means more color which means more flavor!

Mix the turkey, pesto, garlic powder, egg, breadcrumbs, salt, and red pepper flakes together in a medium bowl.

Separate the meat mixture into four patties. Form them and place them on a clean plate. Set aside.

If desired, make one very small patty and cook before shaping the others if you want to test the flavors and adjust before cooking.

When the skillet is hot, add 1/2 Tablespoon of vegetable or canola oil, swirl around, and add two of the patties.

Cook, without moving or touching it, for 5 minutes.

Flip with a spatula and cook 4-5 more minutes until cooked all the way through to 160°F. (Residual cooking will raise the temperature to 165°F).

In the last minute of cooking, add cheese slices on top of each patty (if using) and cover the skillet with a lid, another skillet, or baking sheet. This will trap the heat in and help the cheese melt.

Set the burgers aside to rest and repeat the cooking process with the remaining patties.

Serve with tomato, additional basil pesto, or other toppings as desired.
Notes
I love using homemade pesto, which you can find my recipe for here: https://www.threeolivesbranch.com/basil-pesto/
Any store bought pesto will also work great.
Nutrition
Serving:
1
burger
|
Calories:
436
kcal
|
Carbohydrates:
28
g
|
Protein:
39
g
|
Fat:
18
g
|
Saturated Fat:
6
g
|
Polyunsaturated Fat:
2
g
|
Monounsaturated Fat:
3
g
|
Trans Fat:
1
g
|
Cholesterol:
124
mg
|
Sodium:
796
mg
|
Potassium:
551
mg
|
Fiber:
2
g
|
Sugar:
5
g
|
Vitamin A:
1078
IU
|
Vitamin C:
7
mg
|
Calcium:
261
mg
|
Iron:
3
mg
Sides for BBQ and Grilling
By