Chipotle Steak Fajitas are a fresh and healthy Mexican dinner recipe idea! Grilled flank steak beef, bell peppers, and onions are cooked in a citrus lime and chipotle pepper marinade. Gluten free, dairy free, keto low carb. A great Taco Tuesday meal option.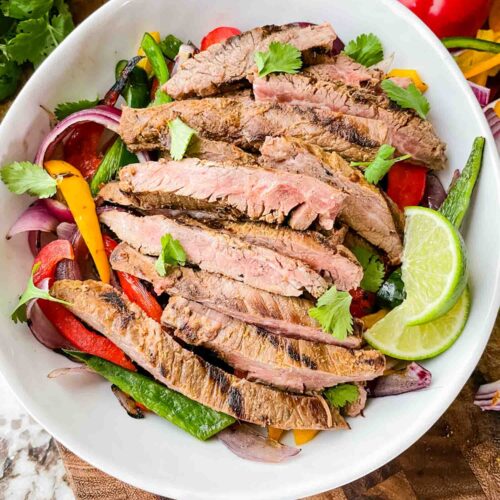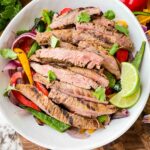 These Chipotle Steak Fajitas are a delicious beef Mexican recipe great for taco Tuesday! A fresh and easy dinner idea that is easily customizable with fresh and light flavors.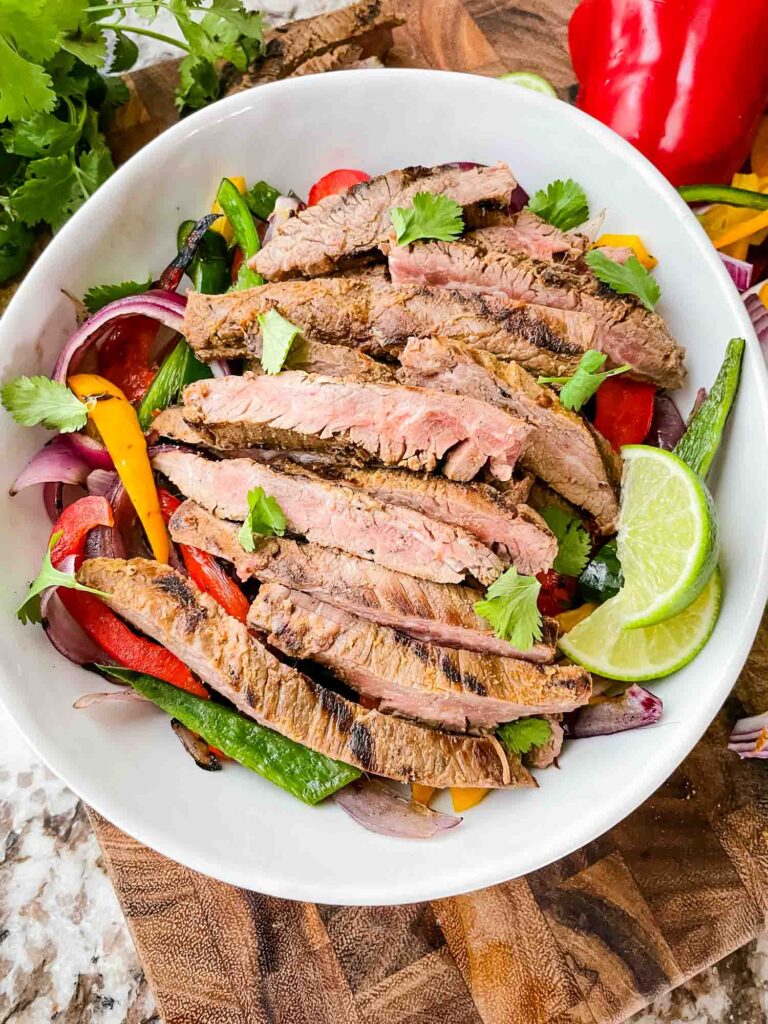 Why You Will Love This Recipe
Chipotle steak fajitas are a delicious and popular Mexican-inspired dish typically made with marinated and grilled steak, bell peppers, onions, and various seasonings.
Chipotle steak fajitas are known for their bold flavors, smoky heat, and the fun of assembling your own fajitas.
They are a favorite choice at Mexican and Tex-Mex restaurants and are also easily prepared at home for a delicious and satisfying meal.
With this Mexican recipe, we bring this classic home for a delicious beef dinner! The beef fajitas are gluten free, keto low carb, and dairy free if you avoid particular toppings or tortillas as needed.
Ingredients
Flank Steak – This is the perfect cut for steak fajitas
Chipotle in Adobo – The key ingredient that gives them their distinctive flavor is chipotle peppers, which are smoked and dried jalapeño peppers known for their smoky and spicy taste.
Lime Juice
Fresh Cilantro – You can skip if you do not like cilantro, but it brings great fresh flavors to the meal
Bell Peppers – any colors you like. I prefer to use a mix of green bell peppers and red, orange, or yellow bell peppers for a mixture of sweetness and crispness.
Red Onion – yellow onions also work if desired
Ground Cumin
Garlic Powder – If you use the powder instead of fresh minced cloves, the flavor is easier to absorb into the meat
Salt
Vegetable Oil – for grilling. You never want to cook on a high heat with olive oil as it will burn and create carcinogens
Olive Oil – for marinade
Tortillas – Corn or flour tortillas are a great way to enjoy fajitas!
Toppings of Choice – Use any toppings you love such as guacamole, pico de gallo, salsa, escabeche (Mexican pickled vegetables), corn salsa, sour cream, cheese, onion, fresh cilantro, jalapeno peppers, radishes, etc.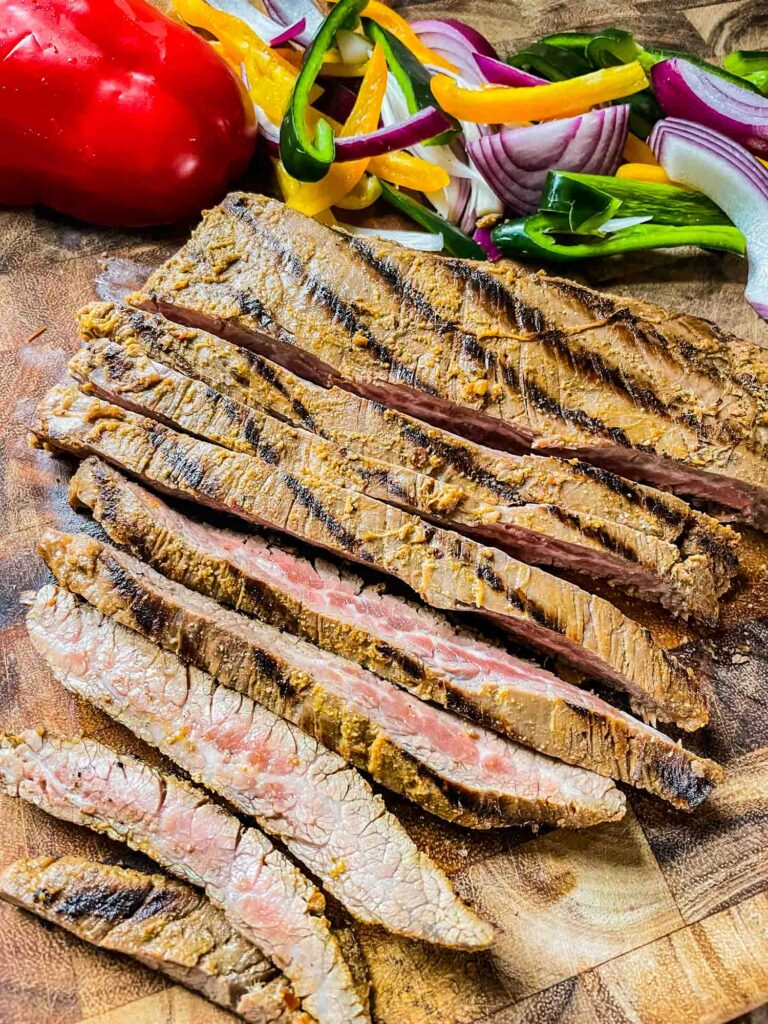 Equipment
Dish or Resealable Bag (for marinating)
Knife
Cutting Board
Measuring Cups
Measuring Spoons
Grill or Grill Pan
Tongs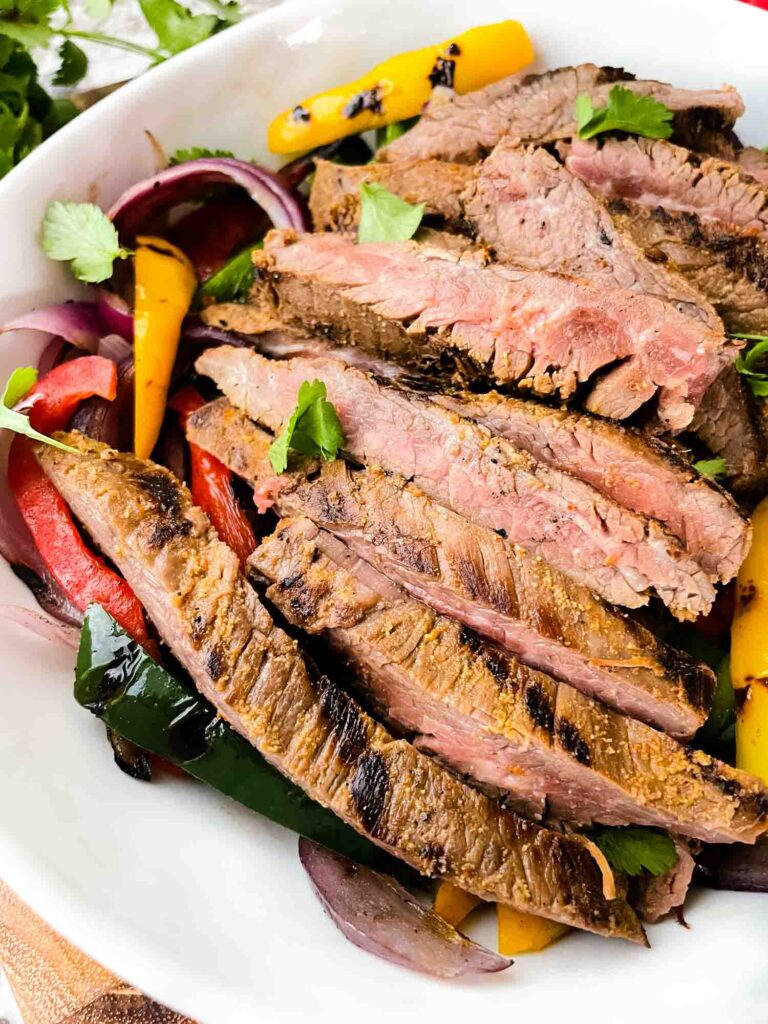 Instruction Overview
Make your marinade by combining those ingredients together.
Put it in a dish and add your flank steak piece. Toss to coat and let it marinate ideally at least 2 hours.
Marinating time is important for the flavor you will impart on your meat. It should marinate at least 30 minutes, but the flavor will be SO much better if you can do this at least two hours. Marinating can also be done overnight.
Trim and cut your onion and bell peppers into strips.
Heat a grill pan or your grill to medium high heat. Use some vegetable oil to coat the grill grates/pan to help with the cooking process and avoid sticking.
Cook your meat to your desired level of doneness and let it rest.
While it is resting, cook your peppers and onions on the same grill.
Slice the steak against the grain. Serve with the peppers, onions, and any toppings as desired.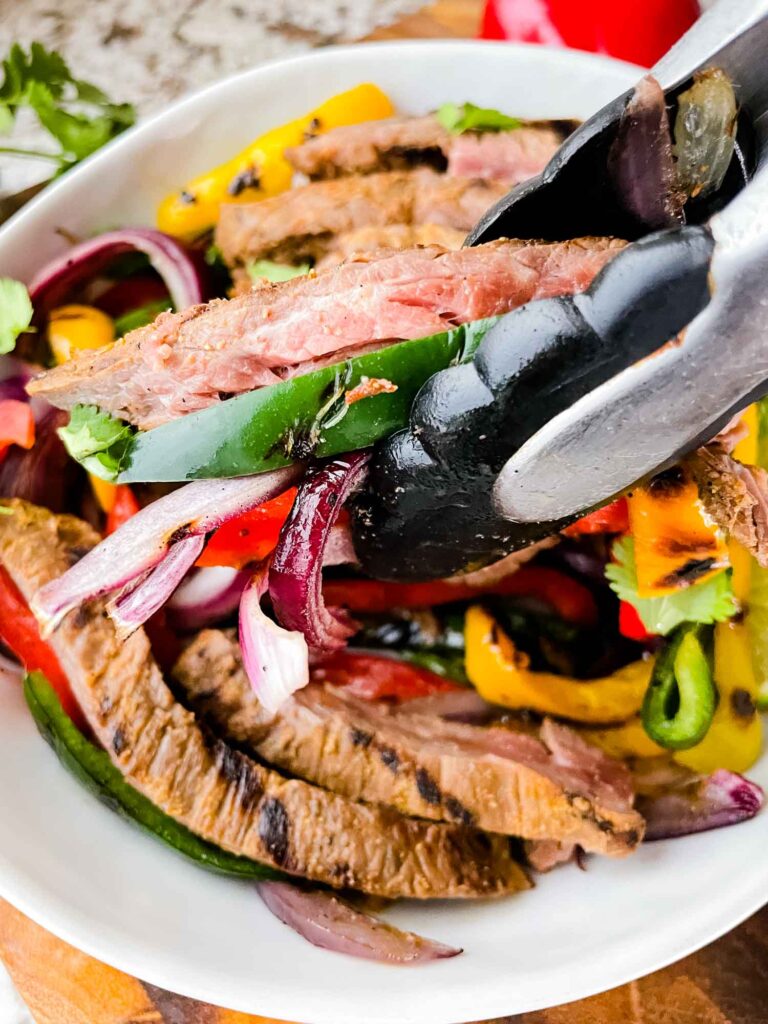 Modifications and Substitutions
You can also bake the meat in the marinade directly to your desired doneness. This will also help impart the flavor into the meat since it is cooking in the liquid. Bake at 400F for 15-20 minutes if it is already sliced, depending on how well you want it done. Or for longer if the meat is in one piece.
Use some poblanos in place of some bell peppers for a slight heat and some different flavors!
Kim's Tips
Cutting the meat against the grain is KEY. This means that you cut it perpendicular (the opposite direction) to how the meat strands are. If you cut it with the grain, it will be very tough to eat.
A decent marinate time is important to get that flavor into the meat!
Getting the temperature of doneness that you want is easier if the meat is cooked in one large piece instead of smaller pieces. But it also takes longer.
FAQs
What is the best cut of steak for fajitas?
Flank steak is the best cut for fajitas. It absorbs the marinade well, cooks well, and gives great texture. Skirt steak is another great option.
What are Mexican fajitas?
Fajitas are meat and vegetables cooked at a high heat and sliced.
How thick to cut steak for fajitas?
You want to cut steak for fajitas on the thinner side, around 1/2 inch thick or less. This is important as the cut of meat is tough if left too wide.
What onion is best for steak fajitas?
Red onions are best for fajitas because they have a bold flavor and a touch of sweetness. Yellow or white onion can also work but are milder in flavor.
What do you serve with fajitas?
Fajitas can be served on their own or in other dishes such as tacos or burritos. Serve them with your favorite sides, rice, tortillas, and/or a salad as desired.
How much steak per person for fajitas?
A 1/4 pound of meat per person works out great as it is served with the vegetables and other items.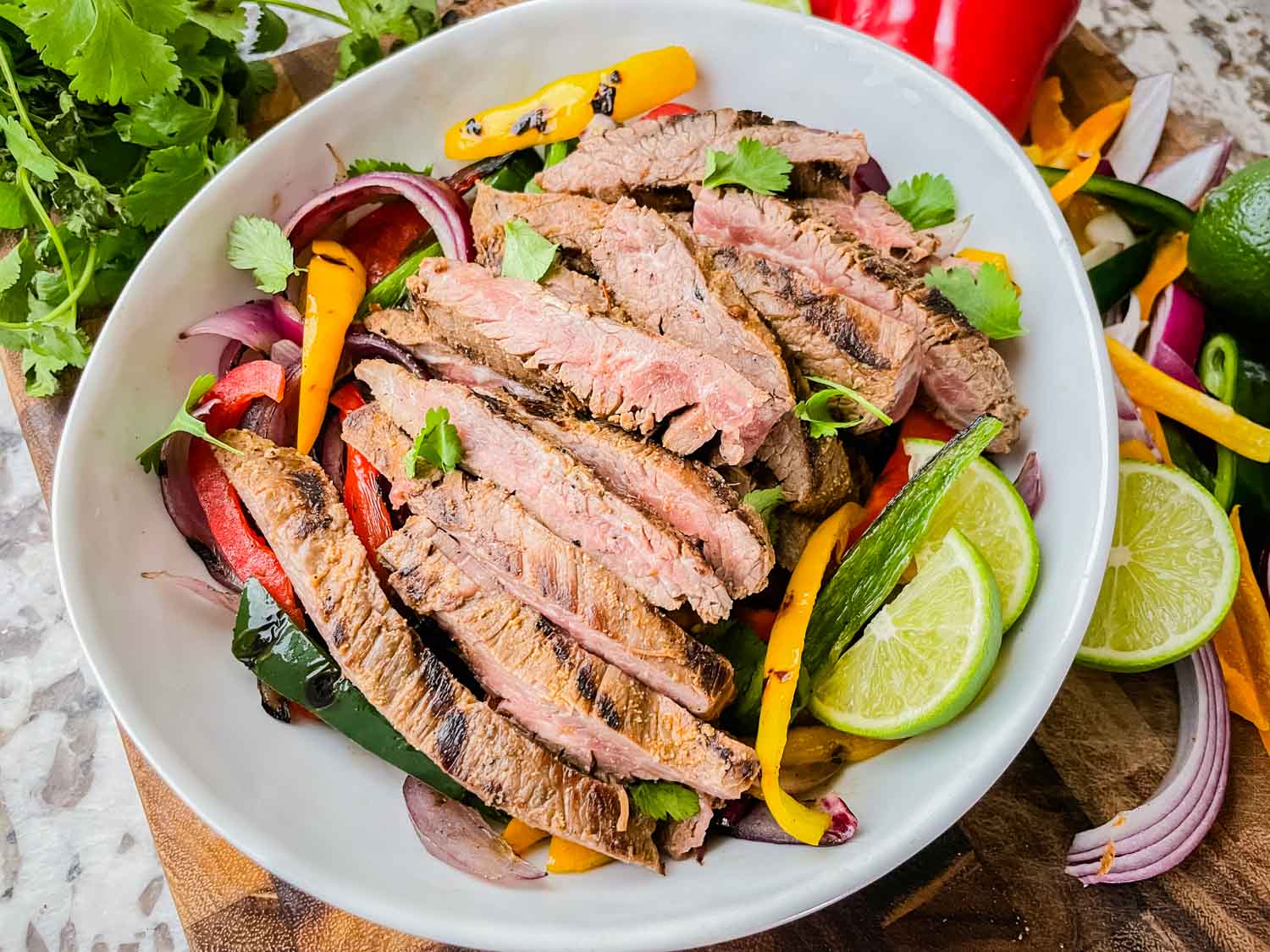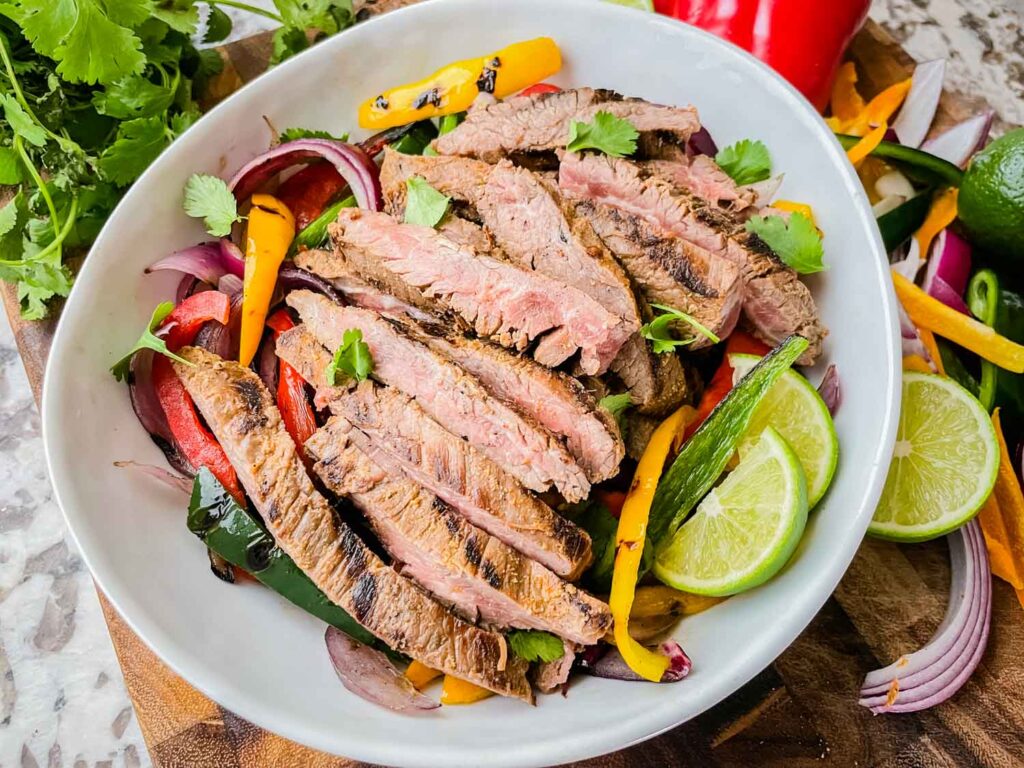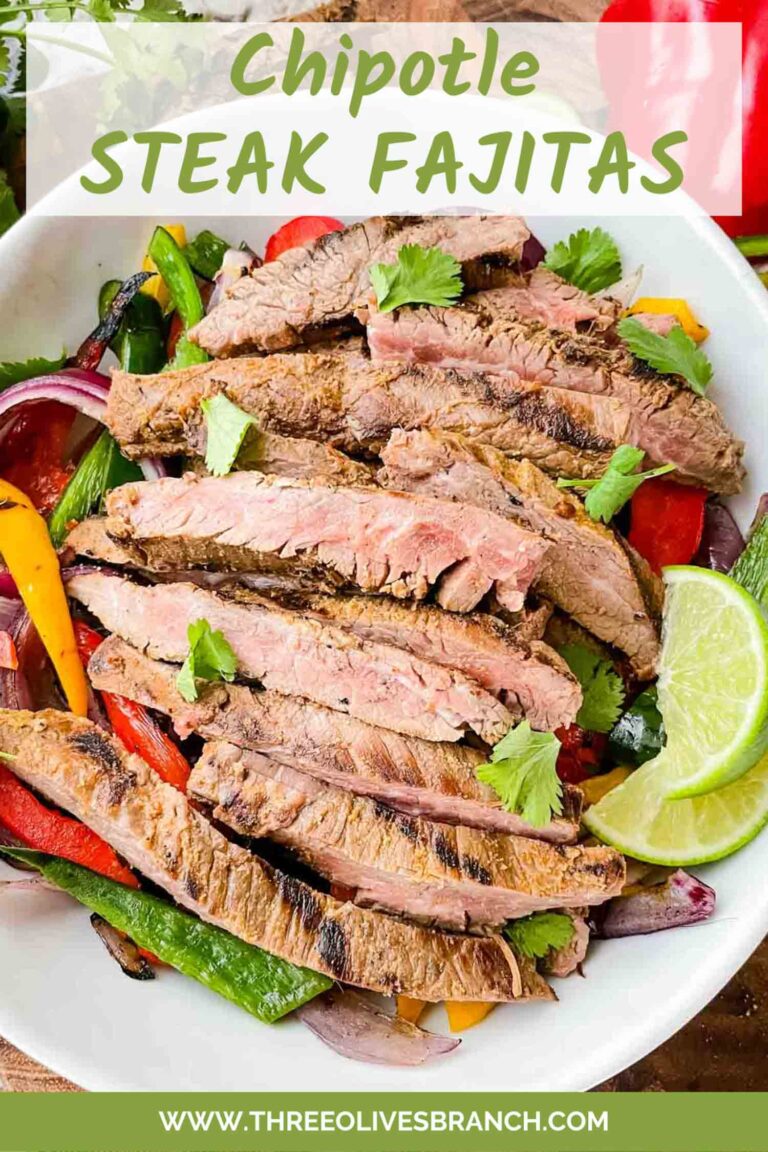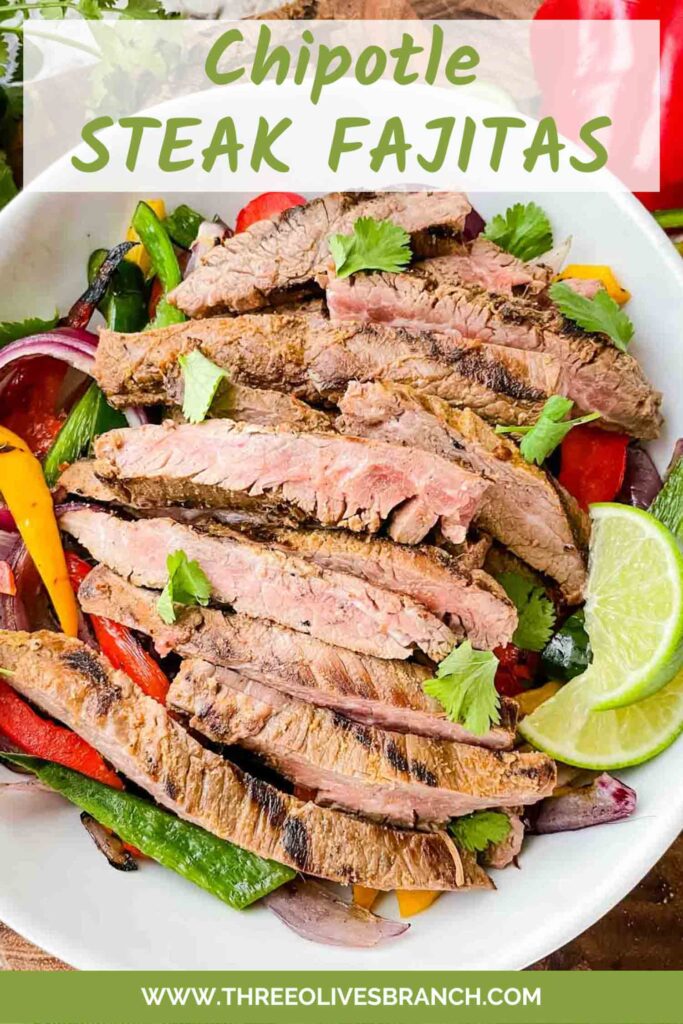 More Mexican Beef Recipes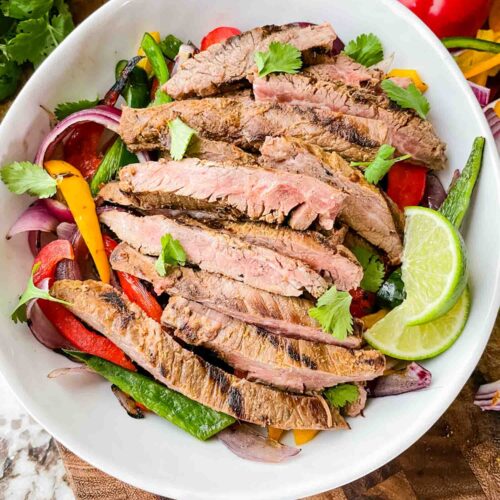 Chipotle Steak Fajitas
Chipotle Steak Fajitas are a fresh and healthy Mexican dinner recipe idea! Grilled flank steak beef, bell peppers, and onions are cooked in a citrus lime and chipotle pepper marinade. Gluten free, dairy free, keto low carb. A great Taco Tuesday meal option.
Print
Pin
Rate
Ingredients
Fajita Peppers
3

bell peppers

(any color, can also use some Poblano for a mild heat)

1

large

red onion
Instructions
In a resealable bag or covered dish, combine the beef, lime juice, chipotle in adobo, fresh cilantro, cumin, garlic powder, and salt.

Let the meat marinate in the refrigerator for at least 30 minutes, ideally 2 hours, or overnight.

Preheat grill to medium high (around 400℉).

Remove the beef from the marinade. Grill for approximately 5 minutes.

Flip and continue grilling until cooked through, approximately 5 minutes longer (this will give you steak medium rare). Cook longer if desired to the doneness you prefer.

Remove the meat and let it rest on a cutting board or plate.

Place your bell peppers, whole, on the grill. Trim the onion and cut into quarters. Place the onion on the grill.

Continue rotating the onions and peppers on each side, approximately 2-3 minutes per side.

(These can also be cooked already sliced but it is easier to move them around when whole).

Heat your corn tortillas on the grill for about 10-15 seconds per side. They should be warm and brown up a little as desired.

Slice beef against the grain (opposite direction of the meat fibers) into strips. Cut the peppers and onions into strips, removing seeds, stems, etc.

Serve with toppings, tortillas, lettuce, etc as desired.
Notes
The nutrition information does not include any toppings.
Non-grill option:
Bake the meat at 400F until cooked to desired doneness, approximately 20 minutes. The meat will cook much faster if already sliced, but is more difficult to cook to your desired doneness.
Cook the peppers and onions, already sliced, in a skillet over medium high heat for 6-8 minutes for crisp vegetables or 10-14 minutes for soft vegetables. (Vegetables can also be baked in oven and removed at desired softness).
The marinade will work even if only for 30 minutes, but 2-4 hours is best.
The quantity of tacos that you get out of the recipe will vary with how much or little you stuff each one.
Nutrition
Serving:

1

serving (1/4 recipe)

|

Calories:

429

kcal

|

Carbohydrates:

58

g

|

Protein:

32

g

|

Fat:

9

g

|

Saturated Fat:

3

g

|

Polyunsaturated Fat:

2

g

|

Monounsaturated Fat:

3

g

|

Cholesterol:

68

mg

|

Sodium:

694

mg

|

Potassium:

845

mg

|

Fiber:

10

g

|

Sugar:

7

g

|

Vitamin A:

2824

IU

|

Vitamin C:

122

mg

|

Calcium:

127

mg

|

Iron:

4

mg

By