A simple homemade Cranberry Jam Recipe with no pectin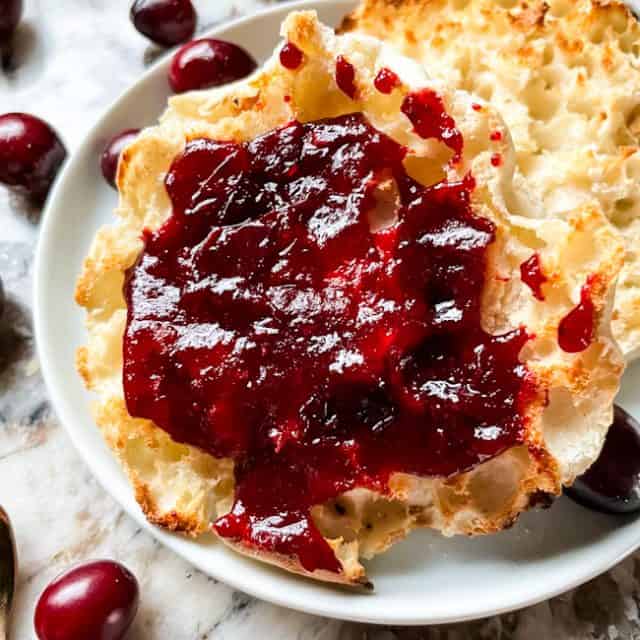 Cranberry Jam is an easy to make condiment that is perfect for breakfast and brunch!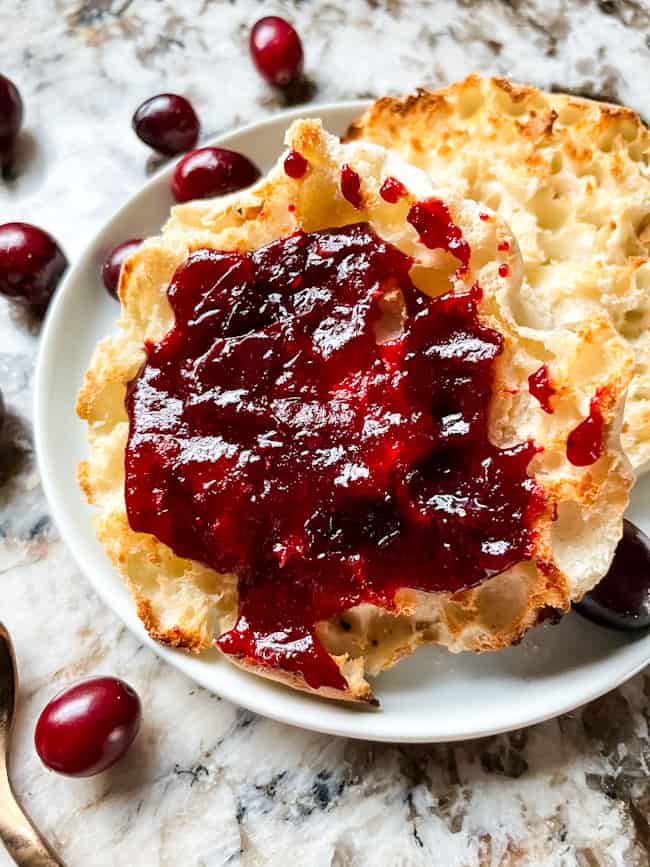 Why You Will Love This Recipe
This Cranberry Jam is such a fun and delicious jam to have on hand, especially during the holidays.
I have really gotten into making homemade jams because they are SO good and fun to make! My favorite to date is my cherry jam.
Homemade jams are great for traditional jam needs like breakfast, and I also LOVE serving them on charcuterie boards!
I just love cranberry anything and this easy condiment is perfect for breakfasts.
Cranberry Jam does lean toward the classic cranberry sauce that you think of for Thanksgiving and other holidays.
But it is different in that it does not have the extra warm spice flavors like cinnamon, nutmeg, and cloves.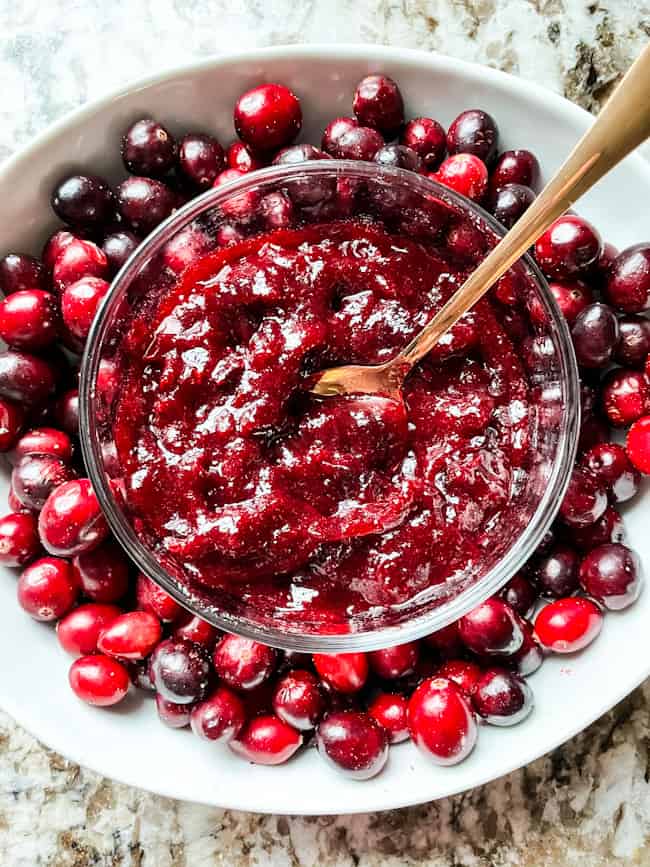 Ingredients
This is what you need to make this recipe:
Cranberries
Sugar
Lemon Juice
That is it!
Equipment
This is the equipment you need for this recipe:
Small Pot
Measuring Cups
Measuring Spoons
Spatula
Masher
Mason Jar (or other container for storing)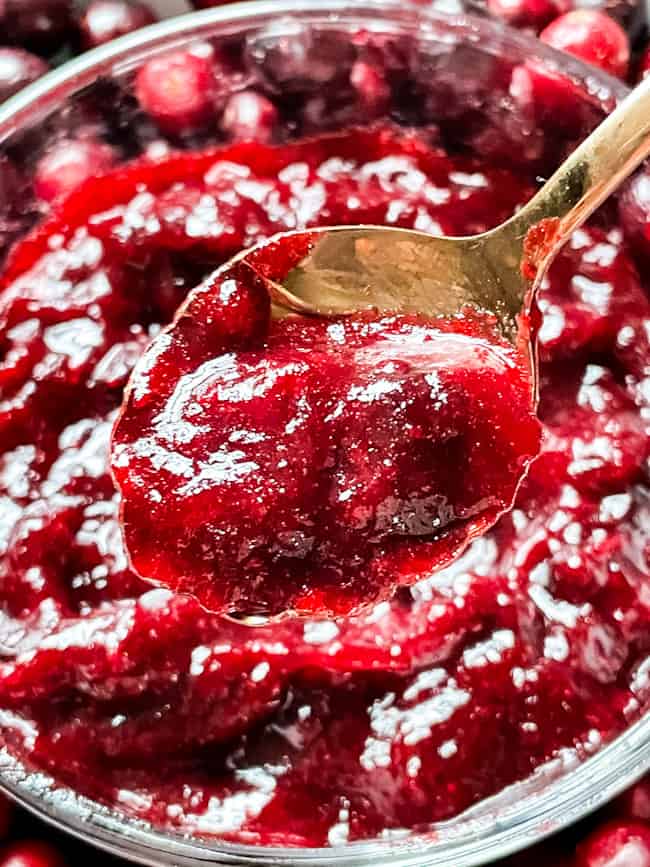 Instruction Overview
It is so incredibly easy to make homemade jam.
Fresh cranberries come in bags that range from 10-12 ounces. Just use the whole bag – the slight difference in weight will not be an issue.
You can also use frozen cranberries. No need to thaw, just toss them in!
Cranberries have natural pectin which means it will lead to the sauce thickening a little and getting an almost jelly type texture to it.
This is exactly what we want here! If at any point it is too thick or too gelatinous, just add some water to it to thin it out.
And when it comes to mashing the berries for the jam, mash as much or as little as you want.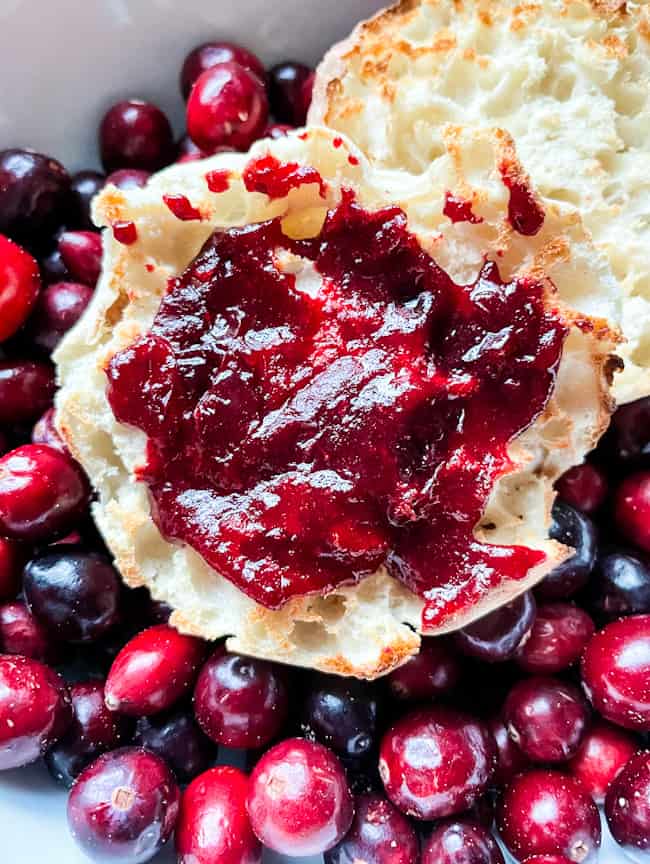 Storing the Jam
I like to put my jam into half pint jars. Full pint jars also work.
The jam can keep in the refrigerator for 2-3 weeks before it starts to go bad and mold. Another reason why smaller jars are great.
Additional jam that you will not use fast enough can easily be frozen.
Either freeze in those small jars (or even a resealable bag) or you can freeze in portions for easy thawing.
Just spoon out the jam into portions on a parchment or silicone baking mat and freeze. Then put them all in a large bag and you can just remove one at a time as needed.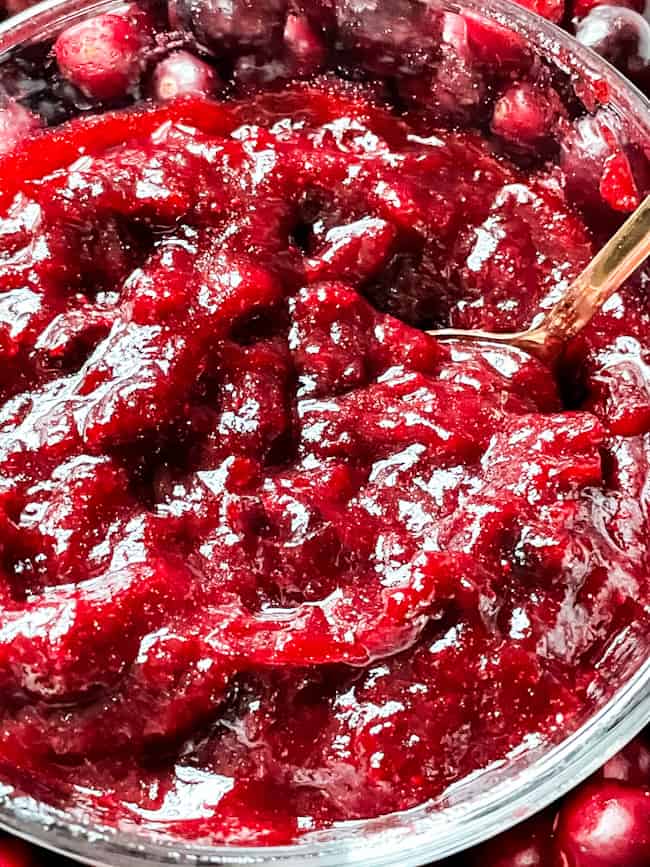 Modifications and Substitutions
You can use either fresh or frozen berries for this recipe.
Kim's Tips
I like to not mash it up too much so that there are still some pieces of the fruit in the jam!
FAQs
What is the difference between Jam and Jelly?
Jam is made with the whole fruit, often including the skins. This makes it chunkier and with some texture.
Jelly is made by using just the juice of the given fruit.
I am completely on team jam and love the texture that using the fruit brings!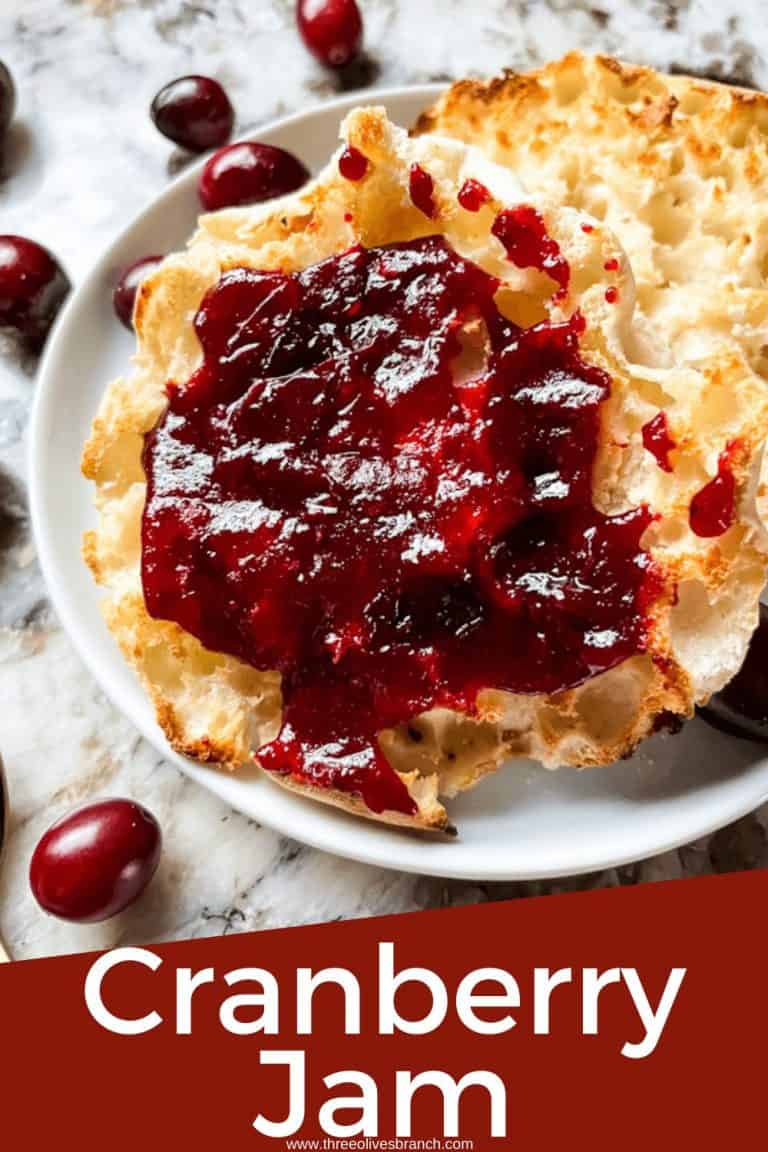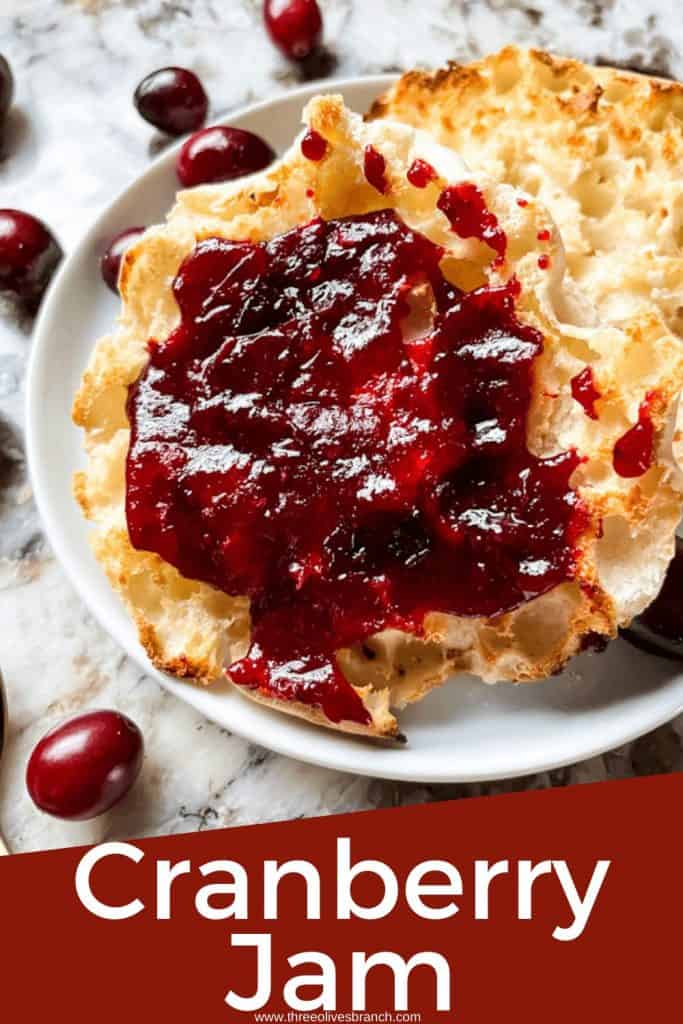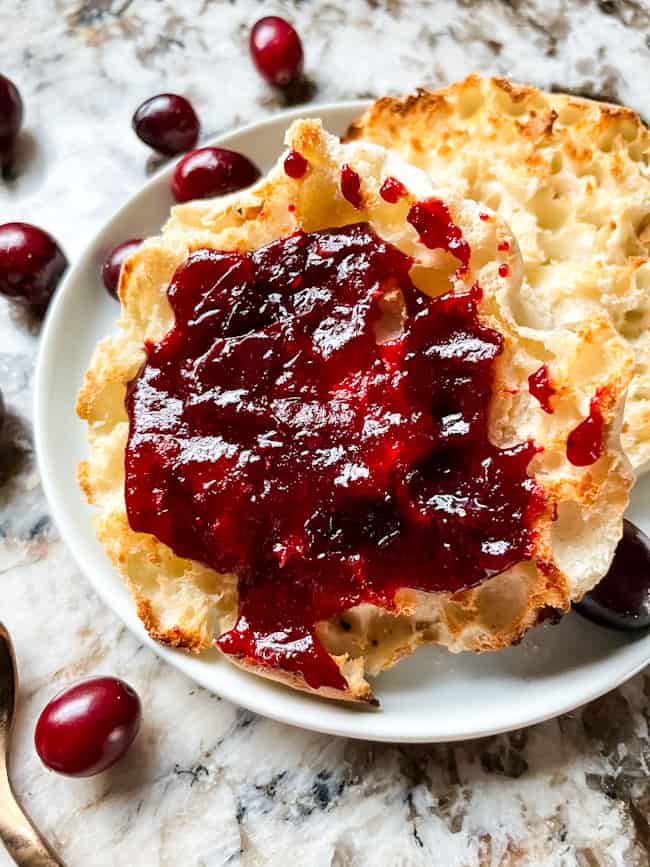 Instructions
Place the cranberries, sugar, and lemon juice in a medium saucepan.

Bring the berries to a boil over medium high heat. Reduce heat to medium and simmer to break up the berries, approximately 15 minutes.

Use a potato masher or fork to mash the fruit as much or little as desired.

The jam will be somewhat thick. Add water if needed to get your desired consistency. Add more sugar if it is too tart for your liking.

Store in a jar in the refrigerator for up to three weeks. Or freeze.
Notes
The volume you get will vary with how long you cook it (how thick it is) and how much you mash it.
This will roughly fill one pint sized mason jar, which is perfect for storing in the refrigerator.
Nutrition
Serving:
1
cup
|
Calories:
653
kcal
|
Carbohydrates:
170
g
|
Protein:
1
g
|
Fat:
1
g
|
Saturated Fat:
1
g
|
Sodium:
7
mg
|
Potassium:
241
mg
|
Fiber:
13
g
|
Sugar:
145
g
|
Vitamin A:
170
IU
|
Vitamin C:
49
mg
|
Calcium:
23
mg
|
Iron:
1
mg
More Cranberry Recipes
Homemade Jam
Make your own homemade jams! They are easy and use just a few ingredients, with no pectin.

By