Artichoke Lemon Hummus is made with just a few simple ingredients! A healthy and protein packed vegetarian and vegan appetizer using artichoke hearts. Featuring Mediterranean flavors in a garbanzo bean chickpea dip. Gluten free. No tahini required.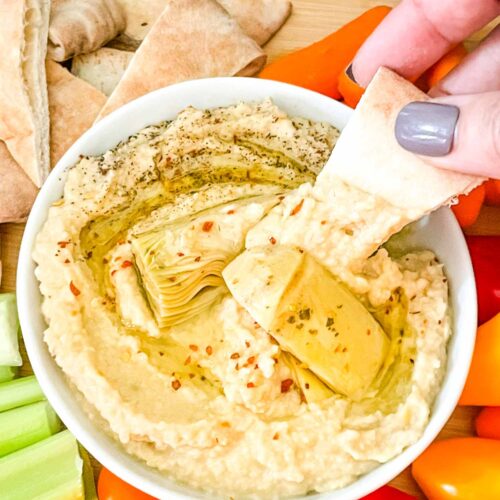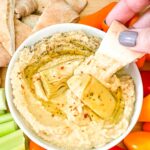 I absolutely love making my own hummus.  It is fast, easy, and there are so many ways to customize it!  I love making new flavor combinations like this Artichoke Lemon Hummus. Full of fresh and bright Mediterranean flavors in an artichoke dip recipe!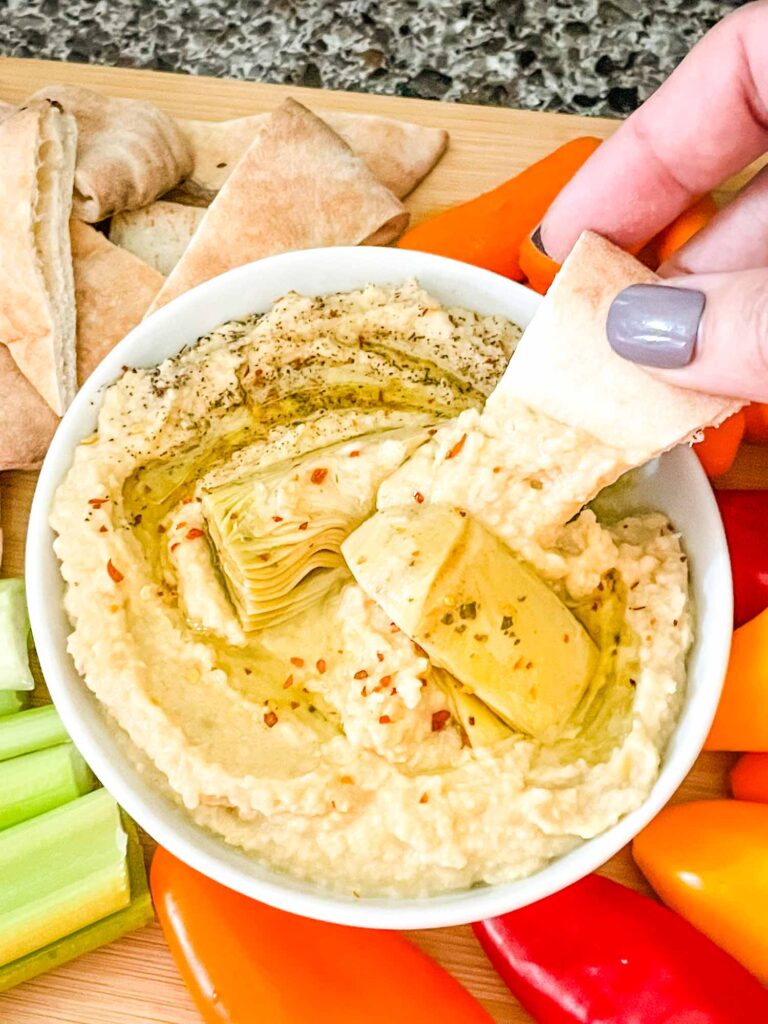 When I was little, I remember my grandparents growing artichokes in large planters in their garden.  I was always fascinated with artichokes and being from California, it is part of your regular diet.  
I would hunt for the small, baby artichokes in the plants, hoping to find some hidden away and watching them grow.  
To this day I still think about those artichoke plants and being in California with my grandparents.  Making dishes like this Artichoke Lemon Hummus takes me right back to that backyard.
Why You Will Love This Recipe
Making a homemade hummus recipe is one of my favorite things to do for a party, gathering, or game day.
It comes together in just minutes and is a perfect way to get some light, fresh, and healthy snack options on the table.
It is also versatile as an addition to salads or a condiment in place of things like mayo on a sandwich.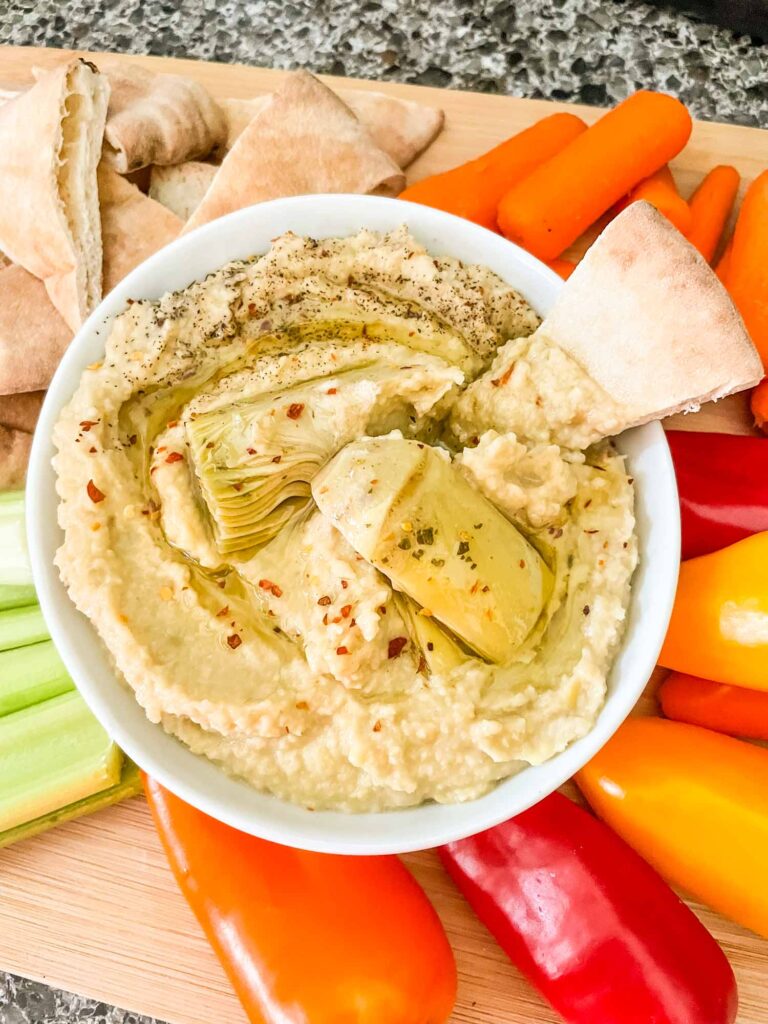 Ingredients
Here is what you need to make this recipe:
Garbanzo Beans (Chickpeas)
Garlic (Roasted Garlic ideally)
Lemon
Artichoke Hearts
Tahini Paste (optional)
Salt
Olive Oil
Artichoke Hearts – I like to use jarred artichokes that have been sitting in oil. And you can even use the oil from the jar instead of the olive oil!
Garlic – Roasted garlic is pretty much one of the greatest things ever.  No joke.  You can learn how to make your own here!  I love to have a couple heads of it ready in my refrigerator at all times because it makes everything taste amazing.  

Besides being part of a recipe like our Sun-Dried Tomato and Walnut Linguine with Parmesan Cream Sauce, it is great on toast and sandwiches!
Raw garlic will also work just fine!
Tahini – a traditional ingredient in hummus.  It is a sesame seed paste, similar to nut butters.  You can typically find it in your ethnic or peanut butter section of the grocery store or you can get it online here.
Some will say tahini is mandatory. I say you can skip it if you want. 🙂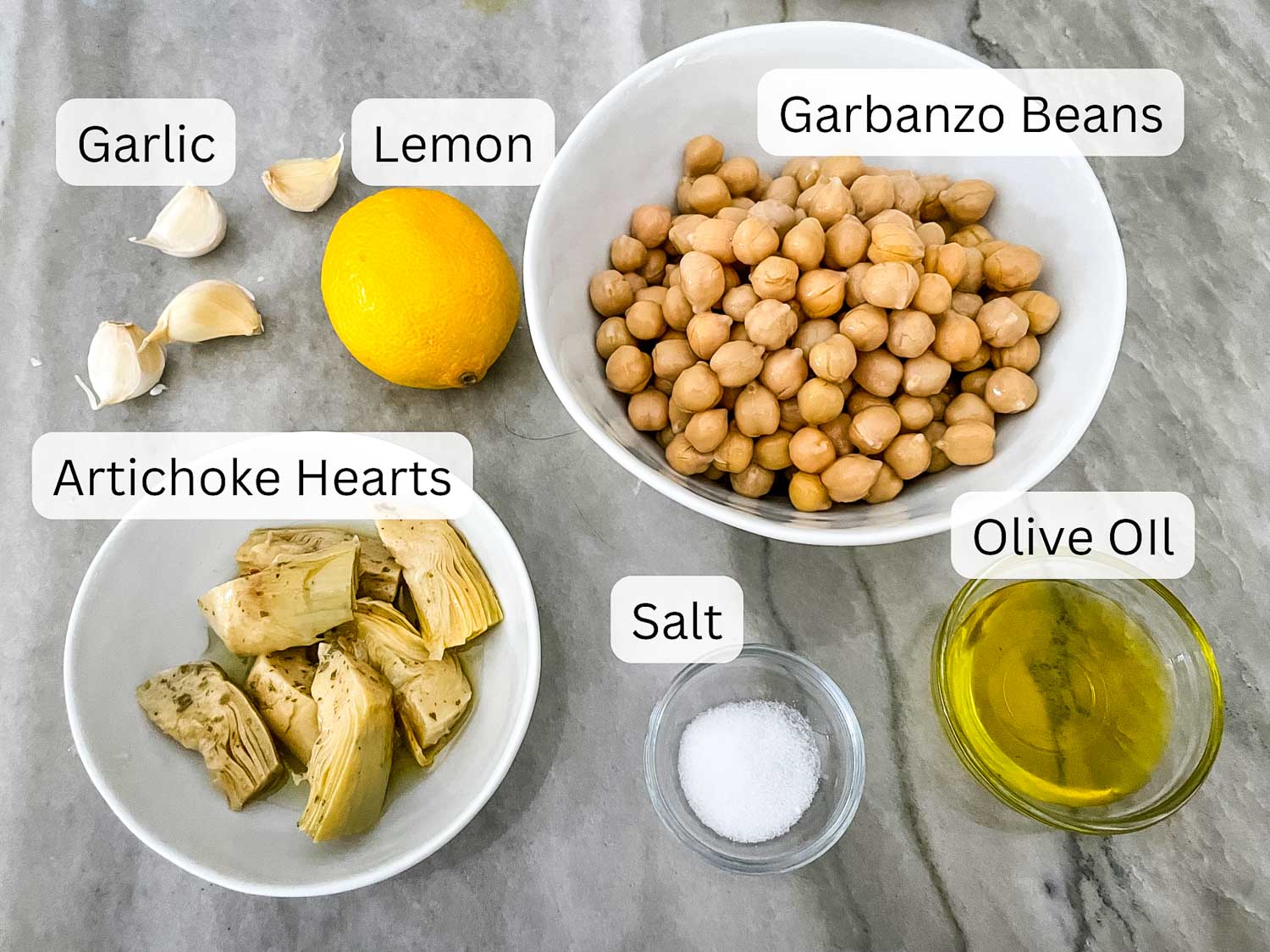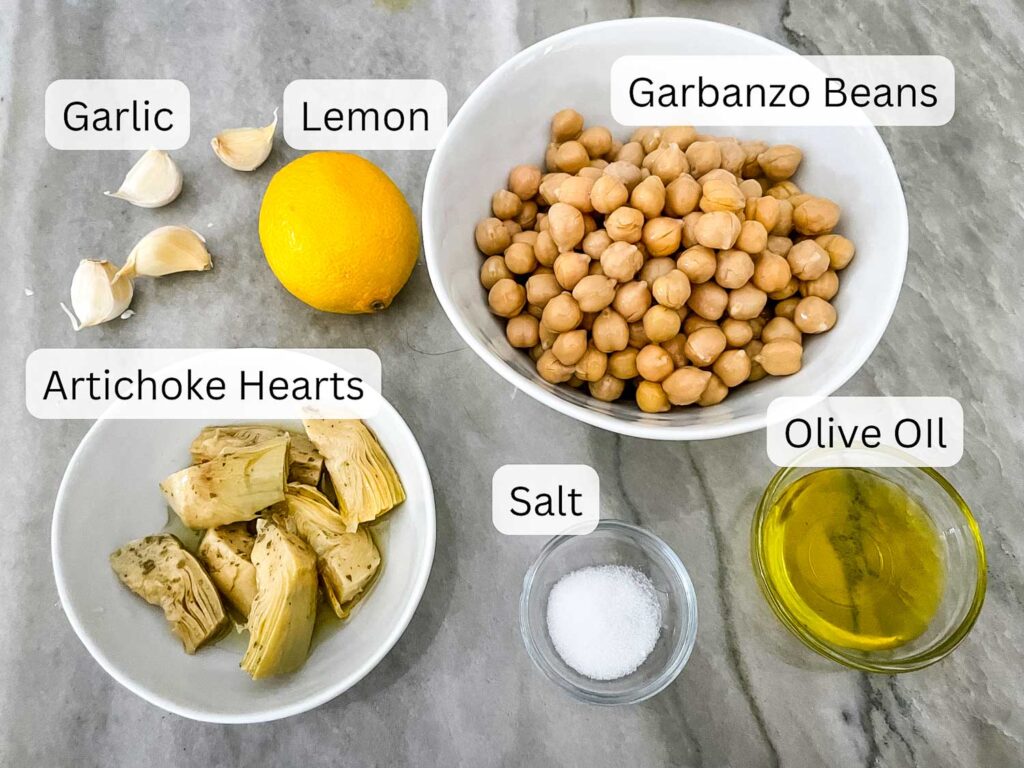 Equipment
To make this recipe, you will also need:
Instruction Overview
It only takes a few minutes to make this Artichoke Lemon Hummus.  
Just throw all the ingredients in a food processor, blend, and you are good to go!  
Modifications and Substitutions
If you do not have a food processor, you need one!  I have two and I use them all the time.  They can do so many things: shredding, slicing, blending, etc.  
Skip the tahini if you want. I do not miss it with all the artichoke and lemon flavor!
Raw garlic instead of roasted is also just fine.
Want to use frozen artichoke hearts? Thaw and drain before using in the recipe to avoid adding too much moisture.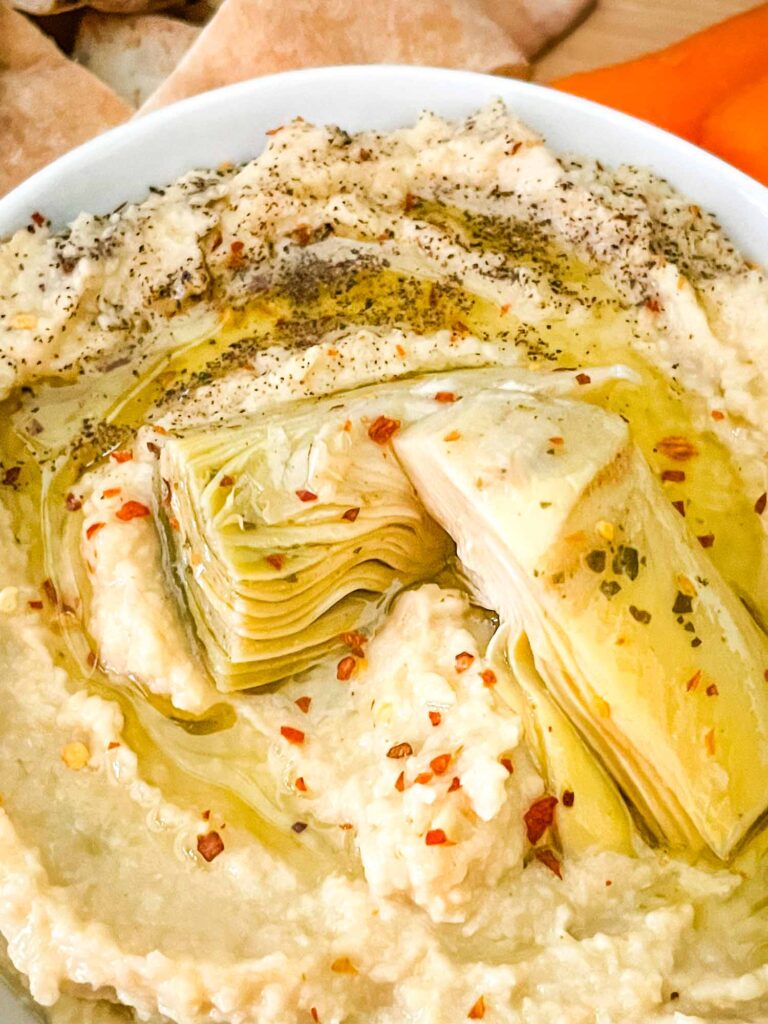 Kim's Tips
A blender could work in place of a food processor, but tends to not make it quite as smooth (depending on the brand/model).
Use this as a spread on sandwiches or in salads!
FAQs
What to add to hummus to make it taste better?
This will depend on what you think is missing.
Salt is always a go-to. If salt seems fine but it needs a little something, acid like more lemon juice is a great option.
Have enough lemon? Try a super small amount of cayenne (ground red pepper) to lift it a little.
What is the main ingredient of a hummus?
Garbanzo beans, also called chickpeas.
Is hummus good for weight loss?
Hummus is high in protein and fiber, which means it is a great healthy option that could assist with weight loss.
Is it cheaper to buy hummus or make your own?
Homemade is cheaper and a great way to make it perfect just for you!
Can you freeze hummus?
Yes, it freezes pretty well.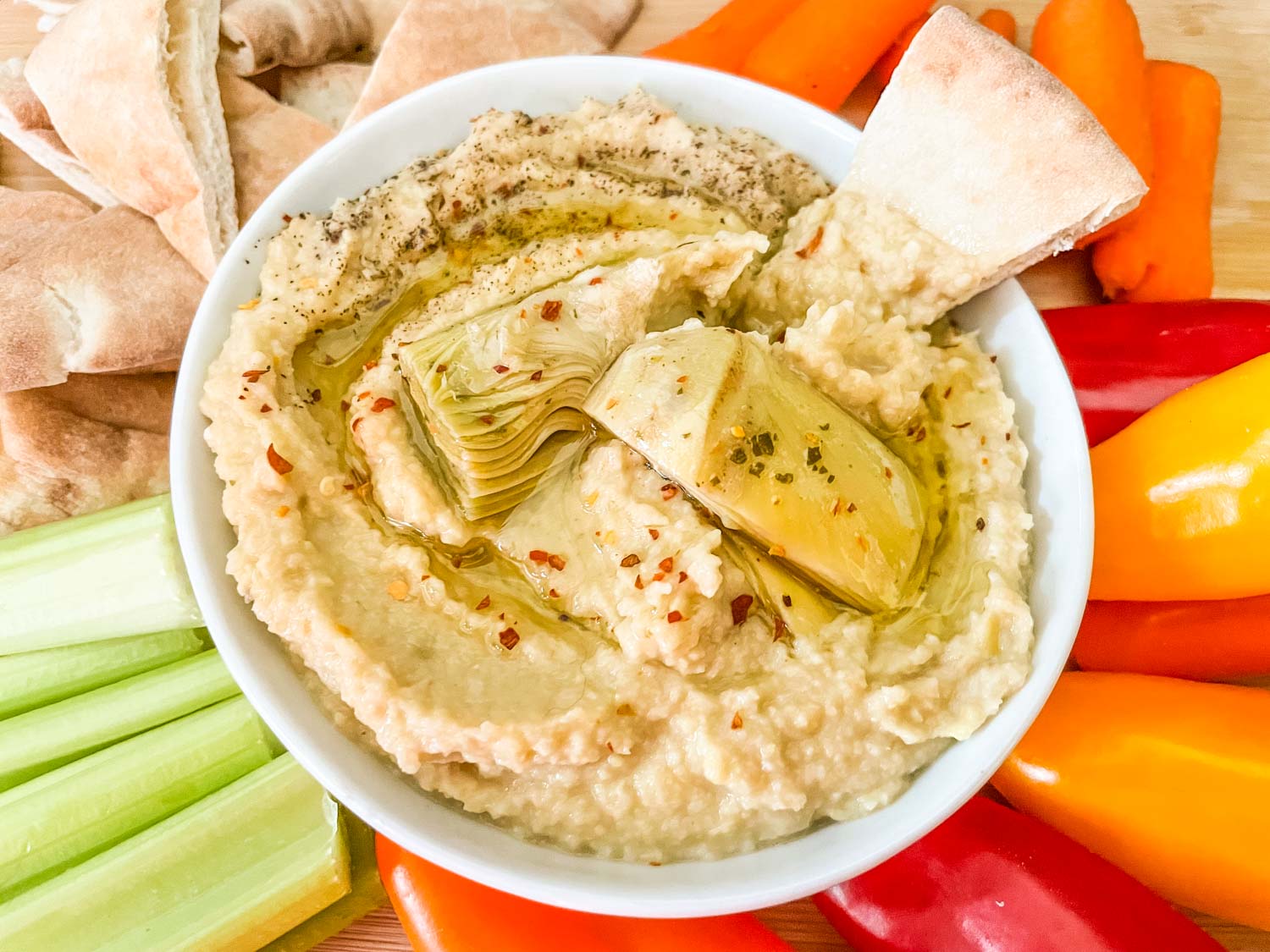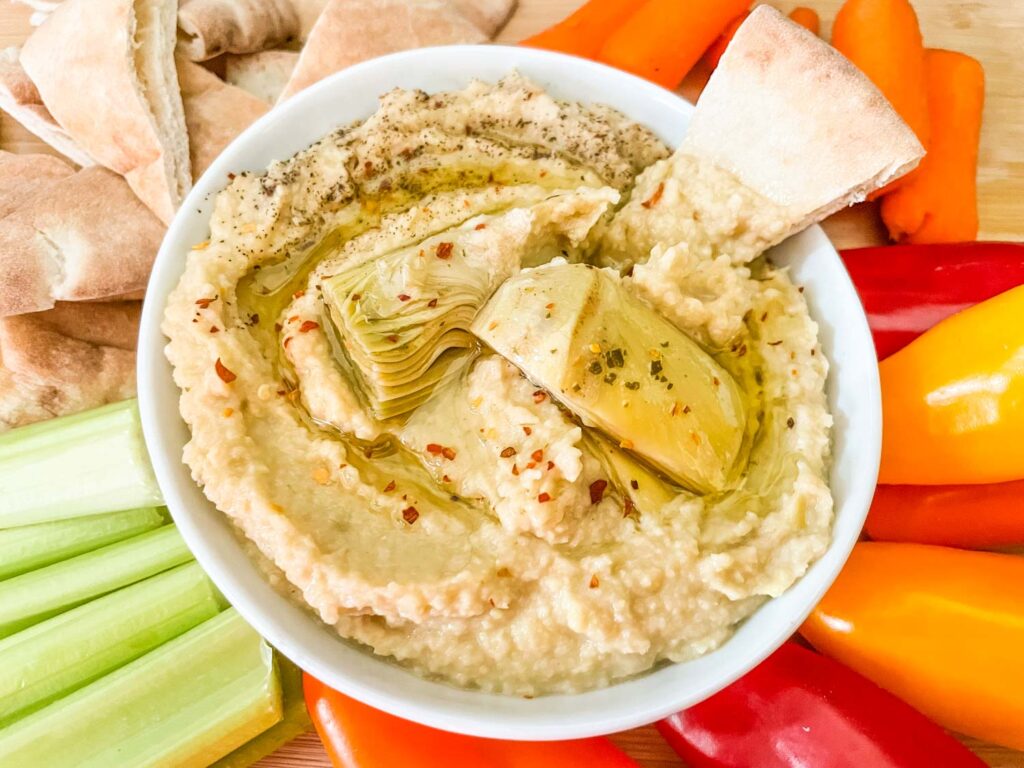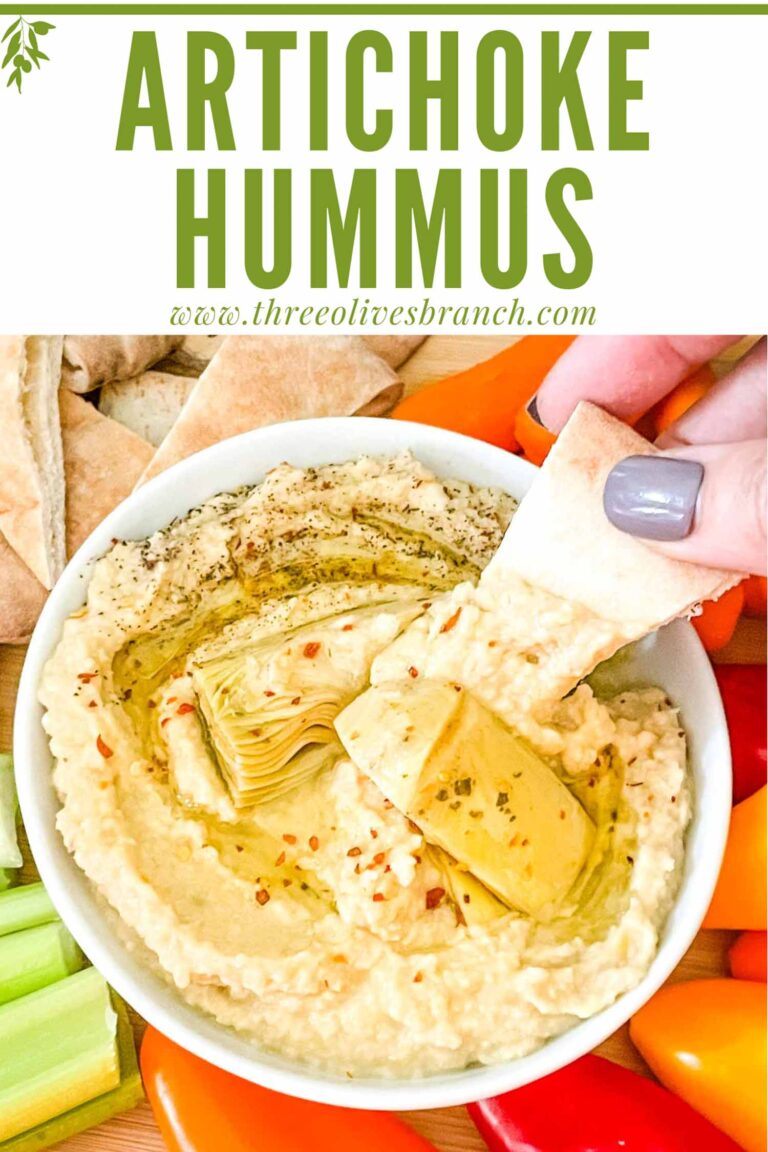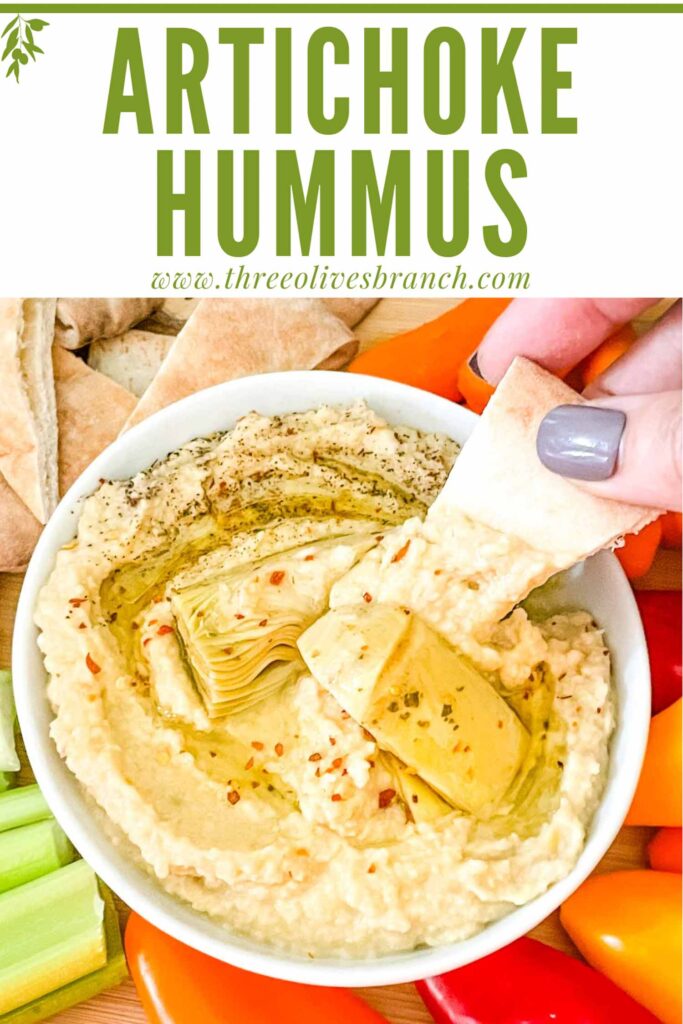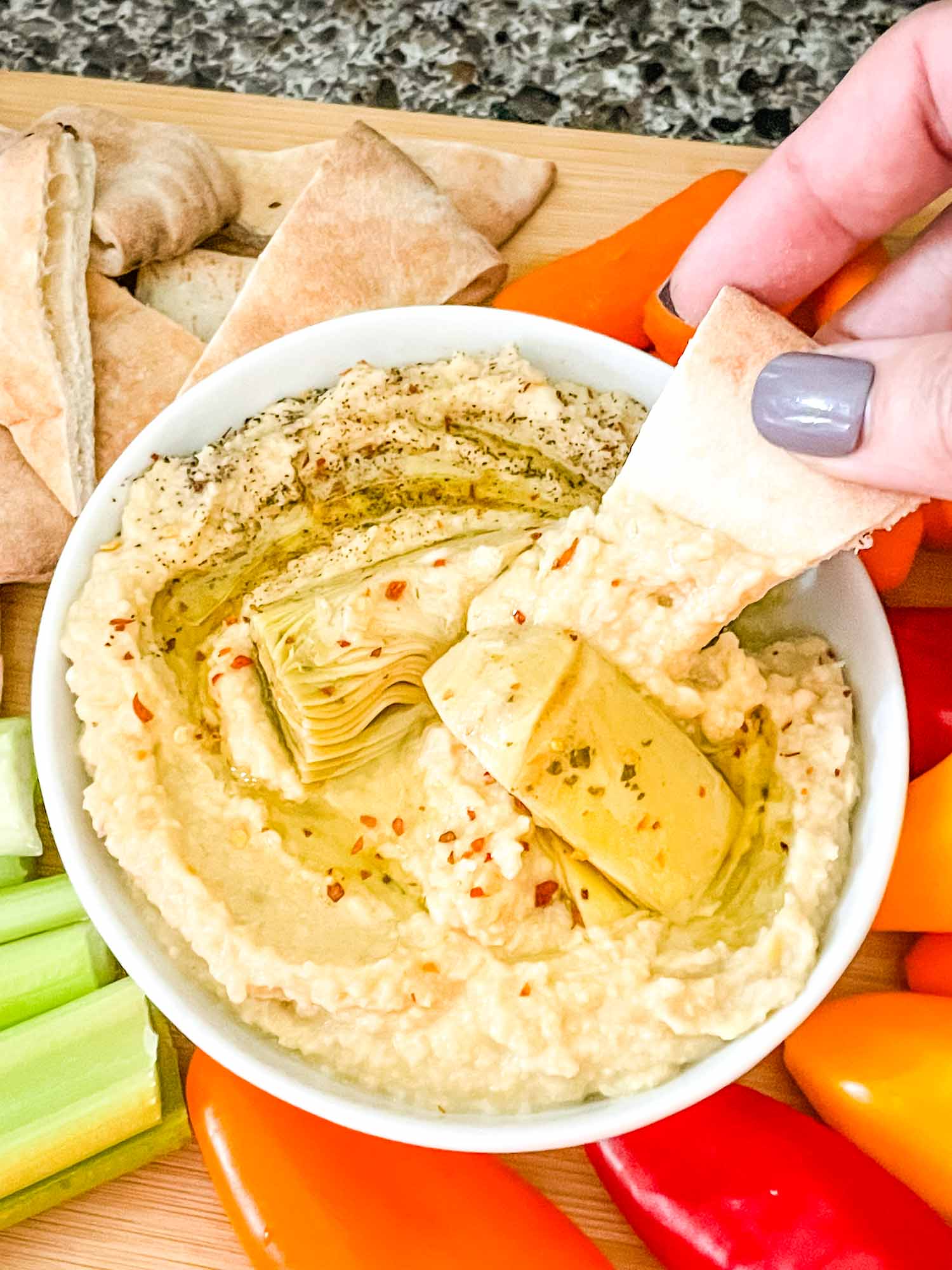 Instructions
If you do not have pre-roasted garlic, use this shortcut.

Put garlic cloves with the skin still on in a nonstick skillet and heat over medium low heat. Roasting the garlic will take approximately 40 minutes. Rotate the cloves every 10-15 minutes so that they are roasted on all sides. Set aside to cool.

When garlic is cool enough to handle, peel the skins off the cloves.

Add the garbanzo beans, garlic, lemon juice, salt, tahini, 3/4 cup artichoke hearts, and olive oil to food processor. Put the lid on and process until you reach your desired consistency, approximately 10-15 seconds.

If the mixture is too thick, add water 1 Tablespoon at a time and process briefly to combine. Taste and adjust seasoning to your liking.

1 can garbanzo beans,

2 large lemons,

1 teaspoon salt,

2 Tablespoons tahini paste,

1 cup artichoke hearts,

2 Tablespoons extra virgin olive oil

When complete, use a spatula to put the hummus in a bowl. Mix in the remaining 1/4 cup chopped artichoke hearts.

Ideally refrigerate for one hour and serve chilled with pita bread or assorted vegetables.
Notes
Learn how to make roasted garlic here!  You will want it in your refrigerator at all times 🙂
Order tahini online here!
You can use frozen artichokes here however make sure you defrost and drain them first as they will carry a lot of water in them, making the dip runny.
For a little heat, add some cayenne pepper or red pepper flakes when blending.
Purists will say tahini is required – but it tastes great without it!
Nutrition
Serving:
1
cup (entire batch)
|
Calories:
718
kcal
|
Carbohydrates:
39
g
|
Protein:
10
g
|
Fat:
63
g
|
Saturated Fat:
8
g
|
Polyunsaturated Fat:
10
g
|
Monounsaturated Fat:
26
g
|
Sodium:
3102
mg
|
Potassium:
464
mg
|
Fiber:
12
g
|
Sugar:
8
g
|
Vitamin A:
2068
IU
|
Vitamin C:
160
mg
|
Calcium:
152
mg
|
Iron:
4
mg
More Hummus Recipes
Looking for more hummus inspiration? Check out our other hummus recipes like Roasted Poblano and Sweet Corn Hummus, Basil Pesto Hummus, or Roasted Hatch Chile Hummus. And we also have a Buffalo Wing Hummus which is perfect for game day!
More Artichoke Recipes
Spinach Artichoke Recipes
By