Roasted Hatch Green Chile Hummus make a fast and easy healthy appetizer recipe! Vegan, gluten free, and dairy free. Packed with protein in a condiment that is perfect as a snack or on sandwiches.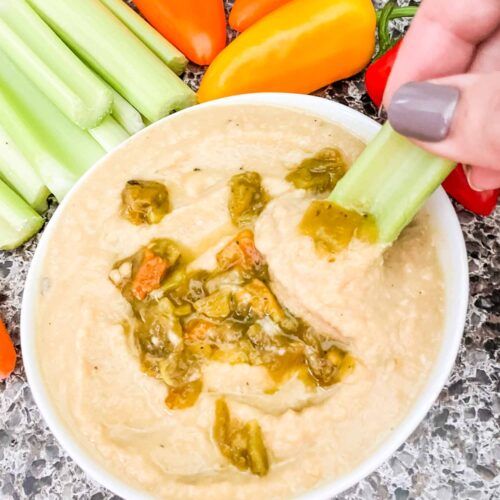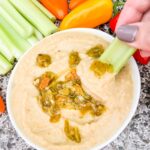 Roasted Hatch chiles are one of my favorite things and I am always looking to incorporate the peppers into new recipes. Roasted Hatch Chile Hummus has become one of my favorite ways to eat them as well as the favorite hummus recipe in the house.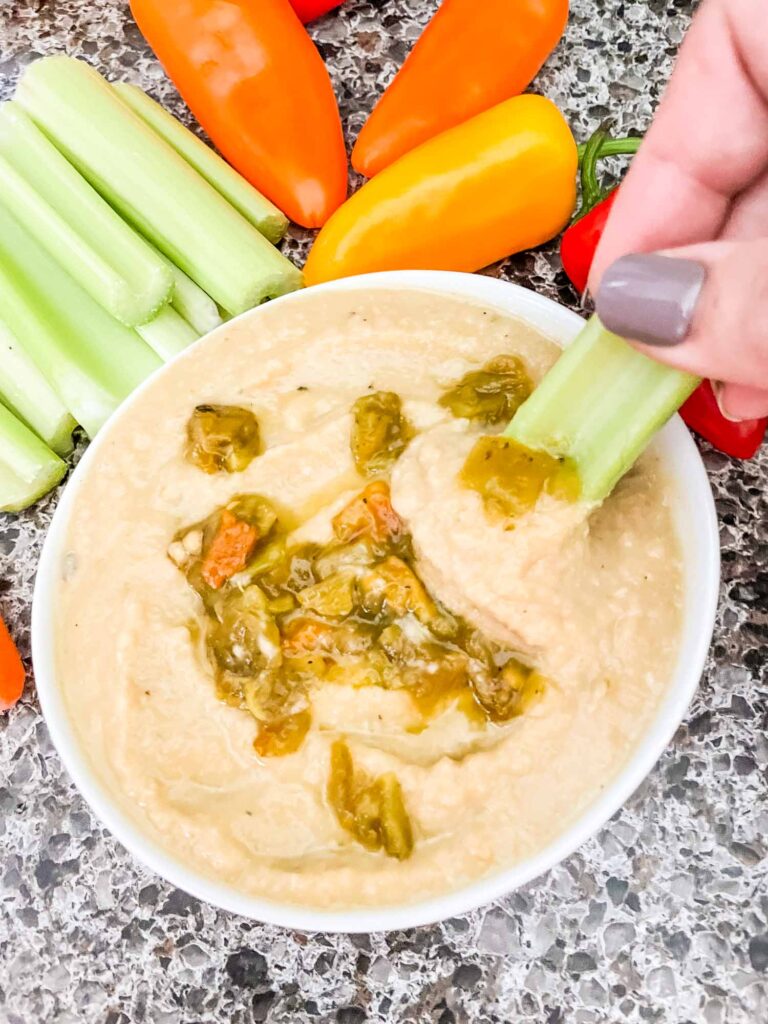 Why You Will Love This Recipe
Hummus is fantastic because it is healthy and can be used in so many ways.  
Beyond as a dip for pita and veggies, you can use it on sandwiches in place of mayo or other condiments, mixed with some extra citrus/vinegar/oil as a salad dressing, or even on a burger.  
My hubby loves to put hummus on his bagel in addition to the cream cheese.
This fast and easy appetizer recipe is packed with protein and makes a great healthy snack to serve up at a party or game day.
Ingredients
These are the ingredients in green chile hummus:
Garbanzo Beans (Chickpeas)
Lime
Tahini (optional, see Modifications and Substitutions below)
Olive Oil
Garlic
Salt
Hatch Green Chile Peppers (heat level of choice)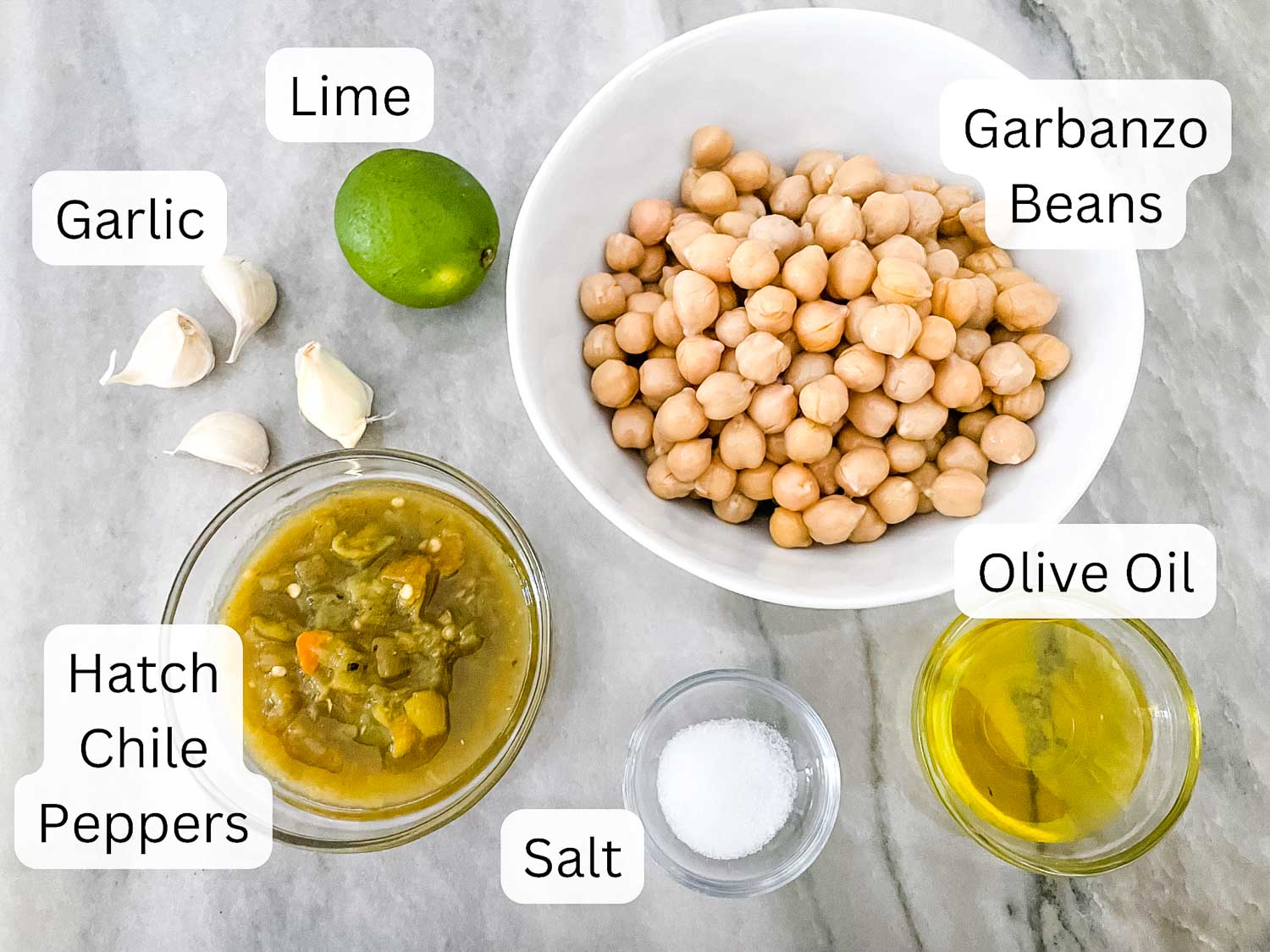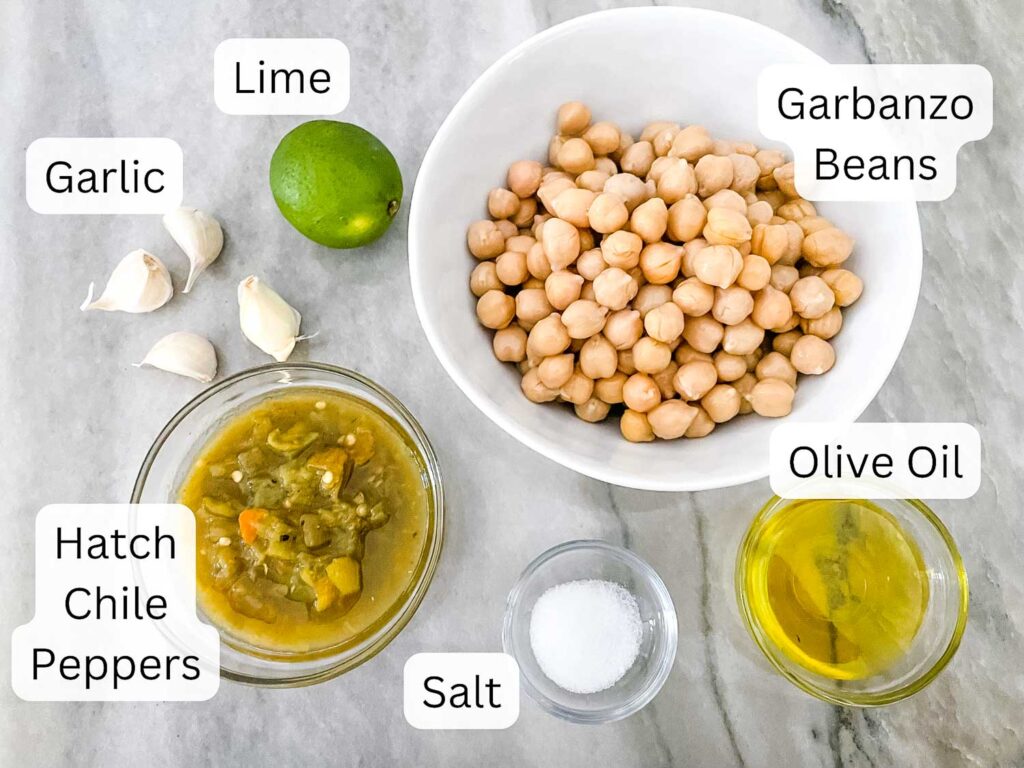 What are Hatch Chile Peppers?
These famous peppers are named after the city they originated in: Hatch, New Mexico.
They are long, rather thin, lighter green peppers.
If you are familiar with Anaheim peppers, they actually are very similar! Anaheim peppers were taken from Hatch to Anaheim, California and grown to be incredibly mild with very little heat.
They are popular for their amazing flavor and wide heat variety.
Equipment
This is what you need to make the recipe:
Measuring Cups
Food Processor or Blender
Spatula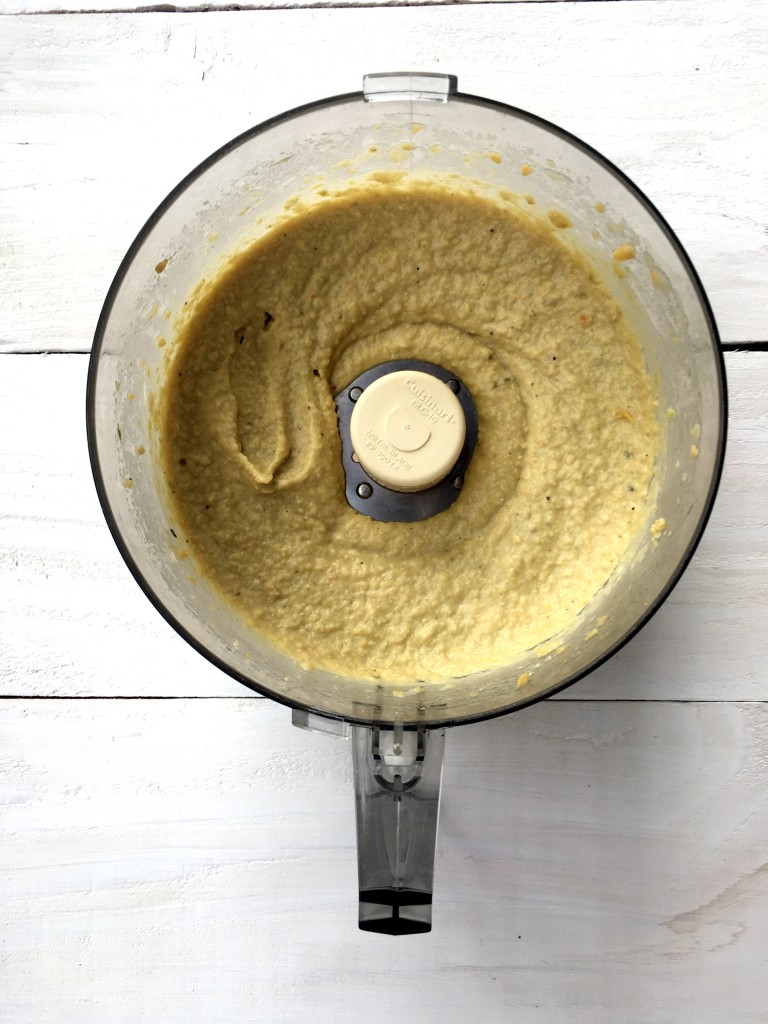 Instruction Overview
It only takes a few minutes to make Roasted Hatch Chile Hummus.  Just throw all the ingredients in a food processor, blend, and you are good to go!  
If you want the texture to be thinner, add a little water at a time.
If you want it smoother, process it longer.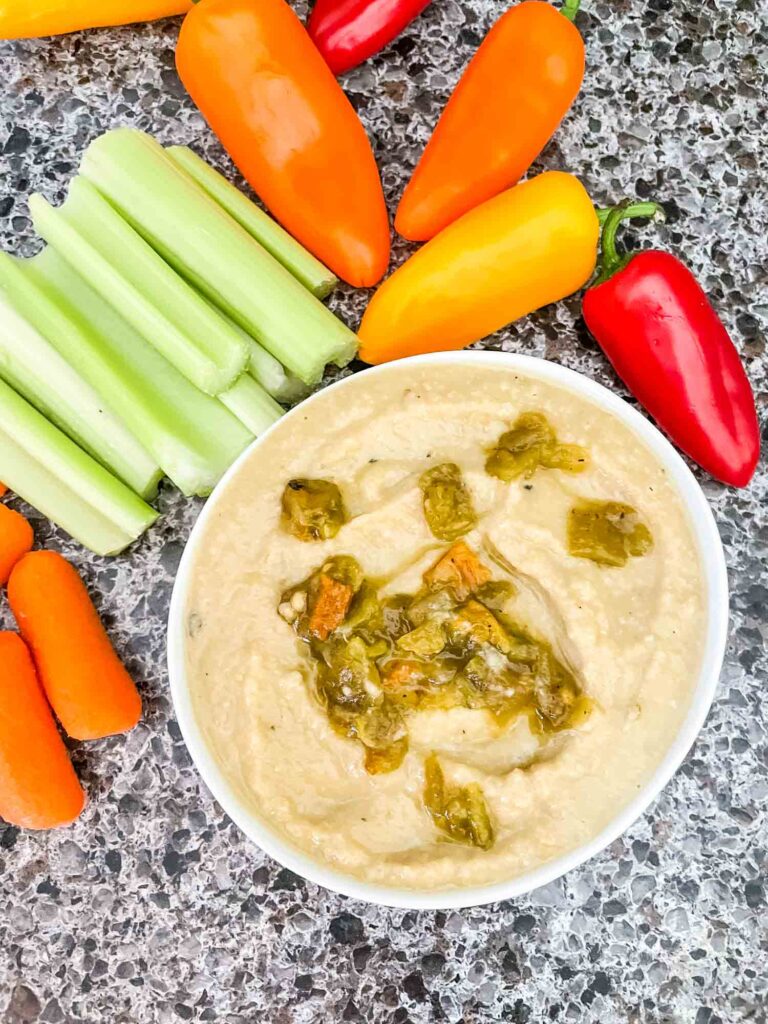 Modifications and Substitutions
If you are not lucky enough to have access to the fresh peppers, you can used the canned version.  Use any heat level that you prefer.
But if you do live somewhere that gets these beauties, stock up on them in the fall when you can!  We spend an afternoon peeling and prepping two bushels of peppers to stick in the freezer so that they are ready to go whenever I need them.
Tahini may be standard for a hummus, but honestly I do not notice a difference when I skip it.
Kim's Tips
I have noticed that as this hummus sits, the heat does pick up just a little bit as the flavors continue to blend together but it is nothing too drastic.  
This recipe is designed for a mild heat, so if you want it spicy just add some more chiles, hot sauce, or a dash of cayenne pepper. 
Looking for more hummus inspiration?  Check out our Roasted Poblano and Sweet Corn Hummus, Artichoke Lemon Hummus, or Basil Pesto Hummus.  And we also have a Buffalo Wing Hummus which is perfect for game day!  Find all of our hummus recipes here!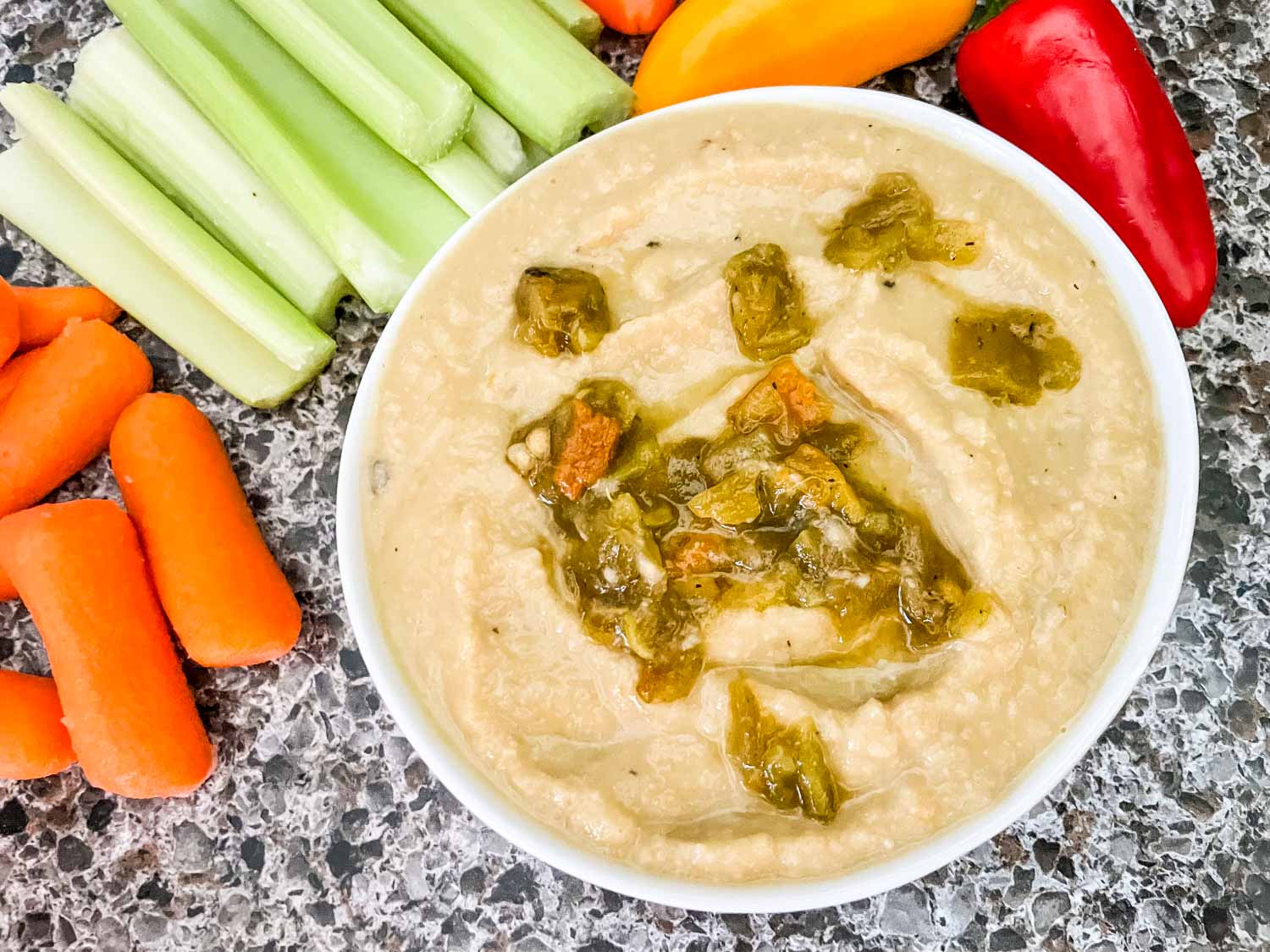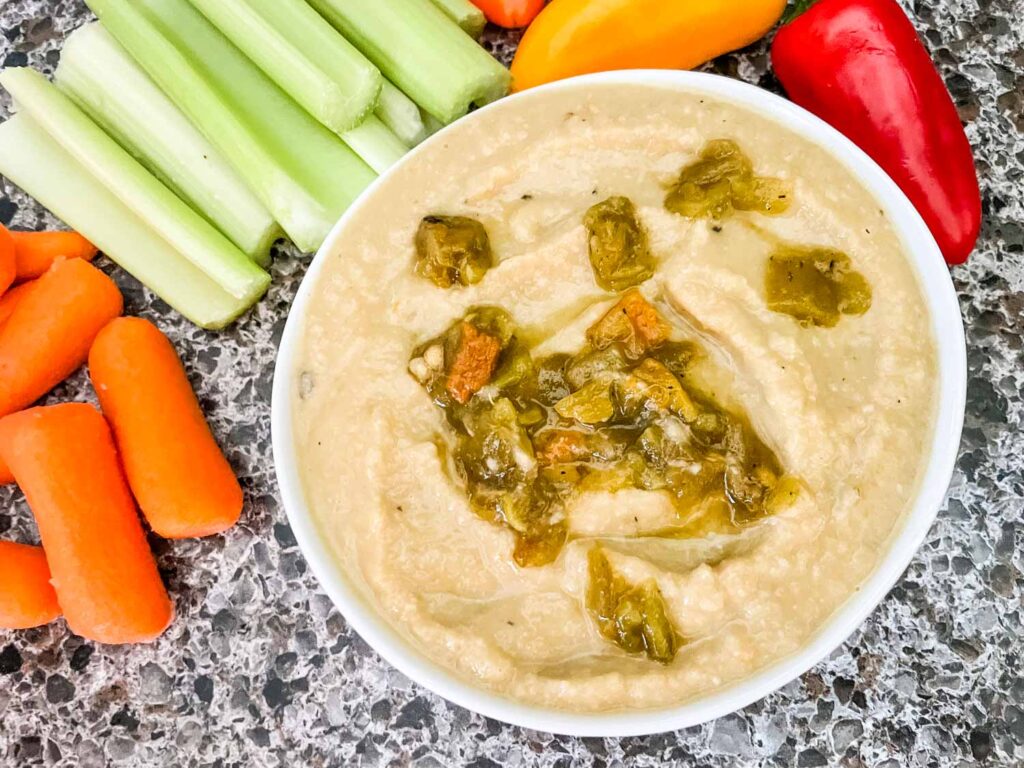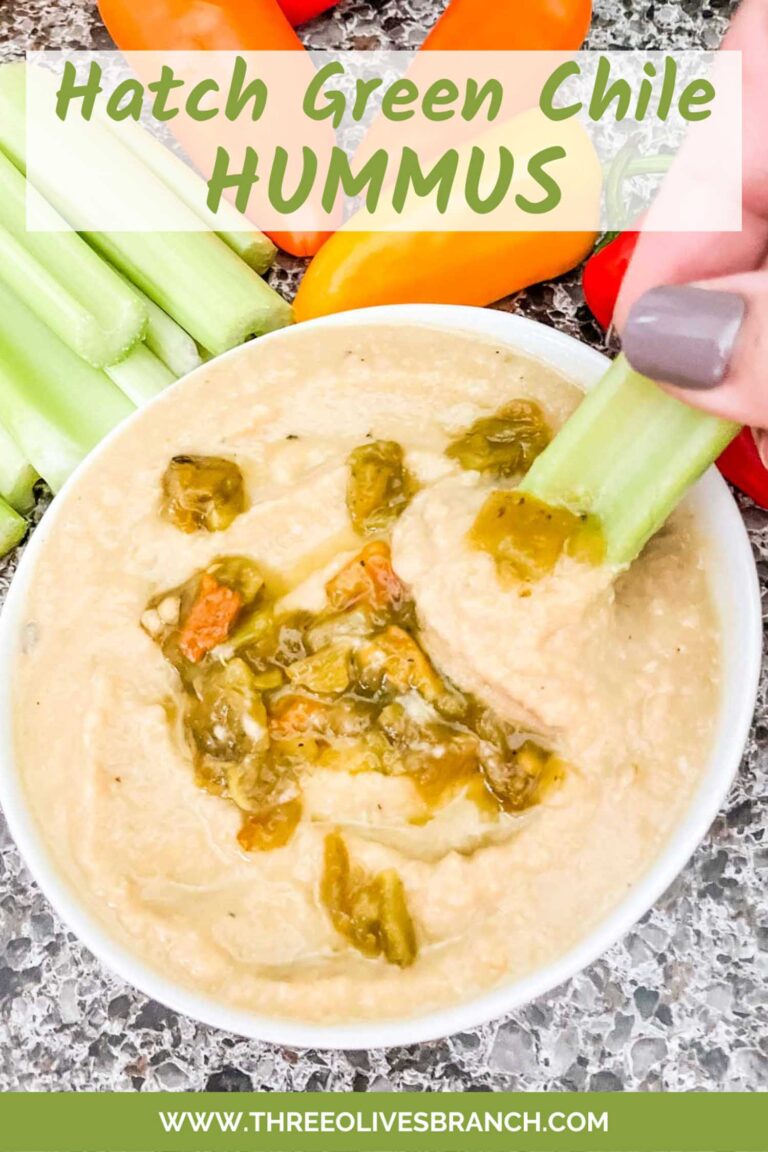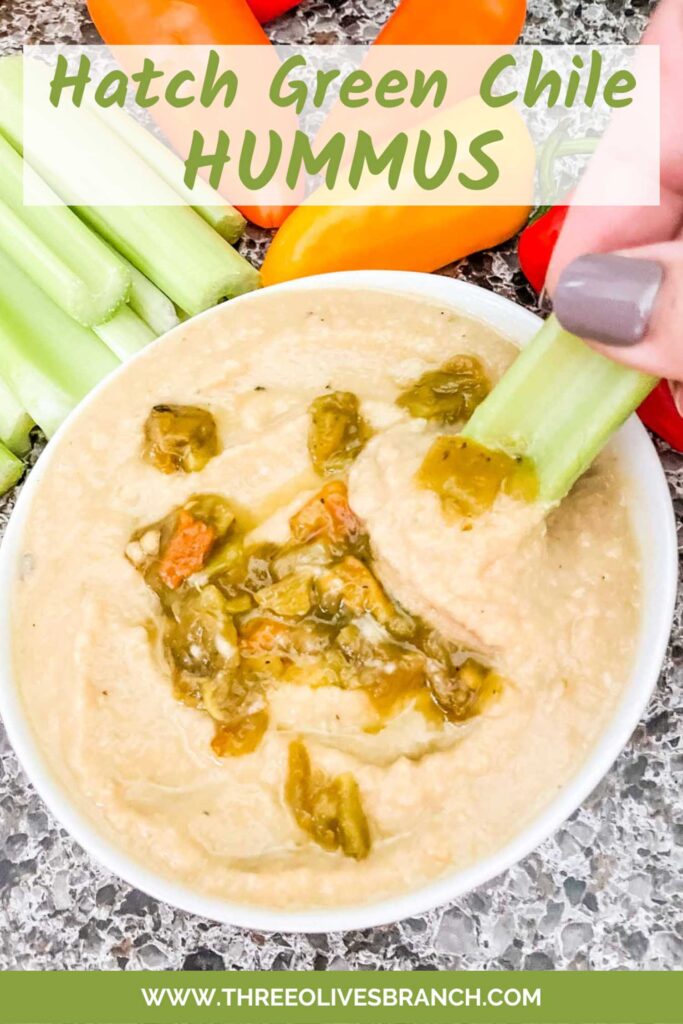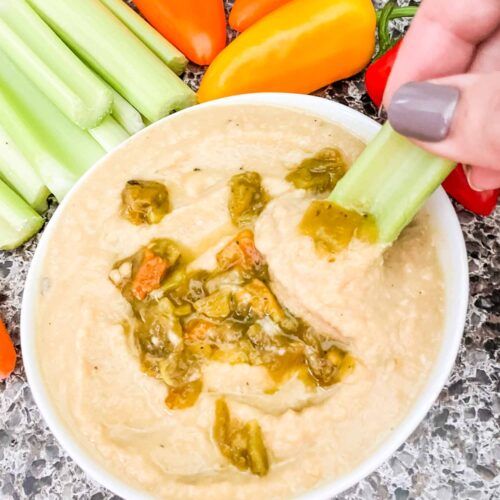 Roasted Hatch Green Chile Hummus
Roasted Hatch Green Chile Hummus make a fast and easy healthy appetizer recipe! Vegan, gluten free, and dairy free. Packed with protein in a condiment that is perfect as a snack or on sandwiches.
Print
Pin
Rate
Instructions
If your garlic is raw: Put garlic cloves with the skin still on in a nonstick skillet and heat over medium low heat. Roasting the garlic will take approximately 20 minutes. Rotate the cloves every few minutes so that they are roasted on all sides. Set aside to cool.

When garlic is cool enough to handle, peel the skins off the cloves.

If using whole Hatch chiles: Skin the peppers, remove the stem, and remove the seeds. Chop the peppers.

Add the garbanzo beans, garlic, lime juice, salt, tahini, olive oil, and chiles to food processor.

1 can garbanzo beans,

3 large fresh roasted Hatch green chiles, heat level of choice,,

2 Tablespoons tahini paste,

1 juice of 1 lime,

1 Tablespoon olive oil,

1 teaspoon salt

Put the lid on and process until you reach your desired consistency, approximately 10-15 seconds. If the mixture is too thick, add water 1 Tablespoon at a time and process briefly to combine.

Taste and adjust seasoning to your liking.

When complete, use a spatula to put the hummus in a bowl. Top with additional chiles, paprika, or queso fresco if desired.

Refrigerate for one hour and serve chilled with pita bread or assorted vegetables.
Nutrition
Serving:
1
cup (1 batch)
|
Calories:
342
kcal
|
Carbohydrates:
18
g
|
Protein:
7
g
|
Fat:
30
g
|
Saturated Fat:
4
g
|
Polyunsaturated Fat:
9
g
|
Monounsaturated Fat:
16
g
|
Sodium:
2352
mg
|
Potassium:
261
mg
|
Fiber:
4
g
|
Sugar:
1
g
|
Vitamin A:
59
IU
|
Vitamin C:
26
mg
|
Calcium:
89
mg
|
Iron:
2
mg
More Hummus Recipes
More Hatch Green Chile Recipes
Hatch Green Chile Recipes
A collection of just some of our Hatch Green Chile recipes!

By